Choosing the right tent is a big decision. When purchasing a camping tent you have to consider the variety of models, features, and purposes. To make it easier, we composed this convenient and practical tent buying guide to help you find a good shelter, so you can get off the computer and be back outdoors.
The main thing to consider is what you'll be doing. Will you be car camping with lots of space and no weight limits? Or will you be backpacking with limited weight and space? You don't want to discover you've made the wrong choice while camped above tree-line in inclement weather. Fortunately, there's a perfect tent for every type of adventurer – whether you're a fast-and-light backpacker, a dedicated car-camper who prefers to travel with a cache of creature comforts, or still in the process of planning your very first night out under the stars.
But first, here are a few key attributes to consider before any tent purchase.
Related Guides
Seasonality
When deciding on a tent, first assess your adventure style. Do you want to be able to sleep under the stars even on snow-swirled winter nights? Or, do you just need a trusty tent for a few casual summer campouts? To ensure your tent keeps you comfortable on every adventure, the first factor to consider is seasonality.
Three-season tents are built to handle inclement conditions in spring and fall, including wind and rain, but aren't designed to hold up in more extreme environments. Instead, if you need a tent to tote on alpine expeditions, or on treks in extreme climates, the best four-season tents are constructed to offer superior protection from the elements, including heavy snowfall and walloping winds.
When assessing the weather resistance of your tent, pay attention to both the denier and the waterproof rating. The denier refers to the thickness of the tent's fabric, so a higher number means more heavy-duty protection from the elements. Then, there's the waterproof rating (measured in millimeters), which indicates the amount of hydrostatic pressure the tent's material can tolerate before beginning to leak. If you're looking for the best waterproof tent, those with a higher rating will be more resistant to water and help when you get stuck camping in the rain.
Spaciousness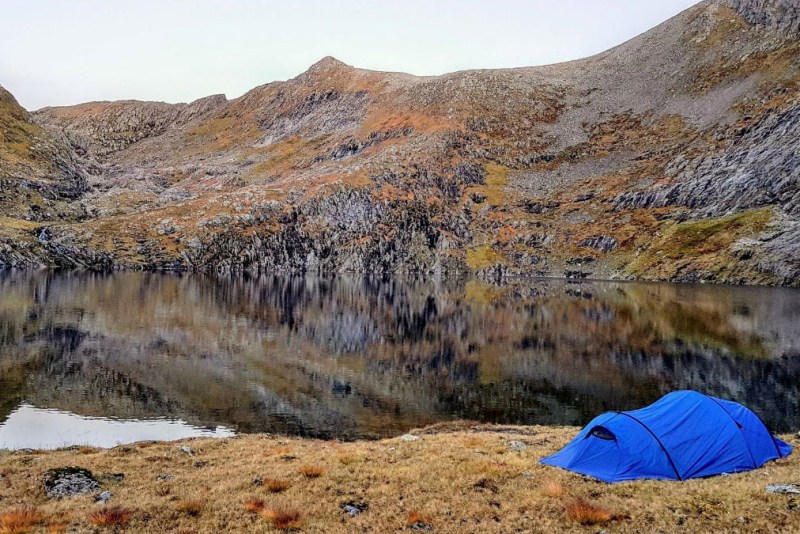 These days, tents are tailored to suit a wide array of wilderness travelers, from super light shelters for backpackers who prefer to adventure solo to spacious backcountry basecamps perfect for campers who'd rather travel with all the trappings. When weighing a tent's potential livability, be mindful of both square footage and peak height, along with the tent's shape.
Many ultralight tents allow space for sitting up in your sleeping bag, but don't offer much more than shoulder room, while larger models designed for car campouts offer enough space to stand. Adjustable awnings and vestibules can also add to a tent's living area, providing extra space for stashing bulky gear, or shedding wet clothing before crawling into your sleeping bag.
Consider how many people will be fitting comfortably inside the tent. There are four-person tents that can fit your friends and family when camping. There are also large enough tents that are suitable for entire families.
Size and Weight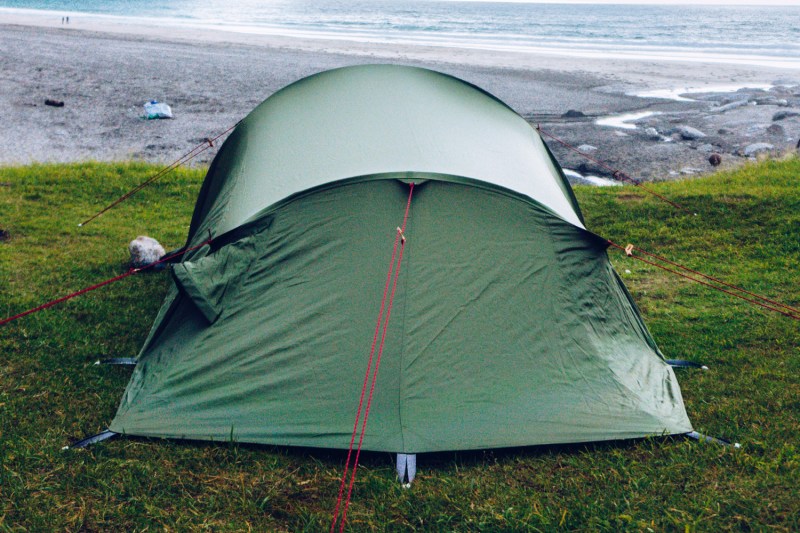 If you just need a tent to toss in your trunk for car-camping adventures, size and weight probably aren't a major concern. If weight won't be an issue, go big. Most tents will have the recommended number of occupants in the tent name. When kids, dogs, friends, chairs, and all manner of accessories need to go inside the tent, bigger is better.
On the other hand, if you're looking for a trustworthy tent to haul on backcountry treks, weight, and size make a big difference. To minimize the load in your pack, some of the best backpacking tents include storage systems that feature multiple stash bags, allowing tent weight to be easily shared by multiple backcountry travelers. And, to further eliminate pack weight, some minimalist tent models also come with a weatherproof fly that can be pitched as a stand-alone shelter when conditions permit.
Other Tent Accessories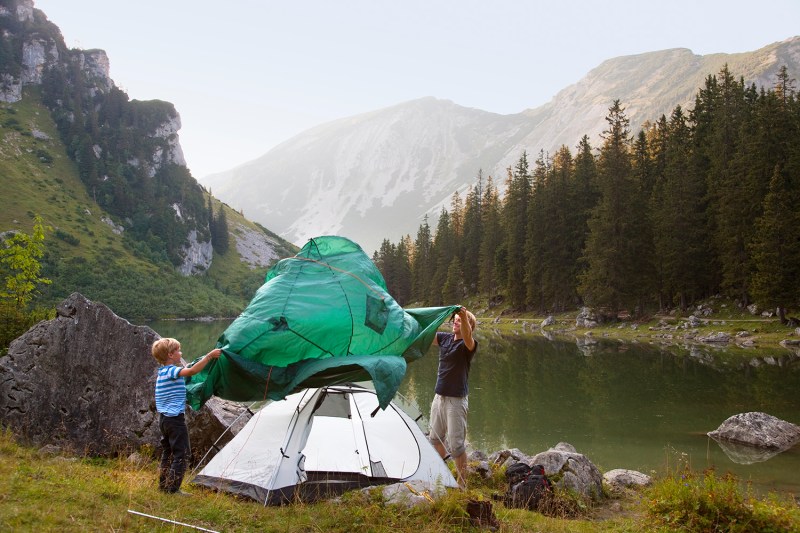 When buying a tent, there are a few supplemental accessories to consider that can extend the life of your tent, and they make for a more comfortable camping experience. A footprint or camping tarp is basically a ground cover fitted to the size of your tent that provides a buffer from seeping moisture on nights on the trail, and a tarp offers an extra layer of protection against abrasion whenever you're camped on rough terrain. Some tents come with a footprint included, but for many models, the footprint is sold separately. And, for tents that get a lot of rough-and-rugged use over a long lifetime, touching up your gear with a synthetic seam-sealer can help to ensure your backcountry shelter stays waterproof.
Types of Tents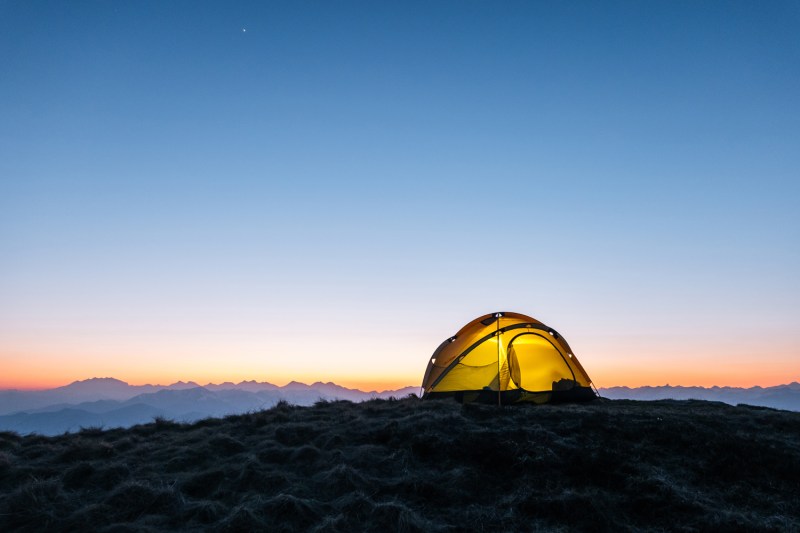 Roof-Top Tents
The best rooftop tents offer an elevated car-camping experience, one step closer to sleeping in a camper. In addition to keeping you off the ground, which can offer peace of mind in landscapes renowned for venomous creatures, roof-top tents typically also include a built-in mattress pad, and provide a perfectly flat sleeping surface. And, while once mounted, roof-top tents are a breeze to set up, though they do eat up storage space for accessories such as kayaks, bikes, or surfboards.
iKamper SkyCamp 2.0
For a spacious roof-top retreat, the iKamper SkyCamp 2.0 has room for four people and sets up in just a minute. The hardshell tent includes a king-size mattress and quilted lining to keep campers cozy, while the three-layered windows allow for stargazing on clear nights.
Tuff Stuff Ranger Roof Top Tent
For summer getaways, Tuff Stuff's Ranger Roof Top Tent is an inviting option. The softshell tent has space for three, with a cushy sleeping mat, and three mesh windows for catching a cross-breeze. There's a hammock for added storage, along with a shoe-bag that attaches to the tent poles — perfect for stashing boots and other gear.
Tents for Car Campers
The best car camping gear affords plenty of perks — like the ability to bring fully-stocked coolers, lounge-worthy hammocks, and plush camp chairs. And, since there's virtually no need to worry about tent weight, you can splurge on more spacious accommodations — always a plus on group campouts, especially on rainy days.
Eureka Copper Canyon LX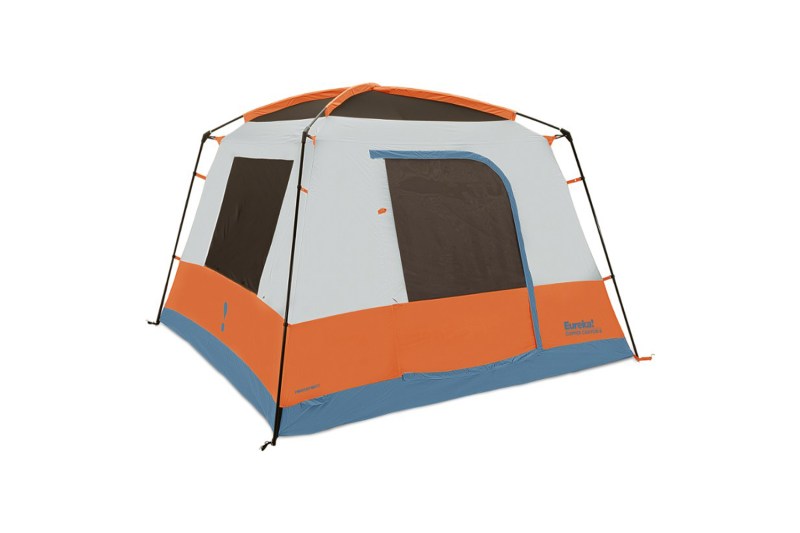 Every car camper needs an easy-to-set-up tent, and the Eureka Copper Canyon LX is the perfect tent for the job. Eureka's breezy Copper Canyon — which can shelter six people — features a steel and fiberglass frame with quick clips, corner hubs, and pole sleeves for a hassle-free one-person setup. With floor dimensions of 120 by 120 inches and a peak height of 84 inches, the Copper Canyon is one heck of a fortress, providing ample space for standing (or stretching) and laying down multiple sleeping bags. Its zippered smart feature, the E! Poweport, helps keep everyone's devices charged in the wild — handy for when emergencies strike.
Rei Co-op Base Camp 6 Tent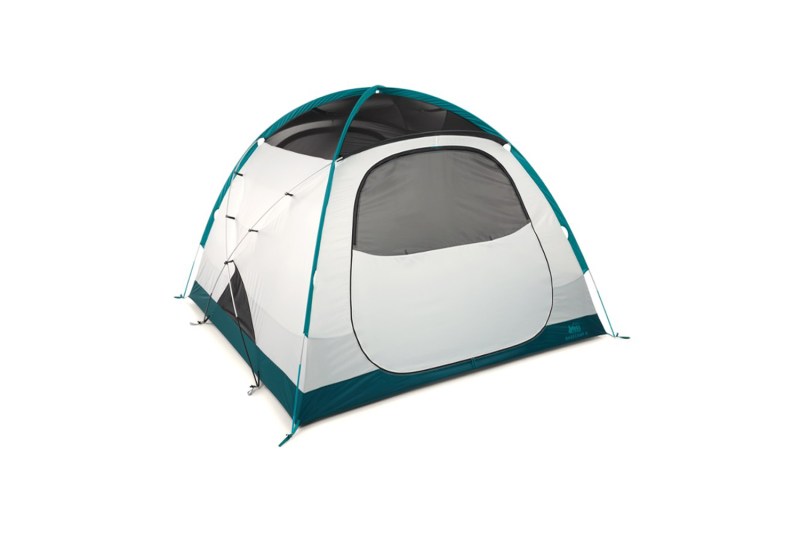 The Base Camp makes a great pseudo-retreat house, built for space, comfort, and functionality. Thanks to its 110-by-110-inch floor dimension, the tent has enough room to fit six campers and all their gear. The tent's roof vents function as a makeshift chimney for adequate airflow and condensation control, while the functional pockets and hang loops keep everyone's outdoor gear organized. Blending comfort and practicality, the Base Camp is a tent you can rely on for when you want to embark on an all-weekend outdoor getaway, rain or shine.
Tents for Backpackers
Finding the perfect backpacking tent is all about balancing weight, packed size, and sturdiness. While you want a compact tent that won't hog space in your pack, you also need a shelter tough enough to handle whatever Mother Nature throws your way on the trail — especially for winter campouts, or expeditions at elevation.
Marmot Limelight 2-Person Tent
While not the lightest option for the trail, Marmot's Limelight 2 is a robust three-season shelter, with a generous amount of space for a couple — or a solo hiker and a brawny dog. The tent comes with a footprint, for added protection from the elements, and color-coded poles make for easy set-up in the backcountry. Inside, a lampshade pocket provides ambient light, and the vestibules buttressing the tent offer an additional 16.5 feet of space for boots and backpacks, on top of the 33 square foot interior.
Sea to Summit Telos TR2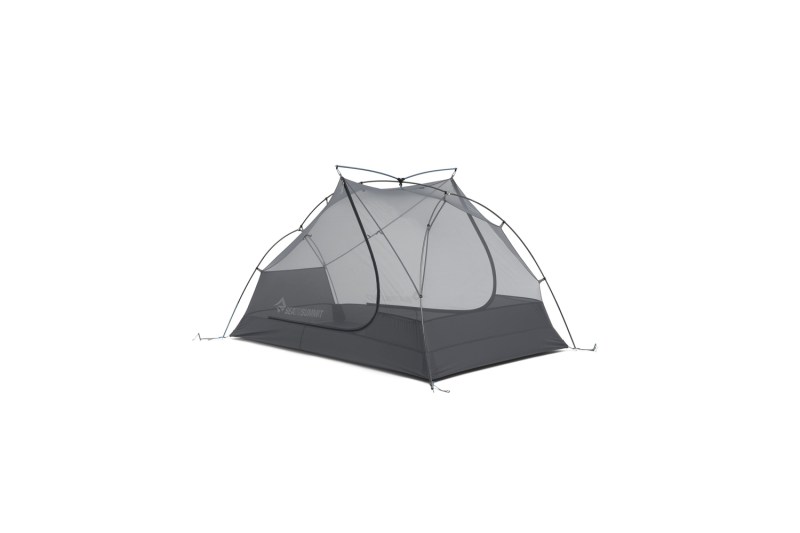 For minimalist backpackers, the Sea to Summit Telos TR 2 is another versatile three-season option, with thoughtful touches that make the 3 pound, 10.7-ounce tent exceptionally livable. There are apex and baseline vents to promote interior airflow, while tension ridges increase interior space. For warm-weather campouts, the tent can be put into "hangout mode," to create a semi-open shelter that's also perfect for beach days. To cut weight on the trail, the FairShare storage system means the tent can be divided three ways, and the storage sack for the tent's poles even doubles as a Lightbar, to create ambient interior lighting with the addition of a headlamp.
Tents for Extreme Adventures
For adventurers keen to sleep outside in any weather, a four-season tent is the best bet. Tough enough to withstand freezing temperatures, thrashing winds, and accumulating snowfall, four-season tents are worth the price tag for expeditions in extreme conditions
Mountain Hardwear Trango 4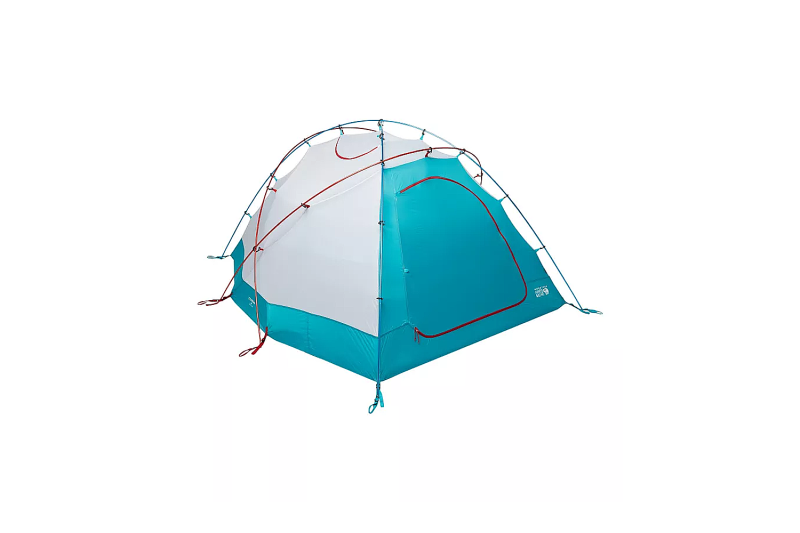 For shelter from grizzly conditions, the Mountain Hardwear Trango 4 is an ideal basecamp. Fully-taped seams and a bathtub-style nylon floor help to make the four-season shelter a fully waterproof escape for campouts above treeline in hammering rain or accumulating snow, and with 57 square feet of interior space, there's enough room to comfortably gather when harsh conditions necessitate being inside.
Tent Alternatives: Bivies, Tarps, and Hammocks
If you really want to go minimal, try a bivy bag, tarp, or the best hammocks for camping. Bivies are waterproof bags that go around your entire sleeping bag, often with a small tent pole around your head. Packing down to the size of a water bottle, these shelters will keep you dry but not much else. For space for two or just more comfort on the trail, stick with a regular tent.
Other Things to Consider When Buying a Tent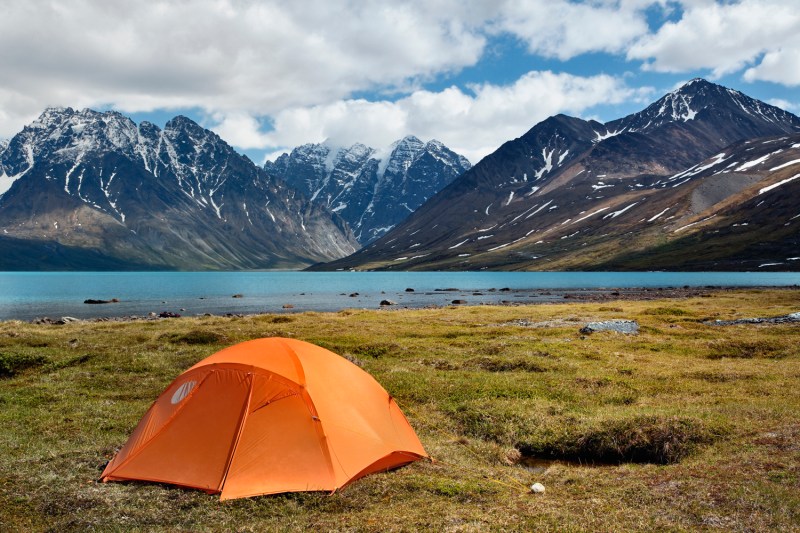 Rent It Before You Buy It
Many outdoor shops rent outdoor gear. Try renting a few different brands, and you will see the differences and discover whether you prefer certain features. You might really like how one brand's zippers feel or how another's poles are put together. Since many tents are relatively similar, the little details can make all the difference.
Test Your Tent in the Backyard
You want to be able to set it up on your own. Can you actually set it up yourself? Do you need someone else to help? Are the poles easy enough to set up on your own? Learning the setup process in your backyard will help you know what to expect at the end of a long day hiking when it's dark and raining sideways. Pro tip: Have a barbecue and bet on who can set up the tent the fastest.
Editors' Recommendations