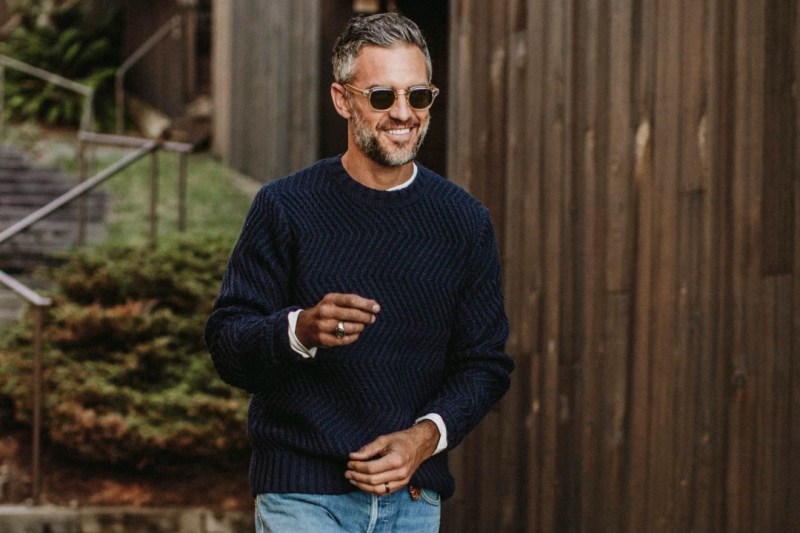 The days of stuffy, scratchy sweaters, perhaps the kind you were forced to wear as a child, are a thing of the past. These days, the best sweaters are nothing but soft, cozy, and at times, luxurious. There's also a plethora of sweater varieties out there to suit every budget, taste, style, and wearing occasion. Be it a weekend getaway, a party, a day back in an unexpectedly chilly office, or a relaxing morning at home, if it's a stylish sweater you seek, it's a stylish sweater you'll find.
And you've got your pick of V-neck sweaters (ideal for layering over a shirt and tie), plus more casually inclined crewneck sweaters, the decidedly back-in-style turtleneck, the rugged shawl cardigan, and plenty more. Pick one in a neutral, easy-to-match color, and you've hopefully found a layering solution that works with jeans, chinos, or even tailored sweats. To upgrade your seasonal sweater rotation, you only need to check out our favorite options for 2022 below.
Best Overall Sweater: Nordstrom Cotton and Cashmere Crewneck Sweater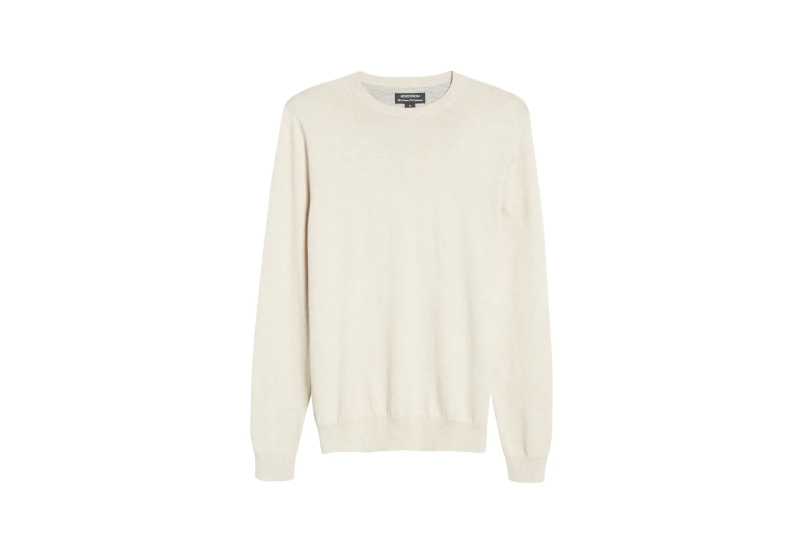 Made from a soft, warm-yet-breathable blend of cotton and cashmere, this sweater wears just as easily with dark blue jeans and an Oxford shirt as it does with a dress shirt, knit tie, and wool trousers at the office. Plus, you can't beat the range of colors or the agreeable price tag.
Best Turtleneck Sweater: Club Monaco Recycled Cashmere Rollneck Sweater
Sustainability in menswear is still very much on the menu, and it helps that this stylish turtleneck uses recycled fibers for an incredibly comfortable finish. Wear your turtleneck with a suit or underneath a crisp, deep indigo trucker jacket for a bit of retro style that still feels fresh these days.
Best V-Neck Sweater: Peter Millar Crown Crafted Interlock V-Neck Sweater
Plenty of small touches set this sweater apart from the pack, including an interlocking weave using breathable, anti-microbial merino wool. Add in rich seasonal color options and a flattering tailored fit, and you've got yourself a winning sweater for any occasion.
Best Shawl Cardigan: Wills Cashmere Marled Striped Shawl Cardigan
The cardigan gets a bold update here, blending throwback, '70s-inspired colors with rich, cozy shawl construction and premium fabric. This is the ideal sweater to wear around a roaring fire on a cold winter night, dram of whiskey in hand.
Best Casual Sweater: Buck Mason Cotton Traveler Sweater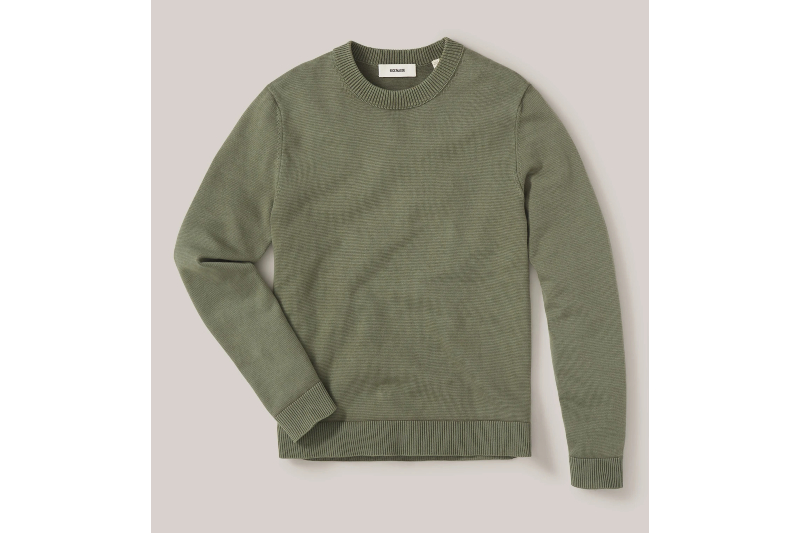 Sometimes, you don't need to overdo when it comes to layering. All you need is a straightforward, subtly stylish crewneck sweatshirt in a vintage-dyed wash, not to mention a more unique color in a sea of burgundy and navy for the holidays (although neither of those are a bad thing to have on hand).
Best Luxury Sweater: Rag & Bone Reversible Wool Jacquard Sweater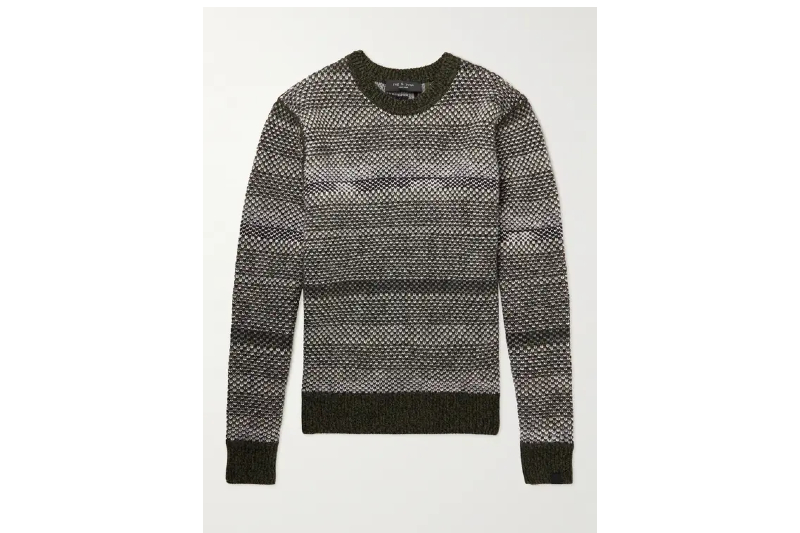 On the other hand, sometimes, you feel like splurging when it comes to your top layer, especially if a refined holiday party is in the cards. Rag & Bone, makers of minimal denim and tailoring, are really giving you two sweaters for the price of one with this reversible design touch.
Other Sweaters We Love
Bloomingdale's Merino Crewneck Sweater
Courtesy of the menswear shop within esteemed retailer Bloomingdale's, this elegant and nicely priced sweater hits all the right notes. It's available in a range of versatile fall colors, and the merino wool fabrication means it's both warm and easy to layer.
Banana Republic Italian Wool-Blend Half-Zip Sweater
Banana Republic goes luxe and minimal here with a sleek half-zip sweater made to be worn on its own or layered underneath a blazer at a holiday party. Pair yours with a textured knit tie and a crisp white dress shirt for the ultimate effect.
Relwen Thermal Rib Shawl Sweater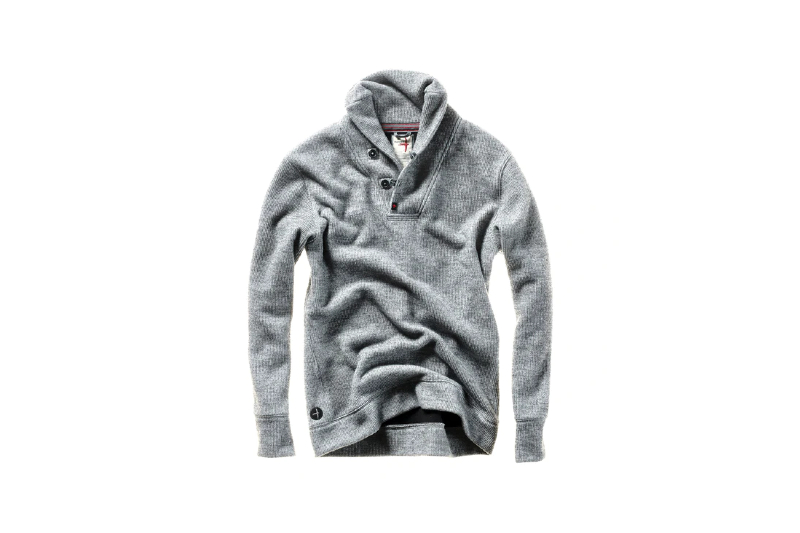 It's important to remember that sweaters serve a purpose beyond style: In extreme conditions, the best sweaters can pack a serious punch in terms of warmth. Such is the case with this outdoor-ready Relwen sweater, best worn with a parka or waxed trucker jacket for added warmth.
Armor-Lux Mouline Sweater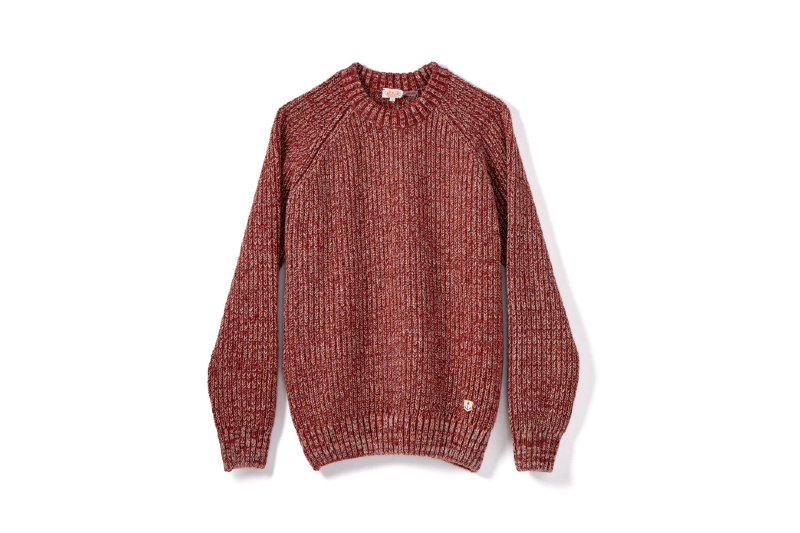 With a rugged, thick knit and a touch of throwback style you might have found on the high seas in decades past, this sweater has all the makings of an adventure-ready layer. The raglan sleeves also add mobility and provide ease of movement even when layered up.
Editors' Recommendations