Your sleeping bag is the cornerstone on which your entire camping sleep system should be built. Get your sleeping bag right, and you'll sleep soundly and wake feeling refreshed, ready to face the day ahead, whether relaxing in camp with the family or hitting the trail to your next campground. But get it wrong, and you face more than just a host of discomforts; too hot, too cold, too bulky for your pack, and baffles in all the wrong places.
But how do you go about choosing your perfect sleeping bag? Unfortunately, there isn't a 'one-sleeping bag' solution to your camping needs. Many experienced campers — especially those who like to camp year-round — end up with three or four sleeping bags that fit various needs. Whether this is you and you're looking to expand your camping setup, or you're looking to finally replace the sleeping bag you've had since you were a teenager, you want to be sure that you spend your money wisely. Here's how to buy the right sleeping bag.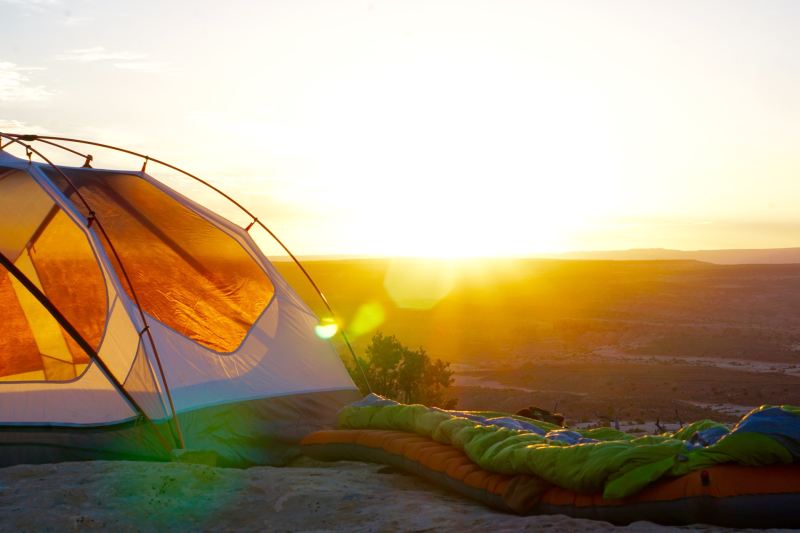 Get the temperature rating and seasons nailed first
Sleeping bags are rated in two ways; seasons and temperature. The principle is that the seasons are more general — as a place to start from — while the temperature ratings hone in on the bag's technical attributes.
Two-season sleeping bags are designed for summer camping and the warmer ends of spring and fall and are usually rated for 32 degrees and above.
Three-season sleeping bags are rated from 20 degrees and are suitable from spring through fall. Most people who only own one sleeping bag will buy a three-season one, as they tend to represent the best warmth-to-weight ratio and can often be used year-round when paired with the right sleeping bag liner.
Four-season sleeping bags are designed for extreme winter camping trips and high-altitude expeditions. These sleeping bags are designed for conditions where temperatures drop below 20 degrees Fahrenheit, though the specific rating varies between bags.
Sleeping bags have three temperature ratings: comfort, limit, and extreme.
The comfort rating is the optimal temperature for your sleeping bag. This rating should be used as your guideline when buying your sleeping bag. Aim for the comfort rating to be your standard camping temperature.
The limit rating of a sleeping bag is the lowest temperature at which the average adult male can sleep through the night. You may not wake up because of the cold, but you will most likely feel cold when you do wake up. This rating is useful for planning camping trips in spring or fall.
The extreme rating is not one you want to explore too closely. This is the absolute limit of your sleeping bag for survival situations. The extreme rating is the temperature at which your sleeping bag will keep the average man alive for six hours without risk of death from hypothermia.

Down vs. synthetic insulation
Sleeping bags are filled with insulation to trap your body heat and create a barrier between you and the cool outside air. This insulation is usually either down feathers or synthetic fibers.
Down fill offers a greater warmth-to-weight ratio, so most trekkers prefer a down sleeping bag. These bags are lighter than synthetic sleeping bags and pack down smaller, giving you more space. This is because down has a higher fill power than synthetic materials. Fill power is a test of how much the down can loft.
Synthetic bags use polyester fibers instead of down feathers for their insulation. These fibers require more space to achieve the same level of insulation, so synthetic sleeping bags tend to be bulkier than those insulated with down feathers. The key advantage that synthetic sleeping bags have is their ability to retain their warmth even after being soaked. With DWR (durable water repellant) coating, down is slowly catching up, but synthetic bags still have the edge for camping in wet conditions.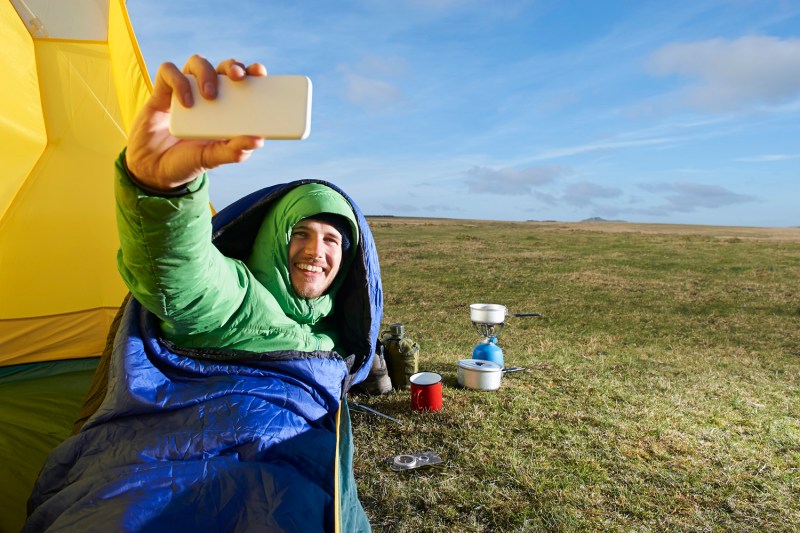 Select a shape and size that suit your body
While insulation and warmth are the most important features of a sleeping bag, factors such as shape and size should not be underestimated. It sounds obvious that you should choose the right-sized sleeping bag, but the space around you is surprisingly important to your warmth and comfort. Too much space adds unnecessary bulk and calls for extra body heat, but if your sleeping bag is too tight, your insulation won't have the space to loft and won't trap heat.
Most technical sleeping bags are a mummy fit — shaped to fit close to your body and tapering towards your feet. This reduces excess fabric and insulation, saving weight and bulk in your pack. Mummy sleeping bags are warmer than square bags, with the form-hugging design reducing the air around you, but they can feel restrictive while you get used to using them. Square sleeping bags are suited to summer camping, but you will rarely — if ever — find a square sleeping bag rated higher than two-season.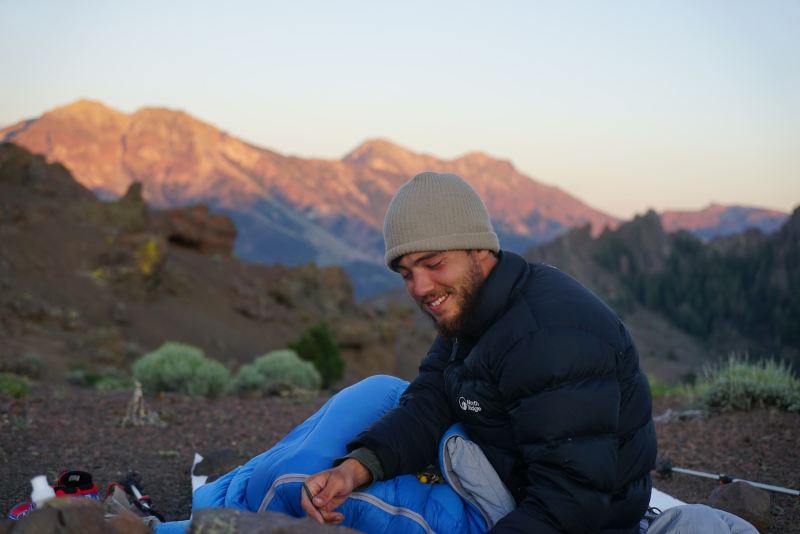 Choose your optional extras
Finally, consider the following features and whether they are important to you.
Pack size and weight. Do you need to fit your sleeping bag into a hiking backpack or the trunk of a small car? Warm sleeping bags with a small pack size are often among the most expensive, but this may be a priority if space is tight.
Do you need a hood?

Although the myth that we lose 50% of our body heat through our heads has been debunked, do still probably lose around 10% of our body heat. A sleeping bag hood — with a cinch cord — can be pulled tight around your head and make all the difference on cooler nights.

Your zip. Sleeping bags can often come with a left or right zip. Having this on the opposite side from your dominant hand can make it easier to unzip, or if you are a couple looking to cozy up, you can get a pair of sleeping bags with opposing zips and attach them.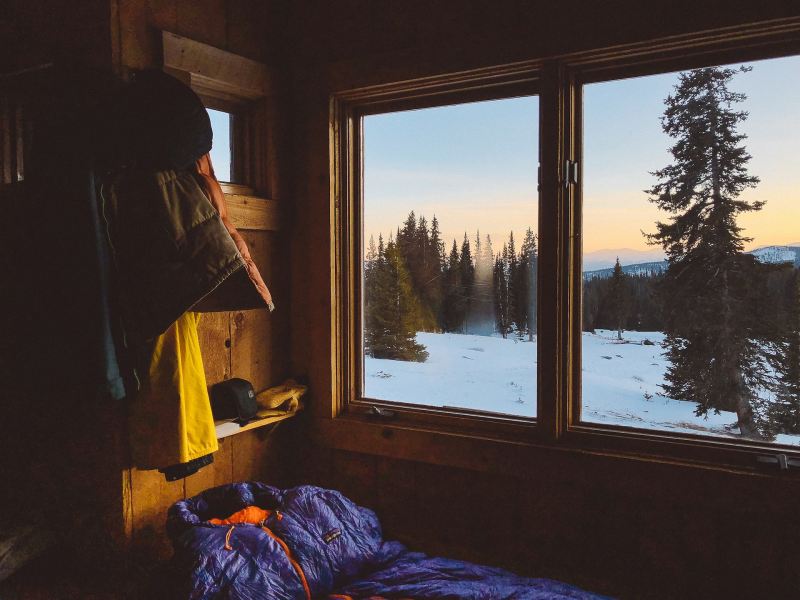 How often should you replace your sleeping bag?
The lifespan of a sleeping bag varies depending on how regularly you camp, how you store it, and how well you care for it. There are still campers using decades-old sleeping bags, while others will find that their new bag doesn't last more than a few years. Buying a higher-quality sleeping bag will play a big part in how long your sleeping bag lasts, but there are other things you can do to extend the lifespan of your new sleeping bag, too.
Don't sit too close to the campfire or use your sleeping bag as a blanket around camp — keep it in the tent.
Air dry your sleeping bag after every use before storing it away.
Use a sleeping bag liner and wear thin layers to keep your sleeping bag clean.
Wash your bag at least once per season — or more if you're a regular camper — to keep it in good condition.
Don't store your sleeping bag in a tight stuff sack. Remove your sleeping bag after use and store it in a spacious bag where the insulation has space to loft. Otherwise, it will clump and stick together over time — especially with down.
Editors' Recommendations