So you're looking for a ski setup, are you? Well, plenty of lists out there can give you a good idea of the best skiing equipment or the ideal snowboarding setup. But there's more to it than just buying what is written on a list and hitting the slopes. Sure, there are some dos and don'ts — we'll get to those shortly — but there are also opportunities to mix it up, to have a personal preference, and do what suits you.
For a start, we're all built differently. Some people naturally run hotter than others; if you sweat out on the mountain, you're liable to cool down quickly. Then there are other factors, like how regularly you're going to head up the mountain, your budget, and any brand loyalties you might have — certain brands have different fits, and it's sometimes safest to stick with what you know. But there are some rules to stick by and some concepts that work on the mountain. Our ski gear buying guide is here to help you make the right decisions regarding your winter kit.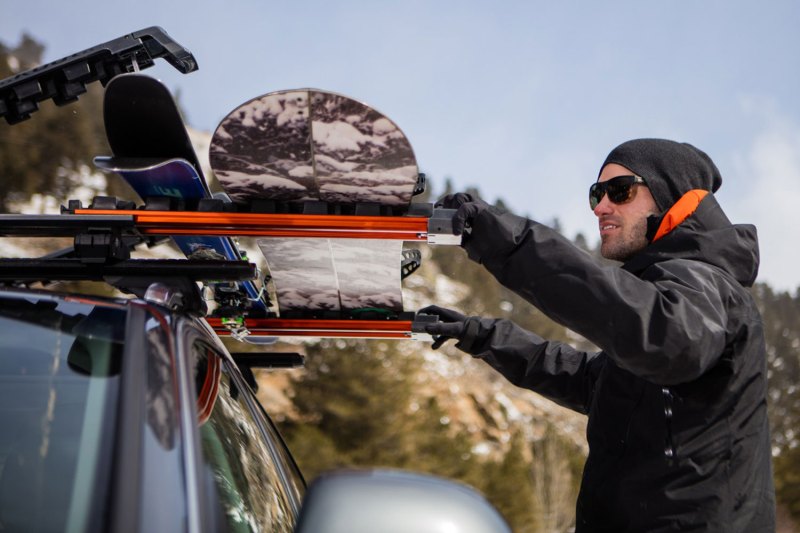 Go for wicking base layers
Your base layers are the starting point for dressing yourself in the morning. Get these wrong, and your whole setup goes to pieces. They are perhaps the most neglected items in the entire setup, with skiers spending hundreds of dollars on jackets and pants only to wear a cotton layer underneath them. You need a baselayer that breathes and wicks moisture away from your body. That way, you remain dry and don't risk cooling down quickly and dangerously when you stop skiing. Try to stick with merino base layers where possible; they have the best breathability and have the added bonus that they won't stink after a day on the hill. If your budget won't stretch that far, just make sure to avoid cotton at all costs.
Don't neglect the socks
Moisture control shouldn't stop at your knees. Inside those ski or snowboard boots, you need a quality pair of merino wool socks to regulate your temperature and moisture. Seriously, if you're only going to buy one merino item for your ski holiday, make it a pair of socks — perhaps two, actually. They make the biggest difference to your comfort, and keeping your feet dry really helps to stop you from getting blisters.
Top Tip: Never tuck your thermal bottoms into your socks. This creates a ridge around your shin, which becomes a pressure point throughout the day and feels like someone is jabbing you. I worked in a rental store, and we had to deploy this fix at least four times daily.
One big jacket, or layers and a shell?
It's decision time; do you go for the insulated ski jacket or layer up? This one is all on you, but each has pros and cons. Most skiers and snowboarders who ride inbounds wear an insulated ski jacket on top of a base layer and a mid-layer fleece. The insulation keeps them warm, and having one warm jacket can be more comfortable than having multiple layers that can ride up on one another. Insulated jackets also tend to cost less than buying multiple jackets to create a layering system.
Alternatively, a hard-wearing and waterproof shell jacket with baselayers and an insulated mid-layer jacket underneath give you the freedom to change up your layering day-to-day and even throughout the day of riding. Plenty of times, I've started skiing in sub-zero temperatures, only to have the sun crest over the hill and feel the need to drop a layer. If you already own insulated mid-layers and hardwearing shells, you might not even need to buy many, or maybe any jackets.
The same decision should be made regarding ski pants, too.
The more you can see, the easier the ride
You can hit the slopes in your sunglasses, but if you want to enjoy skiing without your eyes streaming in the cold, you need a good set of goggles. The best ski goggles on the market give you maximum vision, uninhibited by large frames or small lenses. If you only ever ski on bluebird days, you will only need a pair of ski goggles with a lens for sunny days. But if you're serious about getting out on the mountain on every available day, you will also need low-light lenses that give clarity to the snow even when the clouds have closed in.
Whatever goggles you choose, make sure they have good ventilation and fit comfortably under your helmet. Most quality goggles now come with a helmet fit, but you want them to sit close to the brim of your helmet without leaving a gap that lets cold air freeze your brain as you ride. Ventilation is important to keep your lenses clear of condensation that can build up as your face warms up.
Gloves or mitts? Either way, you should wear liners
Gloves give you more dexterity, but mitts are warmer. If you regularly open your pockets, dive into a backpack, or want to be able to use your fingers on the mountain, then gloves are the best choice for you. But if you're prone to cold hands and happy to forego a little convenience in favor of warm hands, then mitts are a better choice. Thin liner gloves — merino if possible — add a layer of insulation and let you remove your outer gloves for fiddly tasks without exposing your skin to the elements.
Whichever you choose, go for an insulated pair and ensure they're fully waterproof. Non-waterproof gloves will soak up snow throughout the day, which will seep through to your hands, making them cold and uncomfortable. Waterproof ski gloves might look expensive at the outset, but plenty of skiers have scrimped at the outset only to hit the ski store halfway through their day and drop a load of money on a better set of gloves. Surely it's easier to get it right the first time?
Editors' Recommendations