Ah, Colorado. With such a large portion of the Southern Rockies in this state, it's hardly surprising that so many of the best ski resorts in the US are found here. Although many of these feature among the most advanced and gnarly terrain available to anyone hitting the slopes, there are plenty of Colorado ski resorts that are not just suitable for beginners, but perfect for them.
There's nothing straightforward about finding yourself a ski resort, unfortunately. Even what seasoned skiers consider to be the best ski resorts in the world don't work for everyone. Just as each ski resort is different, each skier and snowboarder has unique needs. Would you prefer a quiet mountain to learn on, with only a few other riders? What about a buzzing apres-ski scene so you can hit the bar after your lessons? Or perhaps you're heading out with a whole crew who all ride at different levels. Whatever you're looking for, if you want somewhere to learn in Colorado, we've got a resort for you.
Beaver Creek
Beaver Creek Ski resort is a beginner's paradise. Just a little under half of the resort's 2,000 skiable acres, consisting of 59 runs, is beginner terrain. These runs vary between wide-open groomers of near-perfect corduroy to mellow glades for those first powder turns. This includes the new McCoy Park, a 250-acre area designed just for beginners to explore.
Often in resorts with so much terrain, beginners are restricted to a selection of short runs and are often tucked away where they won't pester the experienced skiers — at least, that's what it can feel like. At Beaver Creek, there are green and blue trails coming all the way down from the top of the mountain, so you can get the views and explore without being back at a lift every few minutes.
Steamboat
You'll be hard-pressed to run out of ideas when skiing at Steamboat. This expansive resort is the second-largest in Colorado, and although it may not have the highest percentage of land dedicated to beginner terrain, you won't be riding that same button lift over and over again. The 23 beginner trails on the mountain will take you all around the mountain so you get the same level of freedom as skiers with years under their belts.
But Steamboat is doing more than just letting you hit their trails; it's a resort keen to help you advance your riding. The all-new Greenhorn Ranch area has been built as the proving ground of Terrain-Based Learning®, a technique exclusive to Snow Operating, the local ski school. This approach throws out the old-school way — following someone down a mountain as they shout the word "snowplow" at you with increasing frustration — and lets the terrain be the teacher, giving you real-world, transferrable skills to take to the mountain.
Granby Ranch
Granby Ranch is by far the smallest resort on this list, with just four lifts servicing the whole area. But that doesn't mean you should discount this as a resort that will limit your riding. Having lived in two different ski resorts in my life — one with just six chairs and the other with around 200 — I can promise you that I got plenty more riding done in the day at the smaller resort. Why? Well, a smaller resort means fewer people, shorter queues, and an all-around friendlier feel.
What's particularly great about Granby is that the resort is split even further. While the west mountain contains a number of steeper runs and terrain for more experienced skiers and snowboarders, the east mountain has cruising green and blue groomers all the way from the top to the base. This means that even beginner skiers can get a ski run with 1,000 feet of vertical descent, all for just one chair lift. Not bad for a small resort, eh?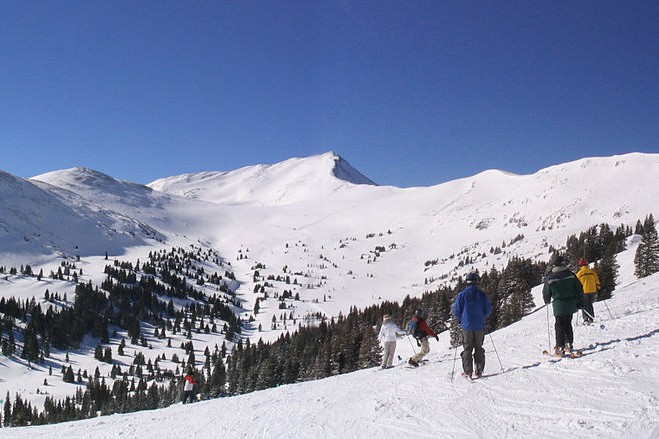 Copper Mountain
Often, Copper Mountain is seen as an advanced skier mountain. Don't get us wrong — this resort has a good amount of steep, world-class glades, chutes, cliffs, and bowls. But the lower reaches of this resort feature enough beginner runs that they could almost warrant being their own resort. This includes long, sprawling green runs, intertwining green and blue runs, and progression terrain parks to push your skills.
Copper Mountain Resort has plenty on offer when you've hung your snowboard or skis up for the day, too. The Rocky Mountain Coaster lets you cruise down almost 6,000 feet of track, taking in views over the whole resort. Down in town, there are plenty of bars for a few apres ski drinks, as well as a few apparel shops, just in case your snowboard gear isn't quite up to scratch.
Telluride Ski Resort
Telluride isn't just a great Colorado ski resort — it's one of the best ski resorts in the US. A little like Copper Mountain, Telluride features some excellent top-level freeride and all-mountain terrain, so you can watch experienced skiers shred the resort while you're on the lifts. Here, though, the beginner terrain stretches far beyond most resorts, with one of the longest green trails dropping over 2,000 feet of elevation.
You can get almost all the way around the mountain using the beginner trails at Telluride, so you won't be missing out on half of the resort because you're still learning. For those who want to hone their skills before exploring the mountain, there are plenty of shorter runs in the lower reaches of the mountain, as well as beginner terrain parks. The resort at Telluride is also littered with restaurants, bars, and huts to warm up in on those cold winter days.
Editors' Recommendations