I'm sure you're the same as me. Having spent so much time outdoors and in such varied conditions, I'm now at the point where my clothing layers are absolutely nailed. I know my gear. So much so that after four years and five attempts at replacing one of my ancient stretch fleeces, I've stopped trying. I love it; it works for me, so what if it resembles a block of Emmental? (In looks, not smell, honest.)
So it was with mild trepidation that I took Ibex up on their offer to try out their new Aire Hoodie. Not because I didn't trust their gear — I've used and loved their Nomad jogging bottoms and loved them — but the promise that this merino-insulated jacket could become my new snowboarding mid-layer seemed too good to be true. For context, I shirked the bulky ski jacket long ago and now rely on warm and adjustable layers for touring days and resort days. But could the Aire Hoodie really earn a place in my ski gear lineup?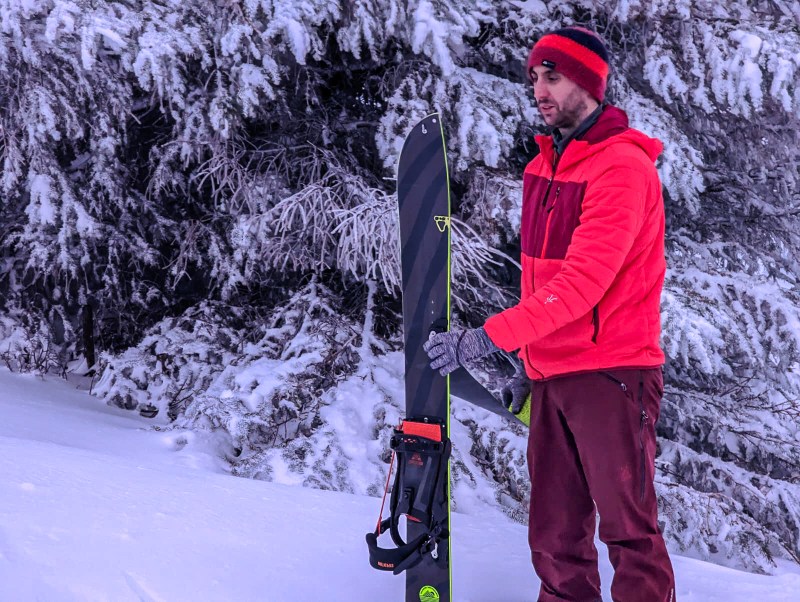 Spoiler alert: yes, it could. I packed my touring bag just days after receiving the Aire Hoodie, making the bold decision not to take my usual jacket, lest I was tempted to return to my old ways. The moment I reached the top of the mountain, dropped my bag, pulled the Aire Hoodie out, and put it on, I knew I had made the right decision.
So what about this jacket that has made it a mainstay not only in my touring bag but for winter hiking days, resort snowboarding, and everything else?
It's light. I wear a men's medium, which weighs just 11.3 oz — 321 g — barely enough to notice in your bag. It perhaps doesn't pack down as small as other jackets I've had, but it excels in the warmth-to-weight ratio. Then there's the breathability. Ibex is known for using merino wool, and the Aire Hoodie features an 80/20 merino/synthetic insulation mix. Compare this against a standard synthetic jacket, and you've got breathability that allows you to regulate your temperature and not end up dripping in sweat. I kept this jacket on for an upclimb to test this, and even though I started to overheat — I run hot anyway, and this is a warm layer — very little moisture had accumulated.
I wear the Ibex Aire Hoodie as a mid-layer, with a merino baselayer underneath —sometimes with an extra stretch fleece — and a waterproof shell over the top for weather protection and durability. The 20-denier nylon face fabric of the Aire Hoodie may be strong enough for everyday use, but I'm not sure I'd want to test it against trees, rocks, or hard snowpack. That said, after around fifteen days of use, it still looks — and smells, thanks to the merino — as it did when I first took it out of the plastic, so perhaps I'll be surprised as I wear it more.
I took this jacket on expecting it to become part of an arsenal of jackets, a 'this one is right for today' type mid-layer. Instead, it's become my go-to, my daily driver jacket, and has put some tried, tested, and trusted insulated jackets on the brink of retirement. If that's not a recommendation, then I don't know what is. My only regret is that I don't also have the Aire Vest for those days when ski vests are more appropriate.
Editors' Recommendations