Whether you're car camping for a night away from home or pitching a lightweight tent as part of a week-long backpacking trek, camping is the perfect activity to get outside and experience nature at its finest. When you look at the weather forecast and see that it's going to be wet, we know how strong the temptation can be to pull the plug on the trip. But with the right gear and planning, your camping trip doesn't have to be a complete washout.
Some of our best nights sleeping outside in a tent have been camping in the rain. The sound of raindrops bouncing off your flysheet and the comfort of a warm, dry sleeping bag after a long day on the misty trail is a personal favorite. Being comfortable in all weather means having the right gear, but fortunately, there are plenty of budget-friendly camping gear choices on the market nowadays. Here are our top tips to keep your camping trip going when the weather turns against you.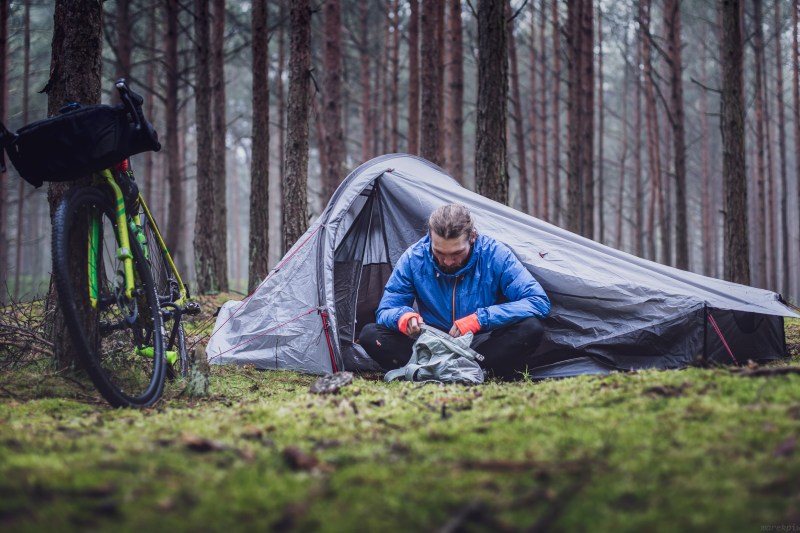 Get Your Layering Right
If you're camping in the rain, you will need a high-quality waterproof jacket and a pair of waterproof pants, as well as a pair of waterproof boots. Underneath all of this outer armor, you need to wear the right layers. Wearing breathable and quick-drying layers under your waterproofs regulates your temperature effectively and lets sweat evaporate. This means no cotton and sticking to synthetic fabrics and fibers, or merino wool layers.
Non-breathable layers, or cotton, worn under waterproof jackets and pants will soak up your sweat, and you will end up just as soaked as you would be sitting out in the rain. When it comes to insulated jackets and even sleeping bags, try to use synthetic insulation. This will insulate effectively even if it gets wet, and will dry without clumping, unlike down.

Pack Into Waterproof Dry Bags
Protect your gear with a proper weather-resistant or even waterproof bag. Don't trust your usual hiking backpack when it comes to water resistance. To be sure that your critical gear — your sleeping bag, a change of clothes, food, any electronics, and medical or emergency supplies — stays completely dry when camping in the rain, you need to tuck everything into a waterproof bag, even when said stuff is inside your supposedly waterproof tent.
If you're out on a backpacking trail, we recommend using lightweight dry bags to pack into your hiking pack. If you pack in a modular fashion using individual dry bags for separate items, this also helps when you get to camp as you only need to pull out a single dry bag at a time. Your spare items will still remain dry inside their own bags, rather than having an open backpack filling with rain.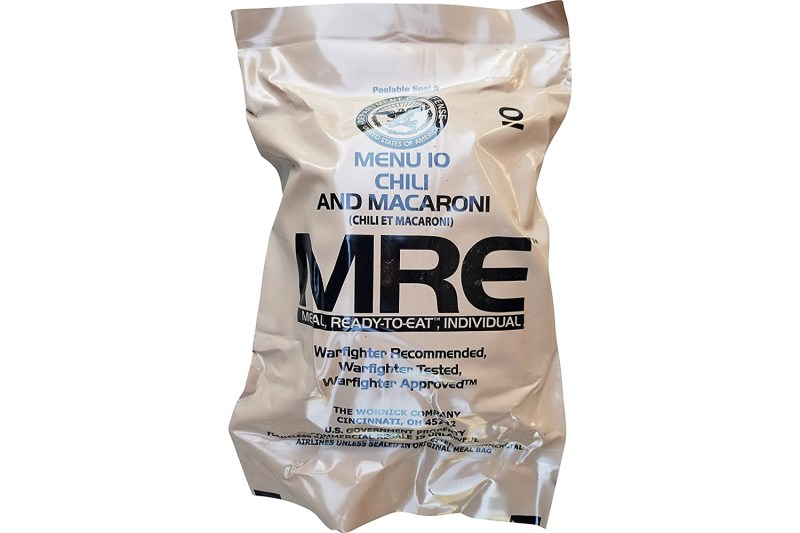 Plan Your Meals
Cooking in the rain is often the last thing you want to do. Unfortunately for you, during heavy rain and cold weather you are going to require more calories than usual to keep yourself warm overnight. If you know you're going to be in heavy rain, pack dehydrated meals or ready-to-eat meals that cook quickly.
Remember, you shouldn't use your camp stove inside your tent, but unless the rain is really heavy, you can probably find enough shelter to put together a quick camping meal. It can be tempting to forego the evening meal and retreat to your tent for an early night. Sure, you can survive for a night or two off snack bars, but if you're out on the trail, trust us when we say you will want to eat a proper meal and fend off hiker hunger for the next day.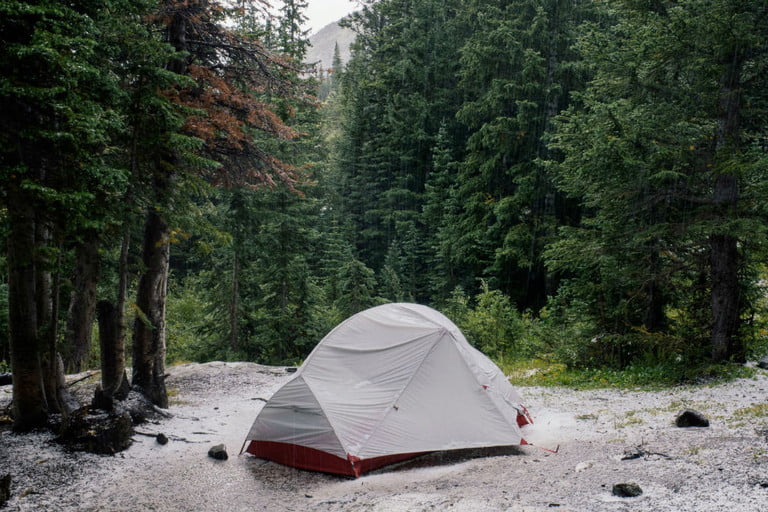 Pick Your Pitch
That patch of grass in the trees might look like the perfect spot to pitch your tent, but if it's at the bottom of a hill, or near a river, you're going to want to think again. Try to find some high ground where the water is running off and remember that rivers are liable to swell overnight. Just because they're not a danger when you go to bed doesn't mean you aren't going to be woken up in the night by the creek gently lapping over your toes.
Look for natural shelter that can give you some protection from the rain while cooking or answering nature's call in the night. This isn't just great for you but for your tent, too. Every tent has a waterproof limit, and it's better to give yours all the help it can get and stay dry than test it fully and find that limit overnight. If you can't find any natural shelter, remember to pitch your door facing away from the prevailing wind direction so your tent doesn't fill with rain every time you climb in and out.
Come to Grips with Tarpology
Modern camping tarps are lightweight and barely noticeable in your bag, but they are invaluable when it comes to enjoying your time in the rain. Learn a few different ways to pitch your tarp and use these to either protect your tent, extend the porch area, or create an entirely new covered area for cooking or socializing. If you are camping on wet ground, you can use your tarp as a groundsheet under your tent to prevent moisture from coming in through the floor. Make sure your tarp doesn't poke out of the edges, though, otherwise it will collect water and cause more issues than it solves.

Be Careful on Wet Terrain
Whether you're hiking over miles of soggy land or simply making your way a few steps out of the campsite to deposit some water of your own, wet ground is slippery ground. Falling over on wet ground can, at worst, lead to a serious injury and, in a less-bad-but-still-not-awesome scenario, leave you wet and muddy. Make sure you have trail shoes or hiking boots with good grip and that they fit your feet properly. Use trekking poles to give you more stability, especially on wet rocks or when crossing streams.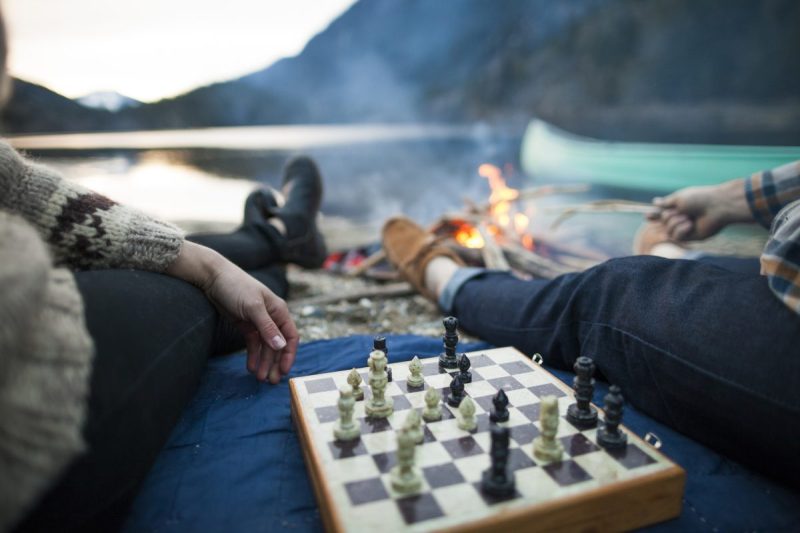 Keep Yourself Busy
On a wet camping trip, you can find yourself spending a lot of time in your tent. Keeping yourself busy is important and helps to raise morale, too. Adventure books, playing cards, and board games are all great ways to occupy yourself and take your mind off the rain. If you're out on a longer trip, you might also choose to keep a journal, or look at the map and plan your next few days. Perhaps you might just want an early night, and here's your ready-made excuse to be a little less sociable than usual.
If You Do Get Soaked
Sometimes, even the best plans end up with us getting wet. In warm weather, this might not feel like much of an issue, but once you're soaked you can cool down quickly. Change into spare clothes if possible, or if you don't have spare clothes, get undressed and climb into your sleeping bag instead.
Remember what your mother told you: Don't leave your wet clothes bunched up at the end of your bed or sleeping bag. Hang them out to dry under a tarp, but don't hold your breath. Chances are they won't dry, but if you have quick-drying layers they may be OK to put on the following morning and get moving. If you fuel yourself properly and keep moving, you can often dry clothes during the day with only excess body heat. It's not pleasant, but it works.

Look After Your Equipment
After a camping trip in the rain, take the time to fully dry your equipment before you put it into storage to stop it from going moldy. We recommend waterproofing your tent regularly, and if you notice any leaks on your jacket or pants, get them fixed before you put them away. Clean your boots and re-waterproof them if they need it.
Editors' Recommendations