If you're already counting down the days to spring, you're not the only one. Weekend camping trips are right around the corner, and choosing the perfect tent can make or break your trip. The changing seasons will bring a whole new set of obstacles. The days are going to get longer and warmer, but there are spring showers and critters to contend with, too. This article is going to examine how to make the best decisions that will keep your trip going as planned.
With restrictions lifting around the U.S., you can count on the campsites being busy again this year. We recommend beating the crowd and making plans to buy the best gear for an elevated outdoor experience. Regardless of what part of the country -- or the world -- you're planning on camping in, here are some of the best camping tents to buy in 2022.
Quechua 2 Second Easy Tent
When you roll into the campsite late, the last thing you want to do is play with a spiky jigsaw puzzle of tent poles. Wouldn't it be nice if you could just push a button and the tent would set itself up? The latest tent from Quechua (Decathlon) is called the 2 Second Easy because it actually sets up in two seconds. And it's not just a kids' pop-up tent for the beach.
The 2 Second Easy has an umbrella-like structure on each end. Unroll the tent with poles already inside where you'd like to set up. Grab the setup rope and pull through the plastic mount on one end until it clicks. Do the same on the other side. Now your tent is set up in the speed it takes you to walk from one end to the other. If you have a second person, do it at the same time and it literally will take two seconds. Inside, the new Fresh&Black fabric blocks out any light to keep it cool and dark. Sleep in as long as you want. Take it down by pushing the button on each end. Easy.
Size: 80.7 inches x 57.1 inches wide and 43.3 inches tall
Weight: 10.4 pounds
Doors: 1
Material: 100% polyester cationic
Capacity: 2-person
Quechua 2 Second Easy Tent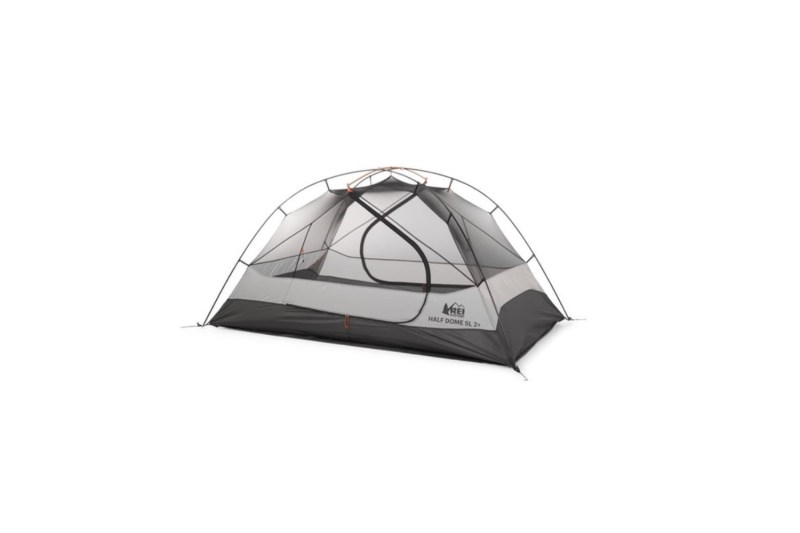 REI Co-op Half Dome SL 2+
If you're looking to save money while losing out on none of the quality, REI is the place to go. Coming in over a pound lighter than its predecessor, the new Half Dome SL 2+ tent can even be used for backpacking with a partner. The 3-pound, 15-ounce setup contains pre-bent poles that boost living space and provide generous head and shoulder room. While its side windows can open to help create a draft during muggy nights, they can also be quickly rolled down in the (more than likely) event of an unexpected summer storm.
Size: 90 x 54 inches wide and 42 inches tall
Weight: 3 pounds
Doors: 2
Material: Nylon (bluesign-approved)
Capacity: 2-person
REI Co-op Half Dome SL 2+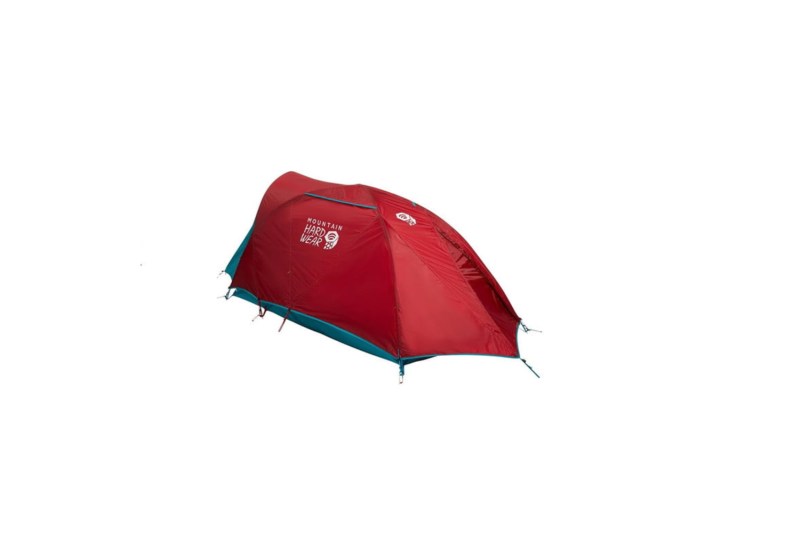 Mountain Hardwear Outpost 4-Season
Mountain Hardwear is one of the most trusted brands in the outdoor industry. Founded in 1993, the brand has been at the forefront of innovative design, including pioneering the use of Gore-Tex XCR in 2000 as well as using some of the first OutDry 3D lamination technology for glove improvement.  
If you're planning on going camping anywhere near the Rocky Mountains in summer, there's a chance you'll run into snow. Stay warm and dry from the elements in one of Mountain Hardwear's most protective tents. The heavy-duty double-wall design will provide insulation for you and another person in every season.
Size: 50 x 88 inches wide and 41.5 inches tall
Weight: 5 pounds
Doors: 2
Material: Nylon
Capacity: 2-person
Mountain Hardwear Outpost 4-Season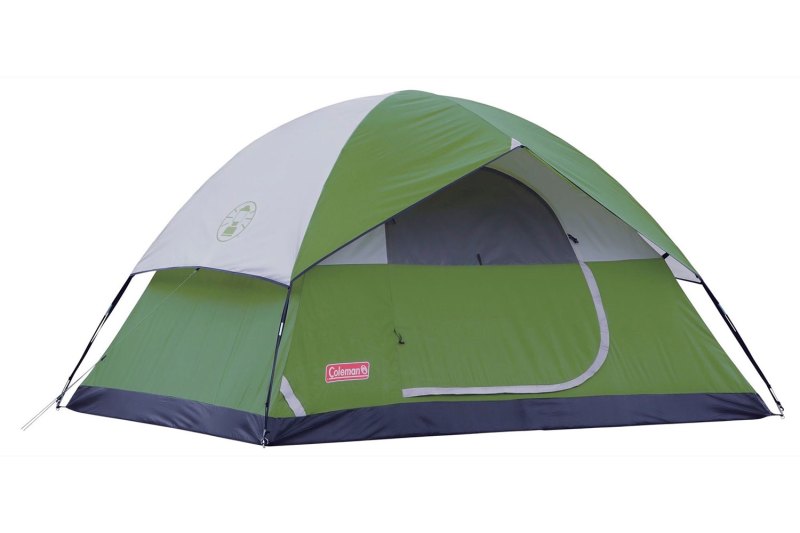 Coleman Sundome 4-Person
Whether you need a basic tent for the kids, for a festival, or as a quick replacement in the middle of a road trip, Coleman is a good name to turn to. The Sundome 4-Person is a simple, reliable partner in the campsite. While the fly doesn't go right to the ground, it will keep you dry through short rains and keep the bugs out.
The waterproof floor keeps you out of the puddles, and mesh panels keep the heat down inside. If you are set up near power, you can run an extension cord through the small E-Port in the front corner to charge up overnight.
Size: 9 x 7 feet
Weight: 4 pounds
Doors: 1
Material: Polyester
Capacity: 4-person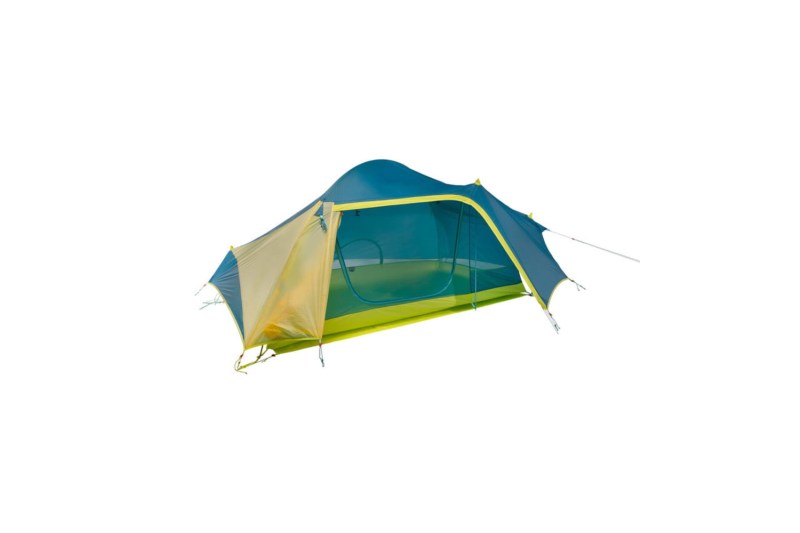 UST Highlander 2-Person
UST (Ultimate Survival Technologies) Gear made a name for itself by building quality survival equipment like compasses, fire starters, and knives. To expand its brand and reach out into other outdoor equipment like tents, sleeping pads, and cooking gear, the company has completely updated its look to fun, bright colors and has launched entirely new products like the Highlander tent.
A lightweight backpacking tent at heart, the Highlander can be used anywhere, anytime. It features a unique single-pole structure spanning one corner to the other. The rest is pitched out with short tent poles. You can leave two of the poles at home and just use the trekking poles you already have. Opposite the one large door, a smaller opening into a dry vestibule lets you store gear out of the way but still have access to it. The bright colors will make it easy to find at the campsite and at night.
Size: 7 feet 1 inch x 4 feet 1 inch x 44 inches
Weight: 3 pounds
Doors: 2
Material: Polyester
Capacity: 2-person
Marmot Limestone 6
One of the biggest differences between $100 tents and $500 tents is the waterproof fly. Basic tents just have a small water-resistant roof on top but lack full rain-proof coverage. The Marmot Limestone 6 is 76 inches tall inside, with a massive fly to cover it all to the ground. It's got two large doors for easy exits in the middle of the night after a few cold ones.
Size: 120 x 100 inches wide and 76 inches tall
Weight: 16 pounds
Doors: 2
Material: Polyester
Capacity: 6-person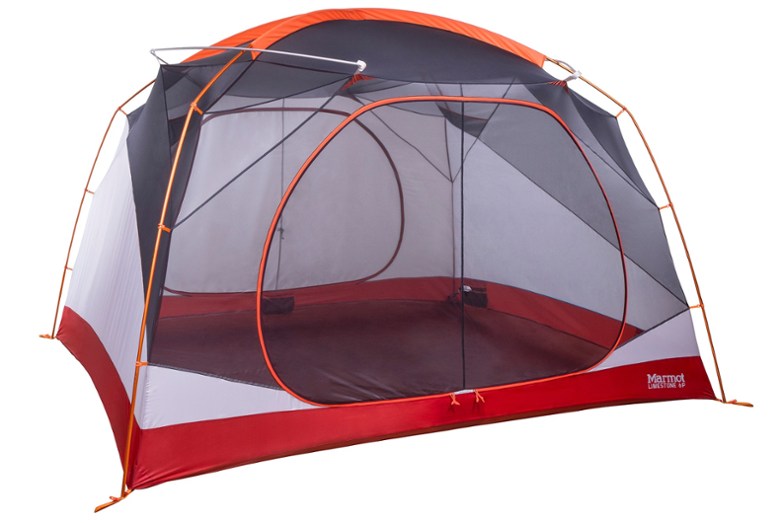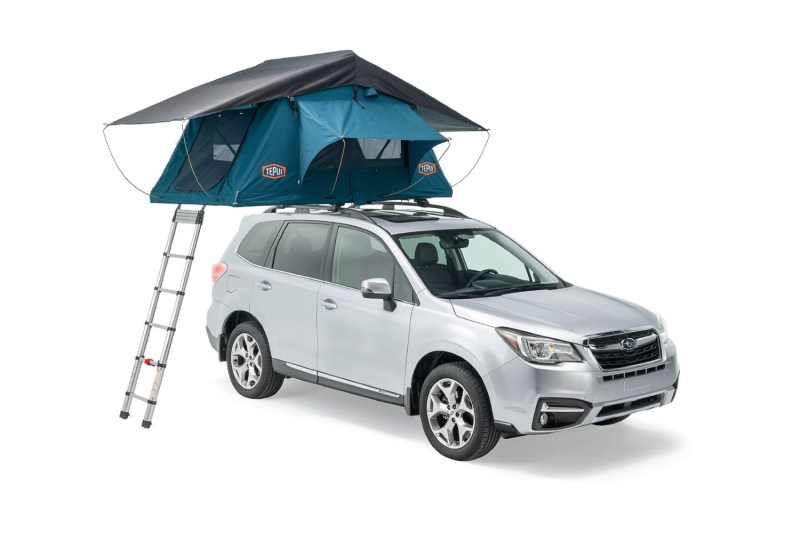 Thule Tepui Explorer Ayer 2
If you're on the move or just want to get off the ground, a rooftop tent is a way to go. From small lightweight units to beefy behemoths that can sleep the whole family, Tepui makes some of the best rooftop tents. The Ayer 2 Tent features a built-in foam mattress that will make a cozy nest for you and a partner. The tent's extensive rain-fly system and its mold-resistant fabric make this tent a no-brainer for those looking to camp in the Pacific Northwest.
Size: 84 x 48 inches wide and 38.2 inches tall
Weight: 106 pounds
Doors: 1
Material: Polyester and foam (mattress)
Capacity: 2-person
Thule Tepui Explorer Ayer 2
Six Moon Designs Lunar Solo
After you've ditched your noisy tent mates, you can ditch the big tents, too. The Lunar Solo from Six Moon Designs is just enough for one person and weighs only 26 ounces. The 8.5-square-foot vestibule can store your pack and keeps you shaded from the sweltering sun. Use the optional carbon-fiber pole to pitch or just an adjustable trekking pole that you're already carrying with you.
Size: 26 square feet wide and 49 inches tall
Weight: 2 pounds
Doors: 1
Material: 100% silicon-coated polyester
Capacity: 2-person
Six Moon Designs Lunar Solo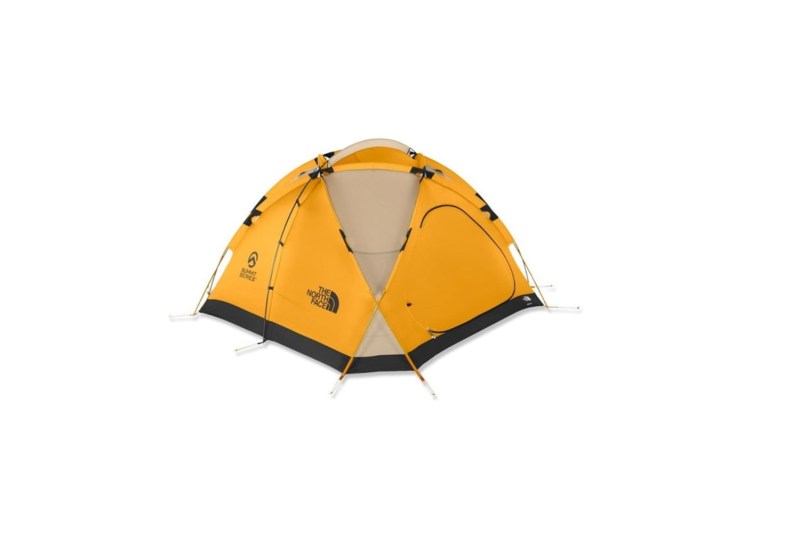 North Face Bastion 4
North Face is taking its own "Never Stop Exploring" motto quite literally with this shelter. The Bastion 4 has earned the brand's special designation of "Summit Series" -- a division of North Face that is dedicated to extreme cold weather and alpine environments. The tent is rated for temperatures as low as -60°F/-51°C and even comes with glow-in-the-dark, color-coded zipper pulls for low visibility conditions.
Size: 96 x 96 inches wide and 54.5 inches tall
Weight: 13 pounds
Doors: 2
Material: Coated nylon and PU material
Capacity: 4-person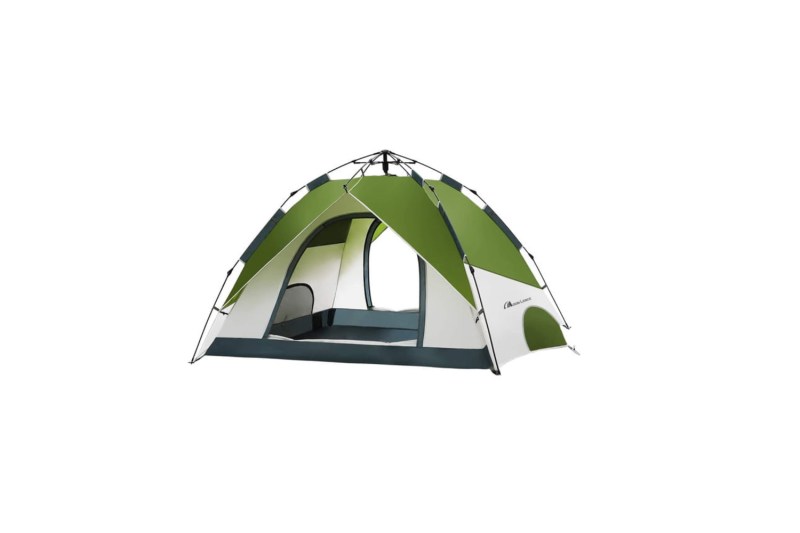 Moon Lence Pop-Up Tent
Who said camping trips should be uncomfortable? Experience maximum relaxation with the Moon Lence Camping Tent as it features a spacious area that can fit up to four adults while maintaining its durability and lightweight build. While it is easy to set up, it's stable, resistant to wind, and provides much-needed ventilation for those muggy nights.
Size: 94.5 inches x 82.6 inches x 49.2 inches
Weight: 10.8 pounds
Doors: 2
Material: 100% polyester
Capacity: 4-person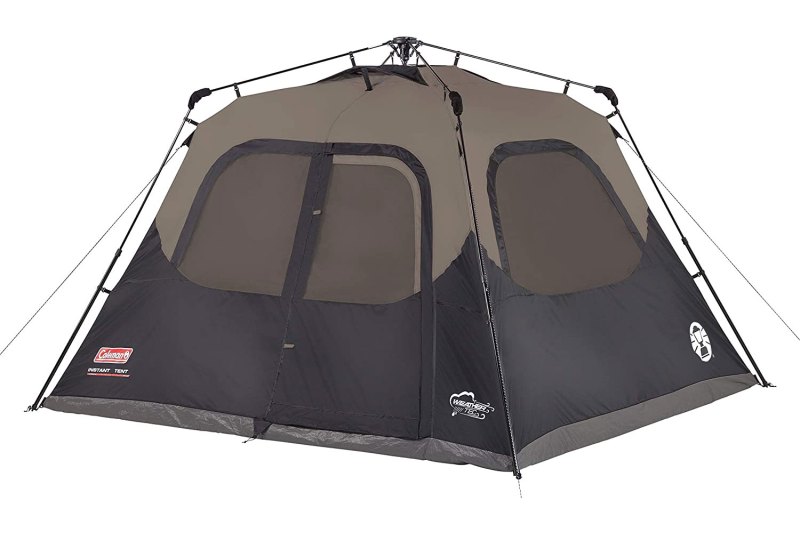 Coleman Cabin Tent with Instant Setup
The Coleman Cabin Tent helps you save time during your outdoor adventure with its preassembled poles so you can set up your tent in about a minute. It also helps keep water out and lets you stay dry on rainy nights thanks to its WeatherTec System. Plus, its darkroom technology blocks 90% of sunlight and reduces heat in the tent, which allows you to get the best sleep even when the sun is still up.
Size: 96 x 84 x 59 inches
Weight: 18 pounds
Doors: 2
Material: polyester
Capacity: 6-person
Coleman Cabin Tent with Instant Setup
Core 9 Person Instant Cabin Tent
There's no need to bring multiple tents when camping with a large group of friends as this Core 9 Person Instant Cabin Tent is spacious enough to fit nine adults in sleeping bags and can sleep fewer campers with a lot of luggage. It also features a detachable room divider, removable rainfly, and advanced venting that draws cool air and allows hot air to escape. This tent has a large T-door and easy-to-set-up features so you can experience a hassle-free adventure.
Size: 14 x 9 feet wide and 6.5 feet tall
Weight: 28 pounds
Doors: 2
Material: polyester
Capacity: 9-person
Core 9 Person Instant Cabin Tent
Frequently Asked Questions
What Is the Best Camping Tent Brand?
There is more than one great camping tent brand. The outdoor clothing and gear industry has a wealth of extremely talented designers right now, all of whom are working continuously to improve their gear.
Brands like Mountain Hardwear, REI, and MSR all cater to certain areas of the market and do a pretty good job at it. However, North Face has been doing this for a while, and by a while, we mean since the 1970s. The iconic Geodome was first designed in 1975 and remains one of the most recognizable shapes in the outdoor gear world. There's something to be said for 40 years of continuous innovation and legacy, and to us, that sets the brand apart in the tenting space. Also, be sure to check out some of its other outdoor gear, like the L5 Futurelight Jacket.
What Is the Best Waterproof Camping Tent?
With spring approaching, it is important to invest in a high-quality camping tent for long-term use and especially for unexpected rain while you're camping. If you're looking to camp year round, it's worth investing in a four-season camping tent to withstand the elements.
The Lunar Solo from Six Moon Designs stands out to us as a particularly waterproof option due to its hexagonal design and steep, sloping sides that help repel wind, rain, and snow. This will surely keep you dry as well as warm, and users have reported using the tent in moderate to severe rain conditions to great success.
To offer an added level of water protection, this award-winning tent has the option for the user to further seal its seams with a sealing material. A tube of the Seam Grip + Sil Sealant, for example, only costs $9 on Six Moon's website, so it's a no-brainer.
What Are the Best Tents to buy?
How well your tent works greatly depends on where you plan to use it. For instance, if you plan on spending a lot of time in the Colorado Front Range, you'll likely want something that can withstand colder temperatures and sizable snowfall. Try North Face's Bastion 4 or the Mountain Hardwear Outpost 4-Season. Wanting to take some time to explore the Pacific Northwest? Maybe stick to either the Thule Tepui Explorer Ayer 2 or the Six Moon Designs Lunar Solo for maximum protection from rainy conditions.
Looking for even more tents for camping? We've also found the best camping chairs and camping tent deals to help you find the right one for you.
Editors' Recommendations