Spring is just around the corner and those long nights around a campfire will be with us soon. Some folks like to sit around the fire in a nice big camping chair with all the padding, support, and features of their favorite living room recliners. Others just want a sturdy, simple stool or seat between them and the hard ground, and maybe a little lumbar support to boot.
And hey, anything is better than the most comfortable rock or log that we've all had to make do with sometimes. Whether you're in the market for luxury, or a lightweight chair that fits in your backpack along with your best camping tent, sleeping bag, and stove as you pound the trail, The Manual has got you covered.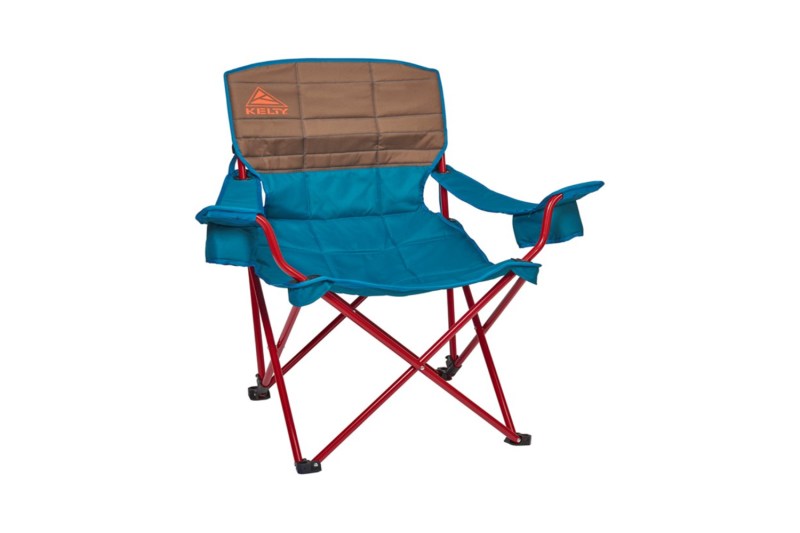 Kelty Deluxe Lounge Chair
Best for Car Camping
Kelty is often the go-to brand for outdoor enthusiasts looking for a happy medium of features and affordability. And while Kelty may not be the go-to for super technical or super lightweight gear, they know their stuff when it comes to car camping. A few highlights really make the Kelty Deluxe Lounge Chair stand out. For starters, it's extremely well built. The frame is powder-coated steel, the fabric is a hefty 600D polyester, and there's double-stitching and reinforcement on the grommets and other high-stress areas.
The "Deluxe" title is also well-deserved thanks to some unique features. The cupholders, for one, are insulated, meaning hot drinks stay hot and cold ones stay cold. The armrests are height adjustable, the sitting area is padded yet breathable, and the backrest has three-position adjustability, allowing you to sit upright, recline back, or kick back between the two.
The icing on the cake for us is Kelty's version of a carrying case. Rather than fumble with stuffing a folding chair in a drawstring bag, the Deluxe Lounge comes with a matching polyester roll-up mat that works as a carrying case for the bag but also rolls out flat. Whether you use it as a clean place to rest your feet, a carrying case for firewood, or a mat for your pup to hang out on is up to you. Either way, it's a thoughtful addition to an already competitively priced camping chair.
Kelty Deluxe Lounge Chair
Best for Car Camping
Coleman Cooler Quad Chair
Best for Car Camping On A Budget
At this price point we'd expect a well-made no-frills camping chair from the folks at Coleman, but believe it or not, it's actually the frills that make the Coleman Cooler Quad stand out. Most notably will be the integrated cooler on the left chair arm, which holds four cans and enough ice to keep them cold for a few hours of leisure time. It's also worth pointing out that the Cooler Quad has quilted padding for some added comfort, a sizeable mesh side pocket large enough for a book or magazine plus your phone/keys/wallet, and the obligatory mesh cupholder. Whether it's your main chair on a budget or a backup chair for guests, you just can't go wrong at this price.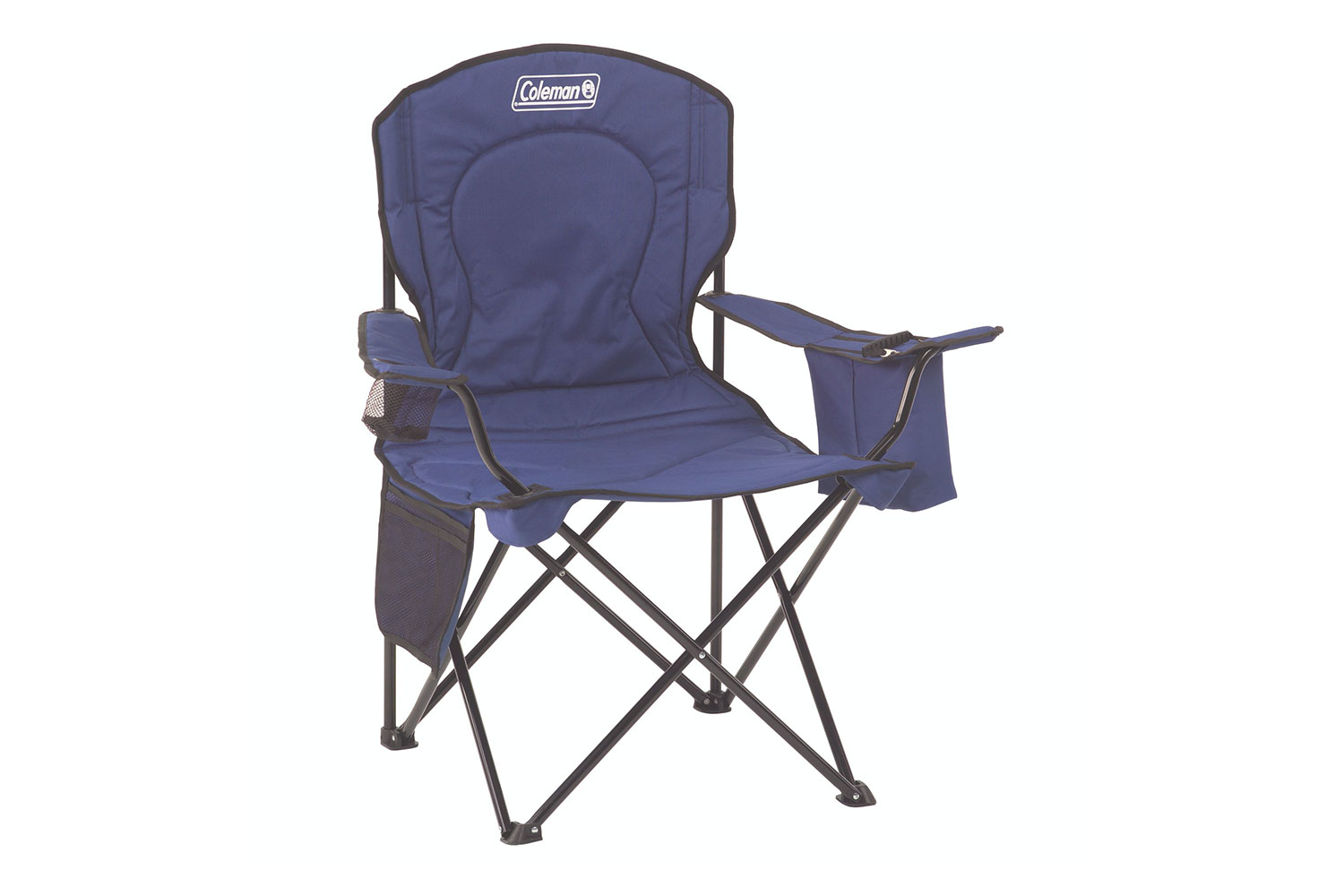 Coleman Cooler Quad Chair
Best for Car Camping On A Budget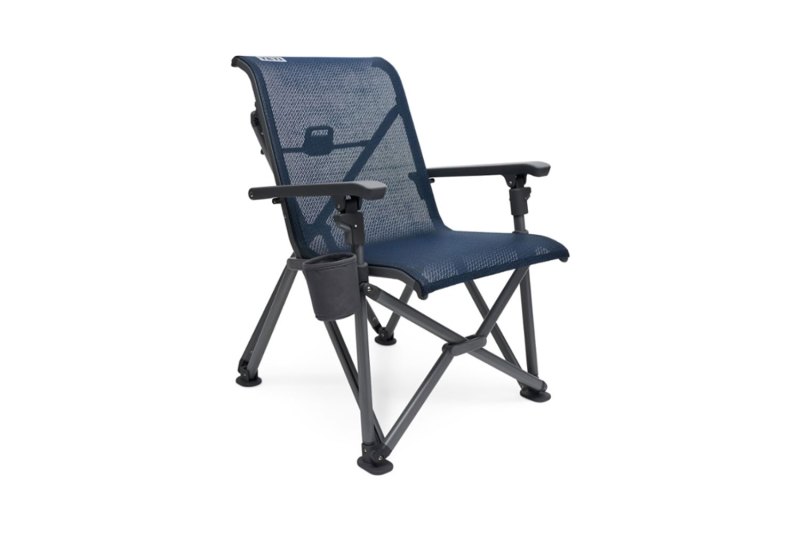 Yeti Trailhead Collapsible Camp Chair
Honorable Mention for Car Camping
Let's be honest here: If we were making a choice based purely on design, comfort, and indestructibility, the Yeti Trailhead camp chair would be our first choice for car camping. Unfortunately, there's just no tiptoeing around the fact that this chair costs $300. Still, much like its best wheeled coolers, the price of the Yeti Trailhead hasn't deterred its die-hard fanbase from buying them in bulk. It's a lot of money to spend on a collapsible outdoor chair, but you could make a convincing argument for the Trailhead's features.
It's easily one of the most comfortable and supportive chairs on the market, for instance. There's none of the usual camping chair "slouch" thanks to the Yeti's locking frame design, which pulls all the slack out of their Flexgrid fabric while still allowing it to conform to the shape of your body. Speaking of that Flexgrid fabric, the Trailhead is rated up to hold a full 500 pounds' worth of camper, gear, and lapdog. It's also UV rated, which Yeti claims to allow the fabric to stand up to years of abuse from the sun without breaking down and becoming brittle.
Yeti Trailhead Collapsible Camp Chair
Honorable Mention for Car Camping
GCI Roadtrip Rocker Chair
Best Rocking Camping Chair
You can't talk rocking camp chairs without mentioning GCI Outdoor. Its proprietary spring-loaded suspension systems are the secret sauce of its smooth and easy rocking motion and GCI is by far the most popular brand out there today.
We're taking the Roadtrip model as our top pick in the category. The Roadtrip has a ton of thoughtful features, like full-length back support, solid molded arm rails, and a breathable mesh backing. Of course, the cupholder comes standard as well, as does the well-built shoulder carrying case.
Yes, the Roadtrip is a little on the spendy side for a single camp chair, but if we're being honest, it's still less expensive than other "premium" chairs on the market, and it's an investment that will last you a long time thanks to the rust-resistant powder-coated steel frame and sturdy hardware.
GCI Roadtrip Rocker Chair
Best Rocking Camping Chair
GCI Outdoor Kickback Rocker Chair
Best Rocker On A Budget
If you love the GCI Outdoors Roadtrip Rocker above but aren't so enamored of its price tag, you can always check out the Kickback Rocker. It uses the same great rocking frame design but in a lighter, more compact, and more affordable package.
The Kickback Rocker sits lower to the ground, has a shorter chairback, and swaps out the molded armrests for a sturdy textile version. It also ditches the carrying sack altogether and gets a frame-mounted carrying strap instead. GCI also includes a frame-mounted closure strap that keeps the chair securely folded when you're carrying it. All things considered, the Kickback is a ton of chair for the money and shares the same great build quality as the larger camp rockers from GCI Outdoors.
GCI Outdoor Kickback Rocker Chair
Best Rocker On A Budget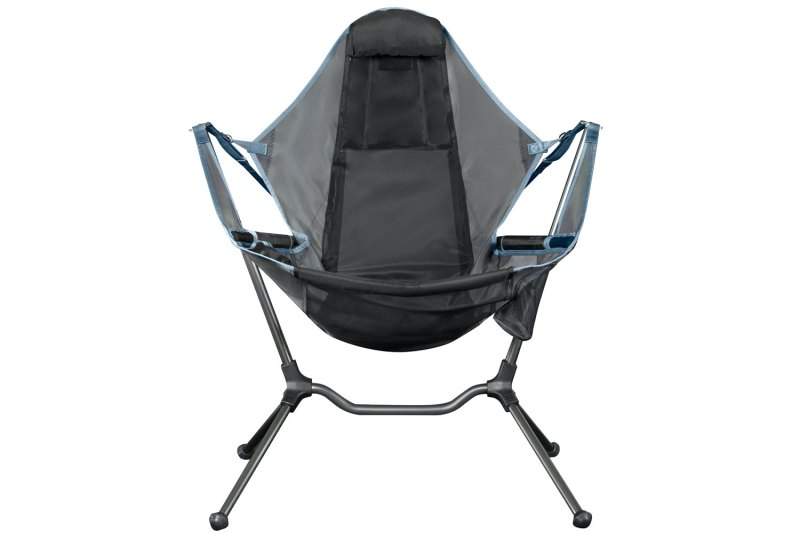 Nemo Stargaze Recliner Luxury Chair
Best Reclining Camping Chair
Spoiler alert: The Nemo Stargaze is hands down the coolest camping chair currently available. It's a recliner. It's a rocker. It's what you'd get if the best camping chairs money can buy had a baby with your favorite camping and backpacking hammock. We love this thing. What's really surprising about the Nemo is how compact and lightweight it is, especially considering that it fits in a 24-inch by 6-inch carrying case. It's got a full-height back, a cushion for your head, and a cupholder worked right into the seat. Did we mention it's basically a hammock?
More surprising still is how quick and easy the Stargaze camping chair is to set up. Open the bag, click the poles into place, put the chair over the frame, then click the headrest into position. It takes all of 60 seconds to set up and/or pack the Stargaze down. It also manages to weigh about half as much as the other full-size/full feature chairs on our list. But yes, as you might have guessed, it's expensive. Still, if you've got the cash to spend, the Stargaze will always be the most coveted seat around the fire.
Nemo Stargaze Recliner Luxury Chair
Best Reclining Camping Chair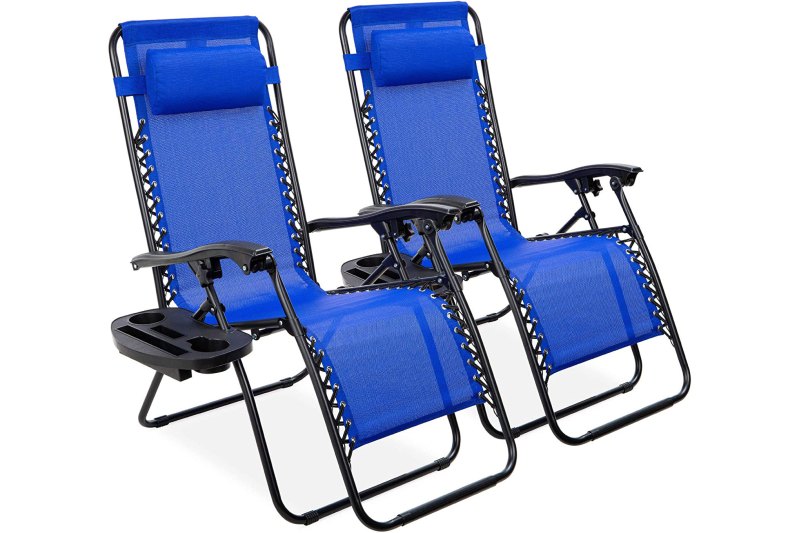 BCP Zero Gravity Lounge Chair
Best Camping Recliner on a Budget
Full disclosure: The BCP Zero Gravity Lounge Chair weighs in at a well-fed 17.5 pounds. And while that rules out anything but the most proximate sort of car camping you can imagine, there's really nothing quite like wheeling a pair of these bad boys out to the firepit and kicking back around camp.
In addition to that sweet, sweet reclining action, these rugged lounge chairs also boast a full-height supportive back, an adjustable cushion for your head or neck, bombproof fabrics that will survive any weather you throw at them, and, of course, a pair of nice big cup holders to give you more lounging time between trips to the cooler. You can also pick up a pair of them for much less than the cost of the Stargaze above, and for your money, you'll be getting a set of chairs that are perfect for any outdoor excursion.
BCP Zero Gravity Lounge Chair
Best Camping Recliner on a Budget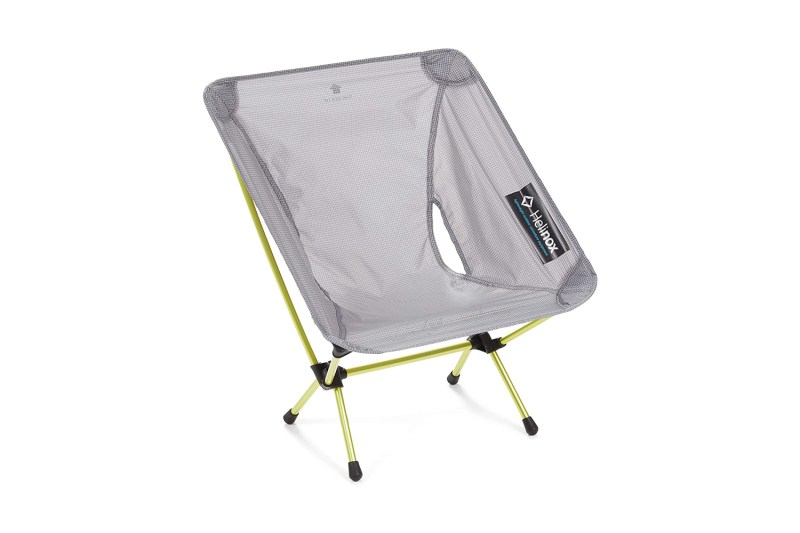 Helinox Chair Zero
Best Backpacking Chair
Before Helinox came on the scene in 2009, if you needed somewhere to sit in the backcountry, legless camping chairs were pretty much the only option light enough to even consider taking along for the journey -- those are still great too, more on that below. When Helinox introduced their original Chair One, that all changed. The Chair Zero is the latest and greatest iteration of the chair one, but Helinox has managed to drop the weight down to just 1 pound, 1 ounce.
It's got a lot of the same features that made the original great like a super-strong and lightweight DAC aluminum frame -- the same DAC that makes some of the best tent poles in the business -- as well the collapsable hubs which now pack down to just 13.5 by 3.5 inches. An even lighter and stronger fabric rounds out the package and is rated to support up to 265 pounds. To top it all off, the Chair Zero is backed by Helinox's five-year warranty against any manufacturing or workmanship defects. You can keep the Chair Zero inside your pack or simply lash it to the outside, but either way, its convenience far outweighs every ounce of the weight it adds to your pack.
Helinox Chair Zero
Best Backpacking Chair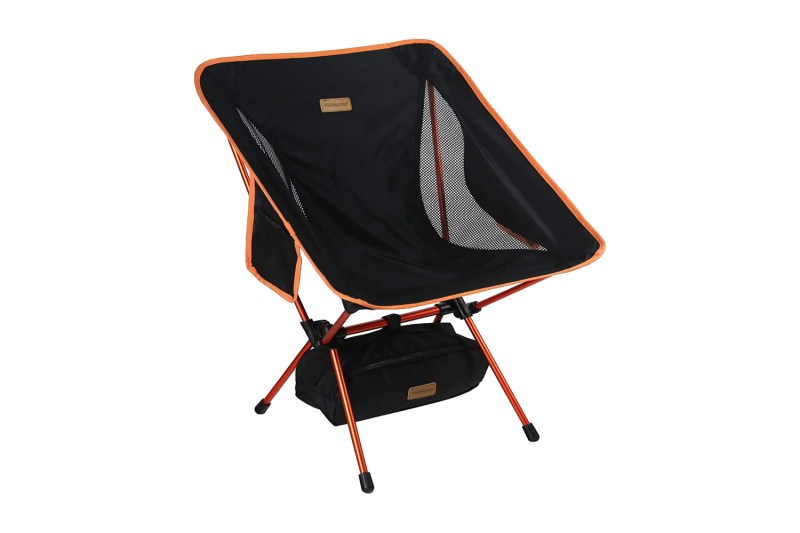 Trekology YiziGo Camping Chair
Best Backpacking Chair On A Budget
If you're itching to try out a lightweight backpacking chair but can't justify the cost of a Helinox, check out the YiziGo from Trekology. We've been carrying around a set of these for about two years now, and they're so compact and convenient they pretty much live in our cars 24/7 when we aren't camping with them. Yes, the design is about as "derivative" of the original Helinox chairs as it gets, but so is just about every other brand you'll find out there including the REI Flexlite below.
Granted, the Trekology YiziGo is almost a full pound heavier -- 2 pounds total with the included carrying case -- and doesn't use DAC-branded poles or superlight fabrics. Still, the frame is made from sturdy anodized aluminum and packs down much the same as chairs two or three times its asking price. The seat material is a tough 600D fabric and is reinforced in all the right places, while the mesh side panels add some ventilation. We're also happy to report that the dual side pockets are the perfect size for a cold can of whatever you're sipping on around the fire plus your phone, keys, or second beverage of choice.
Trekology YiziGo Camping Chair
Best Backpacking Chair On A Budget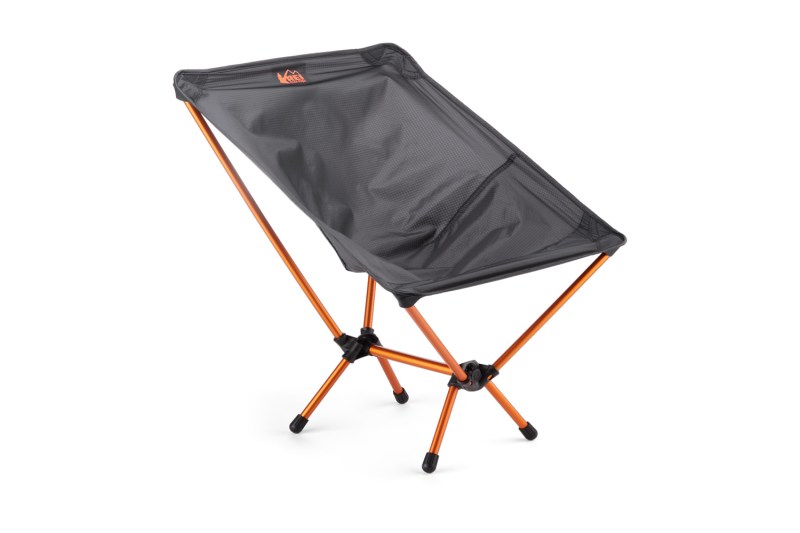 REI Co-op Flexlite Air
Honorable Mention for Backpacking
REI's in-house Co-op brand is back with another value-added proposition with its Flexlite Air backpacking chair. Ultimately, the Helinox got our vote for its overall quality, materials, and outstanding warranty, but the Flexlite Air is such a close second we think many campers will prefer it for its slightly lower price point.
The Flexlite is super light, weighing in at just 1 pound and supports up to 250 pounds thanks to its durable aluminum frame and rugged ripstop nylon seat. And while the REI Co-op camping chair doesn't carry the same five-year warranty coverage as the Helinox, it is covered under REI's blanket one-year "100% satisfaction guaranteed" policy, as well as a lifetime warranty on all products against manufacturing defects.
REI Co-op Flexlite Air
Honorable Mention for Backpacking
Crazy Creek Original
Best Legless Camping Chair
The no-frills backpacking chair that started it all. Crazy Creek's Original Camp Chair has been in production for the better part of three decades, and we have no doubt there are more than a few original ones still going strong out there. The Crazy Creek Original is built like an absolute tank, using 420D ripstop nylon and 600D coated polyester fabrics for an outer shell that you can bank on passing down to your next of kin. Nylon webbing and Delrin buckles let you dial in the ideal seating position, and a super-light carbon fiber internal frame provides extra support.
All this is wrapped around a half-inch of high-density closed-cell foam for an even compromise of cushioning and compactness when folded up for transportation or storage. The Crazy Creek Original camping chairs come in a variety of colors, but let's be honest: Tie-dye is the only serious choice.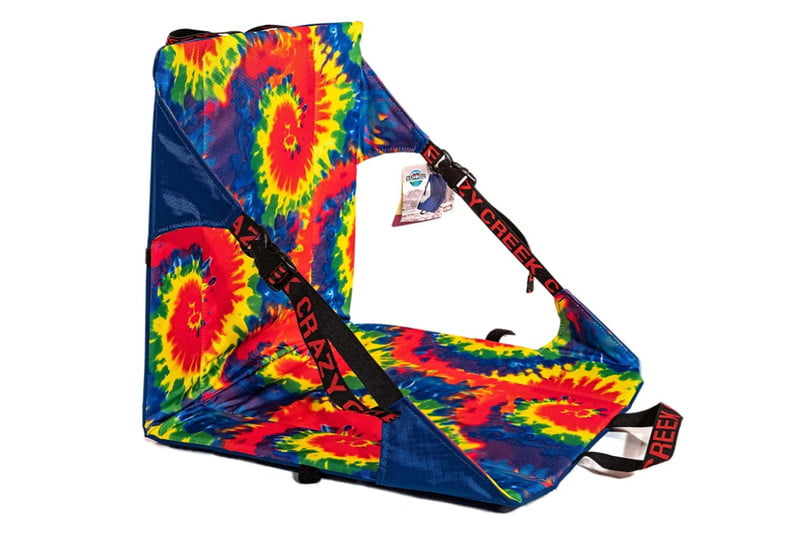 Crazy Creek Original
Best Legless Camping Chair
REI Co-Op Trail Chair
Best Legless Camping Chair On A Budget
There are a few brands that have adopted the Crazy Creek formula to their own line of simple legless camping chairs, but our current favorite is the REI Co-op Trail chair. REI's latest version of the trail chair gives a slightly larger seating area than the Crazy Creek above, but uses the same half-inch thick closed-cell foam padding, so customers with wider waists/hips may actually prefer this budget-minded alternative.
We also appreciate the added outside mesh pocket on the Trail Chair, which makes for a nice place to stash a book, some hiking snacks you'll want later, or even a poncho for outdoor events with a little rain in the forecast. Speaking of rain, REI also applied a durable water-resistant (DWR) finish to the outer shell of the Trail Chair, which they claim gives it enough water resistance to shake off light rain. The fabrics themselves are a little less robust than the Crazy Creek, but the Trail Chair's 420D oxford nylon is still built to last for years and years.
Aside from that, the main difference in cost is the Trail Chair's internal frame. All things considered, the frames are roughly equal in comfort and support, but REI uses a budget-friendly fiberglass composite frame in place of Crazy Creek's premium carbon fiber construction.
REI Co-Op Trail Chair
Best Legless Camping Chair On A Budget
Frequently Asked Questions
How to Pick the Best Camping Chair
We use four key selection criteria when we pick our ideal camping chair: Size and portability, comfort, materials and durability, and weight ratings. How you prioritize these will depend on your style of trip.
*Size and portability
If you are backpacking, you will probably choose to prioritize pack size and portability over everything else. After all, if you can't carry your chair, you won't have anything to sit on. Materials and durability often lead on from pack size, with heavier duty chairs generally weighing more than lighter weight models.
*Comfort
Comfort is ultimately key. The most comfortable chairs, like your armchair at home, will be far too heavy to carry any distance, but if you are car camping or RV camping, you can haul all the creature comforts you desire. A padded chair is more comfortable than a non-padded chair and similarly, recliners and rocking chairs are among the most comfortable seats around.
*Materials. and Durability
The weight rating of a chair is important, but more as a reference before you make your purchase. The materials and structural design of your chair will impact this, but be sure that your chair can comfortably hold your weight, as well as any friendly pets or partners who may choose to snuggle up to you around the campfire.
Editors' Recommendations