Roasting s'mores and hot dogs over an open fire -- this is what we envision when thinking of camp cooking. As tasty as these traditional treats are, it's easy to get fed up with hot dogs and pre-packaged chow on extended camping trips. And although portable backpacking stoves have been a staple camping kit for decades, nothing beats the taste of grilled veggies and meat. Cue the camping grill, which ensures you're never without the best steaks, burgers, or bratwurst, even when you're miles from civilization.
These travel-friendly cookers come in a variety of designs, sizes, and shapes. So, whether you're planning a backyard camping night, a family car camping adventure, or a dispersed camping trip this spring, read on. These are our picks for the best camping grills, from lightweight models to larger (but still portable) alternatives that can cook up dinner for the whole crew.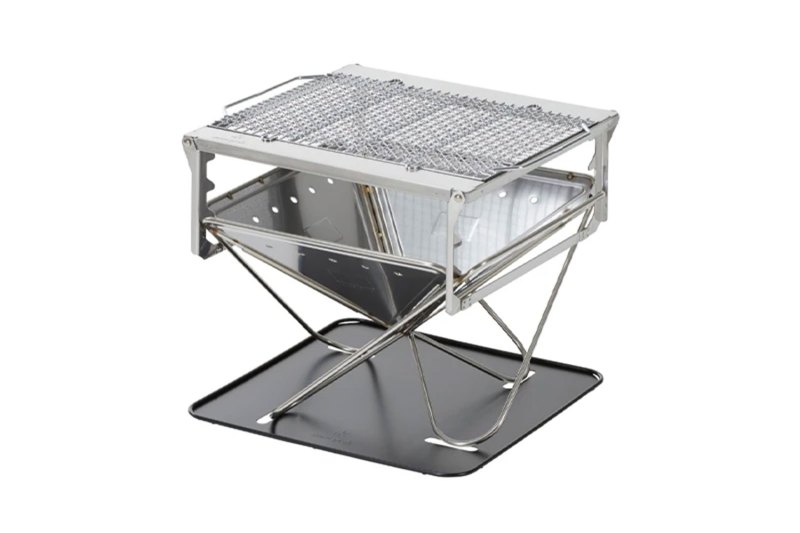 Snow Peak Takibi Fire & Grill
Blending Japanese minimalism with modern functionality, Snow Peak designs some of the world's best (and most handsome) outdoor gear. The Takibi Fire & Grill is exactly this, both handsome and awesome. Constructed of stainless steel with an innovative, modular design, it's durable and packable. It's also versatile, so it can be used as a grill or a compact fire pit. It can even be used as a hibachi. This will work great while car camping far out in the wilderness or in your backyard. The five-piece kit includes a fireplace, grill net, grill bridge, baseplate, and carrying case.
Snow Peak Takibi Fire & Grill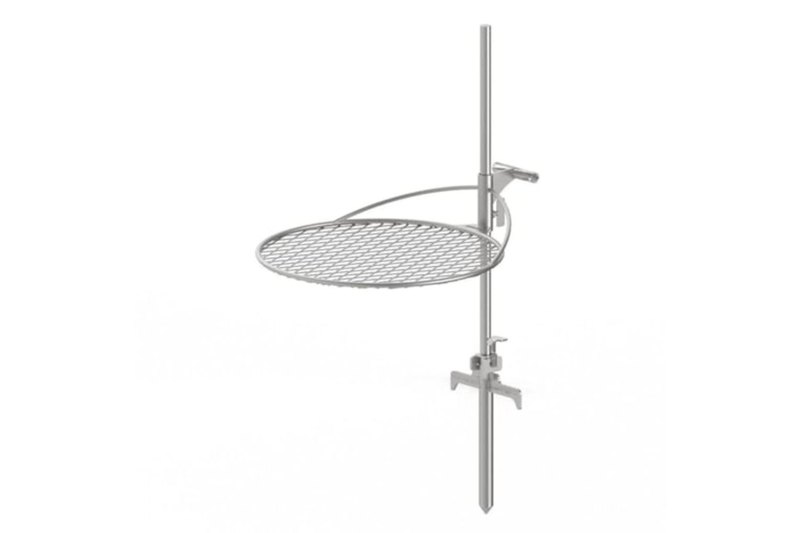 Breeo Outpost
For those who prefer to travel lighter, an over-the-fire staked grill like this is a great option. You can leave the propane tanks and jumbo-sized charcoal bags at home with The Breeo Outpost. It features a dead-simple, two-piece design with a ground stake and a handled grill platform that mounts to that stake. The surface can be raised and lowered to decrease or increase the cooking temperature. When your food is ready, just swing the grill plate away from the fire to take it off the heat. This makes retrieving your food much less hazardous than other over-fire camping grills. This portable grill is a sturdy, stable, no-nonsense alternative to traditional fuel-powered grills.
Coghlan's Pack Grill
Even if you're into lightweight backpacking, you don't have to suffer from boring packaged food or goop cooked in a tiny backpacking pot. The Pack Grill from Coghlan's is a simple and elegant on-the-go grilling solution. It's just over 6 inches wide and 12 inches long and can fold down to fit into just about any pack. The over-the-fire design means this is just about foolproof as long as you can get a fire going. Cook meat directly on the rack or place your pot directly on the grill for a stable cooking platform.
The Coghlan's Pack Grill is a high-value piece of equipment to add to your backpacking loadout. There's also a larger version that measures roughly 12 inches by 24 inches, but it's not quite as portable.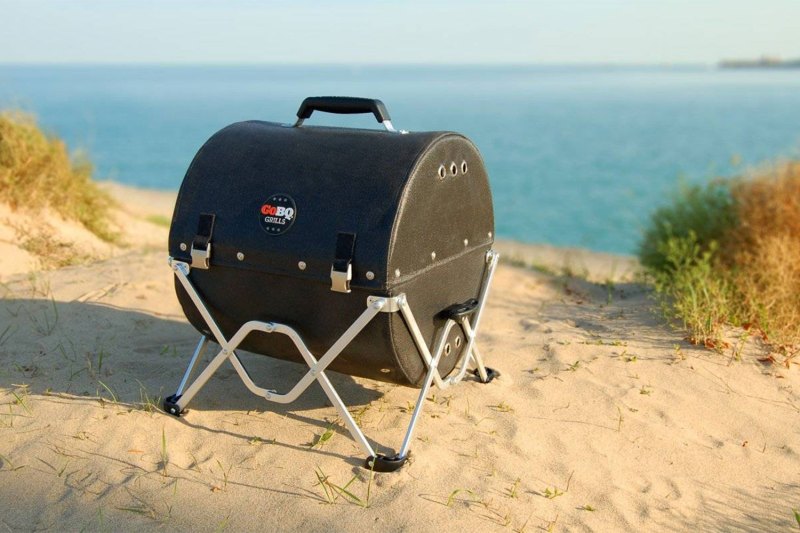 GoBQ Grill
The idea of a fabric grill seems about as useful as a submarine with a screen door. But, the revolutionary new GoBQ's Grill uses foldable, fire-and-heat-resistant fabric in a one-of-a-kind design. The entire kit weighs just 9 pounds and collapses down to 17% of its full volume. So, it fits neatly in a backpack, overhead bin, or RV kitchen drawer. The proprietary fabric base not only withstands the high heat associated with most campsite grilling, but it also cools seven times faster than metal. Plus, it takes just 20 seconds to set up. You'll be cooking in no time with this grill. 
Coleman Fold N Go Propane Grill
All of our picks are pretty portable, but they're still fairly bulky as far as camping gear goes. Our final propane-powered camping grill pick is also from Coleman. The Fold N Go weighs just 10 pounds and is perfect for a lone camper looking to cook dinner for one. With a grill as small as the Fold N Go, you're sacrificing cooking surface area for portability. Don't expect to cook anything other than a meal for one or two with this one.
Nonetheless, if you're not cooking for the whole family the Coleman Fold N Go is a great choice. It is super easy-to-use and highly portable for a propane unit. All this makes the Fold N Go an excellent value. This one is the best super-portable propane camping grill out there.
Coleman Fold N Go Propane Grill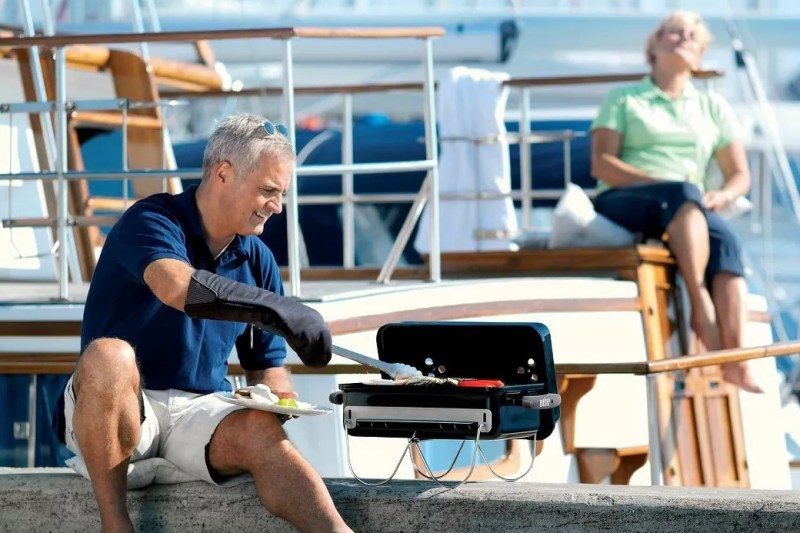 Weber Go-Anywhere Charcoal Grill
Anyone familiar with grilling knows there's a subset of die-hard meat lovers who insist that nothing makes beef, pork, and chicken taste as good as an old-fashioned charcoal grill. Thankfully, the Weber Go-Anywhere camping grill means you don't have to give up the flavor of charcoal-grilled meat when you're on the go. Its cooking surface has 160 square inches of space. This is enough for about six burgers. And since it uses charcoal, you don't have to mess around with costly propane canisters.
When not in use, the legs fold up around the lid to hold everything together in a package about the size of a fishing tackle box. The Weber Go-Anywhere charcoal camping grill is an excellent value, too. Pick one of these up for your next camping trip, you won't regret it and neither will your wallet.
Weber Go-Anywhere Charcoal Grill
If you're looking to do some grillin' at home after your camping trip, check out out some of the Best Grills . And if you just can't get enough of grillin' on the go, check out our other post on the Best Portable Grills.
Happy Grillin'!
Editors' Recommendations