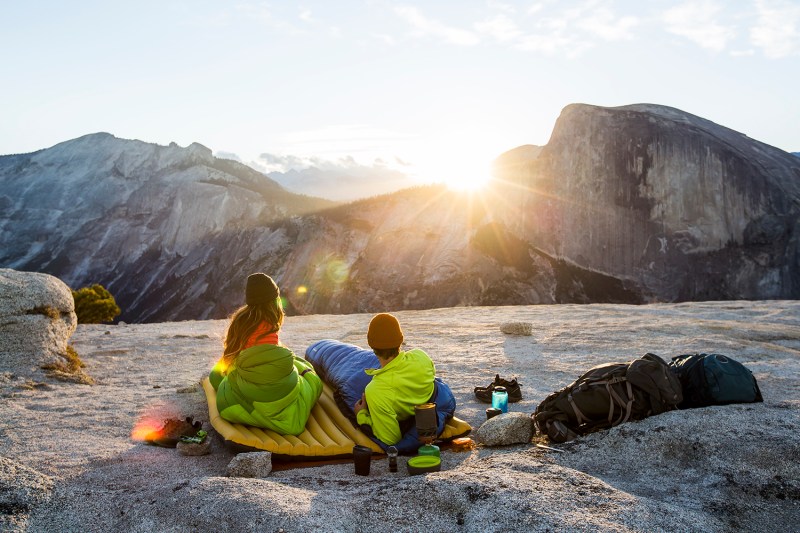 If you love the outdoors, there's hardly a better way to spend your time than escaping into nature for a long weekend or week of camping. Most modern camping gear — from backpacks to camping tents and hiking boots — will get the job done without forcing you to spend a fortune. But, figuring out the ideal camp sleep system in the front or backcountry can be a bit more challenging and pricey.
Some of us are blessed with a knack for sleeping almost anywhere. Unless you're Survivorman Les Stroud, however, you probably appreciate some semblance of a pillow and something warm to throw over yourself (e.g., a sleeping bag or camping quilt). Most of us also need something reasonably comfortable to sleep on. In most cases, especially if you're camping in the backcountry where weight is an issue, a solid camping sleep pad will do. If you're car camping (where gear weight doesn't matter) or you just can't sleep soundly on anything but a plush sleep surface, a portable air mattress is the next best thing to your bed at home.
Having an air mattress not only guarantees a good night's sleep, but most modern models are also convenient to assemble and disassemble. Luckily, today's best air mattresses are puncture-resistant, weigh less than 10 pounds, and fit neatly inside a bag once deflated. If you're going camping this season and are wondering which one is perfect for your next camping trip, we've rounded up the best air mattresses available right now.
Best Overall Air Mattress
SoundAsleep Dream Series Air Mattress
A good air mattress should be comfortable, quick to inflate, hold air well, and, most of all, comfortable to sleep on, and the SoundAsleep Dream Series bed ticks all the boxes. It stands 19 inches tall when inflated and features a built-in one-touch pump that fills it up with air in five minutes or less (you can also give it a quick pump to top it off or make it a bit firmer if you prefer). Its 40 internal air-filled "coils" also mimic bed springs to give you support all over, preventing the sagging that often occurs with simpler single-chamber air beds. Though you may still want to add one of the best pillows for added comfort.
It's not the cheapest (or the lightest at 20 pounds), but good sleep is worth paying a little extra for. The SoundAsleep Dream Series air mattress is available in twin, queen, and king sizes starting at $95.
Most "Bed-Like" Air Mattress
REI Co-op Kingdom Insulated Sleep System 40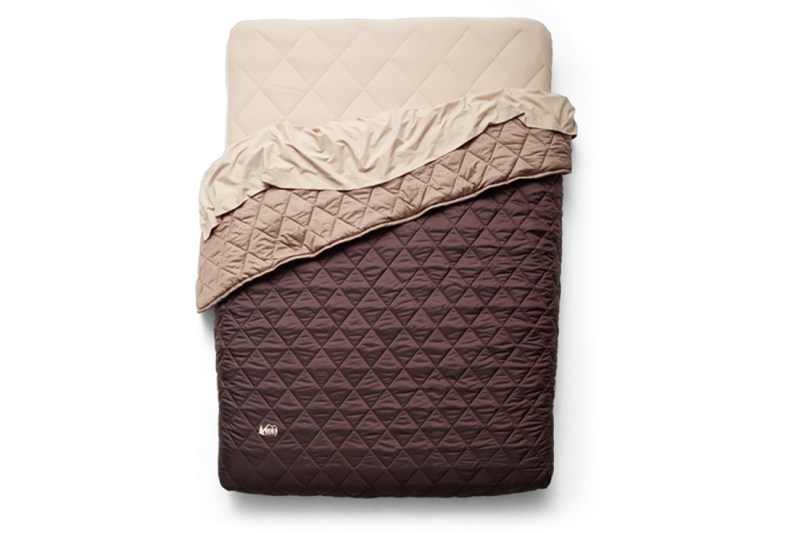 REI knows a thing or two about keeping comfortable in the outdoors. Further proof is the brand's own Kingdom Insulated Sleep System 40. This queen-sized air mattress features a six-inch-thick sleep surface, plus a padded cover, an insulated quilt, and a top sheet, so you'll hardly notice you're not sleeping in your own bed. With a 3.6 R-value, it promises to keep you comfortable down to 40°F. Though it tips the scales at over 15 pounds, it does include a storage bag for easy transport. This is the camping air mattress to own if weight and money are no object.
Best Budget Air Mattress
Intex Dura-Beam Air Mattress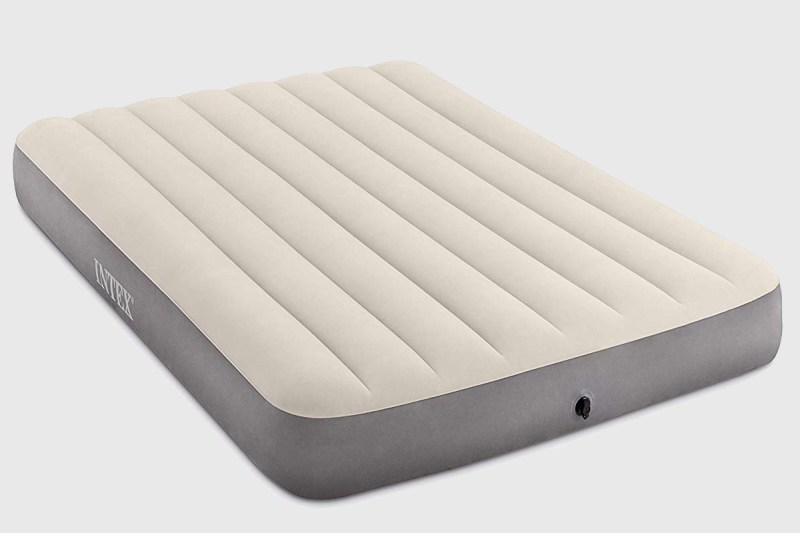 The SoundAsleep Dream Series is a premium pick with a price tag to match, but you don't have to pay too much for a good air mattress. The Intex Dura-Beam is supremely affordable, doing what you need an air mattress to do – provide a comfortable, portable sleeping surface – while still offering multiple air chambers for evenly distributed body support. The Dura-Beam air mattress is also a good alternative if you find double-height beds to be a bit too bulky for your tent or other sleeping space once they're inflated, just note that you'll need your own air pump to inflate it.
On the other hand, if you'd like a double-height air mattress but are still looking for a budget-friendly option, Intex offers a raised version of the Dura-Beam bed for around $30.
Best Air Mattresses for SUV Car Camping
Luno Mattress
If you're not ready to drop $2,000-plus on a rooftop tent, you can still convert your current SUV to a cozy, car-camping sleep den. Luno Mattress' lineup of configurable, purpose-built air mattresses is designed to fit more than 1,800 vehicles, including Toyotas, Subarus, Jeeps, and more. At nearly $225, this is one of the priciest air mattress solutions on the market. But, Luno guarantees maximum comfort, durability for pet owners, and O-beam construction for stable, full-body support for campers up to 6'2″. Plus, because the mattress is essentially divided into two mattresses by a narrow channel, both sides can be inflated for couples, or solo campers can inflate just one side and roll up the other. Every system includes the mattress, two Base Extenders, a 12V air pump for your vehicle, a repair patch, and a carrying case.
Best Air Mattress Camp Cot
Coleman Camping Cot
For a larger family-sized tent or extended camp outings, you may want to consider springing for an air mattress with legs like the Coleman Camping Cot. This setup works much like our other top picks, coming complete with a battery-operated air pump, but you also get a nice sturdy steel fold-up cot to serve as a bed frame. The mattress itself also utilizes a similar coil system to the SoundAsleep Dream Series for sag-free comfort, and the camping cot has a handy little shelf for use as a nightstand.
Best Camping Air Mattress for Kids
Intex Kids' Travel Bed Set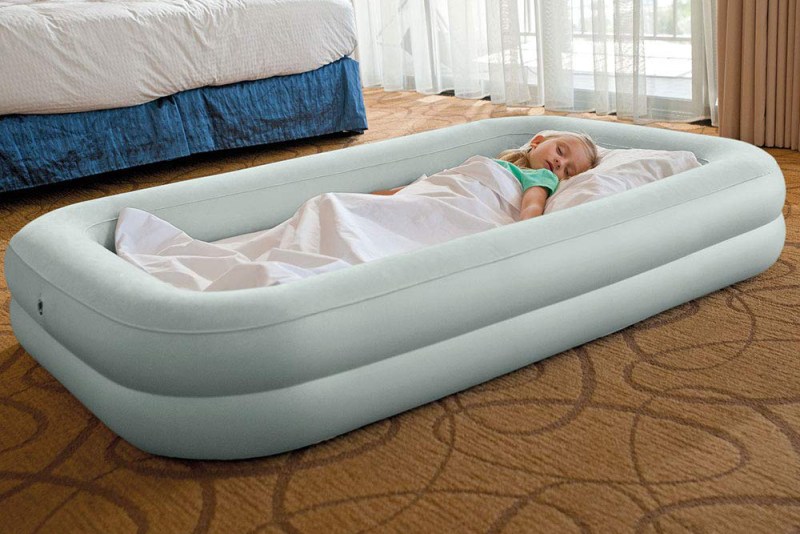 If you're looking for a separate kid-sized air mattress made just for a little one in your family, then the Intex travel bed set is one of the best designs we've seen. Rather than just being a plain, "miniature" air bed, this Intex air mattress has two components. It's a removable sleeping pad nestled inside the raised "frame," ensuring that its small occupant doesn't roll out of the bed in the night. This design also makes it easy to add sheets to the inflatable pad or pull it out altogether for use as an even smaller standalone sleeping surface (which means this could also be great for car trips, hotel rooms, and sleepovers). Not surprisingly, it's one of the cheapest options on this list, but it does rely on a manual pump.
Best Self-Inflating Air Mattress for Camping
Therm-A-Rest Mondoking 3D Self-Inflating Foam Air Mattress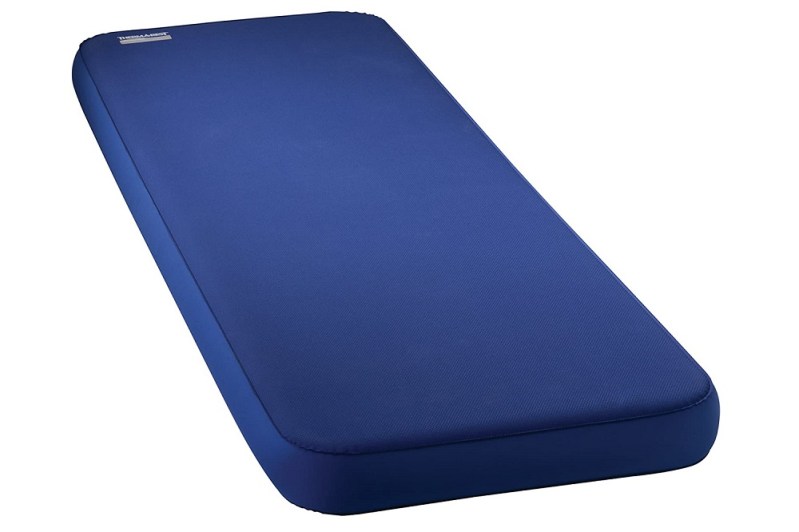 Therm-A-Rest's Mondoking 3D is somewhere between a luxurious sleeping pad and a streamlined air mattress. This flagship model has body-contouring support which makes it suitable for most sleepers. The dual valves also help the compressible foam core expand and inflate on its own when the mattress is unpacked. The self-inflating mechanism of this mattress also gives you more methods to inflate it, aside from using a standard pump. Although this air mattress guarantees comfort, it costs a lot more than other contenders and it may not be ideal for backpackers who want a lighter load. If you're looking for a plush, ultra-comfortable air mattress that inflates itself, however, the Mondoking 3D is worth considering.
Is an Air Mattress Good for Camping?
For sleeping purposes, there's no question that an air mattress is great for camping. In fact, finicky sleepers may find that an air mattress is absolutely required. It beats sleeping in just a sleeping bag or even in a sleeping bag atop a sleeping pad. But, before you add an air mattress to your packing list, there are a few considerations.
The first two are weight and size. If you're planning to camp in the backcountry or anywhere that requires hiking to your overnight location, a full air mattress just isn't practical. It's going to be far too heavy and bulky to stuff into your backpack. Price is another thing to think about, as a decent air mattress for camping can run north of $100. In contrast, you can score a lightweight, portable sleeping pad for half that. Of course, if you're planning to car camp — where bulky gear is less of an issue — by all means, pack the cushiest air mattress you can afford.
What Is the Most Comfortable Bed for Camping?
Mattresses — include traditional and air-filled varieties — are incredibly personal. Most campers looking for the ultimate "glamping" sleep experience will love something like the SoundAsleep Dream Series Air Mattress. For less than $120, this queen size air mattress for camping is like sleeping on a cloud. It features a double-height design with enough room for a couple to sleep comfortably or one person to sleep like a king. Plus, the flocked top is extra-thick and waterproof. Add a couple of pillows from home and you'll forget you're sleeping in the woods.
What Is Best to Sleep on When Camping?
When camping in the outdoors, air mattresses are the next best thing to your bed at home. The best camping air mattresses are soft, plush, warm, and probably as thick as your own mattress. Fortunately, they're a lot cheaper, too, with full-sized budget models priced as low as $50. If weight is an issue or you just prefer a more authentic "roughing it" camp experience, the best thing to sleep on might be a more compact sleeping pad. For something altogether different, check out a camp hammock. The best models double as shelters complete with underquilts and insect screens to keep you warm and protected from critters and the elements.
Editors' Recommendations