A fresh, hot meal is usually out of the question when it comes to camping or hiking in the wilderness. Most people usually munch on trail mix, sandwiches, or beef jerky for sustained energy. But what if we told you that foods like fire-roasted hot dogs, seared steaks, and even spaghetti with meatballs are all possible to cook in the great outdoors? Well, thanks to the magic of camp cooking gear, you're able to cook almost any type of food in any location. So check out our top picks below that will guarantee a gourmet meal for your next camping adventure.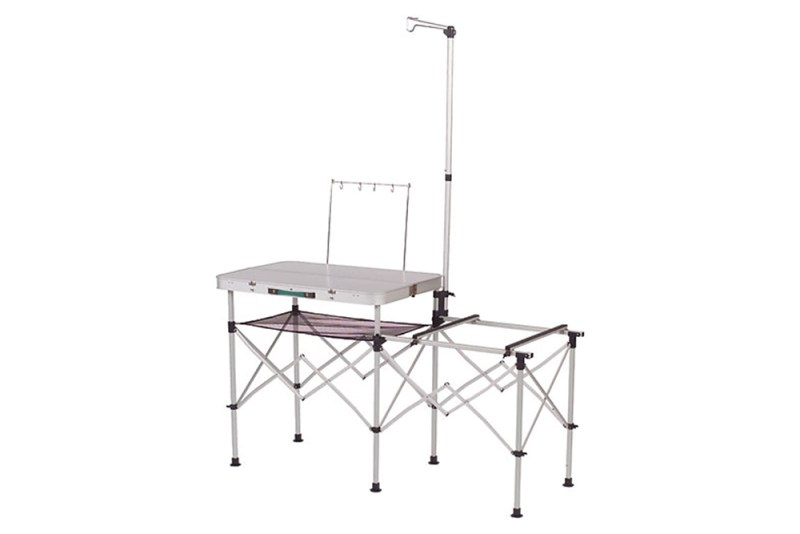 Coleman's Pack-Away Portable Kitchen
Coleman's Pack-Away Portable Kitchen weighs in at just under 14 pounds and measures 31 x 11 x 4 inches when collapsed down into its metal case. Perfect for those who enjoy simplicity, this portable kitchen is compact and easy to set up for quick meals. It also provides a stable base, and the mesh shelf underneath the countertop can be used to store items like seasonings, produce, and utensils. And if you need a place to hang your pots and pans, there are several overhead hooks for this. There's also plenty of room for a portable stove, as well as for food prep purposes, like chopping fruits and vegetables.
Coleman's Pack-Away Portable Kitchen
Cabela's Deluxe Camp Kitchen
If you're looking for a portable kitchen that's a tad fancier, check out the Deluxe Camp Kitchen by Cabela's. This unit has two countertops, a removable sink/dishwashing basin, and of course, an area to actually cook your food. And if it's a particularly windy day, the swing-out windscreen will help to control your camp stove flames. You can also organize your food/kitchen supplies using the spice rack, towel rack (above the sink/dishwashing basin), and the overhead hooks. If that's not enough, there's also a zippered food pantry to prevent animals and pests from munching on your dry foods.
Cabela's Deluxe Camp Kitchen
GCI Camp Kitchen
You'll get plenty of counter space with this camp kitchen by GCI, which features a heat-resistant countertop and easy folding mechanisms. Kitchen and food items can be placed on one of the three fold-out side tables, as well as the black wire rack on the bottom of this unit. It's perfect for those who need lots of space for food prep, cooking, and storage.
GCI Camp Kitchen Slim Fold
This slim fold camp kitchen by GCI is made with alloy steel and aluminum, which means that it shines when it comes to durable camping gear. The four plastic fold-out side tables are perfect for those who need extra space for food ingredients, which can also be stored above the wire rack on the bottom. This one-piece, powder-coated steel frame also folds and unfolds with ease, which makes the setup a snap.
GCI Camp Kitchen Slim Fold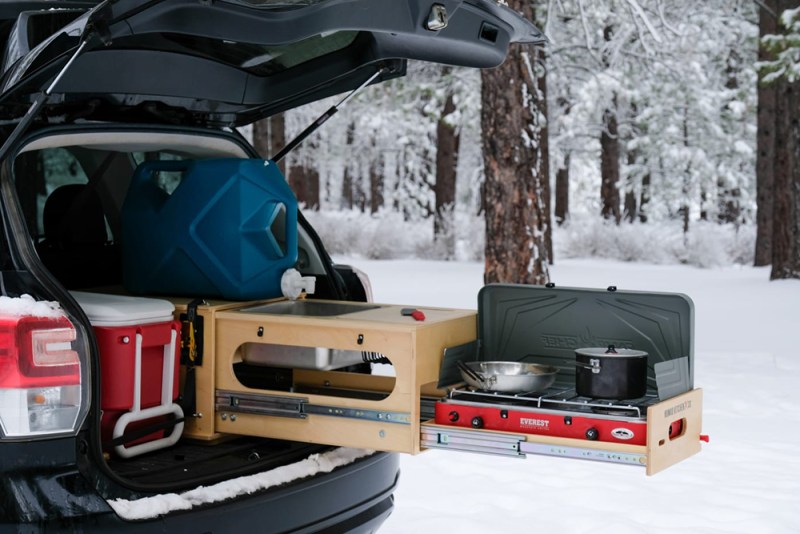 Nomad Kitchen by Nomad Kitchen Company
If you've always wanted to use the trunk of your vehicle to whip up a meal, then this nomad kitchen by Nomad Kitchen Company should be the first thing on your camping list. With dimensions of 26 x 22 x 14 inches, this ultra-compact mobile solution will fit into trunks of SUVs, minivans, wagons, hatchbacks, and plenty more. Installation is a snap, and you'll be pleasantly surprised to find a fully-functional mini kitchen thanks to the twin nesting sliding drawers. The smaller drawer contains a two-burner propane stove, and the bigger one has both a sink basin and a wire basket, which can be used to dry things like dishes and vegetables. How's that for a jack-of-all-trades kitchen unit?
Nomad Kitchen by Nomad Kitchen Company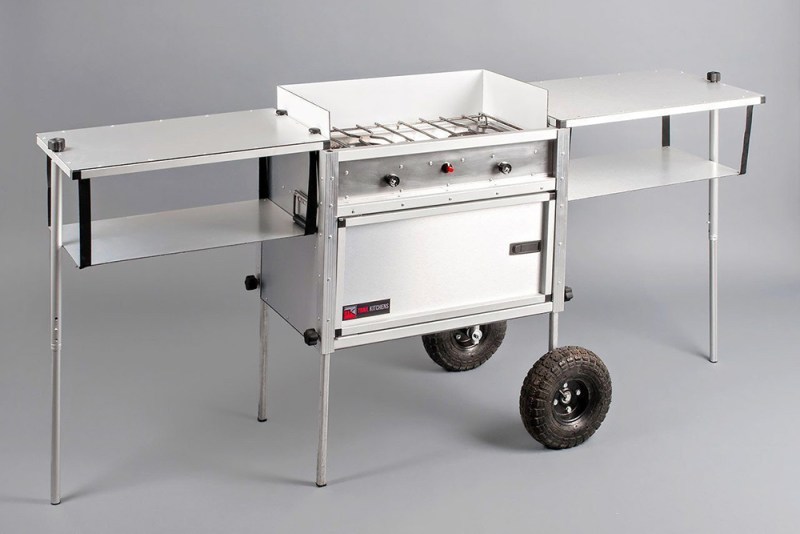 Camp Kitchen with Stove by Trail Kitchens
If you've got money to burn, this camp kitchen & stove unit by Trail Kitchens is sure to draw envious eyes toward your campsite. The built-in stove features 40,000 BTU/hr, as well as over 14 square feet of storage space. This unit is also designed with aircraft-grade aluminum, which means it shines in the durability department. Sure it weighs a ton at just over 50 pounds, but at least it's got hefty wheels to make mobility a breeze.
Camp Kitchen with Stove by Trail Kitchens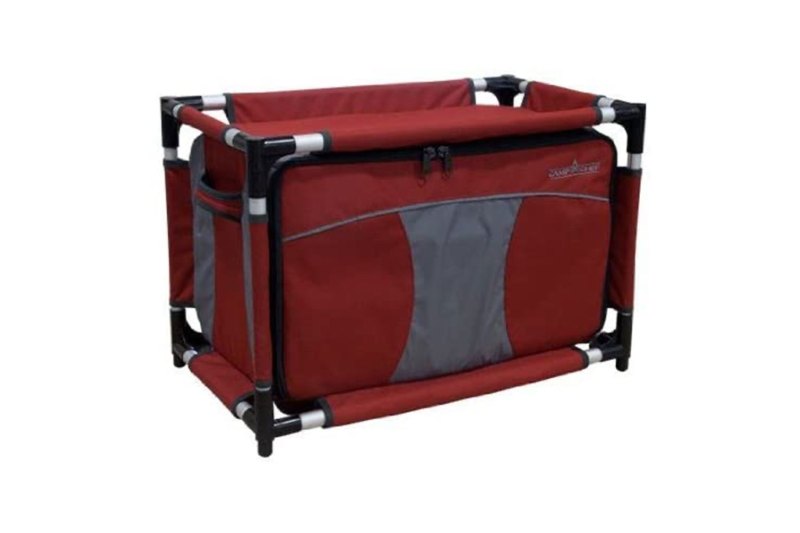 Sherpa Camp Table & Organizer by Camp Chef
Those who place a strong emphasis on utility, simplicity, and organization will love this camp table & organizer by Sherpa. It serves as both a food prep station and a cooktop since it's designed with a roll-out aluminum topper, as well as telescoping aluminum legs. There are also four color-coded bags for picture-perfect organization of your cooking supplies and goods. And if that's not enough, this unit is lightweight and easy to carry since it can collapse down to a small size (and features padded handles for comfort)!
Sherpa Camp Table & Organizer by Camp Chef
Editors' Recommendations