Drivers who wanted a well-built, light, and aerodynamic travel trailer had relied solely on Airstream for options. Thankfully, manufacturers have started to introduce trailers of all sizes for a variety of applications. Looking for a road tripper, overlander, or weekender for a short trip to your next destination? You're guaranteed to find a camper you love. If you're not interested in a big, fancy trailer then ultralight trailers are a great choice as they're easier to tow and more aerodynamic. Here are our top picks for the best ultralight trailers on the market, all primed for your adventure.
Related Guides
For the Retro-Cool Rambler: Happier Camper HC1
The pint-sized Happier Camper HC1 offers an ingenious solution for travelers looking to take only the most essential elements of home along for the ride. While the retro-modern shell oozes vintage cool, it's what's on the inside that will interest most road-trippers. The clever Adaptiv interior features Lego-like cubes that are infinitely configurable to suit almost any traveler's style. The sleeping space, kitchen, and work areas can all be repurposed to however large or small you need them to be. It's the closest thing to a mobile Swiss Army knife we've seen on the travel trailer market.
Bonus: The company offers rentals for anyone looking to try before they buy.
Pricing: Starts at $29,950
For the Jack of All Trades: Taxa Outdoors Cricket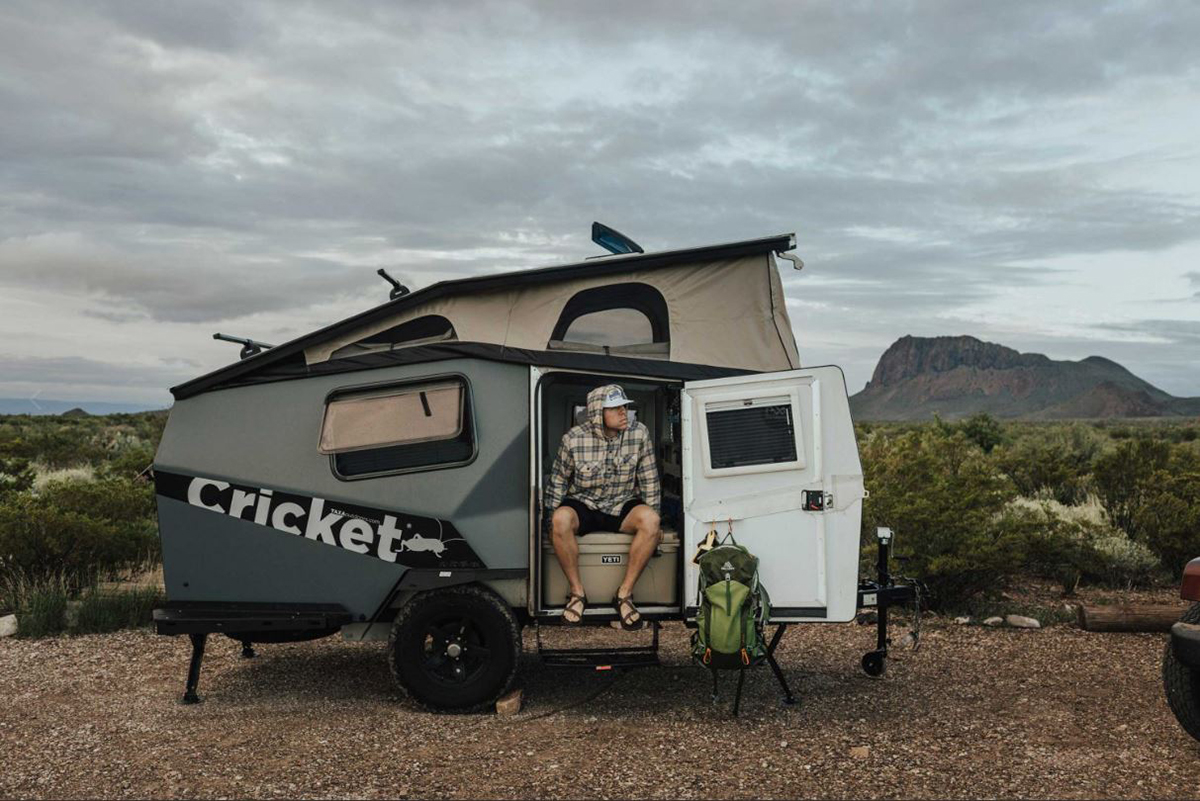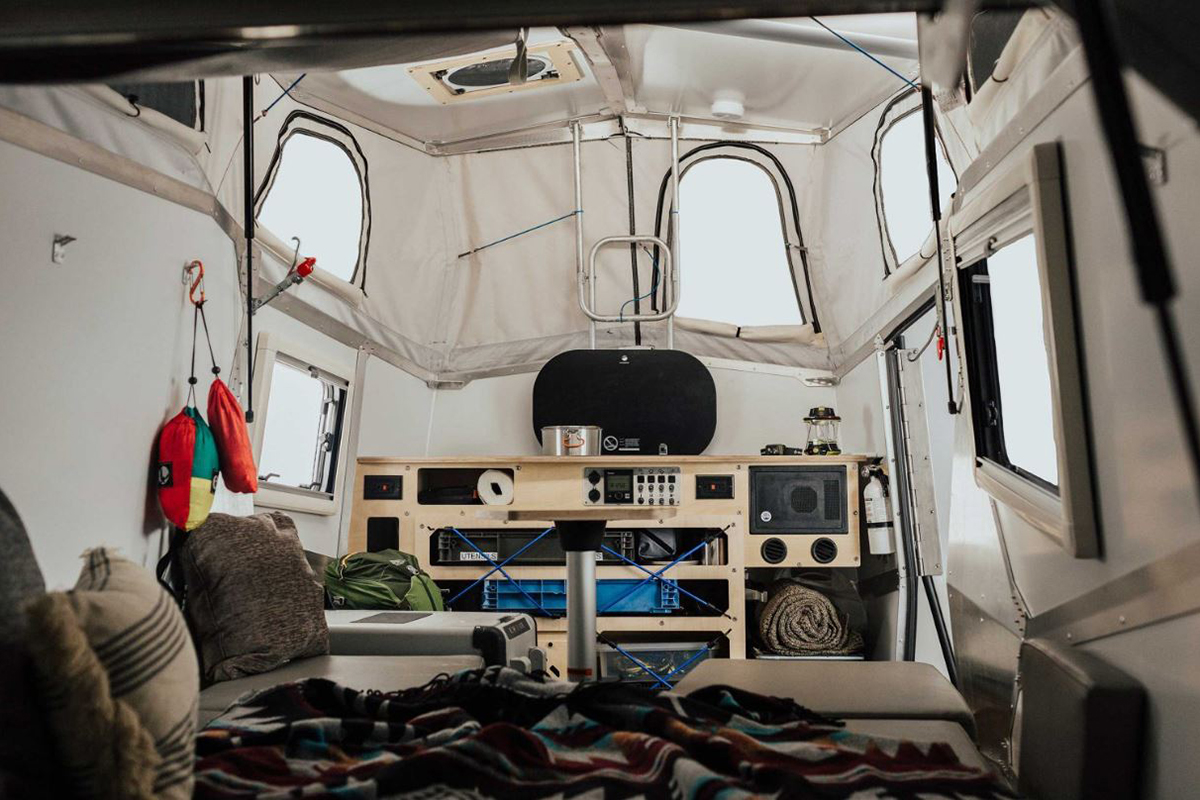 TaxaOutdoors' Cricket is arguably the most love-it-or-hate-it design of any travel trailer on the market. The asymmetrical shell may seem strange, but there's a method to the company's madness. Every interior space offers only as much space as is necessary and, even by RV standards, the company crams a boatload of intelligent storage solutions into one tiny package. Perhaps the best part is its diminutive size (15 feet long by 6 feet, 11 inches tall) and weight (just 1,732 pounds unloaded), ensuring it can easily be towed by most four-cylinder vehicles.
Bonus: A panoramic, 32-inch by 20-inch rear window ensures the cabin is awash in natural light
Pricing: Starts at $33,515
For the Design Enthusiast: Polydrop P17
California-based firm Polydrops deviates from the bland aesthetic by building futuristic-looking vehicles, such as the P17. But don't judge a trailer by its appearance. The R-14 structural insulation delivers maximum energy efficiency, priming the P-17 for all-season camping. Any vehicle can tow the P17 as it comes with the lightweight 6061 T6 full aluminum tube frame and Timbren independent suspension that help deliver a smooth, quiet ride to the backcountry. Camp-ready features include a four-inch tri-fold mattress and an open galley for a homey stay in the outdoors.
Bonus: Polydrop offers next-level upgrades to the P17's toddler bed, roof, tongue, wheel, and open galley.
Pricing: Starts at $14,990
For the Euro Aficionado: Carapate Teardrop Trailer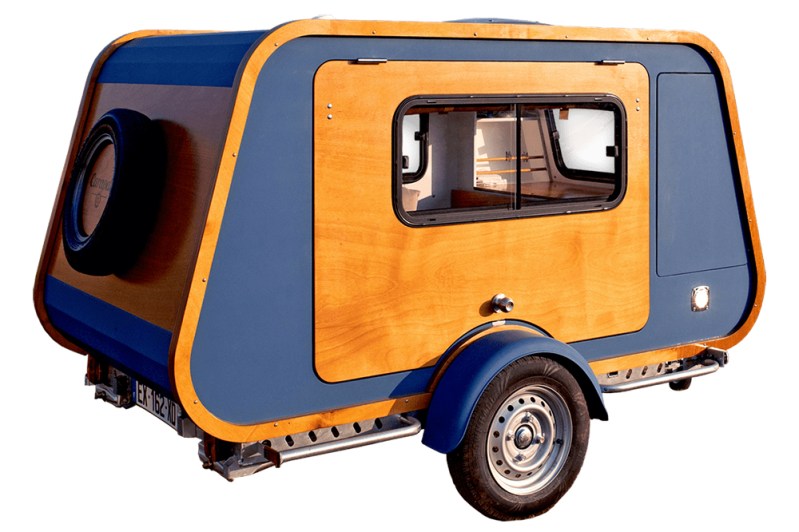 Like the Polydrop, the French-built Carapate teardrop trailer demands to be noticed. The trapezoidal, blue and natural wood shell recalls mid-20th-century yacht design. It's a playful and unique aesthetic that would feel perfectly at home in any Wes Anderson flick. A large side hatch and oversized windows help bring the outside in. The interior features all the essentials one would expect in a midsize travel trailer. There's a slide-out kitchenette with a stove, sink, and two-way refrigerator — all of which can be used outside or inside the trailer. Tech-friendly features include LED lighting, multiple USB ports, and an optional solar kit for staying off-grid as long as you like. The Carapate teardrop trailer is only for sale overseas. So, American buyers will either need to plan an extended road trip around Europe or figure out how to ship it home.
Bonus: Instead of one fixed mattress, the interior features three single-sized mattresses that can be reconfigured as a large bed, a front-facing sofa, or a lounge-like, L-shaped couch.
Pricing: Starts around $18,000
For the Off-Road Adventurer: Hiker Trailer
The aptly named Hiker Trailer company has one goal: Create serious, affordable, off-road-capable travel trailers. Like most teardrop trailers, every model is purely utilitarian and features only the most essential amenities, all packed into the smallest space possible. Basic models offer little more than a durable, bare-bones aluminum shell that's intended to be buyer-customized. Deluxe models feature legit off-road-worthy upgrades like beastly 33-inch tires, 3,500-pound axles, and 2-by-3-inch steel off-road frames. Their lightest model weighs just 640 pounds, meaning it's (almost) towable by anything stronger than a bicycle.
Bonus: Hiker Trailer offers so many custom options you can truly build the camper for your budget.
Pricing: Starts at $5,595 for the Highway Deluxe model (5 by 8)
For the Modern Gear Hauler: Airstream Basecamp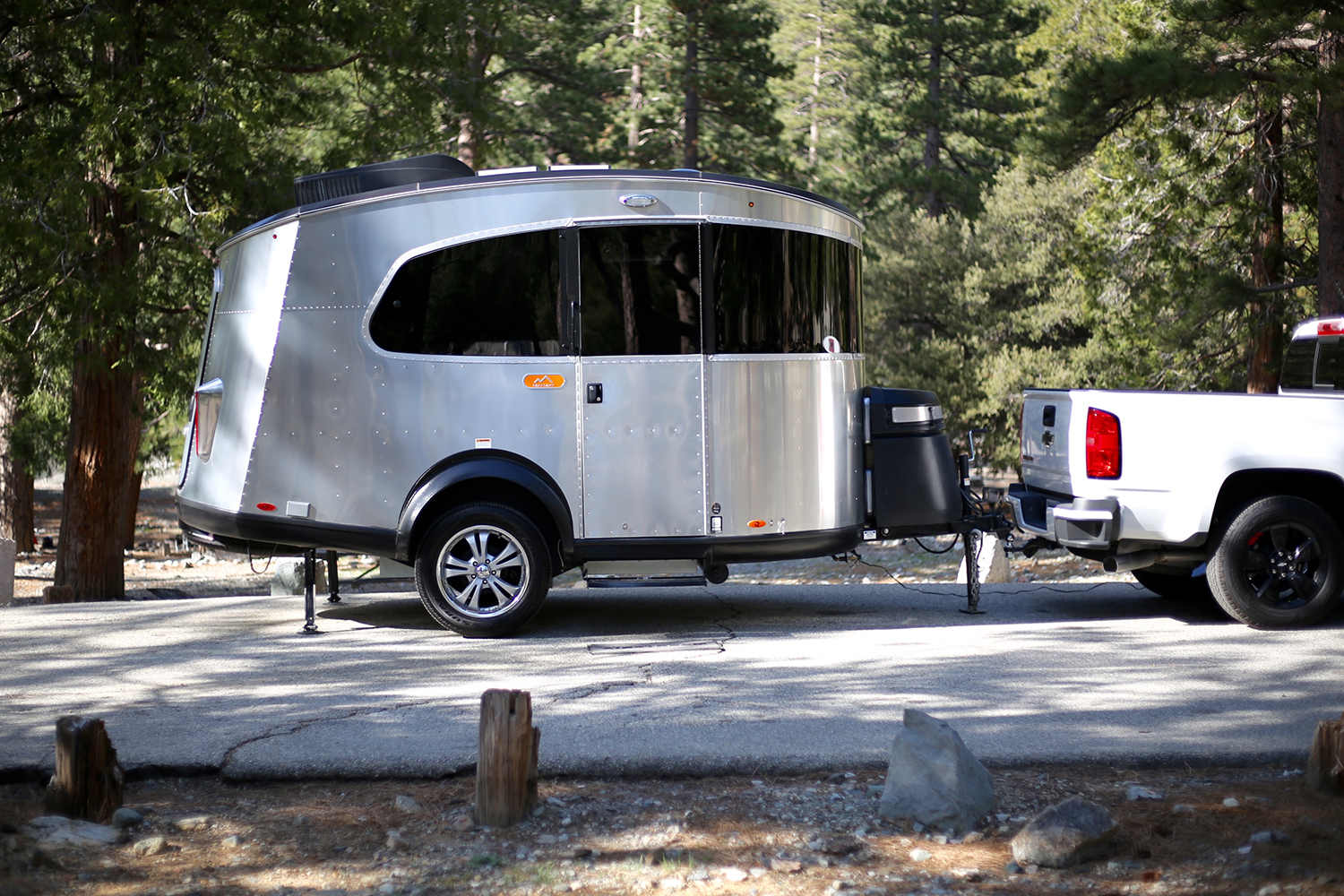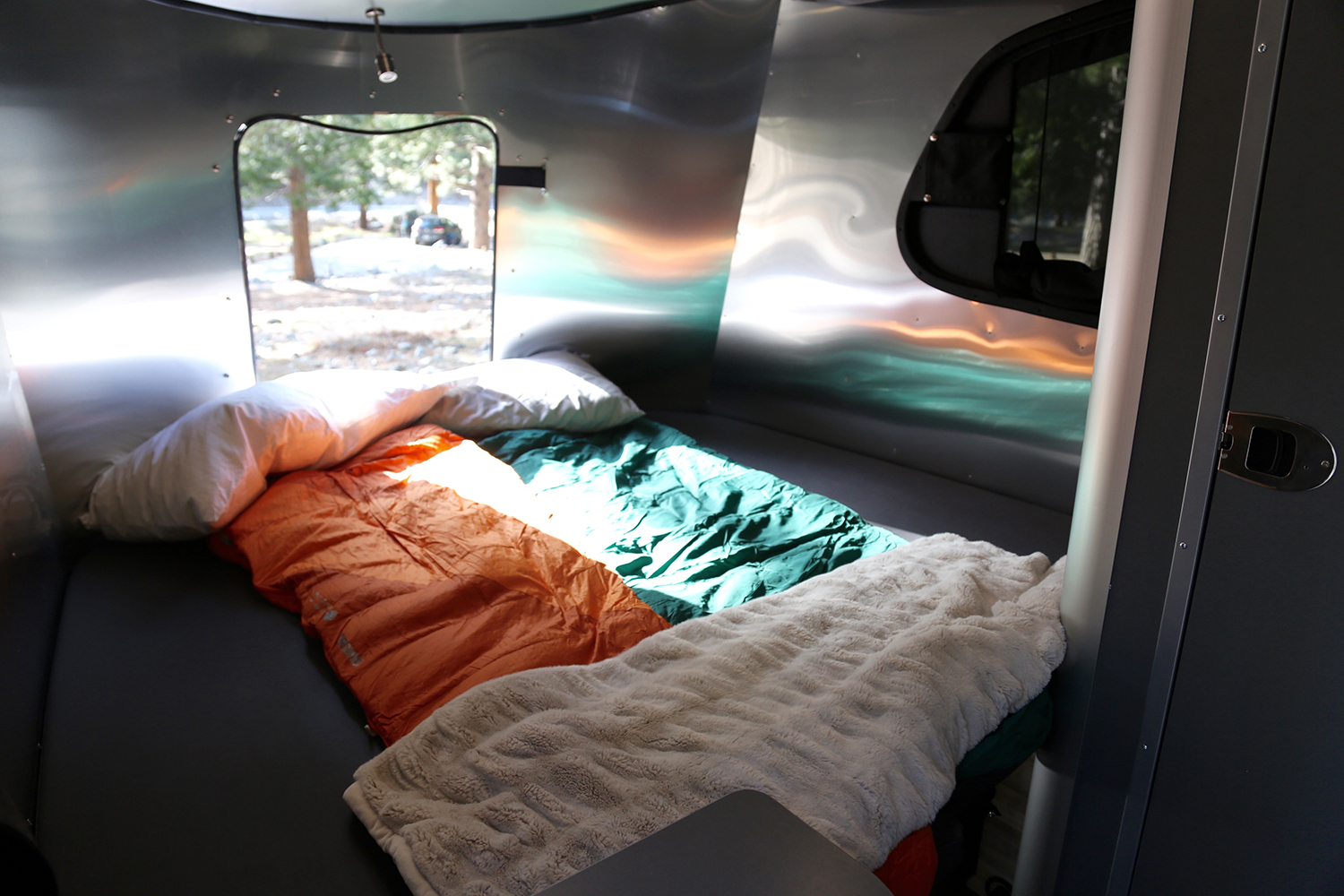 With an all-in price tag of $40,000, Airstream's gear-hauling Basecamp is pricey. At roughly 2,600 pounds, it's towable by most midsize SUVs but hardly qualifies as ultralight. Still, there's nothing else quite like it. It's designed to live up to its namesake as a "basecamp" for your wide-open-space adventures. It boasts all the essentials today's outdoorsmen expect in a modern camping experience, including a bare-bones sleep space, a workable kitchenette, a bathroom with a shower and toilet, and a sizable cargo area for hauling your outdoor toys. Plus, the taut aluminum exterior is sleek, handsome, and unmistakably Airstream.
Bonus: Clever, off-road-centric design features — including an aggressive departure angle and large tires and wheels — allow you to get far, far off the beaten path.
Pricing: Starts at $40,100
For the Minimalist Trekker: Timberleaf Teardrop Trailer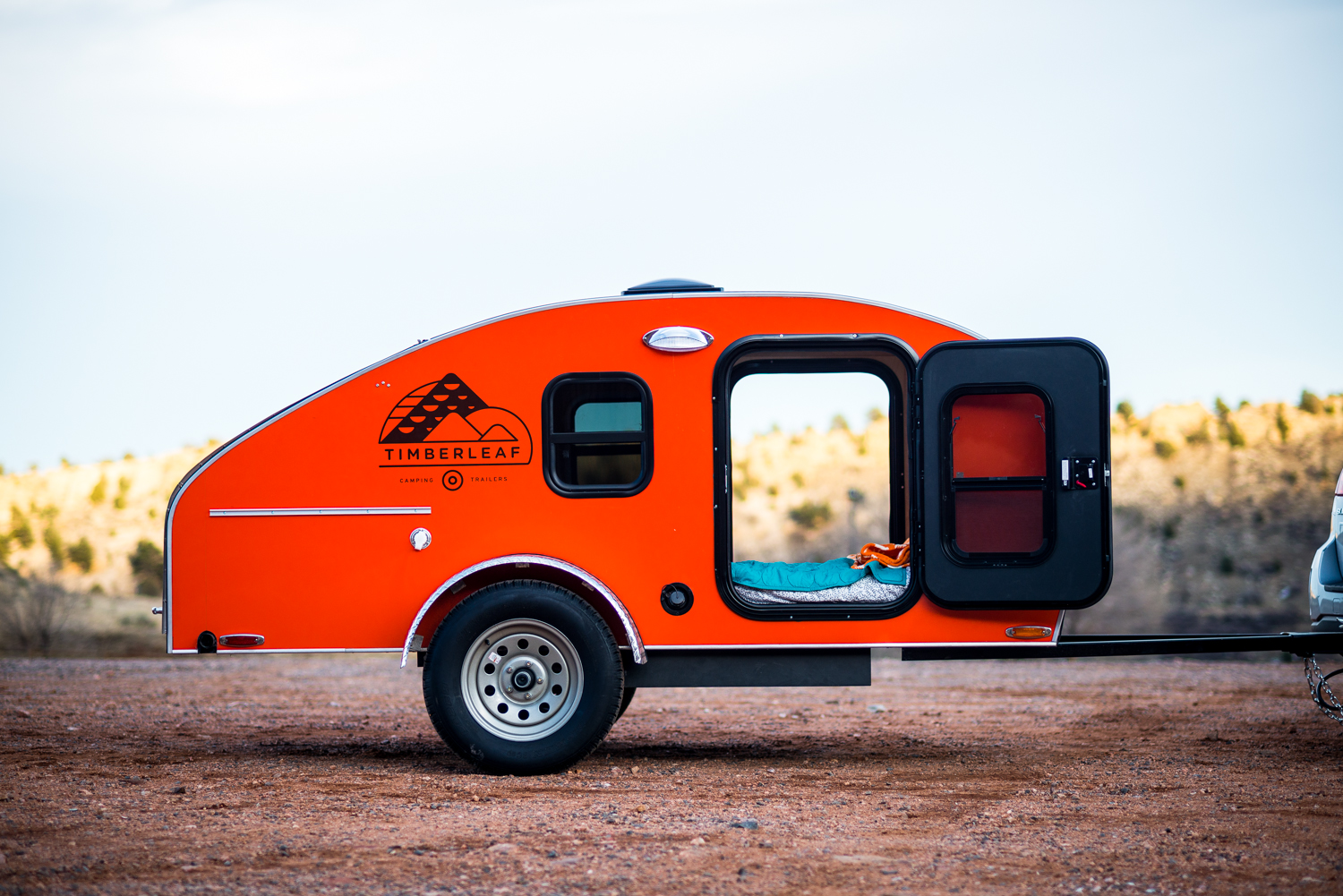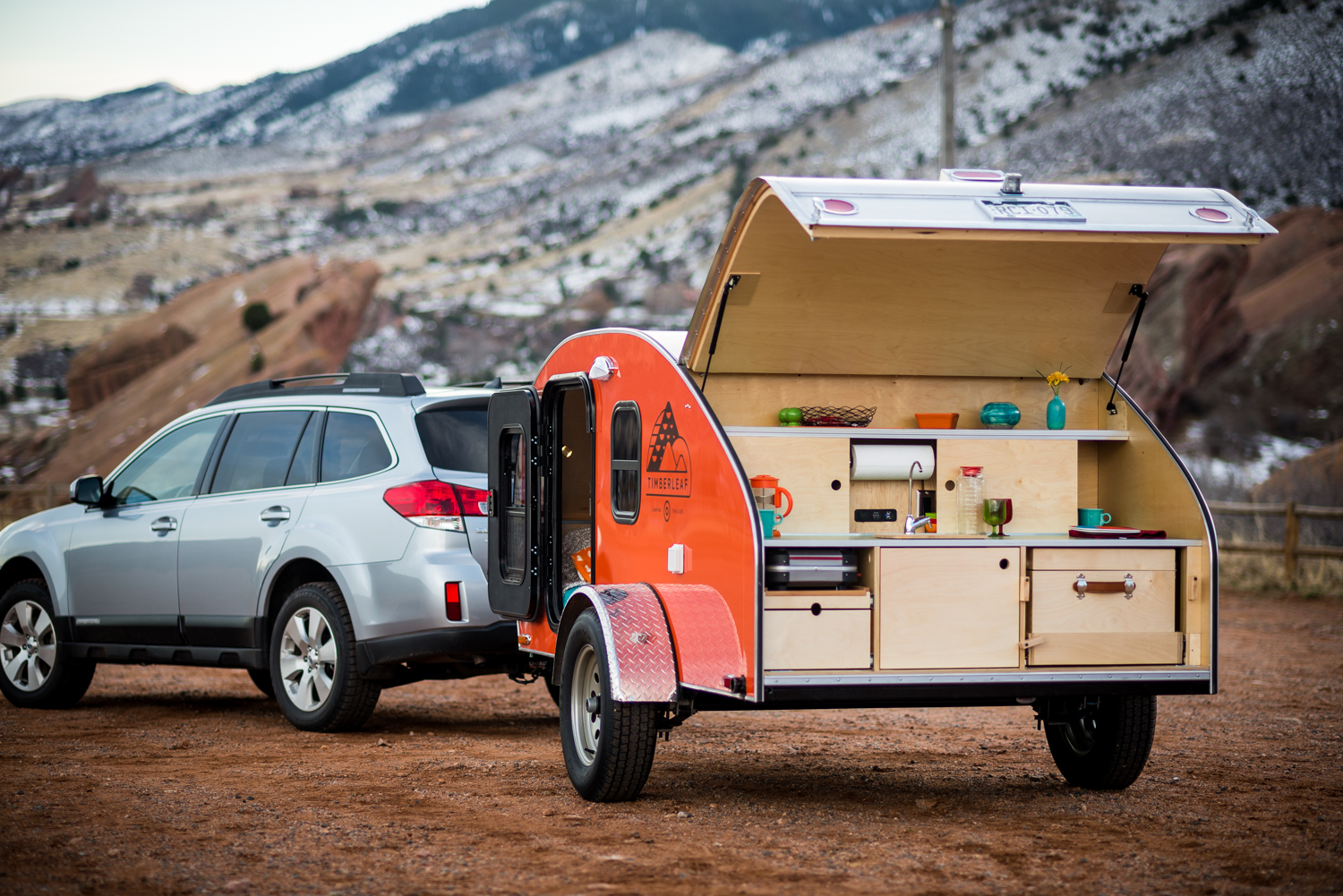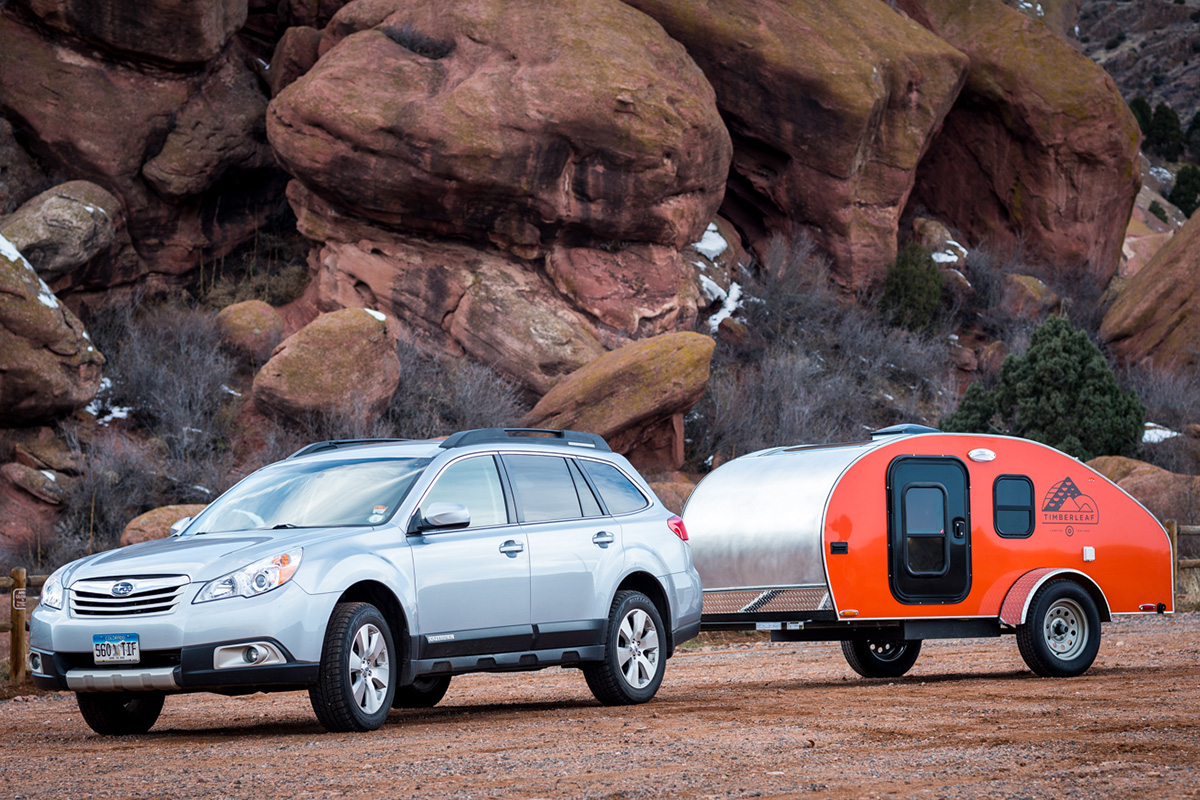 The teardrop travel trailer market has exploded in recent years, thanks to their being towable by just about any vehicle (in some cases even a motorcycle). The Timberleaf is minimal and functional, with just the right amount of charm. The company's woodworking skills are evident in the beautiful craftsmanship throughout. Inside, the cabin features a massive skylight, making for perfect stargazing, and ample shelving guarantees plenty of space for your camping essentials. Round back, the hatch reveals a beautifully designed birch galley with a cooktop and pull-out drawer.
Bonus: An optional custom-built cooler provides ice retention for days, and leather grab handles add a dash of sophistication to your campfire cooking escapades.
Pricing: Starts at $23,400 for the Classic Teardrop's base package
For the Outdoor Transformer: Safari Condo Alto R Series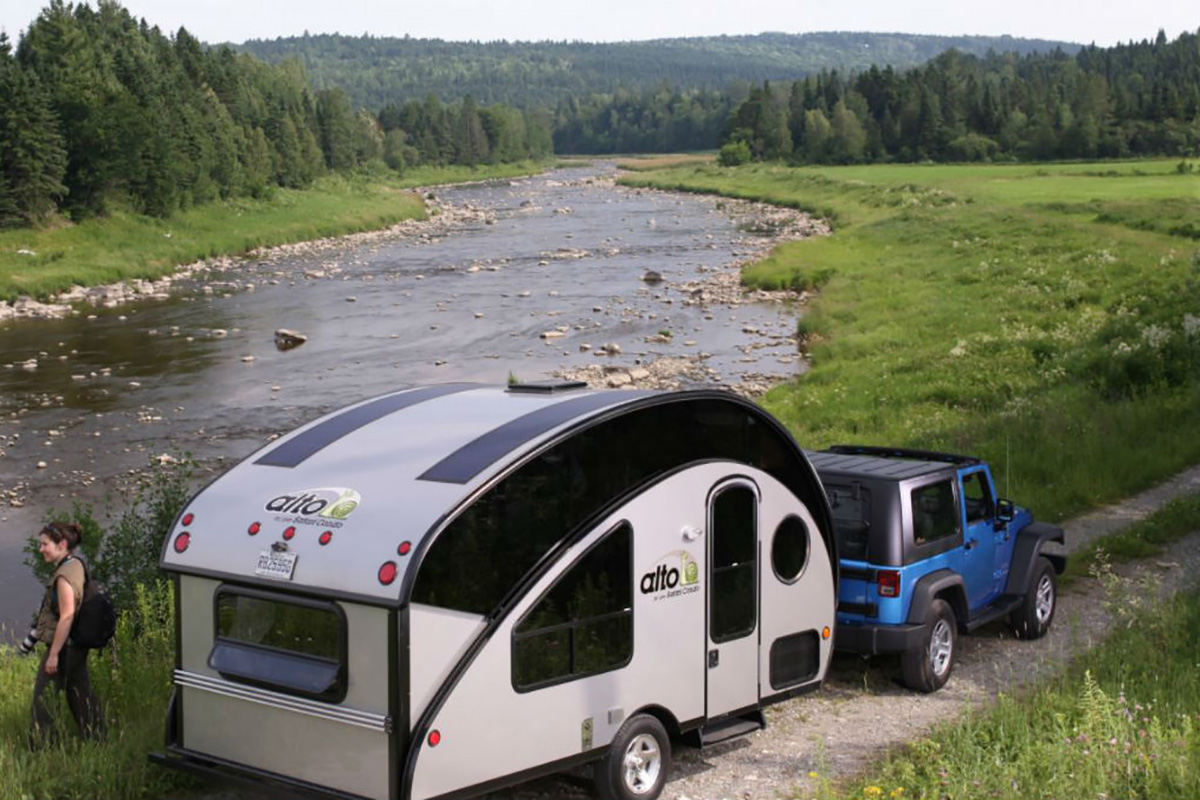 Teardrop trailers are great for efficiency and portability, but, by design, they're thin on amenities. The Alto R Series by Safari Condo aims to remedy that problem. While towing, it features a traditional, streamlined teardrop trailer design that the company claims reduces drag by up to 75%. Once at your campsite, however, an electric switch raises the Alufiber (an aluminum/fiberglass composite) roof to reveal a spacious, full-featured interior with panoramic windows. It manages to pack a surprising number of amenities into a tiny space. A king-size bed, two-burner cooktop, mini-fridge, fixed-flush toilet, and shower are all standard.
Bonus: The kitchen, beds, storage, and toilet are all still usable even with the roof lowered.
Pricing: Starts at around $36,000
For the Traditionalist: KZ Sportsmen Classic 100RK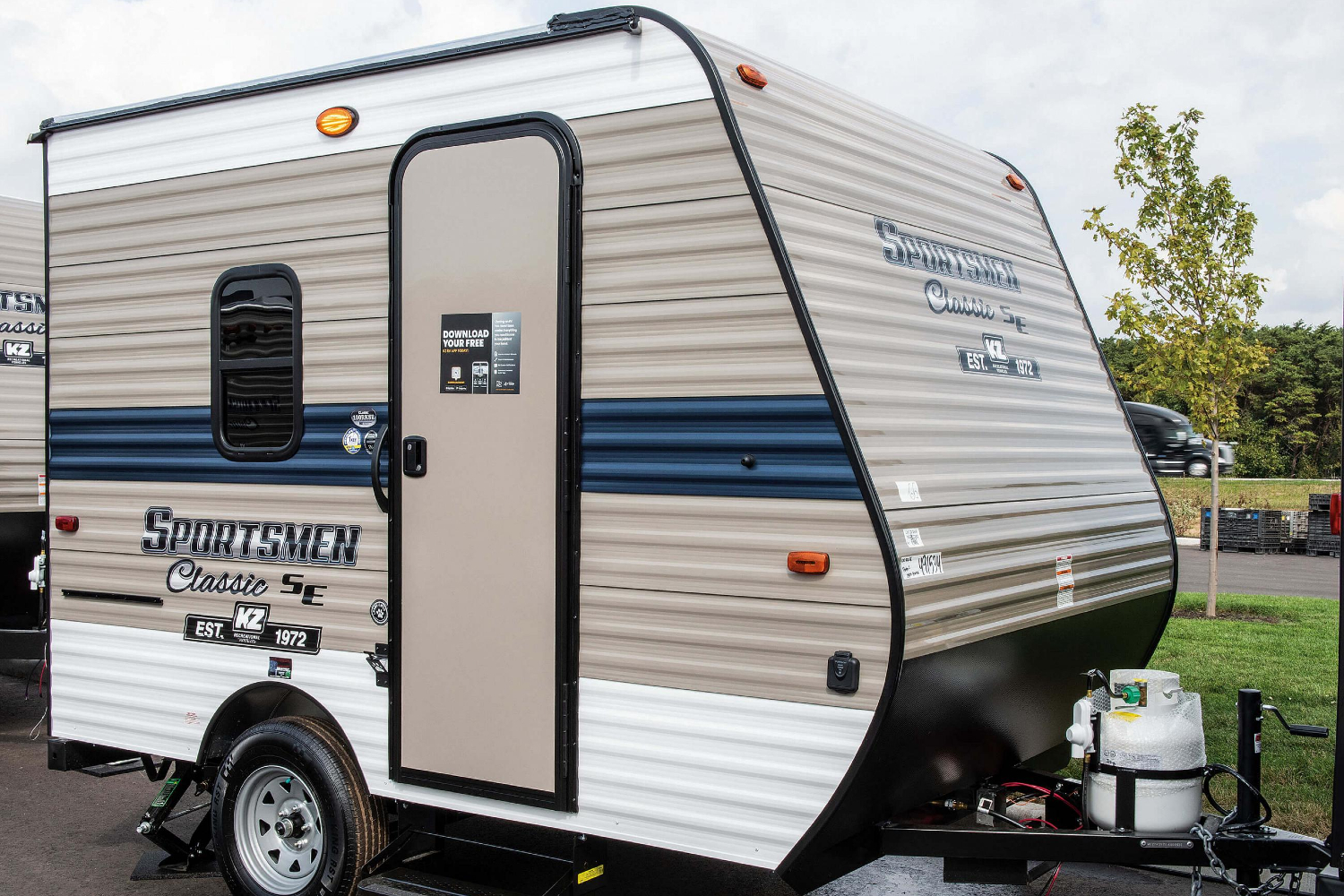 The KZ Sportsmen Classic 100RK may not have a "hey, look at me design," but it's incredibly lightweight and allows travelers to bring the comfort of their home with them. Even if the outside is a little drab, it's what's on the inside that matters. The 100RK is one of the lightest and smallest trailers in KZ's lineup, weighing just 1,770 pounds and measuring in at just over 13 feet long and 6.5 feet tall. That means you won't have to have a hulking SUV or pickup truck to lug it around. Despite the small size, the 100RK is big enough to fit a queen-size bed. A nifty trunk in the back houses the outdoor kitchen, which includes a refrigerator, a sink, and a griddle. 
Bonus: There's a nifty little compartment that runs the full width of the trailer, making it an ideal spot to store camping equipment. 
Pricing: Starts around $11,724 
Editors' Recommendations