Winter can be a tough time of year to stay hydrated. The long cool drinks of summer give way to hot mugs of coffee and caramel hot chocolates by the fire. But staying hydrated is just as important throughout the cooler months as during the summer. No matter whether you're looking for a new water bottle to add to your ski gear setup, need a new gym flask, or are looking for a way to stay hydrated in the office, then these insulated flasks are the answer you're looking for.
An insulated flask is a win-win for the cooler months. Fill them with cold drinks when you're heading indoors for a workout and enjoy ice-cold water in the heat of the gym, but if you're hitting the slopes they can be filled with warmer drinks so you're not assaulting your teeth with chilled water while you're already in sub-zero temperatures. The best bit? When spring comes around and temperatures start to rise, you don't have to replace your trusty water bottle.
Yeti Rambler Vacuum Bottle with Chug Cap
Use the Rambler to keep your hot chocolate hot, your cocktails chilled, and your water from spilling during all sorts of adventures, whether it's a simple commute to the office or an extended camping trip. This new model features the addition of a chug cap to your favorite insulated water bottle, so you can chug away without fear of spilling — ideal for road trips or on bumpy ground. The Rambler is available in five great colors, is 100% leakproof, and entirely dishwasher safe.

Yeti Rambler Vacuum Bottle with Chug Cap
Stanley IceFlow Straw Tumbler
The Stanley IceFlow Straw Tumbler looks more like your traditional travel mug than an insulated water bottle. In a way, that's because it is, but this makes it ideal for taking on the road — it fits in your vehicle drinks holders — or keeping close at hand at work or during a workout. This mug will keep your drinks chilled for up to seven hours, or iced for up to thirty-five, so you can take this anywhere, any time. The IceFlow Straw Tumbler is fully dishwasher safe and is covered by the Stanley Built for Life warranty.
Stanley IceFlow Straw Tumbler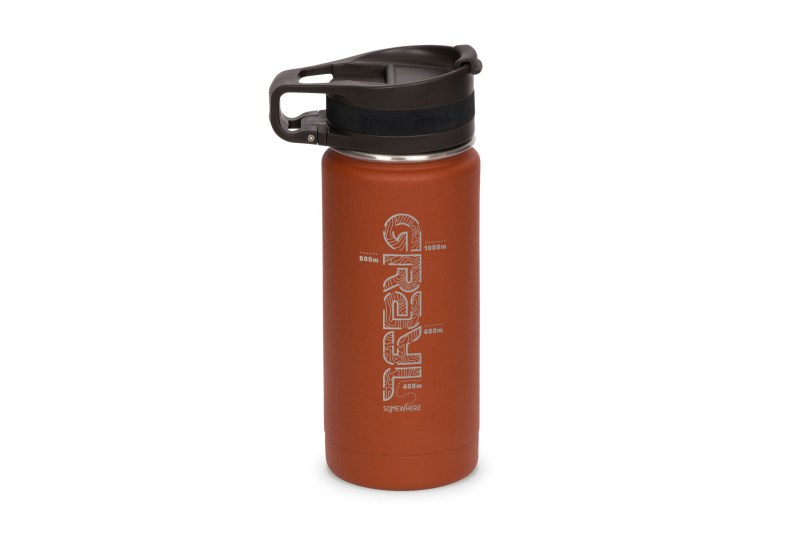 Earthwell x Grayl Roaster Loop Bottle
We've been huge fans of Grayl ever since discovering the clever Geopress Purifier bottle. The company recently teamed up with Earthwell for the Earthwell x Grayl Roaster Loop Bottle. The design features handsome, laser-etched stencil artwork on the outside. But it's more than a pretty face. The bottle's TempLock double-wall vacuum insulation promises to keep your drinks ice-cold for up to 40 hours, beer chilled for up to 16 hours, and hot beverages piping for up to 10 hours. The patented cap dispenses the contents of the bottle at a sip, drink, or chug, and the x Grayl features a thick loop for attaching it wherever is most convenient.
Earthwell x Grayl Roaster Loop Bottle
Hyrdo Flask Wide-Mouth Vacuum Water Bottle with Straw Lid
Great insulation, simple design, bold color choices, easy-to-carry handle, lifetime warranty — what else could you want? What about a company that cares about our green spaces? Through its Parks for All program, Hydro Flask provides grants to nonprofit organizations focused on building, maintaining, restoring, or providing better access to parks.
Couple this with a long-lasting stainless steel design that keeps drinks cold for 24 hours or hot for 12 hours and you've got a bottle that can work for everyone, especially for the outdoorsy person in your life. This version of the Hydro Flask has a straw topper, making drinking on the go even easier and reducing spillages on the trail, chairlift, or on the road.

Hyrdo Flask Wide-Mouth Vacuum Water Bottle with Straw Lid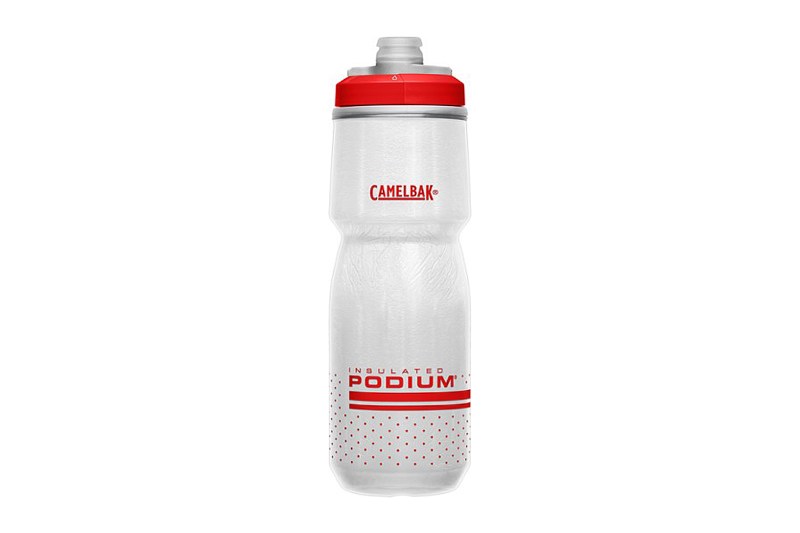 CamelBak Podium Big Chill Insulated Water Bottle
Whether you're crushing the pavement on a road bike or tossing a Frisbee at the park, you can take down the heat with CamelBak's Podium Big Chill insulated water bottle. Constructed from non-BPA, BPF, and BPS plastic, this double-walled bottle with closed-cell foam technology should replace any standard water bottle you've got stashed alongside your outdoor gear. The Podium Big Chill's self-sealing cap allows you to hydrate without pause and, once you're done for the day, can keep your drink from leaking in your bag with a secure lockout. With a handful of different color and design options, this bottle can fit both your active and style needs.
CamelBak Podium Big Chill Insulated Water Bottle
Snow Peak Milk
The Snow Peak Milk 350ml has a stylish and minimalist look to it, but maintains an excellent functional level, too. The stainless steel finish and twist-on cap fit within the ergonomically designed body — comfortable and easy to hold but with a wide mouth. The Snow Peak Milk keeps drinks either hot or cold for up to six hours. Want a bigger version? This bottle is also available as a 500 ml flask.
Editors' Recommendations