best of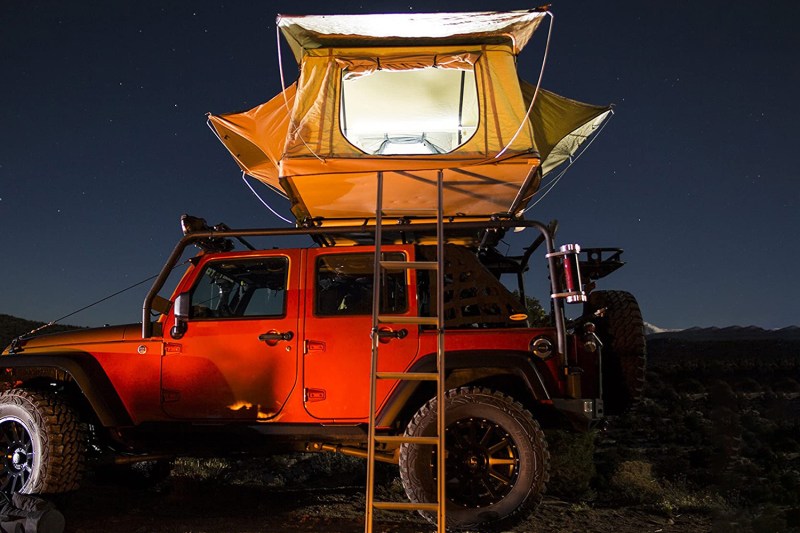 Rooftop tents have become ubiquitous thanks to their unique and convenient design. They are the smartest, most comfortable alternative for those who can't afford ultra-light travel trailers but don't want to buy and use traditional tents. Rooftop tents are easy to set up, too. They mount to your car's roof (rooftop tents require a factory or aftermarket roof rack). Just fold your tent open and head to bed.
When it's time to greet the bright sun and traverse the next route on your road trip, store your sleeping bag, close the tent, and rev up the engine. High-quality rooftop tents are expensive, but they're worth the investment, especially if you're always on the road.
However, there are many wallet-friendly options that are as rugged and weather-resistant as their premium counterparts. Hence, we embarked on a journey to our favorite outdoor merchants to procure the best rooftop tents for your road trip. If this is your first time buying one, check out our no-nonsense guide to buying a rooftop tent before committing to a purchase.
Related Guides
Smittybilt Overlander (2783) Rooftop Tent
Rooftop tents are fantastic for overlanding and camping with friends, but their price tags can put some people off. Good camping tents are only a few hundred dollars. The Smittybilt Overlander 2783 isn't exactly inexpensive, but at around $1,000, it's a steal for a rooftop tent.
Included is a 2.3-inch foam mattress, a two-piece sliding ladder, cigarette lighter USB extensions, and an LED light strip inside. Each window is covered by no-see-um mesh with canvas covers on the outside you can pin up with the included spring poles. A worthy upgrade is a telescoping ladder to make setup easier, but for the price, the Smittybilt Overlander is hard to beat.
Closed Dimensions: 49 inches x 58 inches x 13 inches
Open Dimensions: 95 inches x 56 inches x 51 inches
Weight: 116 pounds
Read more: Overlanding in America
iKamper Skycamp 2.0 Rooftop Tent
With its spacious, 1.8-inch-thick king-size foam mattress, the iKamper Skycamp 2.0 is one of the best small rooftop tents for campers who appreciate extra sleep space for up to four. The unique design unfolds from the hardshell inside so you don't have to deal with clipping on a separate waterproof cover. The top hardshell is double-layered for increased insulation when camping in the rain. To help raise the large hardshell during setup, integrated gas struts lift the lid with minimal assistance.
Windows on both sides and the roof have three layers each: Solid fabric, clear waterproof vinyl, and no-see-um mesh. With the vinyl closed, you let the light in but keep the weather out. Closed, the streamlined hardshell is just 12 inches tall and has locking stainless steel clips.
Closed Dimensions: 85.8 inches x 54.3 inches x 12.5 inches
Open Dimensions: 85.8 inches x 82.6 inches x 43.3 inches
Weight: 160 pounds
Freespirit Recreation Adventure Premium Rooftop Tent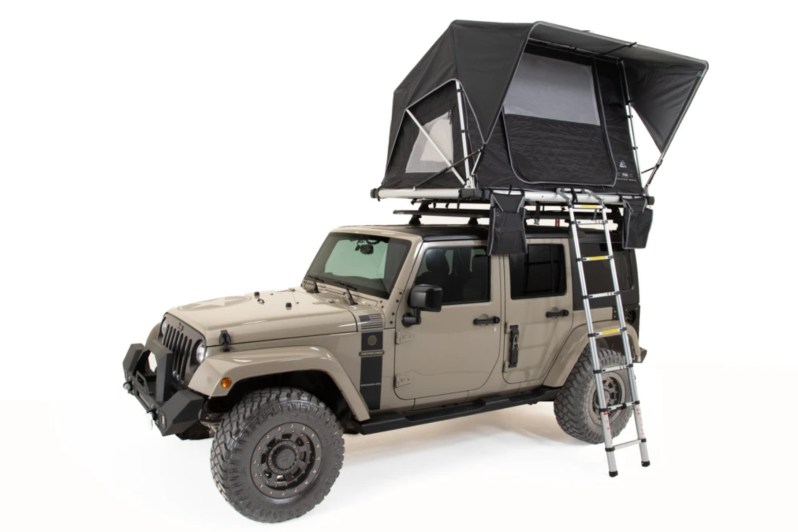 Freespirit Recreation's Adventure Series tents are among the best rooftop tents for camping in extreme conditions. The Adventure Series GS 55-inch Premium is the middle child in the lineup, balancing size, price, and features. Enhanced tri-layer construction ensures the interior retains heat in cold temperatures but keeps its cool on hot nights. By day, the panoramic windows afford near-360-degree views in every direction. Once the sun goes down, integrated LED lighting provides a bit of ambiance and plenty of light to read by. Plus, integrated gas struts ensure easy setup. Just undo the tie-down strap, and this rooftop tent opens on its own.
Closed Dimensions: 85 inches x 60 inches x 9 inches
Open Dimensions: 80 inches x 55 inches x 47 inches
Weight: 118 pounds
Roofnest Sparrow Eye Rooftop Tent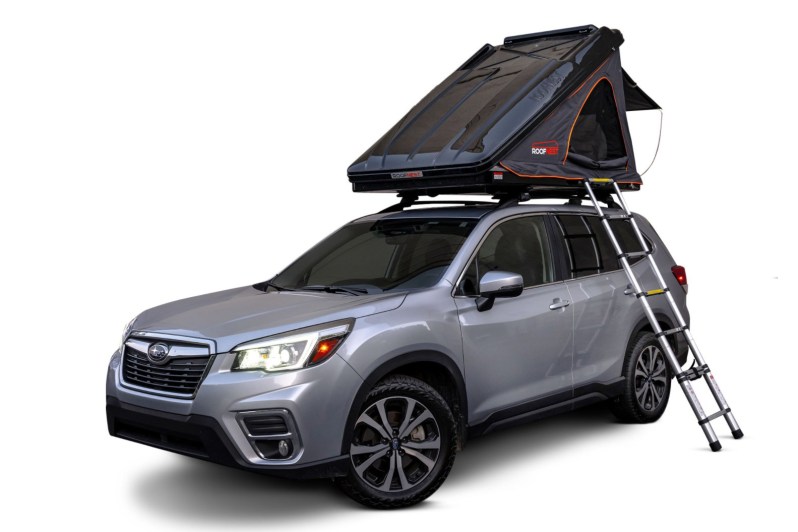 Roofnest makes some of the best hard rooftop tents on the market. The unique, newly redesigned Sparrow Eye is the smallest in the company's lineup and one of the most compact available period. At just 50 inches wide, it'll mount easily to almost any vehicle with a roof rack, from a midsize sedan to a full-size SUV or pickup. It sleeps two adults snugly but comfortably inside the fiberglass-reinforced ABS shell. The new design is spacious enough to allow for a 100-watt solar panel and exterior gear storage (with the included bag). Other notable features include a 7.5-foot ladder, an anti-condensation mat, a mesh gear loft, and a detachable pocket. The best part: Marine-grade gas struts allow for nearly automatic setup in less than 30 seconds.
Closed Dimensions: 85 inches x 50 inches x 11.5 inches
Open Dimensions: 83 inches x 49 inches x 44 inches
Weight: 130 pounds
Thule Tepui Explorer Kukenam 3 Tent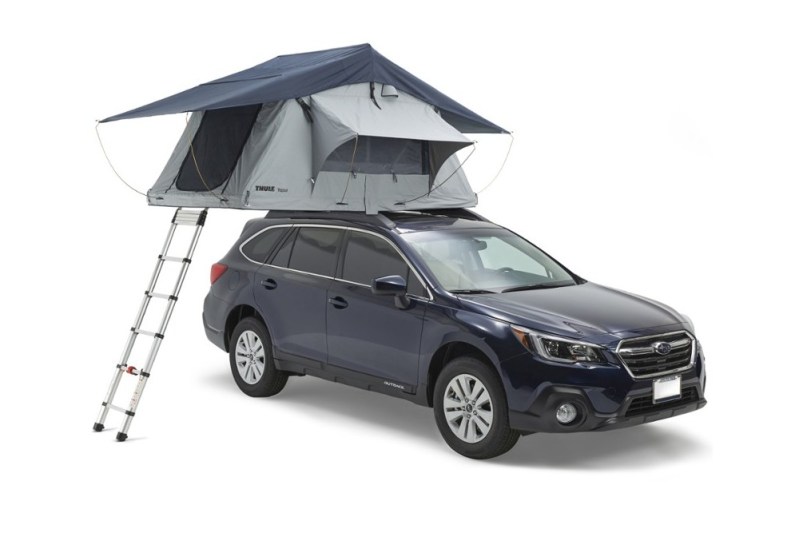 With recreational camping in mind, Thule's Tepui Explorer Kukenam 3 is a strong contender. This softshell rooftop tent is more affordable than most of its other counterparts. It's also versatile enough that it can fit on most vehicles and roof racks. The tent can keep 3 people sheltered comfortably with its mesh panels for added ventilation and airflow. Overall, you get a rooftop tent that has 600-denier ripstop body fabric and is UV and mold-resistant. On top of that, it has water-resistant zippers and a tough exterior that can withstand different seasons and weather conditions. When it comes to bang for the buck, this Tepui tent is worth considering.
Closed Dimensions: 48 inches x 56 inches x 12 inches
Open Dimensions: 96 inches x 56 inches x 52 inches
Weight: 131 pounds
Yakima SkyRise HD 3 Tent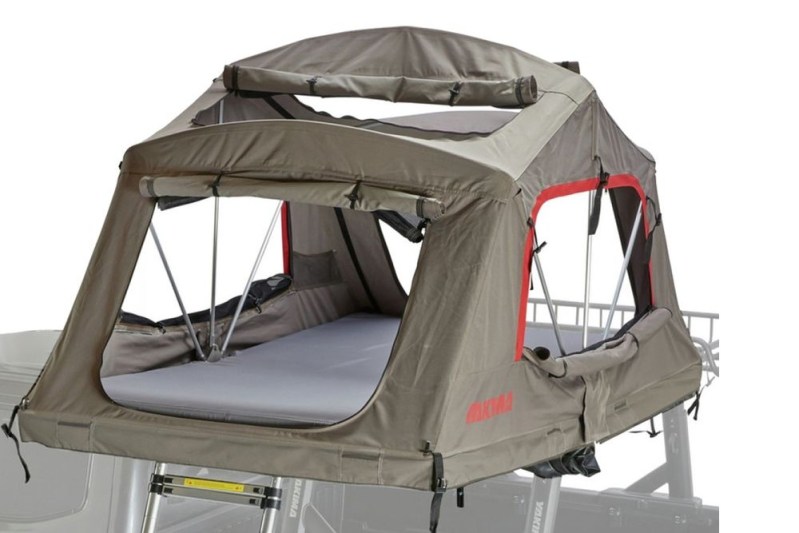 Yakima is well established as a go-to brand for high-quality roof racks and car accessories. Hence, it comes as no surprise that the Yakima SkyRise HD 3 Tent is among our top picks for this roundup. The tent is best for both all-season camping thanks to its durable PU-coated fabrics, which protect you from the elements. It also features large windows for a panoramic view of the mountains as well as a thick sleeping pad for more comfortable ZZZs in the outdoors. Plus, the HD 3 Tent boasts a tool-free installation for easy (not to mention efficient) tent mounting. This well-ventilated rooftop tent can accommodate a maximum of three adventurers.
Closed Dimensions: 56 inches x 48 inches x 16.5 inches
Open Dimensions: 96 inches x 56 inches x 48 inches
Weight: 114 pounds
Rightline Gear Truck Tent
While not technically a rooftop tent this truck tent makes for a great option if you own a pickup truck and don't want to sleep on the floor. Convert your truck with this truck tent by easily slipping on the tent over the tailgate of your truck, attaching and tightening the straps around your truck, and then raising with poles.
Closed Dimensions: 23.3 inches x 14.2 inches x 14.2 inches
Open Dimensions: 77 inches x 71.25 inches x 58 inches
Weight: 8.96 pounds
Editors' Recommendations