National Hot Dog day is Tuesday, July 20, 2021, and what better way to celebrate than to take a look at some of the best hot dog brands out there. A hot dog, to avoid dispute, is a frankfurter made of seasoned smoked meat, usually beef and/or pork. The name hot dog originated in the 19th century and was U.S. college slang for frankfurter because the popular belief was they contained dog meat – clearly not the case.
Hot dogs have become a food staple and are consumed a lot during national holidays or weekend barbecues. The hot dog, its toppings, and even its buns differ from coast to coast. No matter what you call them, it's the hotdog toppings that are the show stoppers. There has long been a debate about whether or not to put ketchup on a hot dog, but with these recipes, you won't need to worry about ketchup.
Related Guides
BKHDCO Banh Mi
The Brooklyn Hot Dog Company has been going strong since 2012 when it created five varieties of hot dogs, striving for nitrate- and filler-free hot dogs. To do that they chose quality antibiotic-free meats and all-natural casings and focused on creating healthier and more flavorful twists on hot dogs of the past. Founders Tony Fragogiannis and Justin Neiser felt 'Brooklyn' was the only name worthy for their hot dogs and will always call Brooklyn home thanks to Tony's father who was a Greek immigrant and operated a restaurant there in the 1960s. BKHDCO headquarters is a tribute to that bygone era. You can find Brooklyn Hot Dog Company hot dogs in select markets across the country.
This Banh Mi sandwich is made using BKHDC's snappy beef and pork hot dogs, a crispy and chewy baguette, and fresh and crisp vegetables.
Ingredients
2 Beef & Pork Brooklyn Hot Dogs
1 Vietnamese Baguette (or a soft French baguette)
1 small cucumber, cut into spears
1 jalapeño, seeded and sliced into rounds
1/2 cup pickled carrots and Daikon radish
1 bunch fresh cilantro
2 tbsp mayo (we recommend Kewpie)
Optional: 2 tbsp Sriracha | 3 dashes soy sauce (we recommend Maggi)
Method:
Heat frying pan over high heat
Cut hot dogs down the side/butterfly and sear
Slice loaf almost all the way in half
Spread mayo on the inside of the loaf
For a spicier sandwich, spread Sriracha on the inside of the loaf as well
Place seared and split hot dogs in the loaf
Add the cucumber spears, jalapeño slices, pickled veggies, and cilantro
Add optional soy sauce
Cut sandwich in half
Photograph it, eat it, post it, tag us, and use #bkhotdogco
Chicken Wing Dog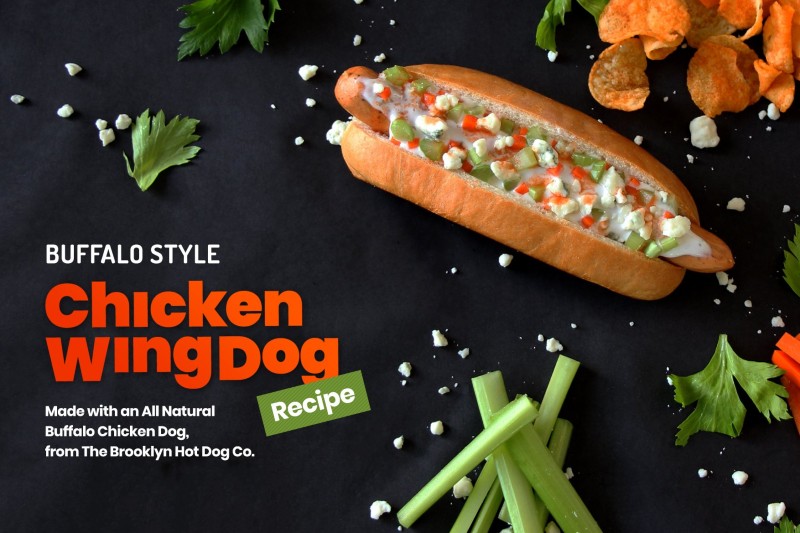 The Buffalo Chicken Dog is made with chicken, pork, hot sauce, and a variety of seasonings that combine to create a classic Buffalo Chicken hot dog.
Ingredients:
1 Buffalo Chicken Brooklyn Hot Dog Co. hot dog
1 hot dog bun of your liking
1/2 stalk of celery
1/4 carrot
4 tablespoons of blue cheese dressing
1 tablespoon of your favorite hot wing sauce (we like Frank's)
Blue cheese crumbles
Method:
Dice up the celery and carrot
Hydrotoast your dogs
Place the hot dog in a bun and top with blue cheese dressing, celery, carrots, and blue cheese crumbles
Drizzle wing sauce over the top
Photograph it, eat it, post it, tag us, and use #bkhotdogco
Portillo's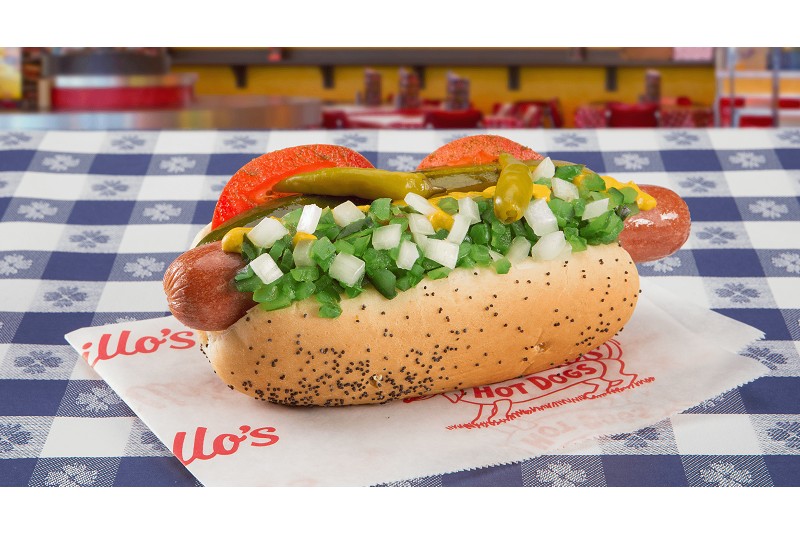 In 1963, Dick Portillo opened up a small trailer, soon to be the first Portillo's hot dog stand in Villa Park, Illinois. He called that food trailer "The Dog House." As the years went on, Portillo's became a brand synonymous with Chicago. Portillo's is now known for more than their Chicago Dog Hot Dogs.
The Chicago Dog Hot Dog is made with a Vienna Hot Dog topped with mustard, relish, celery salt, freshly chopped onions, sliced tomatoes, kosher pickle spear, and sport peppers, and a steamed poppy seed bun. Portillo's is found in 60 locations across the country.
Maille Hot Dogs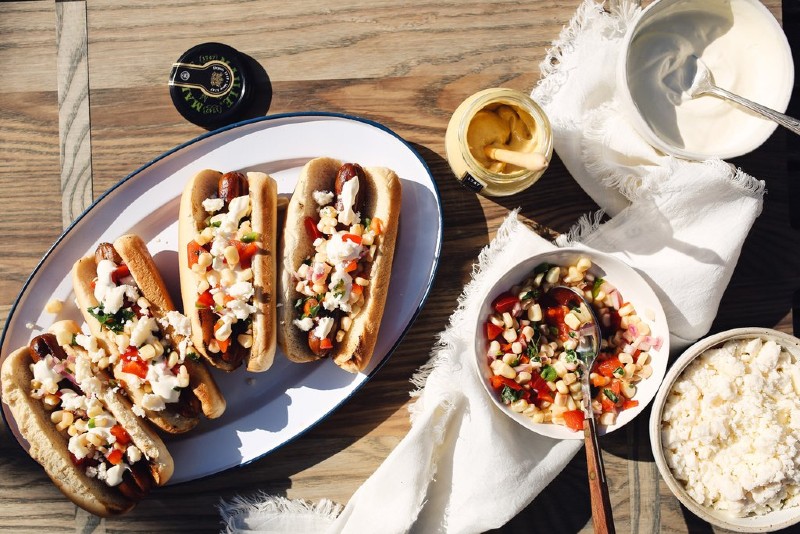 Even the Maille mustard brand got into the hot dog business, sort of. They created some recipes to accompany their mustard products.
The Tropical Hot Dog is made using fresh pineapple, fresh mango, red onion, cilantro, Maille Honey Dijon, and lime.
They have their own version of the Chicago Dog as well – the Maille Chicago-Style Hot Dog. It's made with poppy seed rolls, hot dogs, Maille Old Style Mustard, Maille cornichons, diced sweet onions, sliced tomato wedges, and peppers or pepperoncini.
Also on their hot dog list is a Mexican Street Corn Hot Dog which includes ingredients such as corn, red bell pepper, jalapeño, red onion, cilantro, sour cream, mayonnaise, Maille Dijon Originale, and Cotija cheese crumbles.
Dog Haus
Dog Haus uses 100% genetically tested and certified humanely raised Black Angus beef. There are no added nitrates or nitrites and all of their beef is vegetarian fed with no hormones and antibiotics. Every Haus Dogs are served on King's Hawaiian Rolls. You can find Dog Haus hot dogs at over 70 locations across the country.
The Sooo Cali hot dog is topped with wild arugula, avocado, tomato slice, crispy fried onions, and spicy basil aioli.
Then there's the Dog Haus's the Downtown hot dog. Grilled Hawaiian buns, smoked bacon-wrapped hot dog, caramelized onions, pickled peppers, mayo, mustard, and ketchup.
There you have it, some pretty great hot dog ideas that will take your grilled hot dog game to the next level so clean off that grill and start practicing.
Editors' Recommendations