Camping can be a lot of fun, but it often requires making a big first investment in gear, especially the tent. A good tent is typically the biggest expense. Thankfully, in recent years, we've had a lot of great brands start creating budget offerings, which means that you can get into camping without having to spend a huge chunk of money. Still, it can be pretty daunting to find a good budget option, which is why we've put together a list of some of the best tent deals that won't break the bank. Inventories can run low as the season progresses so don't hesitate when you spot a great deal.
Kelty Discovery 2-Person Tent — $60, was $80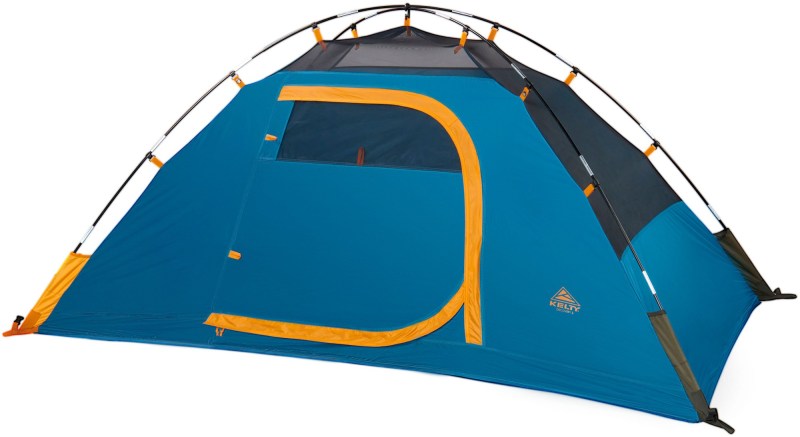 Why Buy
Brand name at budget prices
Self-standing tent
Strong fabric protects well against elements
Lots of internal space
While camping can certainly cost you a fortune, if you're a beginner, some great entry-level tents aren't the low-quality generic type you'd find at Walmart or Target. It's surprising to see a Kelty-brand tent in the sub-$100 range, given that it's a well-known brand that makes quality products, so you're already ahead of the game when picking the Discovery 2. Not only that, but the material is quite heavy, so it does an excellent job of keeping the elements and insects away, and while it may not hold up in extreme weather, it will do fine for the occasional light camping trip throughout the year.
Setup is easy, given that it's a free-standing tent; after you extend the polls, you slot them into a sleeve at each corner of the tent and then use the attached clips to bring the tent itself back up to the X crossing poles. Speaking of the poles, one thing to keep in mind is that they're made of fiberglass rather than aluminum, so they are slightly heavier and a bit more brittle, although the latter shouldn't be anything to worry about if you don't abuse them. The kit also comes with eight stakes, four to use and four extra, that you can employ for windy environments.
As for the internal space, it's pretty good, being able to fit two people and with an internal length of about 88 inches, so if you're less than six feet, there should be ample space. There are five cloth straps on the ceiling of the tent that you can use to hook things to, such as a lantern, and on each end of the tent, there are two pockets for an extra bit of storage. As for the tent door, it comes with two zippers and a small viewing window, and when you have the rainfly up, it overhangs it slightly, giving you some good protection from the rain.
All in all, the Kelty Discovery 2 is an excellent two-person tent in the budget range from a name brand and a great purchase if you're thinking of starting out as a camper.
ALPS Mountaineering Meramac 4-Person Tent — $142, was $190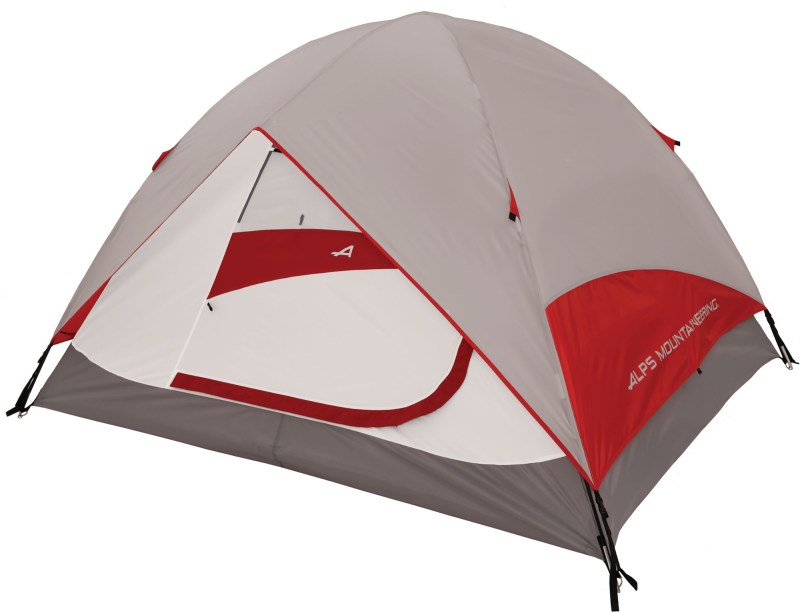 Why Buy
Easy to stand up
Free-standing
Two doors with windows
Great for both hot and cold weather
Dome tents are great if you want some nice headroom and internal space, and the upside is that they aren't as heavy as other types of tents, which also means that they sometimes might not stand up to the elements quite well. Luckily, the Meramac 4 is a pretty sturdy tent and is especially great for the summer months since you have more than ample ventilation when the rainfly is off, and the windows on the doors are open. It can also hold out in more inclement weather, and it does reasonably well against the rain, even during downpours, although since it's not a heavy tarp material like a Coleman, you do need to be careful with the floor so that you don't introduce a tear.
Setting up the Meramac 4 is pretty simple, and one person can do it in about 10 minutes or so, especially given that you don't have to deal with sliding the poles through a long sleeve across the body but can simply place them in pockets at each corner. One advantage here is that it's a free-standing tent, so once you set up the poles, you can clip the tent directly on, although there are straps around the body for you to stake the tent to the ground, which you'll likely need in moderate winds. As for the poles, they are fiberglass rather than aluminum, which does slightly increase the weight a bit, but shouldn't be a dealbreaker if you only camp once or twice a month.
As for the internal space, it's pretty big and able to fit two people with gear relatively comfortably, and while you can certainly fit four people tightly packed together, that's not sustainable for camping. Internally, you have a little mesh net at the top you can hang for clothing or light gear, or remove it altogether to use the fabric hooks instead, and there are two sets of pockets on the two sides of the tent that don't have doors. As for the rainfly, it does an excellent job of covering the doors and gives you a small awning and internal space to protect from rain or small hail; and is a nice little feature compared to other, smaller tents.
Kelty Discovery 6-Person Tent — $150, was $200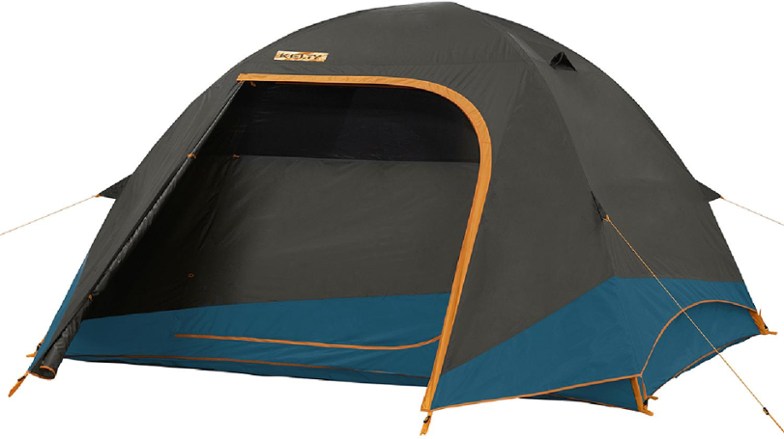 Large internal space
Freestanding with easy setup
Vestibule when rainfly is setup
Easy to pack with a great carry bag
If you're looking for something with a considerable capacity and want to go for a dome tent, the Kelty 6 comes with a lot of internal space and even some nice storage space when you have the rainfly up. In fact, the vestibule created with the rainfly gives you roughly 25 square feet of extra storage space to work with, which is great if you have a lot of stuff you want to protect from the elements while you sleep at night. That being said, while the tent usually is freestanding, the rainfly only has a vestibule when you stake it down, so that's certainly something to consider if the storage space is a factor.
Of course, even without the vestibule, the inside is very spacious and can comfortably fit up to four people with their gear, and while it's rated for six and you can certainly fit six people inside, for camping, it's not going to be comfortable. Thankfully, even with four sets of hands setup is relatively simple; using their quick cornet technique for the poles, you extend them and then place them in a pocket in each corner, rather than having to pass them through a sleeve, which means it takes much less time and is less likely to poke a hole in the fabric. It also has spots for guy wires and stakes for windy conditions, although it's reasonably aerodynamically sound, so you shouldn't have too many issues with flapping material making your life difficult.
Once inside, you'll find quite a bit of storage with wall pockets and a place to hang things on the tent's roof, although for six people, it might be a bit of a stretch. Also, this only has one door, which might be off-putting for some, but isn't a deal-breaker, especially given how much ventilation you get with the rainfly off and the window on the tent's door open. As for how it holds up to the elements, while it's marketed as a 3-season tent, the truth is it will do better in warmer seasons than colder ones, and we wouldn't use this anywhere with snow or very cold temperatures.
Kelty Discovery 2-Person Camp Bundle — $200, was $250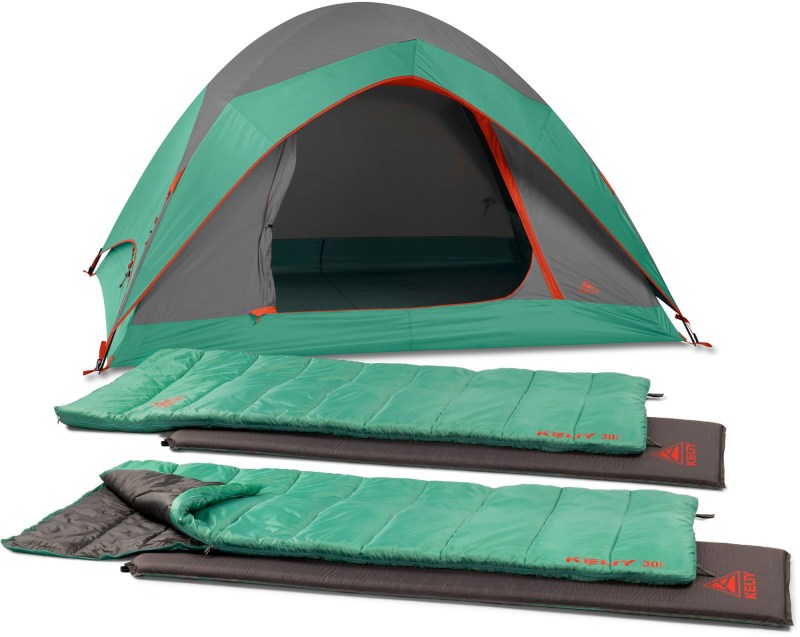 Why Buy
Bundled items make it easier to get started
Spacious tent
Easy to set up
Great value
Sometimes if you're starting out, collecting all the necessary gear can be a little overwhelming, so bundles like these can be great to help alleviate some of that pressure. While this bundle won't net you everything you need, it does come with a four-person tent, which is better suited to two people, and two sleeping pads and cushions. While there are no other additions here, it's still a nice little bundle, especially as it comes in at just $200, which is a steal for a brand name like Kelty.
In terms of the tent itself, it's very similar to other Kelty Discover tents, so you know it's good quality and good for the warmer seasons, even though it's marketed as 3-season. It's not free-standing like the other Discover tents in their line, so it will require a little bit of extra setup, but it shouldn't take more than ten minutes altogether for two people. The internal space is pretty good for two, even with gear, and you get a lot of ventilation when the rainfly is off, and the window is open. Otherwise, with the rainfly on, you get a lot of protection from the elements and a bit of an awning to protect from rain getting inside the tent when the window is open.
As for the bedrolls, they use CloudLoft insulation, meaning they are pretty good at keeping temperatures outside from getting in, and while these are individual bedrolls, you can zip them together to make a double-bedroll for couples. The pads are also quite nice, providing an extra layer of padding from the hard ground, not to mention they are self-inflating and deflating, which is great for a bundle built around ease of use. Both the pads and bedrolls fit comfortably inside the tent, given that it's marketed as four-person, and you'll have room enough for equipment and access to storage pockets and fabric hooks on the top of the tent to put your stuff.
The North Face Sequoia 4-Person Tent — $299, was $400
Why Buy
Lots of headroom
Large footprint
Great ventilation
Easy to set up for a non-freestanding tent
When it comes to camping, space can often be at a premium, so if you're looking for a budget tent with tons of space, then the Sequoia 4 is the one to get as it's one of the bigger tents you're going to find in this price range. For example, the tent's peak height is 75 inches, which means you could easily stand in the middle even if you're a six-foot-tall person, and if any shorter, you could probably stand quite comfortably anywhere inside the tent. The floor area is also pretty impressive, giving you 58.1 square feet to work with, which means it should easily fit two people with gear, possibly three if you snuggle in tight.
The setup for the Sequoia 4 is relatively simple for a non-freestanding tent, as all you need to do is guide the two poles through the sleeve that covers half the tent and then, after staking them down, clip on the rest of the tent. There's also a third pole, the silver one, which provides support for the awning and holds out the sides of the tent a little bit to add that little bit of extra space and provide a smooth incline to the ceiling. Once you have all three poles stakes, you likely won't need to do any more securing, although there are guylines and additional straps to the side if you'd like to do that as well.
As for the rainfly, it's a bit on the smaller side and doesn't perfectly cover some of the sides, which isn't an issue if you're camping in warm weather or dealing with a little bit of rain. Plus, one big positive of the rainfly is that it provides you with a vestibule with 27.6 square feet of storage, so it's a nice little addition even if it's not perfect for heavy rain. It is also a slightly awkward shape, so you probably will need to secure it a bit more in heavy winds, although in calm weather, it's going to be great, and with the top vents, perfect for stargazing at night.
How To Choose A Tent
If you've never shopped for a tent before, get ready to learn a lot. You may be surprised by the number of factors to consider when choosing a tent. It's easy to get blown away by impressive features when you're ready to buy, but if you do your homework, you'll be prepared to buy the best tent for your needs at the best price.
Overall purpose
The right tent for your intended use adds to your enjoyment because you won't have to struggle with compromises. Major factors to consider when defining the purpose include where you'll be camping, how you'll transport the tent, and how long you'll stay in one location. There's no such thing as one tent that serves all purposes, so the better you can define your needs, the higher your chances of finding the right tent.
The tent you'll want for backpacking in potentially extreme weather conditions is not the same tent to set up for two weeks in a commercial campground near a beach in the summer. Weight matters whether you're walking, riding a bicycle, or transporting a tent in a vehicle.
Capacity
It's a lot easier to buy a tent for one or two people than for a crowd. Tents have rated capacities, but as the diagrams usually indicate, that means just enough room to fit sleeping bags on the floor. There are many scenarios when buying two or three smaller tents will be a better choice than finding one tent to hold everyone.
Season(s)
Camping in the summer requires a tent that provides privacy, protection from rain and bugs, and adequate ventilation. If you're camping in the winter, potentially during snowstorms, choose a four-season rated tent with protective materials that can withstand heavy wind, rain, and snow.
Material
Get ready to compromise on tent material because the more protective materials generally weigh more and come with higher price tags. For backpacking and mountaineering tents, the calculus is different, and you'll pay more for the lightest weight materials that offer the best protection. Pay attention to the material used for tent poles, also considering strength, durability, and weight.
Tent amenities
The little things will matter more the longer your camping trips. Rain flies are separate outer layers that help keep the inside of the tent dry and also can offer some protection from the sun and wind. Vestibules are short hatchway-style entries – usually without floors – where you can store wet boots and other gear. Extra doors are convenient when the tent is packed with people to lessen the chance of stepping on someone when you have to step outside the tent. Windows and screens in tents are primarily to aid ventilation, but be sure they don't compromise rain protection. Other tent niceties can include pockets, gear lofts, and integrated LED lighting.
Set-up
This point doesn't relate to choosing a tent, but it's the most important thing you can do after bringing your new tent home. Practice setting your tent up at least once before going on a trip with family or friends. The second or third time you put up a tent is usually much shorter and less frustrating than the initial effort. Some tents are a snap to erect, but more often, you'll benefit from a little practice.
Editors' Recommendations