There's something enticing about being out on a lake or calm beach, sitting on a kayak, relaxing, fishing, and maybe getting some photography in. If you haven't done it before then finding the right kayak may seem daunting for you, and while you can take a look at our list of best kayaks, they can often be pretty pricey. That's why we've collected this list of great beginner Kayaks with excellent deals on them that should allow you to jump right in without having to break the bank, so let's take a look!
Best Cheap Kayak Deals
Decathlon Itiwit Inflatable Recreational Sit-on Kayak –

$225, was $349

Azul Kayaks Expedition 10 Deluxe with Paddle-

$318, was $375

Riot Edge 11 Kayak with Paddle –

$714, was $840

Boreal Baltic 120 Kayak –

$765, was $900
Decathlon Itiwit Inflatable Recreational Sit-on Kayak – $225, was $349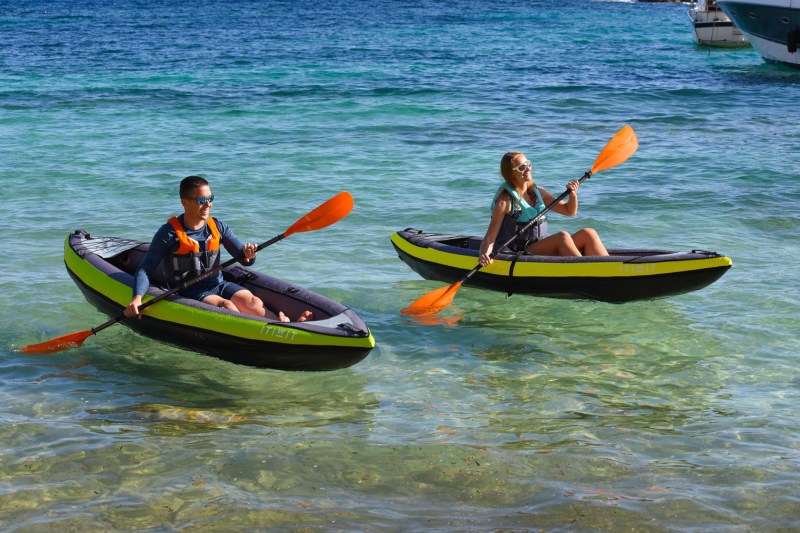 Why Buy
Comes with a double-action pump
Easy to set up and inflate
Good amounts of storage
Great for calm waters
You may not have considered it, but going for an inflatable kayak might be a good alternative to a traditional kayak if you need the extra space or don't really have a great way to transport it. This Itiwit 2-person Kayak comes with its own carrying bag, which is pretty nice and makes things much easier, and it only weighs about 31lbs, impressively light for a kayak. This bundle also includes the Itiwit double-action pump, which doesn't usually come with it, and is pretty great for inflating things quickly, especially given its 5.2L capacity, so it shouldn't take you more than six or seven minutes to inflate the whole kayak, including the seats.
As for other setup steps, there isn't much else to do besides the three fins that also act as ballast, with two going in the back and one in the front, they definitely help with both stabilization and cutting through the water better. When it comes to the seats, there's a velcro strip down the middle of the kayak that allows you to adjust its size for different heights, and while the small back-rest doesn't have any rigid structure inside of it, you can support it with straps to the side. Finally, there's a nice covered storage space in the rear that should easily take a big backpack or two medium ones, and the cover has some bungee roping as well for extra capacity, so you shouldn't run into any issues when it comes to storage.
When it comes to ride quality, it's pretty great in calm-weather conditions and is really more suited to a two-person paddling experience rather than a single person. That being said, you can certainly paddle out as one person, but the boat sits higher because of the lack of extra weight, which allows a lot of wind to attack its hull and can be problematic if you don't have a lot of paddling experience. While there is still some hull surface for the wind to hit, going with a two-person configuration puts it much lower, and with the extra paddling power, you can expect to go between 2-3 mph, although don't expect very long glide distances, which is an issue with a lot of inflatables in general.
Azul Kayaks Expedition 10 Deluxe with Paddle- $318, was $375
Why Buy

Great budget Kayak for starters
Comes with a paddle
Has good storage space
Perfect for flatwater and fishing
If you're more interested in a hard-shell Kayak but don't necessarily want to put down a ton of money, the Expedition 10 Deluxe is a great starter kayak that any beginner can enjoy. While it is only made for one person, the deal does come with a paddle, and that saves you from having to go out and buy one if you're completely new to Kayaking. It also has a flush mount for a fishing rod, which is similarly great if you like fishing and plan to do a lot of it with your kayak.
One nice aspect of a sit-in kayak is that you're covered completely, so it's still relatively good for slightly colder weather if you live in that sort of climate. The seat is relatively comfortable, and the back does have some minimal adjustability, but it doesn't have the full range of adjustments that a more expensive Kayak does. Also, there are no adjustable footrests, but that's not necessarily a dealbreaker for a budget kayak. As for storage, you have quite a bit of it in the back with a small bay covered in netting, as well as a small waterproof storage area in the front for things like your phone or other small electronics.
As for the ride quality, it's reasonably good for a budget kayak, and it cuts through the water well for the price bracket that it's in. Of course, given that it's mostly targeted at starters, it should only really be used for calm weather and flat water situations, which is still quite a lot. Ultimately, it's meant to be more about having a leisurely time and maybe doing some fishing and relaxing, rather than doing any heavy-duty kayaking, and is a great way to get into the world of kayaking.
Riot Edge 11 Kayak with Paddle – $714, was $840
Why Buy
Bulkhead compartment for storage
Very stable in the water
Can hold a lot of gear
Comfortable seating
If you're looking for a Kayak that's still entry-level but a bit on the nicer end, the Edge 11 is a good pick, especially if you plan on making longer journeys, plus this bundle comes with a paddle, so you don't have to buy one yourself if this is your first Kayak. While the front storage is mostly some bungee rope to help secure any storage, there's a reasonably big storage bulkhead in the back. That means you can store all your important items and electronics without having to worry about them being destroyed if the boat tips over or you get water splashed on the boat.
Thankfully though, the Edge 11 is actually pretty stable in the water, and can even handle heavier and taller folks reasonably well for the price it comes in. It's also pretty comfortable to sit in, with an adjustable seatback that has quite a bit of adjustability, as well as great footrests. There's also a knee rest which, while not padding, is still going to be much better than simply resting your knee against the sharp rim of the cockpit.
As for the ride, it's pretty smooth, and while it's great for longer journeys, it's still really only made for flatwater kayaking, so don't expect to be going over rapids in this. Steering is pretty easy with the Trak-rite skeg system that is easily retractable, and it even has some self-rescue safety straps for when things get a little bit dicey. Of course, given the quality, it is a bit on the heavier side and might be difficult for a single person to carry without experience, although given its profile, you won't have to worry about scratching your hull against the ground. Overall, it's a great option for somebody who wants something on the higher end of the budget bracket.
Boreal Baltic 120 Kayak – $765, was $900
Why Buy:
Highly adjustable flex 4 seat
Has two storage bulkheads
Made of thermoformed ABS that makes it very durable
Great for larger kayakers
While only slightly more expensive than the Edge 11, the Baltic 120 has a lot of things going for it that might be worth that extra cost. For example, it has a flex 4 seat which provides a lot more adjustability than a regular seat, not to mention that there are slidable footrests that allow you to perfectly adjust it for the length of your legs. This has the added benefit of also allowing you to position your knees in the most comfortable place, which is important when dealing with hard plastic.
Speaking of which, the Baltic 120 is made of Thermoformed ABS, which makes it surprisingly durable, especially for longer treks. It also has quite a bit of bulkhead storage, primarily in the back, but also a smaller one in the front, meaning you have ample safe space to store your gear, especially as you're using it. There's also a paddle rest in the back, and a place for a fishing hook if you'd like to do that too. It also has a trek-rite skeg system with easy adjustability on the side.
The 25-inch beam makes it a pretty stable boat, both in primary and secondary stability, and not only that, but it manages to do great with those folks that are larger due to the roomier cockpit. It's also very maneuverable, surprisingly so at this price point, even though it's primarily made for flatwater kayaking. If you're looking for a kaya that has lots of storage, is great for bigger kayakers, and has a bit of stability and maneuverability, then the Baltic 120 is definitely the one to go for.
Editors' Recommendations