The first time I ever put on a pair of snowshoes it was to guide a tour group around a wooded area at the base of the ski resort I had moved to. I fumbled my way through putting my snowshoes on and traipsed over to the meeting point. But then the inevitable happened; I was presented with a group of adults holding a different pair of snowshoes, each hoping I would be the oracle that could demystify these clattering metal objects they had borrowed or rented for the evening.
I had no idea — naively, as it feels now — how many different styles and shapes of snowshoes were on the market. That evening, over a few celebratory beers, I did some research. I brushed up on snowshoe styles, closures, shapes, sizes, and everything snowshoe related so that I was more prepared the next time I went out. That knowledge stood me in good stead for a winter of snowshoe tours — we always ended with fondue in the woods, so it was worth it for more than just the extra spending money — but also means I feel qualified to put together this list of snowshoes you should consider this winter.
Tubbs Wayfinder Snowshoes
Whether your trail is a snow-covered meadow or golf course, Tubbs Wayfinder snowshoes are perfect for keeping you on your feet. These snowshoes have secure and easy-to-use bindings for a fuss-free time. The bindings also provide a comfortable and optimal fit. On top of that, these snowshoes have aluminum Fit-Step frames. These frames can help significantly reduce the musculoskeletal impact on your hip, knee, and ankle joints by 10%. These snowshoes bite deeply into the snow for a firm and even step each time.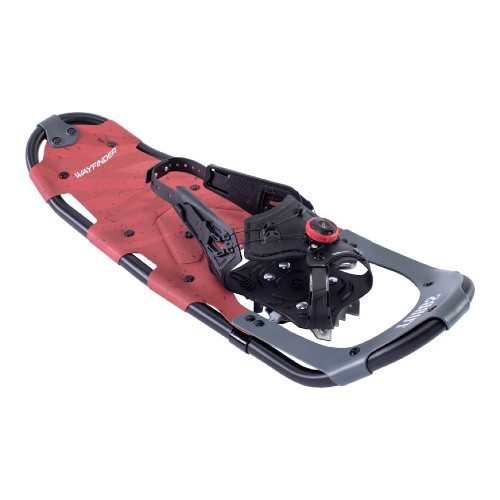 Tubbs Wayfinder Snowshoes
Atlas Helium Trail Snowshoe
Ideal for flat trails and gently undulating terrain, the sleek and minimalist Atlas Helium Trail combines length (either 23 or 26 inches long) and an airy helium frame and deck to help you go long distances fast. The larger the shoe, the more surface area it covers, which helps keep you walking on top of the snow instead of sinking down into it. The modern design easily sheds snow, making it easy to keep weight off, and crampons and serrated blades provide grip and traction. The crisscross foot binding is also extremely user-friendly.
Atlas Helium Trail Snowshoe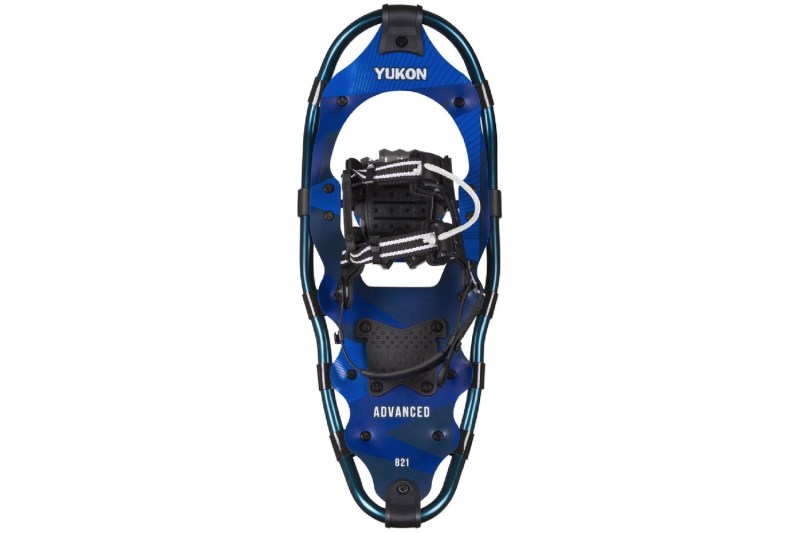 Yukon Charlie's Advanced Snowshoes
These advanced snowshoes are the way to go if you're ready to take your snowshoeing to the next level. What makes them advanced? Yukon Charlie's snowshoes are made from lightweight but strong 6000 aluminum, with a Snow Motion axle system that adds 30% more rigidity and a high-density polyethylene decking. Wherever your next adventure takes you, these snowshoes will get you there.
Yukon Charlie's Advanced Snowshoes
MSR Evo Trail Snowshoe
One of the most dependable multi-terrain snowshoes on the market for years now, the MSR Evo is all about maximum traction where it matters most. These snowshoes may not have the same float as others on the list, but the traction rails and brake bars molded into the bed of the Evo makes steeper slopes and rougher terrain more manageable. The Evo is a modular snowshoe. As they are, these snowshoes are lightweight and maneuverable for technical terrain. But add on the extra tailpiece, and you have a snowshoe suited to deeper terrain or carrying heavy packs.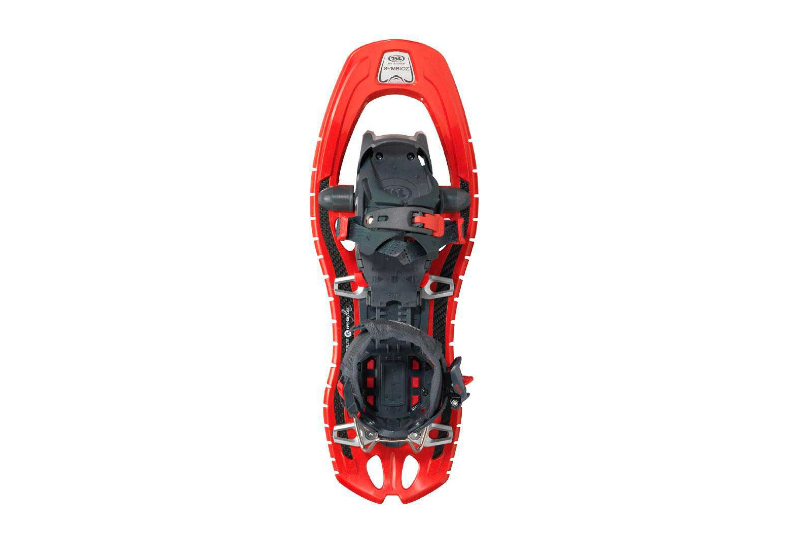 TSL Snowshoes Smybioz Elite Snowshoe
Combining function with ergonomic comfort, the TSL Symbioz Elite is one of the market's most agile and natural-feeling snowshoes. The composite frame easily flexes and folds to adjust to your gait and the terrain, with eight stainless steel crampons providing grip and contact with the ground while the frame flexes during a stride. This makes it a great choice as a running snowshoe. An underfoot heel lift also helps you easily tackle uphill climbs, sparing you the foot and leg pain after.
TSL Snowshoes Smybioz Elite Snowshoe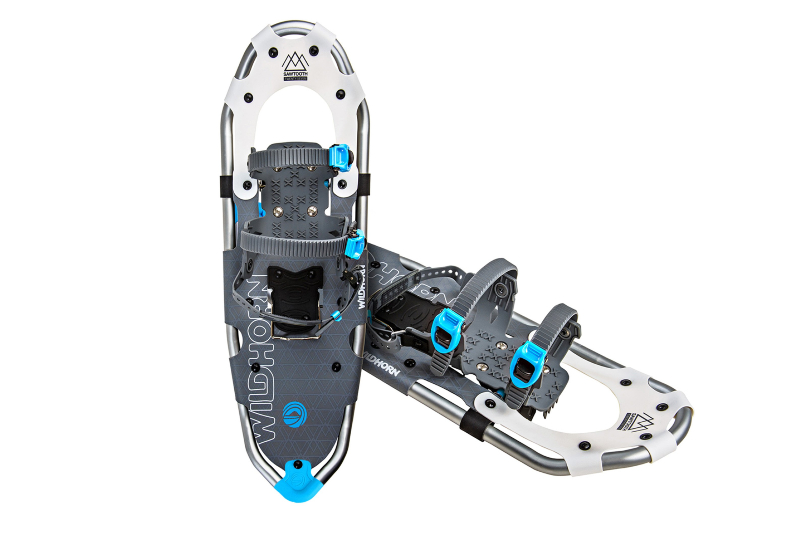 WildHorn Outfitters Sawtooth Snowshoe
These best-selling men's and women's snowshoes are a versatile option for exploring various landscapes in different snowy conditions. Available in 21- and 27-inch lengths, the aluminum frame is optimal for flotation, and two sets of hard-pack crampons grip icy grounds and provide traction. The heel lift riser also helps provide comfortable leverage while heading up inclines. And users rave about the adjustable binders, which operate in a ratcheting style.
WildHorn Outfitters Sawtooth Snowshoe
Crescent Moon EVA Foam Snowshoes
While most snowshoes have some form of aluminum framework, the Crescent Moon EVA snowshoes are a full foam design that are super lightweight and easy to use. The deep lugs and wide, solid base make these snowshoes suitable for deeper powder rather than technical or icier terrain. While there are more durable, hardier snowshoes on this list, the ultralight design makes them a great choice for beginners heading out on a short trail or for anyone looking to carry a snowshoe with them in case of a deep section of snow.
Crescent Moon EVA Foam Snowshoes
Frequently Asked Questions
What are the different sizes of snowshoe?
There are two styles of snowshoe sizes. Firstly, and most obviously, you must ensure the size you buy fits your feet. But then there's the deck size, too. This refers to how large the footprint of your snowshoe is. Smaller, sleeker snowshoes are better suited to narrower trails and technical ground. Larger snowshoes suit deeper snow and long backcountry adventures. If you're heading out for a winter trek with a large camping pack, then larger snowshoes will help you stay above the snow and avoid digging a trench with every step. Remember that larger snowshoes are harder to walk in, so try to find a balance that suits how you use your snowshoes.
How do you walk in snowshoes?
Walking in snowshoes takes some practice, but here are a couple of handy tips to get started.
Your stride will naturally widen to avoid hitting your legs with the snowshoes. This can be exhausting on your hips, so start with shorter journeys.
Try to walk as naturally as possible on flat and undulating ground.
Kick steps uphill to avoid sliding back down the hill.
Drag your heel when you're walking downhill. This keeps your snowshoes flat and stops you from tripping over.
What should you wear to go snowshoeing?
Although snowshoes keep you above the snow level, you still need to wear a sturdy pair of winter hiking boots inside them. These keep your feet warm and dry and stabilize your ankles as you walk. Above that, dress as though you're going hiking for the day. Waterproof hiking pants or thin snow pants, as well as a durable waterproof jacket and wicking layers are the best options. It's a good idea to carry a pack with spare layers, a warm hat, gloves, water, and food.
Do you need poles for snowshoeing?
Yes. While it's possible to snowshoe without poles, they make your life much easier. Try to use poles with snow baskets at the base to prevent them from diving into the snow with every step. Your poles will keep you upright and help your stride pattern, as well as giving you extra stability on slopes.
Editors' Recommendations