If you've never experienced the thrill of strapping yourself to a plank of wood — or two sticks — and cruising down a mountain, then you don't know what you're missing out on. We could go on for hours with all the reasons we love hitting the slopes, but the best way to understand it is to get out there for yourself. If you've never tried skiing or snowboarding, or if you just have limited experience, then winter 2022/2023 could be the winter you change all that.
As with any sport, certain things can make or break your time on the mountain. For a start, you need to stay warm, and that means gearing up with the right ski equipment or snowboarding clothing so you don't freeze on the chairlift. Then you have to choose your resort. The best ski resort for beginners will have space for you to get your turns in, long slopes so you're not joining a queue every few minutes, and plenty of off-slope activities and bars so you can enjoy your day even when you're finished skiing. It's a lot to ask, right? Well, we've taken the guesswork out of it for you. Here are our picks for best ski resorts in the US for beginners.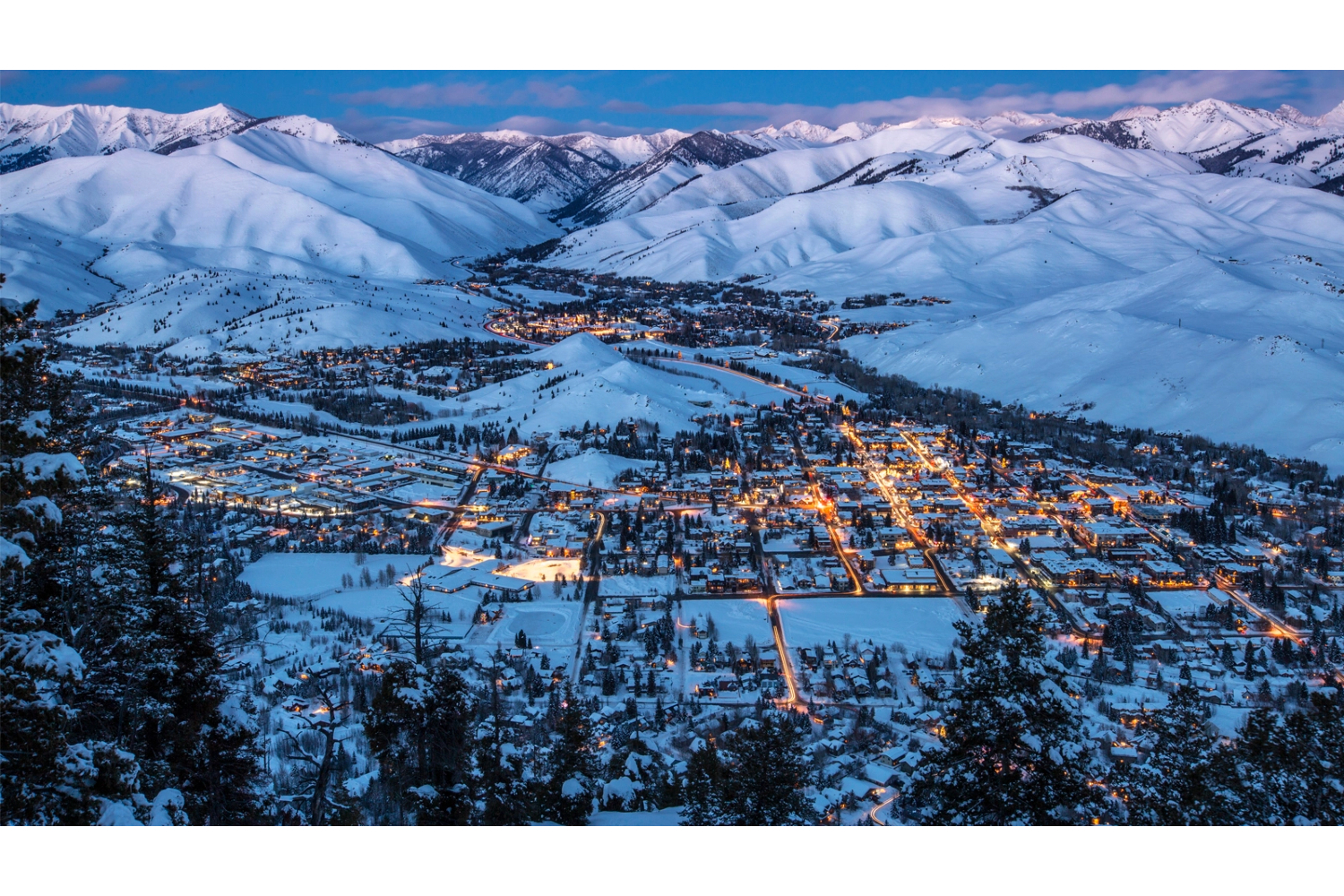 Sun Valley (Idaho)
Sun Valley is one of the best places to ski in the US for beginners, but it's also so much more than that. The resort is a sprawling village, complete with an ice skating rink, bowling alley, bars, restaurants, and so much more. There's something for everyone in this idyllic area, and that includes your time on the mountain.
Sun Valley is a resort split between two sections. The diminutive Dollar Mountain area may only have a handful of runs, but it provides a beginner's sanctuary where you can take your first steps — or turns — on the mountain without looking over your shoulder for the shredders. Once you've exhausted the bounds of Dollar Mountain, it's time to spread your wings and explore the boundaries of Bald Mountain on the other side of town. Here you'll find a range of beginner trails and the ability to test your skills on harder slopes when the time comes.

Beaver Creek has over 2,000 skiable acres, almost 40% of which is given over to beginner terrain. This means that once you're ready to leave the beginner slopes under the Haymeadow Gondola, you can explore the full boundaries of the resort without getting off beginner slopes.
Plenty of resorts around the world have beginner slopes, but what sets Beaver Creek apart as one of the best places for beginner skiers is that the beginner terrain extends to the summit. You can head up high, get the full panoramic views, and ski all day without retracing your steps or stretching yourself beyond your skillset. If you want a selection of shorter runs and gladed areas, McCoy's Park is a specially built beginner terrain area to test your skills and start to play on the mountain.

Palisades Tahoe (California)
In addition to being home to some excellent high-level ski runs and drawing in experienced skiers from around the world, Palisades Tahoe has plenty of beginner runs to get you on the mountain. With the lower reaches of the resort above 6,000 feet in altitude, snow is rarely in short supply here. We know how off-putting learning in patchy or icy conditions is, so why not hit up a resort with freshly groomed cord instead?
Once you've experienced your first turns in the beginner's zone, you can hop on the gondola up to the Gold Coast station and experience true mountain skiing amid incredible panoramic views. Palisades Tahoe has more than 40 beginner runs ranging from short, high-altitude slopes to long, winding runs back to the base station. There are even trees and glades to dip your tips into some powder on the way down.

Powder Mountain (Utah)
It's hard not to get excited when you look at the trail map of Powder Mountain. Everywhere you look, there's a ski run making use of the many gradients and slope aspects in the area. Usually, this sort of reach is the domain of the expert-only ski resort; with a name like Powder Mountain, you might think this is another "rippers only" area. Not so: Powder Mountain has 41 beginner slopes that weave between the backcountry and tree runs.
You're not just going to be riding cat tracks, either. On the beginner terrain, you can fully explore the reaches of this mountain, including the elusive Mary's Bowl, where you can experience open-terrain skiing and snowboarding and try your hand at riding some fresh snow. The resort itself isn't bad, either, with plenty of bars playing live music and great places to eat after a long day of learning.

Sunday River (Maine)
With seven summits, 19 lifts, and almost 900 skiable acres, Sunday River has something for every skier. The majority of the beginner slopes are clustered around the main resort, with a number of green and blue trails winding around one another. You could comfortably spend days here learning your turns and getting to grips with how your skis or snowboards work before you venture further afield.
When you do, there are plenty of options. With at least one beginner trail coming from each of the seven summits at Sunday River, this is one of the best ski resorts for beginners who want to explore. The resort is continually updating to streamline your experience, and this year it's have added the fastest eight-person chairlift in North America to give you as much skiing time as possible.

Sunrise Park (Arizona)
Sunrise Park is a mid-size ski resort, but it makes our list of the best ski resorts for beginners because of the amount of beginner slopes — around 45% of the terrain at Sunrise Park is for beginners, and 45% of 1,200 acres is nothing to scoff at.
This means that for every beginner skier — from those clipping in for the first time to those who want to test themselves and their newfound skills — there are plenty of options. There's the option of booking lessons down at the base station or trying out other winter sports like tubing or ski-biking. Combine all of this with the six lodges on the mountain to stop for food, drinks, or just to warm up, and this might be the first resort you'll visit where you stay out all day, every day.
Editors' Recommendations