Heading out hiking in the depths of winter is no mean feat. You might be heading out for your usual few hours on the trail, but when the temperatures are below zero, and the weather can change in a moment, you need more than just your summer hiking gear to keep you safe. As well as warm merino layers and a backpack full of winter safety essentials, you need to be wearing a proper pair of winter hiking boots.
Sure, you can get by in your summer hiking boots, and perhaps you'll be okay. But what about those days when you're not? Those days when temperatures plummet, snow is melting through your lightweight boots, and you can feel your toes turning blue or going numb. On those days, a pair of insulated, fully waterproof winter boots are worth their weight in gold — trust me. We've put together this list of the best winter boots to keep you on track in the snow.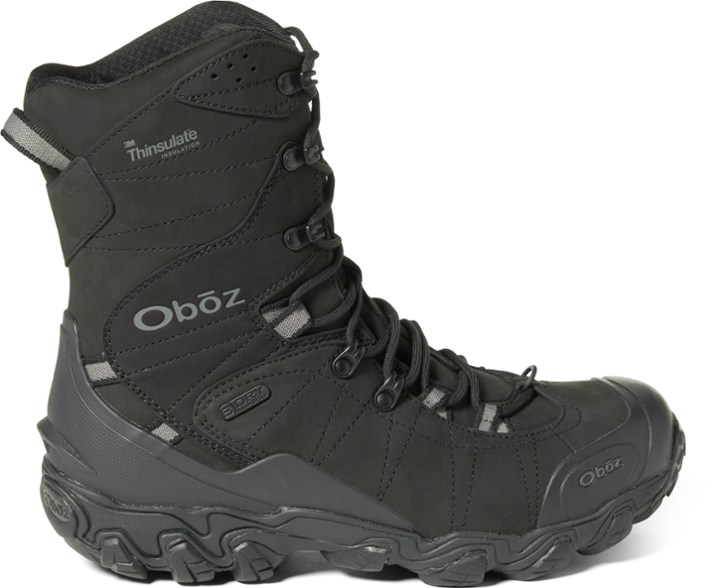 Oboz Bridger 10" Insulated Waterproof Boots
We kick things off with the Oboz Bridger 10" Insulated Waterproof Boots. Oboz has hit upon a golden strategy with their Oboz range of 'why change what works?' What does this mean? Well, the Oboz Bridger 10" features the same shape and style of boot as the rest of the Oboz range, so you're guaranteed a walking boot fit. But where these differ is the 10" upper, which is fully waterproof and insulated with Thinsualte lining. Okay, they've gone a little further, too, with a tread pattern specially designed for moving around in snow and on ice, as well as wool-topped thermal insoles for ground-up cold protection. These boots are excellent for hiking on winter trails, but they also have a rubber heel kick, specially added for extra secure snowshoe attachment. Not a bad way to kick us off, eh?
Oboz Bridger 10" Insulated Waterproof Boots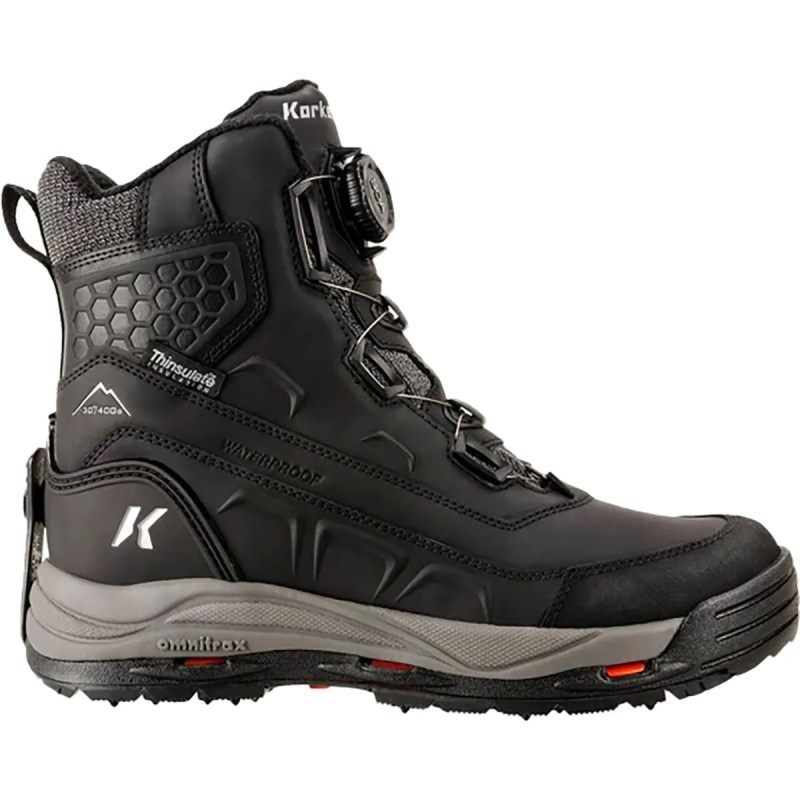 Korkers Snowmageddon
Does anyone really want to take their gloves off to tighten their boots in the winter? Boa tightening systems are long established on snowboarding boots and are fast becoming a feature of ski boots. But why not winter walking boots? Well, that's what Korkers thought, too. The Snowmageddon boots are fully waterproof and insulated with 400g 3M Thinsulate, but they also have a unique feature that makes them stand out — and it's not just the boa system. The soles of the Snowmageddons are interchangeable. One sole gives you durable, non-slip rubber, while the other is cleated, so you don't have to carry a pair of snow cleats with you for those icy days.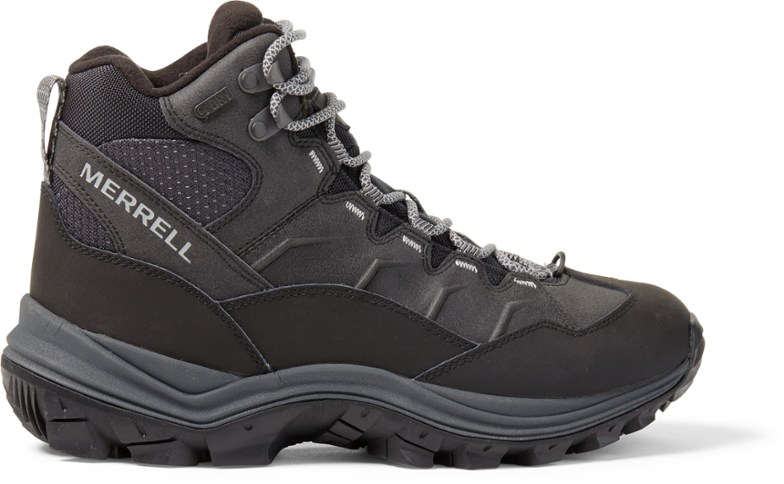 Merrell Thermo Chill Mid Waterproof Boots
Winter hiking boots don't have to be full height. After all, you're not always hauling through slush and snow. Sometimes you just need a boot capable of hitting a cold weather trail and keeping you comfortable. The Merrell Thermo Chill is a mid-height winter boot, fully insulated but lighter and more maneuverable than a full-height, stiff boot. The durable sticky rubber outsole is more than a match for winter trails and challenging conditions. Being more along the lines of a traditional hiking boot, the Thermo Chill is also a great boot to wear on those cool fall or early spring hikes or for early-season camping trips.
Merrell Thermo Chill Mid Waterproof Boots
Salomon Toundra Pro
Whether you're snowmobiling, snowshoeing, heading out for a winter hike, or need a sturdy boot to stand around in all-day swinging lifts, the Salomon Toundra has you covered. Similar to the Oboz boots we featured, they are inspired by Salomon's walking boot design but with insulation that makes them useable in conditions down to -40º. If you've ever worn Salomon before, you'll know that for out-of-the-box comfort, very few other companies even come close. Seriously, buy these, slip them on, and you'll be ready to hit the trail. With aggressive tread, fully waterproof design, and NASA technology in the insulation; Salomon has nailed it with these boots.
Scarpa Charmoz HD
The Scarpa Charmoz is a standout boot on this list, not least because they're luminous orange. While the other boots are winter hiking boots ideal for trails, snowshoe tours, and general-purpose use, these mountaineering boots come straight from Italy, home of rock, ice, and climbing. These aren't for you if you're heading out for a gentle winter stroll. But if you're heading out into the backcountry, kicking steps in the snow, attaching crampons, and carrying an axe, then the Scarpa Charmoz is the boot of choice. These fully Gore-Tex winter boots are lightweight and highly durable. While they're stiff enough for winter climbing and mountaineering, you're not going to feel your ankles stiffening up as you pound the trail into your climb.
Editors' Recommendations