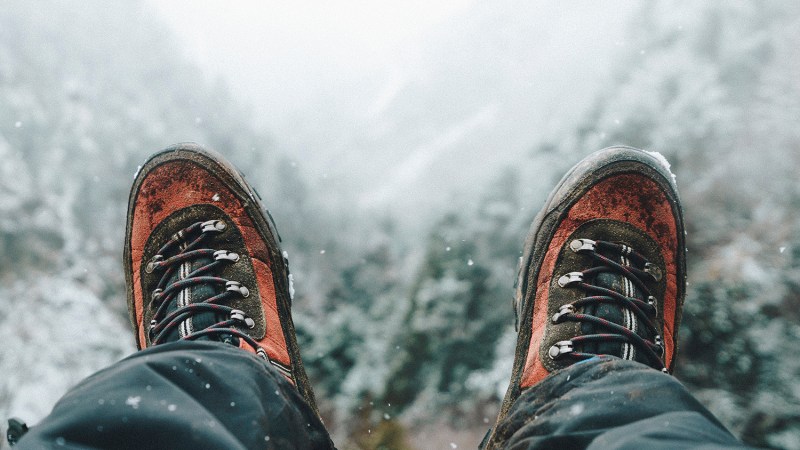 A few years back, I climbed Mount Whitney for the first time. It was June of 2011, to be specific, and in my then-home of sunny southern California, the days were warm and the nights were for dancing. Or something like that. Anyway, no one told the towering peaks of the Sierra Nevada Mountains that summer had arrived — Whitney was still blanketed in snow above 10,000 feet. Being relatively new to serious hikes at the time, I had not considered this possibility when planning my footwear, and I was using my regular old hiking boots, the ones with an upper made largely out of cloth and suede.
I'll cut to the chase and tell you this: Having soaked, freezing feet while hiking up a 14,500-foot mountain is about as much fun as getting punched in the face.
Cold weather calls for winter hiking boots. The pair you in the other three seasons just won't make the cut, and for a number of reasons. First, winter weather is obviously chillier than the rest of the year, so you need boots that offer more warmth and insulation.
Second, wintertime brings snow and ice to many places in which you might go hiking, and that means you need reliably waterproof boots.
Third, snow and ice can be slippery — that's why skiing and sledding are things that people do, and that's also why you need need winter hiking boots with aggressive multidirectional lugs. (And/or you need to get yourself a pair of crampons or snowshoes.) The slick, icy ground also increases the importance of ankle support.
For the record, there are dozens of choices for men's winter hiking boots on the market these days, and it's entirely possible that you won't find the best match for your feet here in this article. But you probably will find enough information to help you choose your new winter hiking boots even if it's not one of these five options.
For Long-Distance Treks: Columbia Bugaboot, $170
When you see the OutDry logo on a piece of gear from Columbia Sportswear, that's your tip that said item is 100-percent waterproof. You could stand in a shallow stream while wearing these boots and enjoy bone-dry feet even after hours of questionably allocated time. As for their Omni-Heat tag, that refers to a proprietary lining the company uses in many of its products that uses minute metallic dots emblazoned all over the inner lining that create the same heat reflective properties of a mylar space blanket. Also, the boots feature 400-gram insulation beneath that leather, nylon, and webbing exterior.
So the Bugaboot Plus will keep your feet warm and dry, in other words. They also have a towering upper that prevents rolled ankles and a responsive sole that gives you an energetic return with each step, warding off fatigue and injury as you log mile after mile.
My only complaint about these superlative boots is that the tread pattern is rather banal, offering minimal grip on surfaces like loose scree, root-bound dirt, or other trail surfaces one often encounters. That said, with a set of crampons or snowshoes strapped below your Bugaboots, you'll be ready to conquer endless miles of glacier, steppe, or Arctic tundra.
For Wintertime Play: Kamik Greenbay,
$44-$85
Admittedly, the best thing about these boots is probably their minute price tag, but their ability to keep your feet warm in -40 degree Fahrenheit temperatures is surely a close second. Kamik means "foot covering" in an Inuit dialect, and if there's one thing the Inuit knew a thing or two about, it was contending with cold weather. So while these boots lack some of the bells and whistles of other choices, in cleaving to the spirit of their native North American inspiration, they're exceptionally good at keeping your feet warm.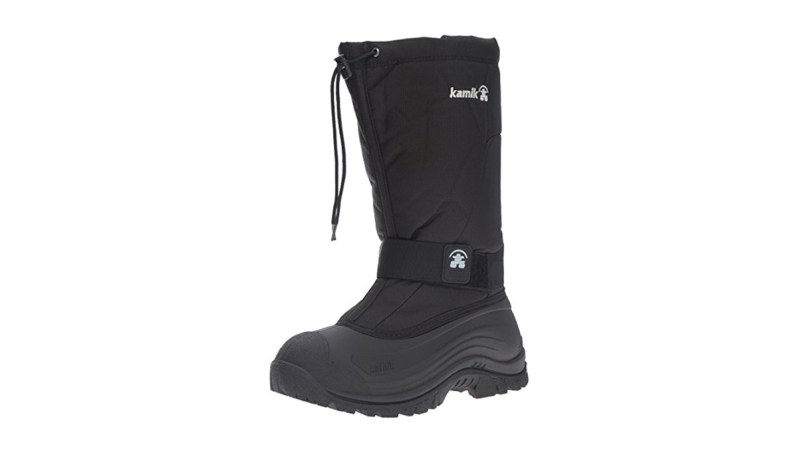 I call them great for play because of how easily you can slip on or off a pair of Kamik Greenbay boots. They secure in place with just a velcro strap near the ankle and a lace-locked snow collar up top. This makes them great for popping on before a quick snowy stroll or a sledding session, but it also means they cannot be fastened in place as snugly as many other winter boots, which means reduced support and protection.
For Work: Salomon Toundra Pro CSWP, $200
Whether your work involves operating a ski lift, roadside construction, search and rescue, or any other activity that sees you spending a lot of times outside and on the move during the wintertime, then the Salomon Tundra Pro CSWP boots are a greatchoice. The boots feature a protective toe cap that prevents your feet from being injured if you drop a brick on your toes or accidentally kick a brick wall, among other things. (Non-brick-related injuries will also be mitigated.) And the molded EVA insole and generous foam padding under the heel will keep your foot supported and feeling great even as you exert yourself all winter long. On the outside of that sole, a multidirectional tread pattern keeps your feet stable on ice, snow, gravel, and more.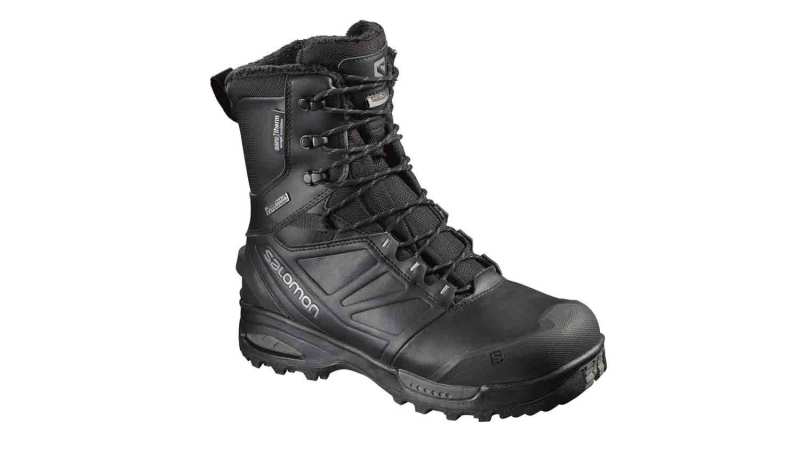 As for warmth, no problems there. These boots will keep your feet warm down to -40 degrees Fahrenheit. Just note that they don't get great marks for breathability, so if your feet tend to run hot and/or sweat a lot, you might want to look elsewhere.
For Extreme Weather: Wolverine Vortex BOA, $210
Let me lead by saying two things: Yes, these boots are rather expensive, and yes, they're rather heavy. They are also the winter boot of the future thanks to their unique BOA laces, a system that allows you to tighten and secure or loosen your boots even while you are wearing thick winter gloves. I know this firsthand, because I have these boots and I've done it, dammit! To tighten the wire laces of these boots, you simply twist a dial. The wire laces pull tight at each eyelet, ensuring that the boots are evenly secured from the bridge of the foot right up to above your ankle. And to loosen the laces again, just pop the dial forward about a half inch.
A thick, Vibram rubber outsole and plenty of foam in the molded insole keeps your foot comfortable by absorbing plenty of shock and offering decent return energy. As noted, the boots are pretty heavy, though, so try to limit your use of them to those shorter treks through extremely inclement wintry weather.
For Trail and Town: Timberland White Ledge,
$75-$178
Just because you have commitments to uphold and miles of snow-covered trail to traverse before your next chance for slumber (aka promises to keep and miles to go before you sleep, know what I'm sayin'?) doesn't mean you can't look sharp while you're at it. No boot can be all things to all feet, but these Timberlands do an admirable job of looking good and working well.The Timberland White Ledge boots look great with a pair of jeans as you hang out in the lodge or stroll around a snowy town, and they perform great when you hike across frosty fields and up icy mountains.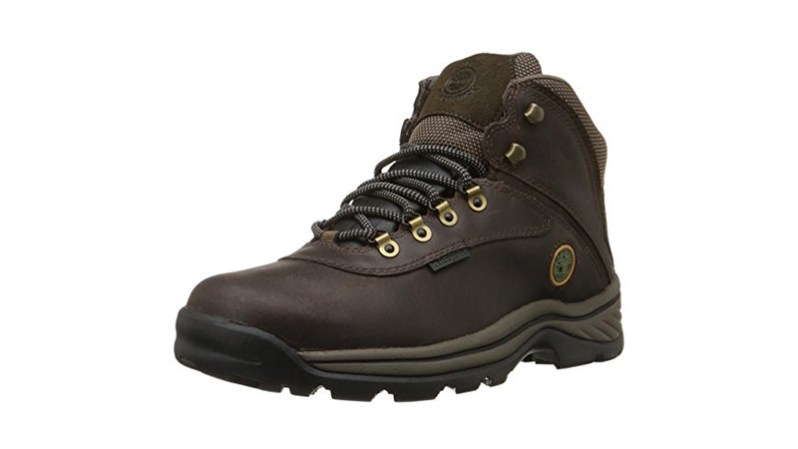 The White Ledge boots have a tread pattern that leaves much to be desired, but they are highly compatible with most types of snowshoe or crampon, so you can absolutely wear them in harsh winter conditions — you just need to accessorize. These handsome leather boots are reliably waterproof. (They have a lower shaft than most of the other boots, though, so watch out for snow getting over the top of the collar.)
Editors' Recommendations