Snowshoeing is a great way to explore the winter landscape. Sure, winter for a lot of folks is all about hitting the slopes and heading out skiing, but not every day needs to be a high speed race down the mountain. When the trails are packe with snow, a good set of snowshoes will stop you postholing through. By spreading your weight, you stay on top of the snow and won't find yourself exhausted in minutes.
But snowshoes are challenging to get to grips with. Having run some snowshoe tours in BC while I was living up that way, I have seen first-hand how hard people found it to get to grips with moving in this flipper-like footwear. But with a little practice, you will quickly find yourself exploring trails that you had thought were out of bounds when the snow was deep. These tips will not only help you get to grips with snowshoeing, but to stay out for longer this winter.
Layer up
Let's get prepared. When you go outside, your clothing keeps you warm, dry, and alive. Dress in layers because you'll heat up quickly. Snowshoeing is tiring, and you'll sweat if you're wearing a thick jacket. Wear thin base layers that wick away moisture, like merino wool or polyester, against your skin. Stay away from cotton because it absorbs a lot of water from you and the snow, sucking away your body heat in the process.
Merino or fleece work well as insulation in the middle. The top layer will be your waterproof jacket and pants to keep you dry and help break the wind. Don't forget about a good pair of merino socks too, to keep your feet warm inside a pair of hiking boots or winter boots. Remember hats and gloves, as well as spares too.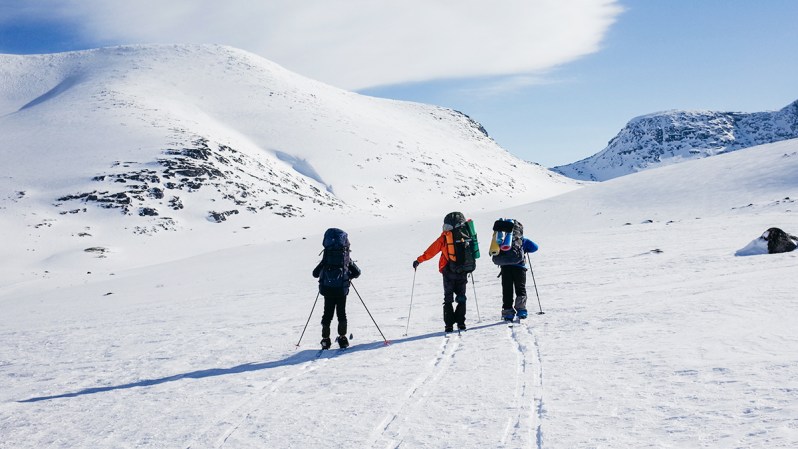 Take a pack
Trips into the backcountry can change your life for the better, but they can also be a nightmare if something goes wrong. Having the essentials — navigation tools, sun protection, insulation, a headlamp, first aid, fire repair tools, food, water, and emergency shelter — in your backpack is essential at any time of year, but in the winter when you could be out for hours in sub-zero temperatures, they become even more important.
If you are headed out to open areas and into avalanche prone territory, be sure to take avalanche-specific gear — a beacon, probe, and shovel — if you have it. This equipment is only useful if you have the knowledge to use it, and more importantly if you have the knowledge to stay safe in that terrain. If you're not sure, don't go. Stick to lower trails or book yourself on a guided snowshoe tour instead.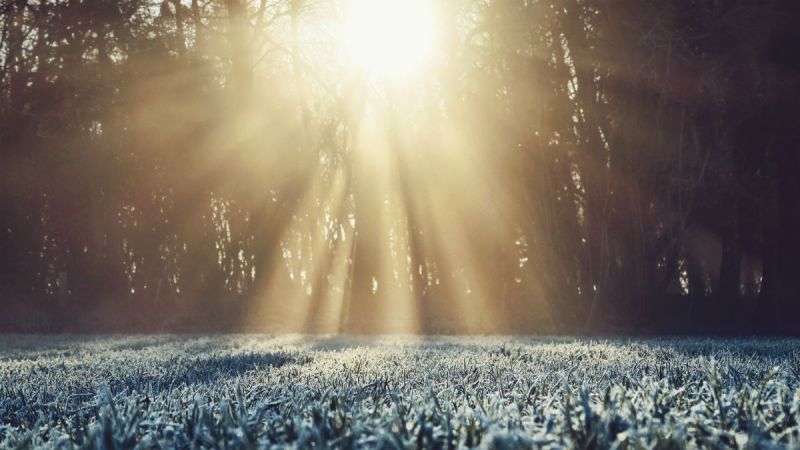 Don't forget about the UV
Snow blindness is real, as is the fact that sunny days and snow give you double exposure. You often have no shelter from the sun on the slopes, and with it reflecting off the snowpack, you can find yourself getting more burnt than you would in the summer. Snow blindness happens when the UV rays bounce off snow and ice and reflect into your eyes.
Stock up with high factor sunscreen and be sure to pack your sunglasses when you head out snowshoeing. Even on cloudy days, you may find that you need to pull them from your pack halfway along the trail if you find yourself burning or your eyes getting sore.
Pick the right snowshoes
Every snowshoe has a recommended weight for each type of snow, which needs to accommodate the combined weight of you and your gear. Stay in line with the weight guidelines, or you'll be plowing through snow rather than gracefully bounding above it.
Choose the smallest, lightest snowshoe you can that will support your weight to make walking easier. You may need bigger snowshoes if you're headed out into deep powder — to avoid sinking — but if your chosen trail is well packed, your snowshoes are acting as grip and to stop you postholing through, rather than as powder floats.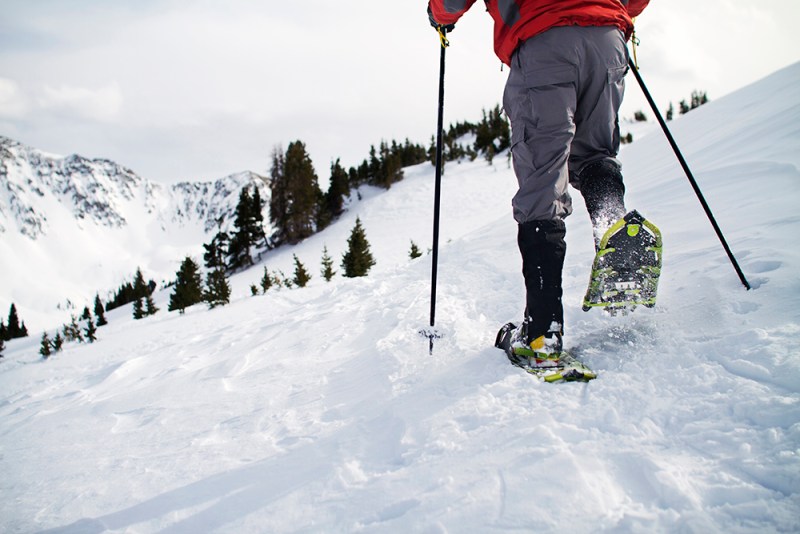 Use poles with snow baskets
Ski poles are your best friend when snowshoeing. Telescopic hiking poles work well as well. Either way, make sure they have big snow baskets — the flat disk at the bottom — so they don't sink too far. You'll rely on the poles to keep you upright and the larger baskets help your poles to stay on top of the snow, rather than sink into it.
Walk normally with the poles in your hands, swinging your arms just like you do when you run. Plant them in the snow about a foot in front of you, then bring one forward again the next step, alternating with your feet. Does the snow over that creek look like it's going to collapse, sending you face-first into the frozen water? Test it with your pole first.
Put one foot in front of the other
It can take a little time to get used to walking in snowshoes, so here are a few tips to get you started.
On flatter ground, try to walk as normally as possible. Your hips will be slightly wider apart and you might find that your muscles ache a little the first few times you head out on your snowshoes — this is perfectly normal.
When you head uphill, you may need to kick forwards into the snow to get a good grip and create a step. If your snowshoes have risers on them — a small bar that can raise at the back — use it to prevent over-straining your calf muscles.
When you're snowshoeing downhill, try to land heel-first and let the back of your snowshoes drag in the snow. This takes some practice and the movement feels a little like ice skating, but stops you from tripping over your snowshoes. Keep your poles out in front of you as you go.
Editors' Recommendations