Your snowboard boots are a vital link in the chain that connects your body to your snowboard. But more than that, they're where your feet will be for hours at a time when you're on the slopes. If you've moved on from rental boots already, you will know that having your own boots not only keeps you more comfortable throughout a day of snowboarding but also keeps your feet warmer and drier and gives you much greater control over your snowboard.
But when picking your perfect snowboarding boots, there's more to it than just finding a pair that looks great and fits your feet. Different boots suit different snowboarders. If you're a hard-charging carver, you'll need a pair of boots to match. Likewise, if you love sending spins and tricks, you need a softer and more playful pair of snowboard boots. We've picked out the best boots for various snowboarders this winter, so you can spend more time on the mountain and less time finding the perfect snowboard gear.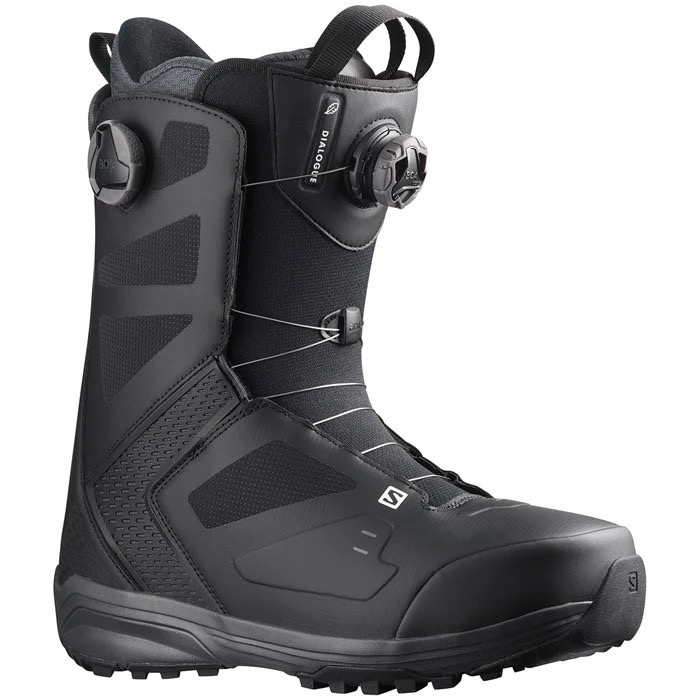 Salomon Dialogue Dual Boa
Salomon is often overlooked when it comes to snowboarding, but as with their skiing, running, mountaineering, and all-around gear, they make some quality out-of-the-box snowboard boots. The Dialogue Dual Boa uses a dual-boa system to get the right tension across the boot. The upper dial lets you get the right stiffness and response from your boot — locked in for all-mountain carving or looser for freestyle flex — while the lower dial lets you lock in your forefoot. On top of this, the Dialogue features an exclusive heel cage designed to keep your heel locked in place and offer progressive, dynamic flex.
The Dialogue Dual Boa is a mid-flex boot aimed at intermediate to advanced riders who want a bit of everything in their snowboarding. The grippy rubberized sole makes these a great choice for short boot packs to get to those slack country powder fields. If you've ever worn a pair of Salomon shoes, you'll know that as far as out-of-the-box comfort goes, they're hard to beat.
Salomon Dialogue Dual Boa
Vans Infuse
Our first entry from the skateboarding world, the Vans Infuse retains that traditional skate-style look that has made their shoes popular worldwide. But these are more than just a fashion statement. The Infuse boot is designed for fast, advanced riders who want a reliable response across the mountain.
The Infuse is one of the most adjustable boots on the market. To start with, Vans has fitted a boa system at your heel and instep to keep you locked in, with a traditional lacing system to stop you from overtightening the top half of the boot. They have then fitted a power strap at the top to ensure that none of your energy is wasted. Two removable tongue stiffeners give you full control over how much rigidity you want in your boots on a given day — remove both for freestyle flex, add one for a little more torsional stability, or both for full mountain carving stiffness.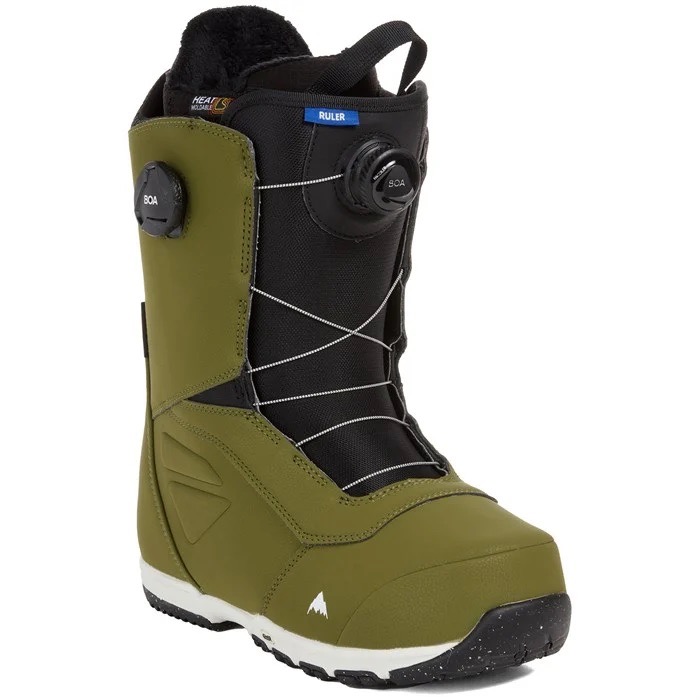 Burton Ruler Boa
Is there a modern snowboard boot that has elevated the riding of more intermediate snowboarders? The Burton Ruler Boa's timeless design has been honed over the years to ensure that it remains at the forefront of snowboarding. The dual boa system separates your forefoot and the boot's upper to ensure you get the right tension in the right spots. This stops you from having to overtighten one part just to get the right feel elsewhere — which would often lead to numb toes and dead feet.
Burton knows that warmth is one of the main things snowboarders want in a boot. It's no good having a comfortable and responsive boot if you're cold all day. The liner is finished with man-fur at the top and sleeping bag reflective foil on the sole to retain as much heat as possible. They're not just warm, though; these liners include a lock-up cuff and power panels to ensure that all of your energy is transferred into your turn.
DC Judge
DC has a long-running history in the snowboarding industry. While their boots are ever-popular with freestyle riders, DC has taken what they have learned to make some of the best all-mountain snowboard boots on the market. The Judge features a double boa system — for a custom fit and precise pressure distribution — and an internal ankle harness to prevent heel lift and keep your ride locked in.
Comfort is key for snowboarding, and the DC Judge's articulated design allows it to flex more easily where it matters. This not only helps you retain full control of your ride but prevents blisters and hot spots from forming. The liner uses Thinsulate insulation to keep your feet toasty but also features ventilation to draw away moisture and keep your feet dry so you can have longer days on the mountain.
Thirty-Two TM-Two Jones
For backcountry riders who want to go further than ever before. The Thirty-Two TM-Two Jones boot was designed in collaboration with Jeremy Jones, the brains behind Jones snowboards and one of the most progressive backcountry snowboarders ever. Does any more really need to be said?
This mid-stiff boot is designed to be as comfortable on the up as it is connected on the down. The walk-mode collar and grippy Vibram sole make it easy to get to the really good stuff, and for those steep days, you can even fit a crampon on this boot. A snow cover over the forefoot of the TM-Two Jones stops a build-up of snow and ice that eventually leaks into your boot on a long day of touring. If you're a serious split-boarder, you need a boot to keep up with you.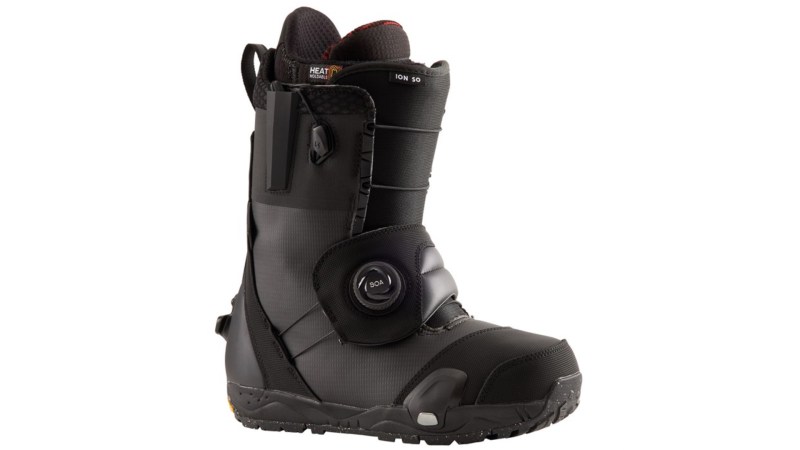 Burton Ion Step On Boots
It's no real surprise that the best step-on snowboard boots are still being made by the company that pioneered the technology. The Ion's legacy as a stiff, responsive snowboard boot is being taken to new heights now that no energy is getting lost in the slop of a strap. The Speed Zone lacing allows you to make lightning-fast adjustments without the overtightening that can come from a boa system.
For extra support, Burton has fitted a Snugger Strap to the ankle of the Ion Step On. This works to keep your heel locked in and gives you full control over your forward flex and the stiffness of your ride. These bindings must be used with a step-on binding, but the Ion is also available in a standard boot if you want the same performance for strapped bindings.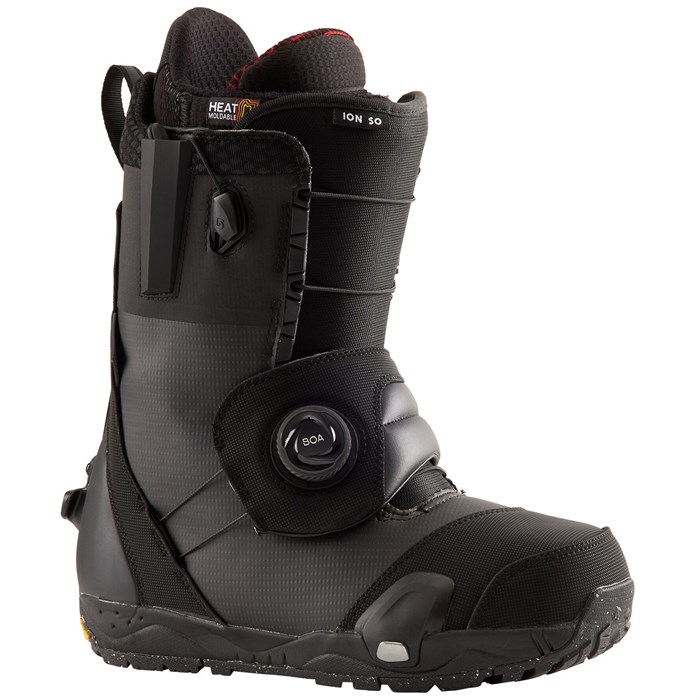 K2 Orton
Stiff enough to rip but still retaining enough flex and playfulness for freestyle riders, the K2 Orton is designed with every snowboarder in mind. The internal liner is built for warmth and comfort, with reflective heat panels keeping the heat in and the cool out, while internal J-bars and dual-density insoles keep your feet comfortable. This liner also features a three-point lacing system to optimize heel control while focusing on ankle support to reduce rider fatigue.
The main lacing system of the K2 Orton is the dual boa. Like other boa systems, this separates the forefoot from the upper to give you more control over your fit. Unlike other boa systems, this uses TX3 lacing. These laces have a strong core, with a recycled PET outer, to give them the feel of a more traditional lace, preventing overtightening while still getting the locked-in feel of a boa system.
Editors' Recommendations