Most snowboarders dream of having a whole fleet of snowboards — a slew of choices to choose from daily. You would flick through them like a vinyl enthusiast trying to find their vintage Hendrix, choosing just the right board to absolutely shred, whether it's a powder day, a day for cruising the resort, or being a park rat.
What happens when you turn up to the resort and find that conditions aren't what was forecast? There's powder when there shouldn't be, or that groomer has the perfect corduroy and your carving machine is at home? What you need is a quiver killer. These snowboards eschew categorization and cross boundaries so you can ride any terrain. Unlike the best all-mountain snowboards, which are your daily drivers, these quiver killers are your best snowboards for the one-board man this winter.
Burton Custom X Flying V
If the Burton Custom not only topped our list for the best all-mountain snowboards but also featured on our best snowboarding gear for the season, it's only natural that it would top this list too. We've deviated a little here and gone for the flying V base shape rather than the camber. The flying V is Burton's version of rocker/camber/rocker.
Underfoot camber keeps this board snappy in and out of turns, while rocker between your feet and at either end helps to keep the board floaty and playful. The Custom X is the stiffer, harder-charging version of the Custom, with carbon highlights for lightweight rigidity. This quiver killer is about stability at speed and responsive riding, but you can always go for the Custom Flying V if you want a softer ride.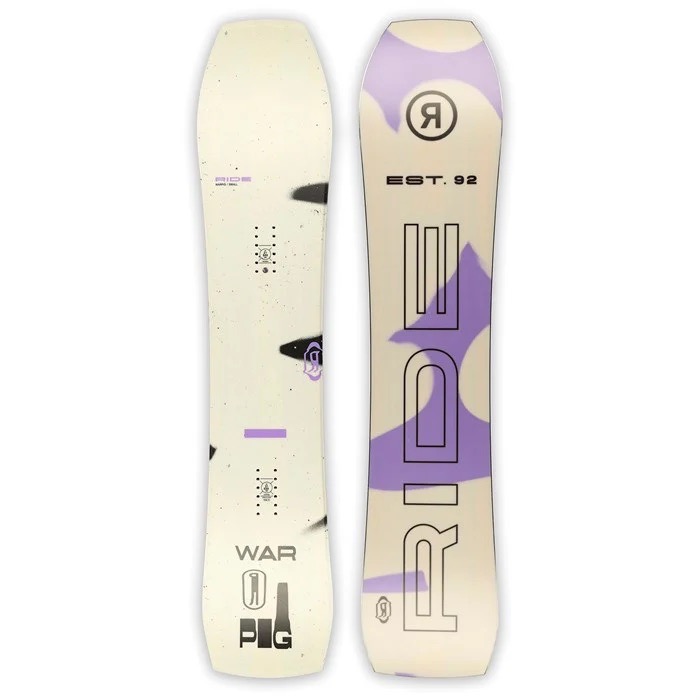 Ride Warpig
This short, fully directional snowboard has rightfully earned its place as one of the best snowboards for advanced riders who want to hit absolutely everything in their way. The tapered, set-back shape gives it the look of a powder board with a blunted and rockered nose ready to thrash through powder turns.
This tapered shape holds a few surprises too. The short, wider stance of the Warpig gives it great stability and float, but between your feet, this board reverts to a flat base. This, along with the shape of the sidecut, lets you carve down groomers, hit the park, and shred anything that catches your eye. This ride is enhanced by the Carbon Array 3 construction that Ride says gives you the optimum balance of response and performance.
Lib Tech Terrain Wrecker C2X
Rides easy, rips hard. That's the sentiment from Lib Tech behind the Terrain Wrecker. This freestyle-inspired directional twin is built to turn the whole mountain into your playground. The banana technology base shape is designed to make riding easy, with lengthened camber underfoot for sharp turns and rocker in the middle and at either end for easy riding.
Like all Lib Tech boards, the Terrain Wrecker C2X features the Magne-Traction edge with strategically positioned edge serrations designed to hold in any conditions. This means that whether it's mid-season powder or a scoured groomer, you'll still get that carve, pop, and playfulness you would expect from this board.
Lib Tech Terrain Wrecker C2X
Burton Process Flying V
Laid back and lethal, the Panda graphic was the perfect choice for the Burton Process Flying V snowboard. This true-twin, freestyle-oriented snowboard's Super Fly II core keeps things lightweight and liftoff ready. This is combined with Burton's Squeezebox core profiling, which is designed to transfer energy to the tip and tail of the Process for increased pop.
All this jargon might be getting the better of you, but you need to know that the Burton Process Flying-V is ready to turn even the smallest side hit into a mountain feature. The Flying V base shape gives you a playful, floaty ride with all the response you need to snap in and out of turns.
Nitro Team Gullwing
The Gullwing shape of this snowboard is Nitro's version of the camber/rocker profile that we have featured with so many of these quiver killers. This combines with the directional twin profile to create a single snowboard that turns the whole mountain into a terrain park. Add to that the dual degressive sidecut, which features a smaller radius at the midpoint compared with either end, and you've got a loose and playful snowboard.
Despite the torsional flex and playful nature of a park snowboard, the Nitro Team Gullwing doesn't feel loose and unstable at speed. The core is poppy and responsive when you need it to be, but stiff enough to carve those groomers when conditions are just right.
Of course, a snowboard is only as good as the equipment that needs to work in concert with it. Be sure to check out our guides to the best step in bindings and how to adjust them at home. While you're at it, you might as well learn how to wax your board properly too.
Editors' Recommendations