Ever see that guy out on the slopes rocking a pair of soaking wet jeans with his ski jacket on his way down the mountain? Let us tell you a secret about that guy: He's somewhere between beginning to regret his decision and absolutely miserable. Don't be that guy. Wear proper ski and snowboard pants.
Having the right pants for the job helps you do more than just look the part. The best snow pants will keep you dry, protect you from the cold, and prevent your lower half from becoming a sweaty mess, all while standing up to the rigors of days and days of thrills and spills.
But what kind of pants will be best for your next ski trip? Are you sticking to the lifts or headed out to tour the backcountry? Looking forward to some fresh groomed runs out in Gatlinburg or a bluebird powder day in Tahoe? Different skiers need different things from a pair of pants. Below we've listed three of our favorite pairs of the year, as well as a straightforward breakdown of the important features you should know.
Best Ski And Snowboard Pants Overall: Arc'teryx Sabre AR Pants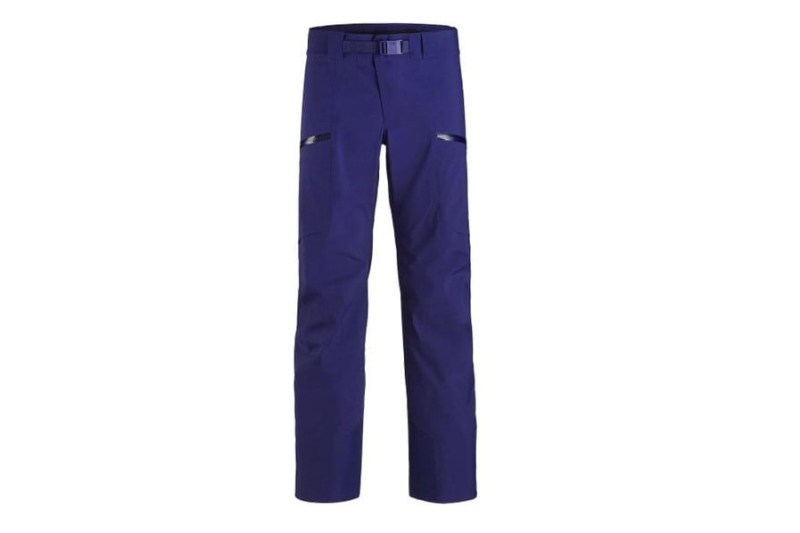 When it comes to absolutely premium all weather protection, Arcteryx is often the first name in both quality and price.
The Sabre AR men's pants are no exception and have all the best features you'd expect at this price point. Top-of-the-line three-layer Gore-Tex construction provides the gold standard of protection in the waterproof/breathable category. Waterproofing continues into the side zippers which are generously sized for extra ventilation when you need it.
The Sabre AR pants also come equipped with elastic powder cuffs to help keep out the wet in the deep stuff, and they're made from rugged 100D Cordura fabric that will stand up to season after season of abuse from ski boots and snowboard bindings alike.
We won't dig into all the features here, so just know that the quality, cut, fit, and finish are everything you'd expect from a top-tier Arcteryx product. Our only gripe with the Sabre would be the price tag, but if you've got the money to spend we recommend adopting the "pay once, cry once" approach and treating yourself to the best in the business.
Best Ski & Snowboards Pants On A Budget: The North Face Freedom Pants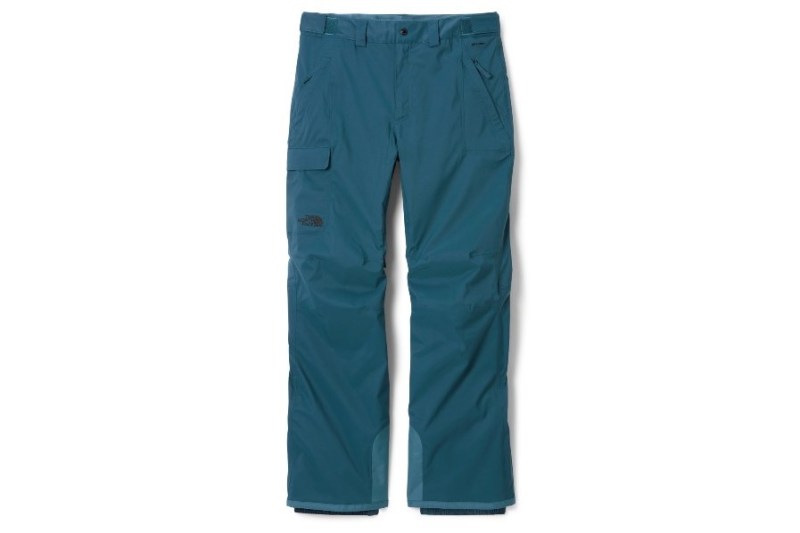 If you're looking for reliable performance out of your ski pants but don't want to refinance your house to get it, the Freedom pants from The North Face are the best budget-friendly option out there now for a few years running.
While you won't get Gore-Tex technology at this price point, the North Face Freedom does include a proprietary 2-layer DryVent system to deliver solid weatherproofing at a price we love. The DryVent membrane doesn't breathe quite as well as Gore-Tex, but when used in conjunction with the large vents on the inner thigh, these North Face trousers will absolutely get the job done. The Freedom pants also add in a DWR finish on the outer fabric to boost water repellency even further, so they'll be more than adequate for anything shy of the worst weather or the deepest backcountry powder plowing.
Note that the Freedom snow pants also come in an insulated version, but for our money, we prefer the non-insulated version as a waterproof shell used in conjunction with a base layer of the right thickness.
Best Snow Bibs: Flylow Baker Ski And Snowboard Bib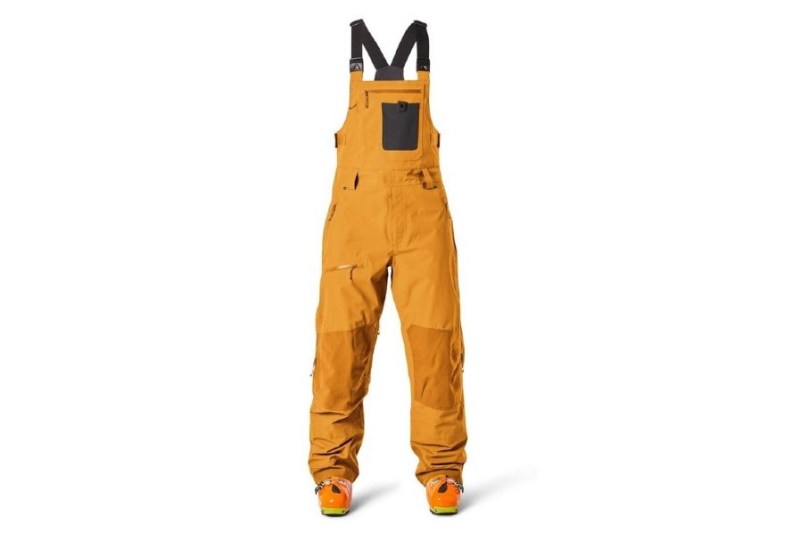 If stylish, indestructible ski and snowboard gear is your jam, Flylow is your brand.
While we love just about everything coming out of the Denver, CO-based outfitter, their Baker Bib is probably the coolest single piece of snow gear you'll see this year. They're built tough as nails from heavy-duty fabrics with even heavier-duty 1000D reinforcement panels, handle even the wettest snow and deepest powder days with aplomb thanks to a fully waterproof Surface 3 layer construction, and pack some of the best flowing ventilation in the business with huge ports on both the inner and outer thighs.
Style-wise the generous fit and Carhartt-style kangaroo chest pouch absolutely ooze aprés-ski flavor without any try-hard pretentiousness. Yes, the Baker Bib will run you a few more bucks than some other models with big brand name recognition, but their bombproof design and remarkable versatility make them one of the best buys on the mountain.
Important Features Of Ski And Snowboard Pants
Clearly, there's a wide range of styles, features, and price points out there when you're shopping for ski pants. The three pairs above are our personal picks for men, but despite the yawning price gap, there's a method that goes into these selections.
See, regardless of how much a pair of snow pants costs, there are a few criteria that determine what they're really worth. Each of the features below is what makes a pair of ski pants worth buying at any price. If you find yourself shopping for pants outside of our picks above, you'll want to make sure they deliver in each of the categories below.
Waterproofing
In the outdoors world, it's widely accepted that when it comes to serious waterproofing, Gore-Tex is king. We're not here to dispute that, especially considering the company's waterproof-breathable membranes are still the gold standard in just about every outdoors pursuit from backpacking to motorcycling. If you can afford a Gore-Tex garment we firmly believe they're worth the money, but just know they aren't the only reliable weatherproofing game in town either.
Every garment in the list above can be depended on to keep you dry. True, you'll be hard-pressed to find a proprietary waterproofing system that breathes as well as Gore-Tex, but with adequate ventilation and the right base layers, you won't exactly be kicking yourself for choosing to save a couple of hundred dollars either.
Ventilation
Speaking of ventilation, we can't stress enough how important it is to have plenty of it. As any seasoned skier will tell you, it's not hard to work up a sweat in three feet of snow. Yes, you want your pants to keep out the cold (and the wet), but you don't want them holding on to too much heat either.
Weather conditions have a habit of changing throughout the day, as do your activity levels. Being able to simply adjust how much or how little your pants (and your jacket) allow air to flow in and out will save you from a ton of discomfort and time wasted adding and shedding layers throughout the day.
Insulation
This one largely depends on the area you'll be skiing or snowboarding as well as the type of skiing you do. Lower elevations and milder climates like those you tend to find on the East Coast rarely benefit from added insulation in a pair of ski pants. It's just not cold enough, and chances are a good performance base layer will do a better job of managing your body temperature anyways.
West Coast skiers, folks riding in the dead of winter, or folks riding at serious elevations might want to consider picking up a pair of pants with some added insulation. Yes, you can always add a base layer or two as needed, but the light synthetic insulation on pants like The North Face Freedom above or even the simple flannel-lined approach you'll find on our pick from Arcteryx add a degree of warmth to your kit without adding a lot of uncomfortable bulk.
Durability
You'll find a fair amount of "fashion first, quality second" ski gear out there that's made to look great at the resort for a season or two, but won't survive much longer than that. And while you don't want your snow pants to be overly bulky or rigid, we strongly prefer those that use stronger fabrics and reinforced panels in high-stress areas. Beefed-up insteps, cuffs, and even knees can make the difference between a pair of ski pants lasting one winter or ten.
Powder Protection
Similar to the powder skirt on a good ski jacket, the best ski pants feature powder protection at the ankles, and some even throw in a little extra at the waist as well. The goal here is to be able to plow through waist-deep snow without it making its way inside any of your gear. In addition, to secure powder cuffs at the ankles, many of the pants and bibs above include attachment points like zippers and snaps to help keep your jacket and powder skirt in place. Keep in mind that not all brands are fully compatible with one another, so if you want to take full advantage of your pants or bib's features, you may also need to consider getting a jacket from the same manufacturer.
Looking for more winter gear? We've also put together roundups of the best thermal underwear, ski goggles, and ski and snowboard racks for 2022.
Editors' Recommendations