Winter is in full swing, and if you're anything like me, you've probably almost worn through your first set of gloves already. Or perhaps you've discovered that the old faithfuls you've been storing in the loft are finally ready to be let out to pasture. Either way, it's time for a new set of gloves before you hit the slopes.
Let's face it, the only thing worse than cold hands when you're ripping around the mountain is cold wet hands. All the best snowboard gloves now feature heavy-duty waterproofing and dependable durability, or so the labels say. But how do you differentiate between a pair of gloves that will keep your hands cozy and keep you on the slopes and a pair that will spend all day hanging over a heater because you've already had to stop and buy a hot chocolate just to get some feeling back? Well, we've got some good news for you — you don't have to. That's because we've done it for you with these breathable, waterproof, and highly durable gloves and mitts.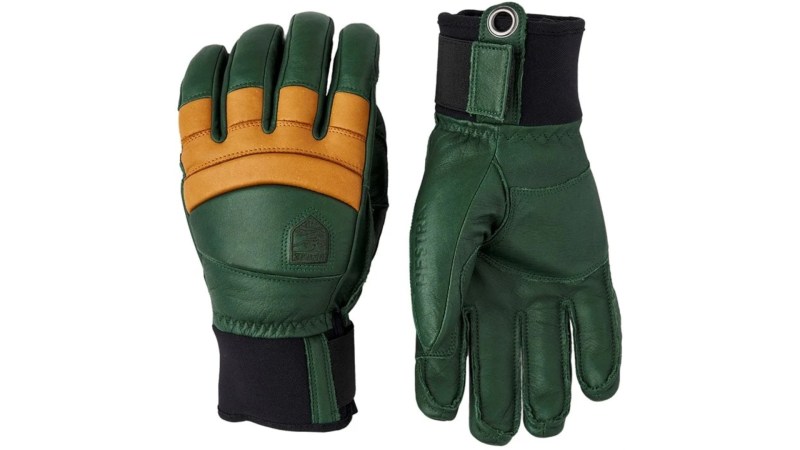 Hestra Fall Line 5-Finger Gloves
Coming in hot from a company that kicked off as a working men's gloves specialist for some of the coldest conditions in the world. Hestra is a company that knows nothing about keeping your digits warm and making gloves ensure your hands are more than just accessories. The Fall Line glove features a removable liner to reduce bulk on those warmer days and is finished with a stylish neoprene wrist that sits inside your jacket comfortably — no more wrestling baggy gloves into jacket sleeves. Seriously, these gloves are the go-to for serious skiers, but the price point does make them a little over the top for a lot of recreational riders.
Hestra Fall Line 5-Finger Gloves
Burton Gore-Tex Glove
Burton is, of course, among the world's best snowboarding brands. So, it's no surprise that the company's line of winter apparel, including ski gloves, is top-notch as well. The simply named Gore-Tex Glove belies this pair's world-class durability, water resistance, and breathability. A microfiber lining with Thermacore insulation ensures your hands stay toasty-warm all day. Plus, touchscreen compatibility means you can TikTok the day's run without removing your gloves.
Black Diamond Guide Glove
There's a reason that these gloves are among the most popular world-over with ski guides and winter mountaineers — they're just that good. The gauntlet-style design blends nylon and leather outer with a wool and PrimaLoft One synthetic inner for a ski glove that's extremely warm in any conditions. That warmth comes at the cost of added bulk, but the extra thickness also ensures they're more durable than most on this list. They do require a bit of breaking in to get the right fit but, if your hands never seem to warm even after a day on the slopes, these are a great solution.
Black Diamond Guide Glove
Dakine Titan Gore-Tex Ski Glove
Dakine is a company that should be on every skier and snowboarder's radar given their ability to make competitively priced and high-quality gear, from backpacks to heavy-duty outer layers. The aptly named Titan ski gloves are no exception. They deliver Gore-Tex construction inside and out to keep your hands warm, dry, and flexible. A cinchable gauntlet cuff helps keep snow out while skiing or boarding. Only the liner itself — not the outer glove — is touchscreen compatible, but given the lack of dexterity that comes from wearing chunky ski gloves, we don't think this is too much of a restriction.
Dakine Titan Gore-Tex Ski Glove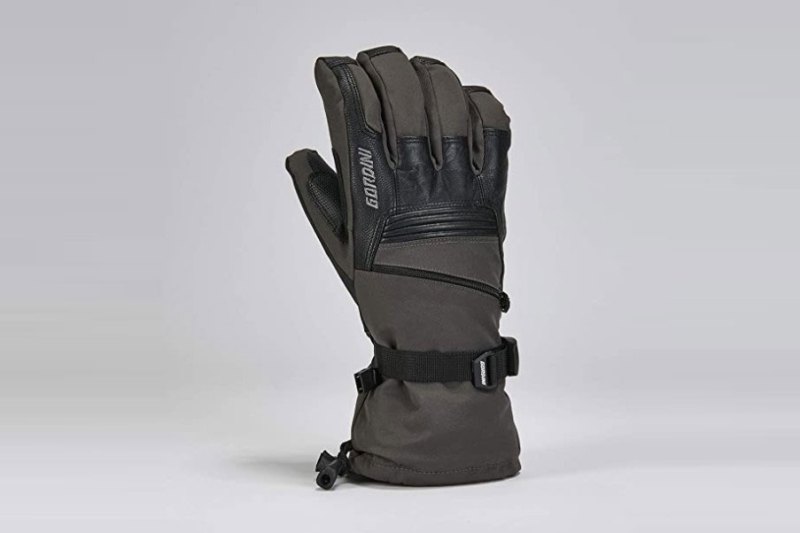 Gordini Gore-Tex Storm Trooper II Ski Gloves
If price is your most important consideration, or you only hit the slopes a few times a year, Gordini's Gore-Tex Storm Trooper II ski gloves are a great budget solution. The stretch-woven shell is waterproof and windproof, thanks to a partial Gore-Tex construction. The synthetic insulation and moisture-wicking lining help keep your hands dry on the slopes. Plus, a zippered pocket provides a dedicated space for your hand warmers.
Gordini Gore-Tex Storm Trooper II Ski Gloves
Crab Grab Cinch Mitt
Crab Grab. Their products do exactly what they say on the box. But fortunately, these bad boys do so much more. 15K Dry-Claw Hipora waterproofing means you can end the day as dry as you started, while the Sherpa Fleece and Micro Fuzz insulation keeps your claws toasty as you ride, even on the coldest mountain days. The palm of the Crab Grab Cinch is made from a synthetic leather alternative and designed specifically to withstand the abuse that comes from using snowboard bindings all winter.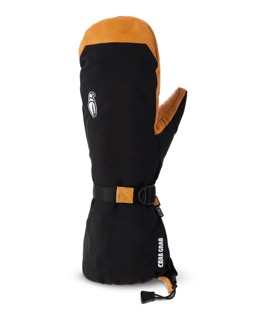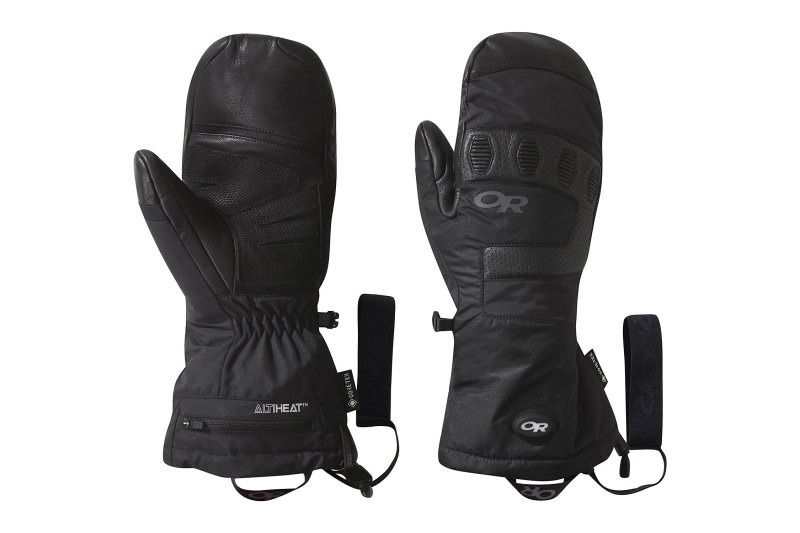 Outdoor Research Lucent Heated Sensor Mittens
If you value warmth above all else, Outdoor Research's next-gen Lucent Heated Sensor Mittens are the answer. Even without the heating element, these ski gloves are worth every penny. They're waterproof, windproof, quick-drying, and breathable. Plus, leather palms and accents ensure they're grippy, flexible, and stylish to boot. But, the Altiheat battery-powered heating element is what makes these luxury gloves worth the more-than-$350 price tag.
Outdoor Research Lucent Heated Sensor Mittens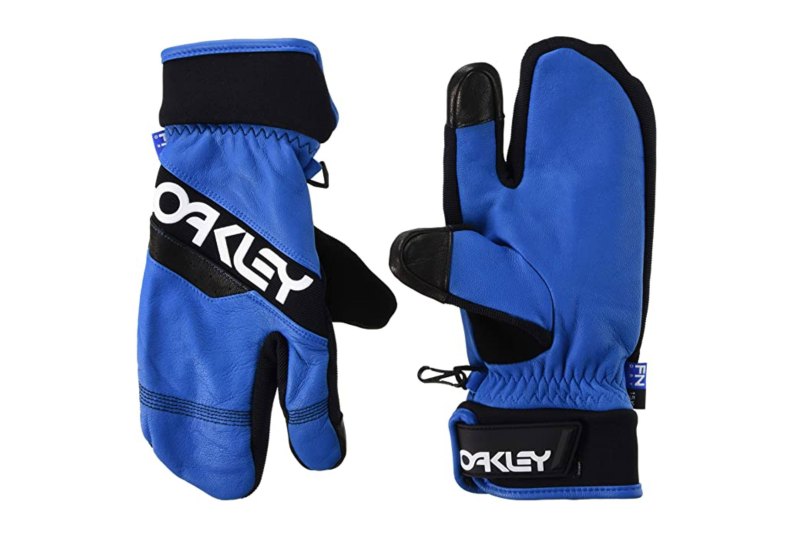 Oakley Factory Winter 2 Trigger Mitten
For a hand covering that splits the difference between a mitten and a traditional ski glove, we like Oakley's Factory Winter Trigger Mittens. This three-finger "glitten" — that would be a "glove mitten" — features a separate section for your index finger for added dexterity on the slopes. That trigger finger is also compatible with touchscreen devices — meaning no more taking your mittens off every time you need to check your phone. The Factory Winter Trigger Mitten features a soft leather shell and Oakley's FN DRY and 15K technologies to keep you dry and comfortable in the harshest conditions.
Oakley Factory Winter 2 Trigger Mitten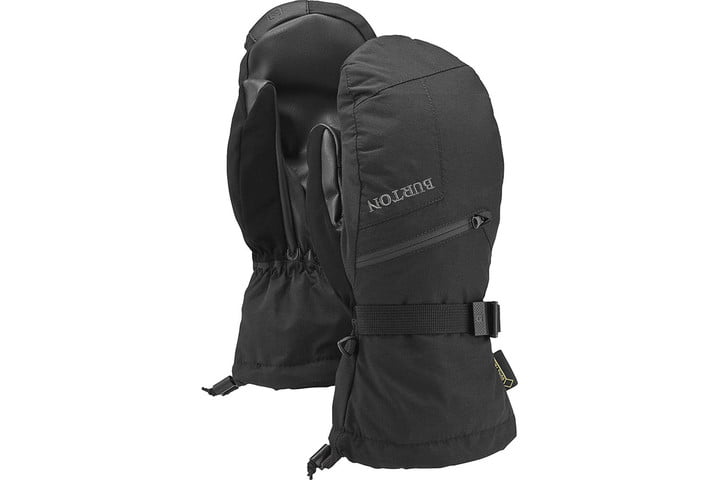 Burton Gore-Tex Mitten
If you fancy yourself more of a mitten man, Burton makes a mitten alternative to the above-mentioned Gore-Tex Glove. It boasts all the same great features, including dual-layer Dryride fabric with Gore Warm technology, a toasty microfiber lining, and a removable four-way stretch liner. That liner works as a standalone glove in milder, off-slope conditions. It's touchscreen compatible, too. Plus, it's roughly the same price as its traditional glove counterparts.
Editors' Recommendations