If, like me, you grew up in the "flyover" country of the Midwest, this test should be rather easy for you. What do Vail, Aspen, Jackson, Whistler, Telluride, Alta, Snowbird, and Big Sky have in common? They comprise the exhaustive list of ski resorts that everyone east of the Mississippi dares to vacation at. For my entire childhood, this fact was as bulletproof as Pluto being a planet. But, my friends, some things do change.
Dozens of other resorts offer similar (dare I say better?) terrain and snow quality, without the crowds and huge costs associated with the seven listed above. After spending time at many resorts across the west in the last decade, my perspective has changed – and I'm here to convince you that yours can, too. These are the hidden gems of skiing in North America.
More Ski Guides
Just north of the border, the snow at Fernie is like the fountain of youth — always light, fun, and deep. I've made it a ritual to visit multiple times each season in the small, friendly Canadian town. The community in the area loves to ski and, unlike many American resorts, is always friendly to strangers. This kindness is like nothing else.
The resort offers 2,500 skiable acres of terrain, 3,500 feet of vertical drop, and one run that's over 3 miles long. They have 37 feet of snow each season across five bowls. Because of the location in the Canadian Rockies, it's often light, champagne powder. Plus, who wouldn't want to visit the set for Hot Tub Time Machine?
Grossly overshadowed by Jackson Hole and Grand Targhee, Snow King gets little love. I'd like to change that. The resort sits in the town of Jackson itself and offers the perfect place for a quick lap or two before work or at lunch. Dogs are allowed before lifts spin, making it a great place for you and Fido to get a workout together. After dark, the resort offers night skiing, which is fun for the whole family. There are no frills here, just a simple, well-run resort with a reputation for some of the steepest high school ski races in the country.
It's hard to believe there is a ski resort nearby as you're driving into the town of Taos. Based in the northern New Mexico desert, the area is filled with adobe dwellings more reminiscent of a Western movie. Fear not. Just a dozen miles uphill in the Sangre de Cristo range at an altitude of 8,000 feet is one of the best resorts on the continent. Taos offers world-class skiing paired with deep Native American Pueblo culture. Because of the arid climate, the resorts get ultra-dry powder. A ski trip here is different than anyplace else because you can grab an apres and then visit a Native art gallery or cultural center.
To be fair, Whitefish has a few other things going for it, too. The resort is perched high near Glacier National Park, with stunning views, and rarely has crowds or lift lines, and like Fernie and Taos, has an incredibly laid-back vibe. If all you know is Vail and Jackson, you'll feel like you have the place to yourself. The resort is well known for "snow ghosts," pine trees coated in fog and ice. The town is similar, with many budget hotels and cheap bars to celebrate your huge day on the mountain.
My personal favorite award — this one goes out to the largest, steepest, and longest ski resort in the Midwest, Lutsen Mountain. A 1,000-foot drop across four mountains (some would call them big hills) gives Lutsen bragging rights over the breadbasket of America. The resort sits adjacent to Lake Superior, offering incredible views, and pays homage to the local culture by offering reasonably priced cheese dishes at the mountain inn. A vacation favorite for families, there is ample accommodation nearby for those that plan to stay for an extended weekend or more.
Imagine a fleet of massive groomers, in an even more massive "flying V" formation, slowly driving down the steep slope toward you. Now add Christmas lights, fireworks, loud music, and hundreds of skiers in lit-up costumes. Night of Lights is not an event to miss. It's free to all and celebrates the start of winter at one of my favorite resorts in the country, Mammoth. Tucked away on the eastern side of the Sierra, Mammoth was designed and built by a weather expert to maximize snowfall — and it doesn't disappoint. Over 4,000 vertical and a season that recently has lasted up to 9 months (multiple months longer than anyone in the country) gives you a place to ski [almost] year-round.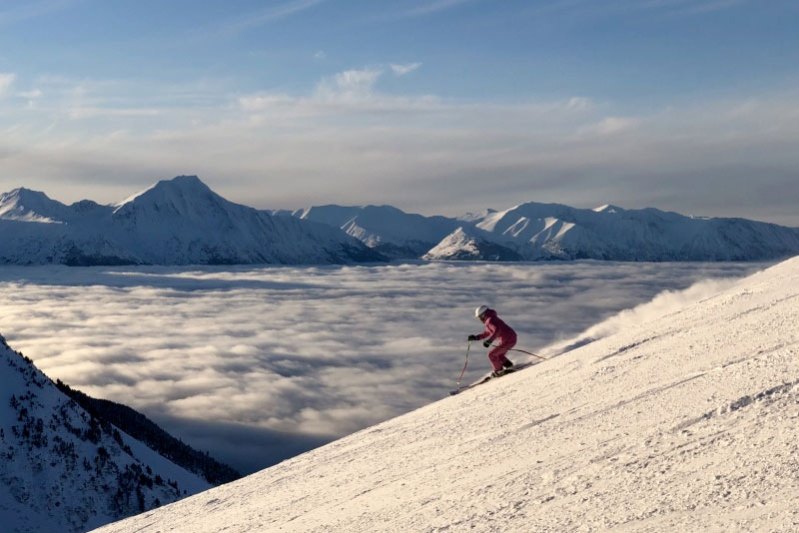 Everything is bigger in Alaska (sorry Texas), including the mountains. Tucked in the Chugach Range, the Alyeska averages 669 inches of snow annually and nearly every trail feels big and steep. Just 40 miles from the Anchorage airport, it's also relatively easy to get to. If you're looking to go bigger, Alaska might be your ticket.
A staple of east coast skiing, Killington is well known for its rugged terrain and bulletproof ice runs. Everyone who survives a stay at the northeastern resort quickly learns how to use their edges — and when to go inside to get a hot chocolate. Lesser known is the quality of the moguls. Hosts to the best event of the year, the Bear Mountain Mogul Challenge, Killington has gained an insider reputation for perfect bumps, soft knees, and "oh shit!" wipeouts. And for that, we're giving it the award for best moguls in the continent.
Editors' Recommendations