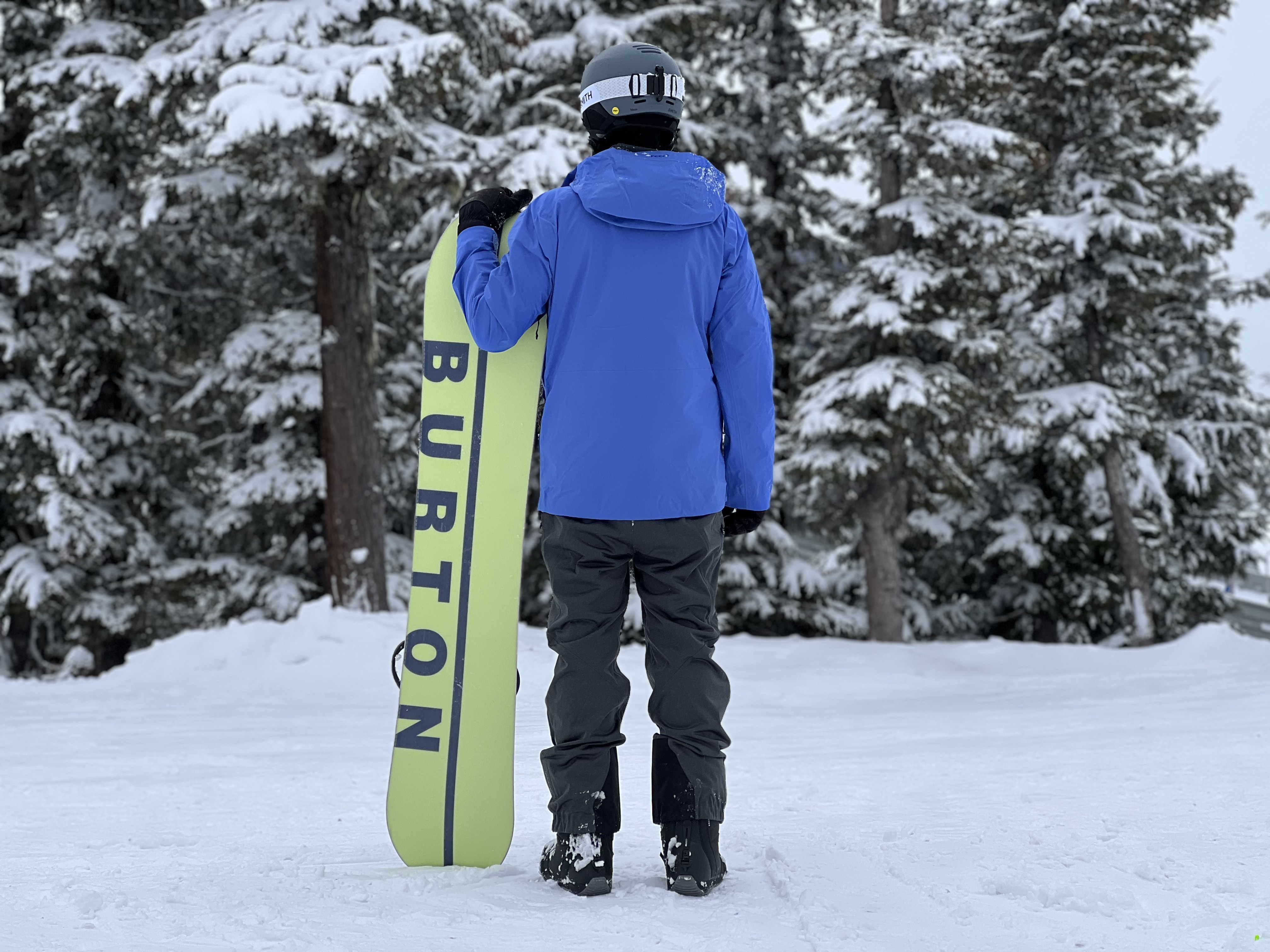 Dakine might not be the first brand you consider when purchasing snowboarding gear. Many associate the brand with surfing, where Dakine originally made its name known to the world. We're here to tell you if you've been overlooking Dakine in the winter months – stop doing that.
On a frigid day in the Pacific Northwest, I gave Dakine's Sender Stretch 3L jacket and pants a full review. I spent the day snowboarding on one of the coldest days of the season (which might have been the actual coldest day so far) to see if Dakine's three-layer outerwear could keep me dry, warm, and comfortable for a full day of riding.
How Dakine Sender Stretch 3L jacket and pants fit
I'm a size medium and wear a lot of Burton gear. Dakine's gear fits about the same as my Burton gear – but has a few distinct differences.
The Sender Stretch 3L pants are made of recycled polyester that is a touch stretchy, which I like. Dakine claims its material is a "four-way stretch." I prefer a closer fit for my winter gear, but the increased mobility of the material makes it easy to snowboard (or ski, you do you) a bit more aggressively. The buttons on the front waist have an optional string tie behind the waistband, which I didn't need to utilize. The buttons are secure enough.
Dakine's Sender Stretch 3L jacket is made of the same material as the pants and fits perfectly. To that, I can say Dakine's sizing is as expected, which is great for online ordering.
Buy Sender Stretch 3L Jacket
Buy Sender Stretch 3L Pant
Dakine 3L Sender Stretch pants and jacket performance
Braving the bitter cold of the PNW is its own challenge. Dakine met that challenge. At one point in my day, I forgot it was 20 degrees out with an intense wind. Much of that can be chalked up to layering under the outerwear, but any outer layer should thwart as much cold air and snow as possible. Dakine Sender Stretch did.
Sender Stretch pants have two thigh pockets, an adjustable waistband, and side vents. Dakine's website says its side vents have mesh, but mine didn't have any mesh inside. Mesh or not, I do like that vents are on the side rather than the crotch area. All zippers are sealed, too.
Pant and jacket are equipped with Recco for all your backcountry snowboarders and skiers. Both pieces also have pockets with a zipper closure hidden by a flap, which seems superfluous to me. The flap has a single button to secure it shut, but it doesn't give me confidence that belongings won't come out if the zipper isn't closed.
The Sender Stretch 3L jacket from Dakine is incredible. Plenty of pockets, side vents, and a neck that zips up over the bottom half of your face with "anti-fog" mesh that keeps it breathable but protective. The hood is also well-designed and holds snugly to a helmet. Most hoods don't fit well with helmets, which seems silly. There's also a sleeve pocket for RFID passes, so those of you with those kinds of scannable passes should rush to buy Dakine's Sender Stretch 3L jacket.
If I have one gripe about the jacket, it's that the sleeve velcro closures could have more Velcro to provide a tighter seal. I like to wear under-mittens and feel locked in with sleeves on a jacket. I would also like it if the powder skirt was removable. Not deal-breakers, just nit-picking a pretty perfect jacket.
(What I like about the Sender Stretch 3L pant and jacket combo is that the powder skirt has a loop that buttons onto a loop on the inside of the pants to keep it tucked in and attached. Really smart design that keeps the skirt tucked in without restricting movement.)
Bonus option: Dakine Cruiser 3L pant
A lower cost – but still great – option to Dakine's Sender Stretch pants is its Cruiser pant, which offers fewer features but similarly great performance. The Cruiser was even more stretchy than the Sender Stretch in my testing, so freestyle rippers should take notice.
What you don't get with the Cruiser 3L pant from Dakine is an internal gusset for the boot or side vents. The bottom of the pants is elastic to keep them tight around your boots and have the same inside "scuff guard" as the Sender Stretch 3L pants. The material is a touch different – the Cruiser pants have a texture where the Sender Stretch pants are smooth – but that's all aesthetics.
For almost every day on the mountain, the Cruiser 3L from Dakine is the best option in the brand's lineup. I tested it in the same blistering conditions and didn't notice a difference in performance from the Sender Stretch 3L.
These options from Dakine are different pants for different environments and purposes; if I were in deep powder, I would opt for the Sender Stretch 3L without hesitation. For day-to-day resort riding, Dakine's Cruiser 3L pants are wonderful.
Buy Cruiser 3L pant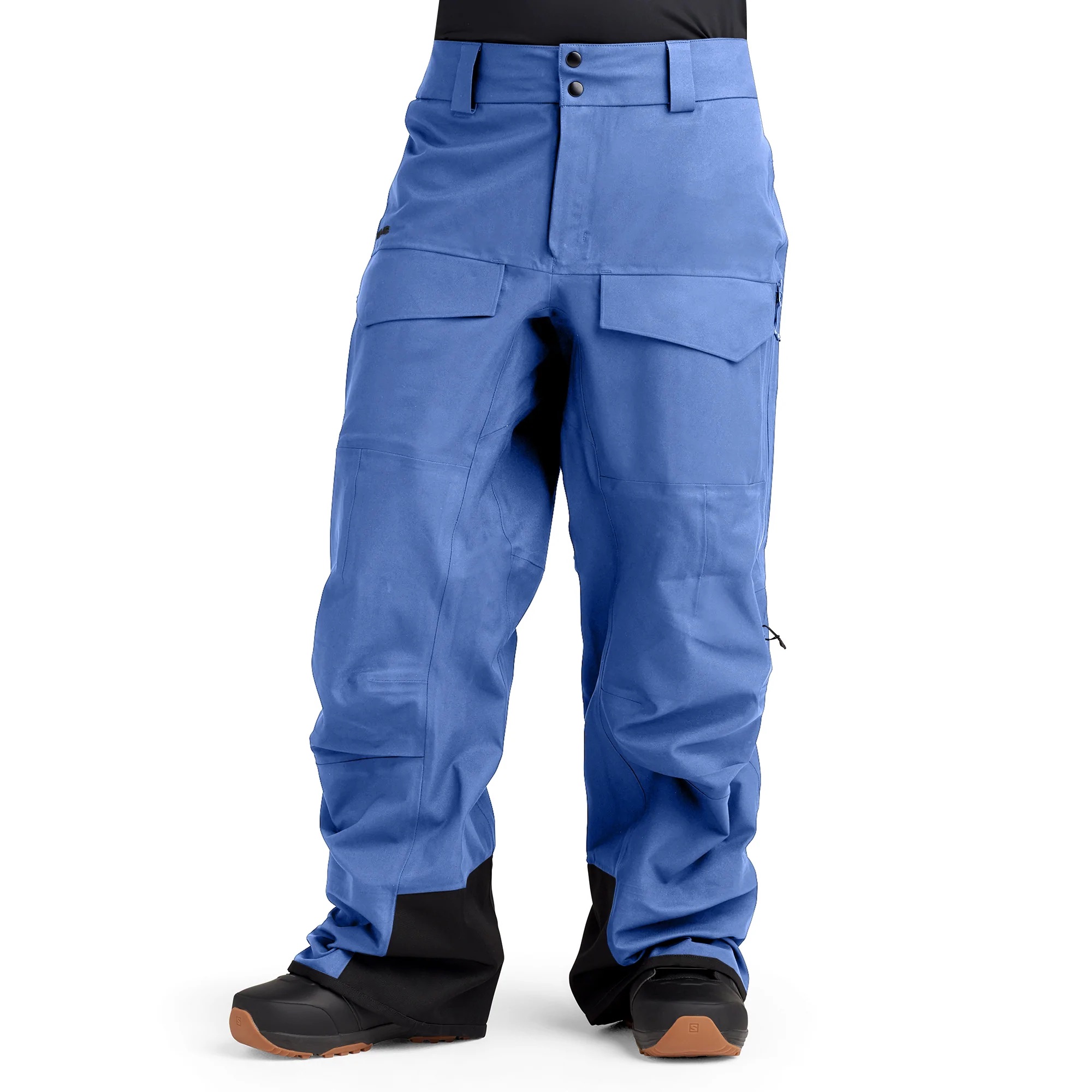 Final Verdict on Dakine Sender Stretch 3L and Cruiser 3L outerwear
Outerwear is one of the most critical investments you make when engaging in winter sports. Take it seriously.
The Sender Stretch 3L jacket is $495 and is worth every penny. If you're going to get one jacket, get the Dakine Sender Stretch 3L. Competitively priced compared to 3L jackets from other major brands, Dakine has several thoughtful features I appreciate.
The Sender Stretch 3L pants look great and protect well. I really like that they fit properly while allowing me the flexibility to (pun intended) send it. The buttons on the waistband are surprisingly secure, too. At $450, these pants are no small investment, but they're one of the best you can make.
The optional Cruiser 3L pants may be my new day-to-day boarding pants. They're a bit lighter than the Sender Stretch, but I don't feel I'm compromising on protection or warmth. For $240, I'd stand the Cruiser 3L pant against more expensive options from other brands – and I guarantee they'd be very competitive.
Dakine might be a brand you think about in warmer months, but it's high time winter sports enthusiasts pay close attention to Dakine. The Sender Stretch line is serious gear for avid snowboarders, and I was pleasantly surprised with the Cruiser 3L pant. Not only is their gear performant, but it also has some thoughtful design touches that show us Dakine is as serious as you are about winter sports.
(And for those who want to know about a "worst case scenario" situation, I absolutely bit it on a blue run in deep pow and snapped back up perfectly dry and without a scuff on my pants or jacket. If that's not a ringing endorsement for Dakine gear, I don't know what is.)
Editors' Recommendations