I have a love-hate relationship with snowboard gear bags. I've found that backpack-style bags have little room once boots are packed, and large duffel bags with boot compartments are often unruly. And if I'm not running through an airport, why do I need a backpack with all my gear?
All I want is a duffel bag that is appropriately sized and carries all my gear. I thought it was a pipe dream – until I came across the Dakine Boot Locker 69L.
Dakine Boot Locker 69L features
The Dakine Boot Locker 69L comes in several design options, but there's a bit of a catch, and here's my pro tip: Look for the bag at a few retailers. Dakine's Amazon store has colors its own website doesn't, and Evo had one design I didn't see elsewhere.
The Boot Locker 69L has 69 liters of space (obviously), equating to a massive 4200 cubic inches. It's 20 x 15 x 14 and weighs 2.4 pounds. There is a removable shoulder strap, and the smaller handles for carrying by hand can Velcro together if needed. The Dakine Boot Locker 69L is made of polyester or recycled polyester, depending on which design you choose. All options are machine washable.
What I love about the Dakine boot Locker 69L is that the boots occupy the bottom one-third (or so – I didn't measure) of the bag, while your goggles, beanies, mittens, and other items sit up top. The bottom section zips open fully, and the top section has a large zipper that tracks the entire top of the bag. This design appeals because the boots have their own defined area, which means you know exactly how much space you have for the rest of your stuff.
I've found backpack-style snowboard gear bags fussy. Once I get the boots in, it feels like I'm constantly negotiating to find room in my bag for everything else. The Boot Locker 69L eliminates that headache.
The boot area and top section are lined with a tarp-like material. Because the boot section zips open entirely, you could use it to change between snowboarding boots and shoes without getting your feet wet, if you like. I'm not sure that would be great for the bottom of the bag if you're booting up in the parking lot, but it's an option.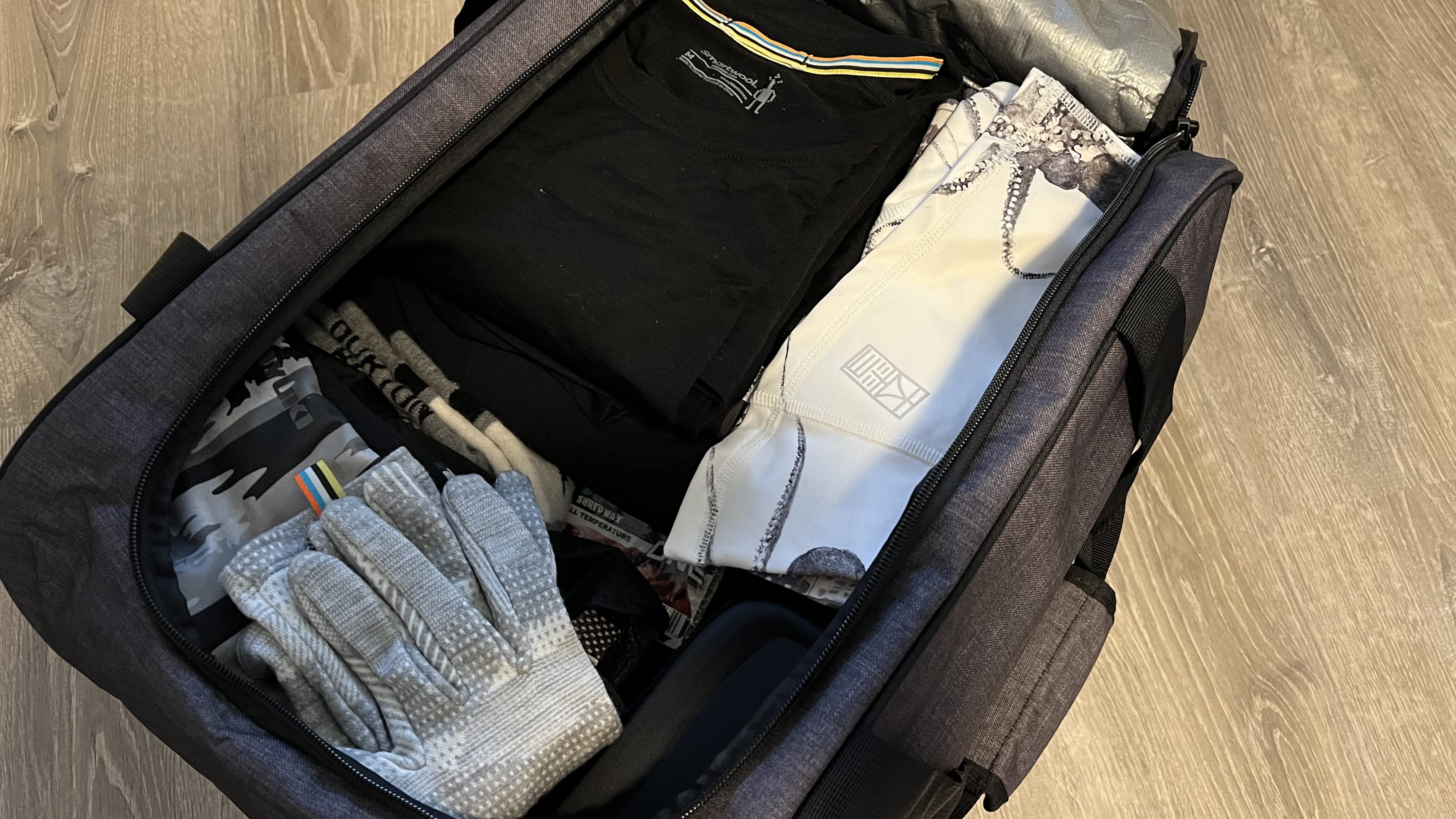 Using the Dakine Boot Locker 69L
I'm a simple snowboarder: I want my board strapped to the roof racks of my car and a single bag in the back with all my gear. The Dakine Boot Locker 69L made that a reality.
My size 12 boots fit easily in the bottom compartment, too. Large-boot boys know the struggle, so rest assured the boot Locker 69L can accommodate larger boots. (A size 13 might be a tight fit, but I'm confident the bag could handle them.)
In the top compartment, I had room for goggles, mittens, under-mitt gloves, a beanie, balaclava, protective gear, quick wax, neck wraps – AND my 3L outerwear. I could have shoved a few other items in there, too, if I wanted to take more. The DaKine website notes the top has a fleece-lined sunglass pocket and an insulated cooler pocket, but mine didn't have these. The same for the two mesh side pockets for organizing your small items the site mentioned – just not there. Instead, the top compartment is lined, which I prefer. It's nice to just dump all of your wet and/or sweaty gear into the bag and hit the road, but some organization would be nice, too.
I love that the bottom compartment is lined with a tarp-like material. I keep my shoes in there while I'm snowboarding. Because I change boots in the parking lot, the shoes are bound to get gross, so it's nice to have a lined compartment just for boots and shoes. (Another pro tip: toss a towel in the boot area and wipe down as needed if you don't want your boots getting muddied by whatever your shoes leave behind.)
Should you buy the Dakine Boot Locker 69L?
Pretty obvious I'm going to say "yes," right?
At $75, the Dakine Boot Locker 69L is appropriately priced, too. It's become my trunk space must-have for snowboarding trips to Timberline, and the Boot Locker 69L will be traveling with me when I take snowboarding trips to Colorado or elsewhere. Sturdy, roomy, and stylish – what else could you want?
Editors' Recommendations