You've started piecing together your ski or snowboard gear little by little. Perhaps you've picked up a set of skis to match your skiing style or even found a high-performance, stylish ski or snowboard jacket to prepare yourself for backcountry skiing. Regardless of how you choose to get down the mountain, one thing should always be a constant: A ski helmet or a snowboard helmet to protect your head.
A snowboarder or skier can reach speeds up to 35 miles per hour while cruising down the slopes. A collision at that speed can do serious damage. The last thing you want is a head injury. Since we value your safety, we decided to round up our favorite ski and snowboard helmets for 2021, guaranteed to keep your dome warm and reduce your risk of traumatic brain injury.
Smith Holt Snow Sports Helmet
The Smith Holt helmet isn't just a snow sports specialist. The included pad kit allows you to switch from winter to summer use — perfect for heading to your favorite mountain bike destinations when it's warm out. No matter what you end up choosing to use it for, the AirEvac variable vent system allows you to adjust airflow to match your activity level.
The Holt's molded ABS shell is extraordinarily resistant to dings and scratches. An optional Skullcandy audio system can be added to the helmet, so you don't have to worry about losing your nice headphones on the slopes. Smith offers a lifetime warranty on this helmet against defects in materials and manufacturing, too.
Oakley MOD1-MIPS
A classic skate-style helmet, the MOD1 features a simple and low-profile design. The Fidloc Magnetic buckle makes it easier to fasten your helmet while you're wearing gloves. The Boa 360 fit system allows for an optimized and comfortable wearer experience. The MIPS system helps to mitigate rotational forces in a crash, keeping you safe. This helmet provides a fantastic value, offering a feature set typically seen only in more premium helmets.
Shred Optics Totally Noshock Ski Helmet
Shred Optics is known for its use of innovative technology in eyewear and protection design. Contrast Boosting Lens technology in goggles provides exceptional clarity, the Rotational Energy System in helmets offers high protection from rotational forces, and Slytech Shock Absorption protects against linear impacts. Given that Shred was founded in part by former Olympian Ted Ligety, you can be sure that its products are made to perform.
If you're looking for a lightweight, extremely durable hardshell ski and snowboard helmet, the Totality NoShock is a perfect choice. Featuring both Slytech and the Rotational Energy System, it gives you comfort while also providing critical safety factors.
OutdoorMaster Kelvin Ski Helmet
Over and over again, OutdoorMaster's products have made it to our best-of lists, not only because of price but also because buyers consistently review it as one of the best ski brands. The Kelvin Helmet is among the latest to join the party. Despite being sold for less than $35, it doesn't skimp on safety or quality. For example, it is ASTM-certified and offers a reinforced ABS shell with a shock-absorbing EPS core. Fourteen vents around the helmet offer nice ventilation for any activity level.
Giro Ledge Snow Helmet
Giro has been designing, manufacturing, and distributing snow sports helmets for 30 years. It's no wonder, then, that Giro products figure prominently on this list. The Ledge ski helmet provides great value while offering solid protection and well-thought-out features. A two-way adjustable liner and ample vents ensure a snug, comfortable fit on your head. With an expansive color selection, it's easy to express your personal style a bit while on the mountain. Listen to your tunes loud and clear with quick, third-party audio compatibility.
Wildhorn Drift Snowboard and Ski Helmet
Wildhorn is the official helmet supplier of the U.S. Ski Team. The Drift — Olympian Ashley Caldwell's helmet of choice — is one of our favorites from their line. With a low-profile construction that makes it 25% lighter than most competing helmets, you'll notice you can wear it all day without fatigue. Wildhorn's FTA (Fine Tune Adjustment) system ensures a perfect fit, no matter what your head shape is.
Adjustable venting allows you to customize the amount of airflow depending on the conditions you're skiing or riding in. The earpads (audio-compatible with an optional accessory) are removable to make the helmet more comfortable during warmer, later-season conditions. A durable polycarbonate shell is fused to an inner layer of EPS foam to protect against impacts.
Giro Neo MIPS Snow Helmet
Lightweight, plenty of ventilation, and MIPS included, the Giro Neo has you covered on the slopes. This stylish helmet has clean lines to keep you looking good and is compatible with Giro audio systems, so you can listen to your favorite tunes all day long. Best of all, Thermostat Control lets you adjust the temperature as the day warms up or cools down.
Retrospec Traverse H1 Convertible Helmet
The Retrospec Traverse H1 is a great convertible helmet option for multiseason sports enthusiasts. During the winter months, keep your head warm and your noggin safe with the Traverse's ABS exterior and EPS foam interior. In the summer months, remove the earmuffs to allow for superior airflow while you're on your bike or skateboard. The ErgoKnob adjustable fit knob allows you to customize this helmet to your head by simply tightening or loosening it.
Smith Vantage MIPS Snow Helmet
Of our helmet suggestions, the Smith Vantage MIPS is one of the most high-end. This is for a good reason: It'd be hard to find another helmet offering such a high level of design, fit, and finish. The ventilation layout on the Vantage MIPS is impressive. Working as one fully-integrated system, the vents circulate air throughout the shell, keeping your head at a perfect temperature and your goggles fog-free. Smith's Hybrid Shell construction combines a tough Bombshell ABS outer shell, MIPS technology, and a super-light inner foam layer. This makes the helmet lightweight and comfortable with a very high degree of head protection.
Also included in this helmet: A goggle clip to keep your goggles attached even in the gnarliest of yard sales, a brim to help keep the elements and sun out of your face, and a Boa 360 Fit System for optimal comfort and security.
Oakley Mod 5 Ski/Snowboarding Helmet
Oakley's a bit of a new entrant into the helmet world, but by no means is it a novice. Much thought has been put into the underlying technology. The Mod 5 is Oakley's more freeride-focused helmet. What's noteworthy about the Mod series helmets is the namesake technology, the Modular Brim System. Removable brims allow you to change the brim depending on what type of goggle you're wearing (obviously, it's intended to work best with Oakley goggles). One brim works with larger goggles and the other with smaller ones. So, no matter what type of goggles you own, it's easy to get a tight seal with your helmet.
The Mod 5 has an integrated ventilation system that pulls air through the bottom of your goggles, up through the brim, and finally out through the multiple vents. This helps to blast away fog and regulate temperature. A MIPS layer offers extra shock absorption. Additional features include a Boa tightening system, Fidlock magnetic buckle, removable ear pads, removable goggle band, and a cushy, removable liner.
Anon Prime MIPS Helmet
The Prime MIPS is one of the higher-end helmets in Anon's offering. The MIPS technology helps protect your brain from angled impacts. A dial-fit system ensures that the helmet snugly fits your head. The tough hardshell is built to last and will keep your head secure no matter your sport or riding style. Give your head the supple support it needs with Prime's luxurious fleece liner.
POC Obex Spin Helmet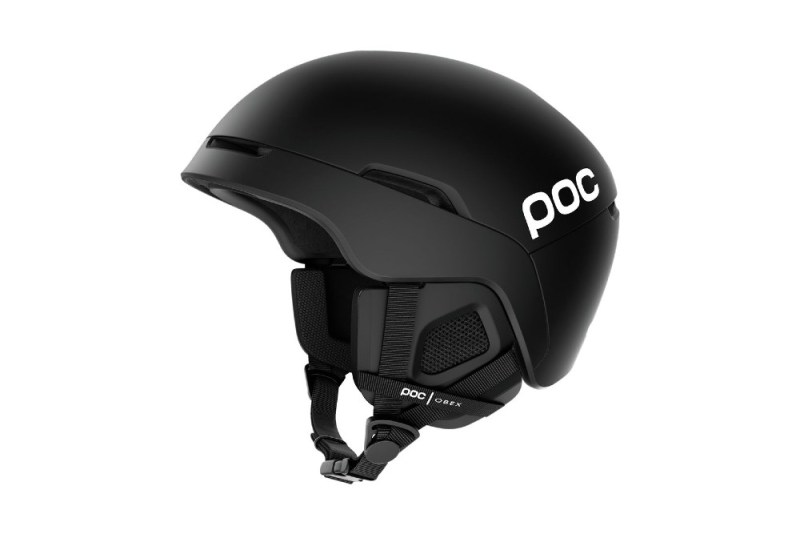 When choosing a helmet for skiing, it's a good idea to consider portability. The POC Obex Spin Helmet is a lightweight option that would be a great addition to your backcountry touring kit. Weighing just 1 pound, this helmet won't weigh you down on the ski track. With POC's Spin silicon pad technology, the Obex will keep you safer in the event of a crash. Offered in a plethora of colors, both muted and loud, you can create the perfect ski outfit for yourself.
How to Pick the Right Helmet
The most important thing to remember when choosing a helmet is sizing. While people sometimes complain about snug-fitting helmets, a snug fit is exactly what you want. In order to ensure the best fit, make sure you know how big your head actually is. Measure the circumference (in centimeters) at a point about 1 inch above your eyebrows and a point at the back of your head at which the circumference is largest. Helmet sizes are based on this centimeter number, so you'll need your measurement to choose the correct size.
We also strongly recommend MIPS technology if you can afford it, especially if you plan to ski or ride aggressively. Rotational motion occurs in all helmets, but less so in MIPS helmets. The technology works to prevent that from happening, which lessens the chance for injury.
Editors' Recommendations