For something so simple, jeans are truly a contradiction. While they are practically a uniform for people of all ages around the globe, they can also be exclusive and high-priced, coming from luxurious designer or hipster insider brands. They're acceptable wear for the CEO as much as for the barista who's making his coffee or the sanitation guy who's picking up the coffee shop's garbage that night. Most of us can wear jeans to work, for a relaxing weekend at home, trekking a mountain range, or a night out on the town.
Although most swimming pools don't allow cut-off jeans (the fibers clog the filters), there are still plenty of places where you could wear them swimming or surfing: We even saw somebody wearing a particularly stretchy pair at the gym and they didn't hurt his squat form one bit. We'd be willing to bet there might even be a few people who wear them to bed. Besides their utility, depending on the style, the right jeans can also be worn with everything from a minimalist's black or white T-shirt to lumberjack flannel shirt to athleisure hoodies to cashmere sweaters, dress shirts, and sport coats. A classic denim trucker jacket— provided you get the fading and the proportions just right — worn with jeans remains one of our favorite looks, whether you call it a Canadian tuxedo or not.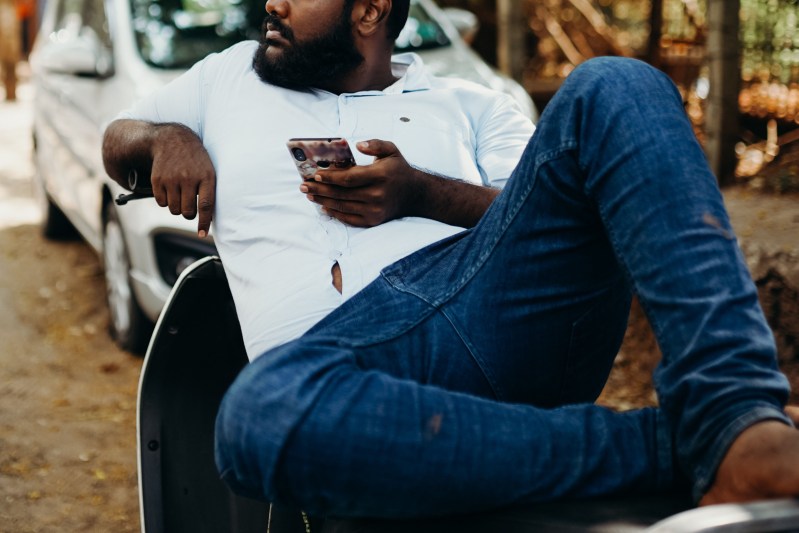 Shopping for jeans with the right fit can be a bit of a chore, depending on your build and personal standards, but most online retailers make it pretty easy to sort out what works, providing lots of data points about leg measurements, the stats on the model wearing the jeans on the site, and feedback from other shoppers. Our advice is, as always, to buy at least one classic pair from a store with a knowledgeable salesperson first to get an idea about what works best for your body, proportions, and life. Once you've established a baseline, you should be able to shop just about anywhere, for just about any style, from there. A classic pair (like the three we've selected below) is also a great foundation for your denim wardrobe: Other than for the very strictest minimalists, you'll want to have at least three of four styles of jeans ready for every occasion.
Related
Studying The Classics
There are a few pairs of jeans that every man should have in his closet. They're usually a pretty simple, skinny to straight leg (depending on individual fit and proportions), and come in some very basic washes and hues. These are the jeans to buy now and wear forever.
The Classic Jean
Stio Rivet Jean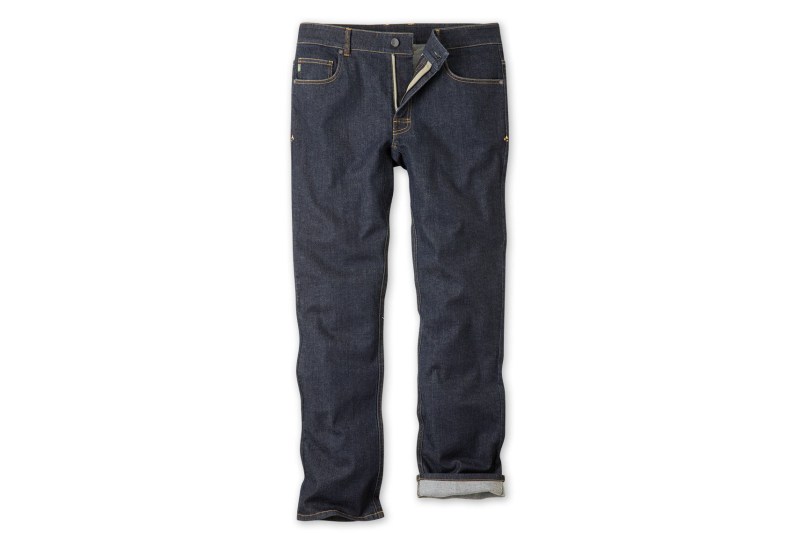 You'll want at least one pair of classic, somewhat relaxed fit, straight-leg jeans in a relatively dark wash. We particularly like this style from Stio because they are made from organic cotton, and have just a touch of stretch for added comfort. Unlike most classic styles, they also have a gusset crotch built-in for added movement. Otherwise, the zipper fly, 5-pocket silhouette, and gold topstitching are all iconic features.
The Dressy Jean
AG Adriano Goldschmied Graduate Slim Straight Leg Jeans
Adriano Goldschmied is often referred to as the Godfather of Denim, and some of his cuts — created back in the first days of higher-priced, premium denim in the 2000s — looked so great on so many people that they became the ultimate pattern for thousands of other brands' jeans. It's why we chose a pair of AGs as our first selection for a dressier pair. First, they should fit flawlessly, usually with a slim-straight leg, and second, they should be in a very dark wash. This is the pair to wear to work or a romantic dinner, paired with an elegant cashmere sweater or a sophisticated sportcoat.
Black Jeans
A.P.C. Petit New Standard Slim Fit Jean
Think of your favorite clothing brands, chances are that A.P.C. makes the favorite jeans of the people designing those clothes. For well over a decade now, it has been a universal favorite among men working in the fashion industry and for good reason. The quality is as good as it gets from the denim to the stitching and rivets but it's the fits that set the French brand apart. No matter your body type, a pair of black A.P.C. jeans fit like they were custom made for you and create the ideal foundation for any outfit.
The Workwear Jean
Dickies Relaxed-Fit Carpenter Jean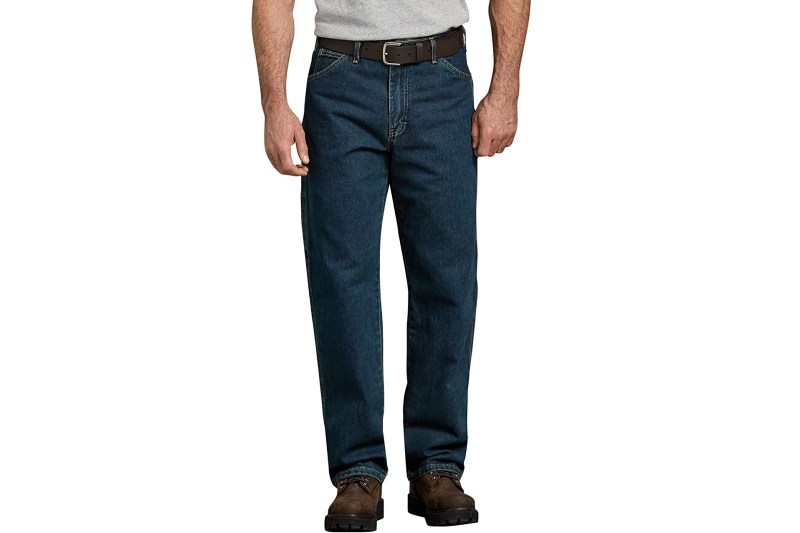 Workwear, as a style influence, seems to come and go in fashion, but there are certain iconic silhouettes that have staying power. And if you actually do some kind of labor for a living that involves more than banging on a keyboard, drilling home a point, or lifting a latte for a living, a solidly built pair of workwear jeans is a requirement. These carpenter jeans from Dickies have the authenticity of pants that are made for guys who actually get dirty on the job, showing up equipped with built-in cool for you to wear any time. Just don't complain when the construction crew starts giving shade about your jeans being too clean.
The Rip & Repair Jean
Lucky Brand 363 Vintage Straight Jean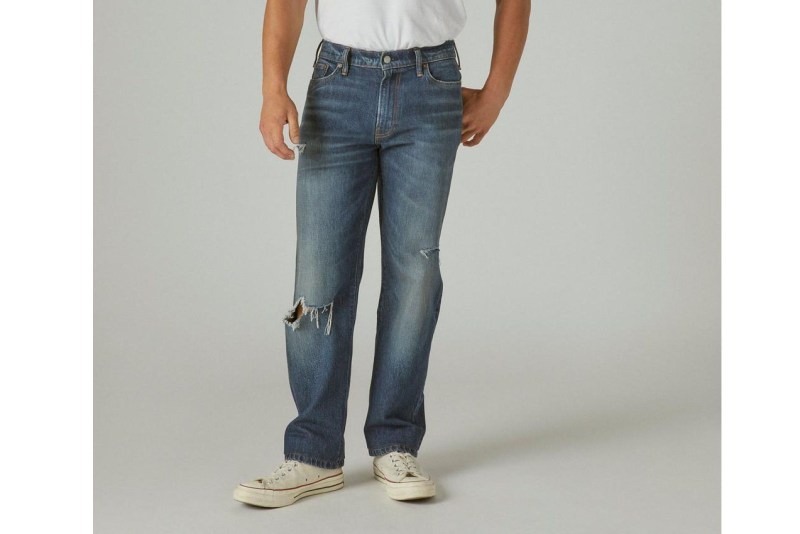 So honestly, it's much cooler if a pair of jeans end up being faded, ripped, sewn back together, and generally abused by their owner, but these days who has the time to build that much character? While rip-and-repair styles vary from slight tears on the knee to practically exhibitionist shredding all over, the look has established itself as part of the denim pantheon. Unless your profession is extremely casual, don't wear them to work; but do wear them all weekend long. Keep things in balance: The rest of your outfit should be fastidiously clean and without blemish.
Performance Jeans
Performance capabilities, often with their roots in the active sportswear world, are so ubiquitous these days that you'd be hard-pressed to find a pair of jeans, other than from hard-core denim heads, that doesn't offer some something extra. It could even be argued that cotton is one of the original performance fibers, with its natural ability to absorb moisture, keep the wearer cool, and — when woven as twill like it is in jeans — offer superior strength.
The High Tech Jean
Wrangler Five Star Weather Anything Lennox Cut Jean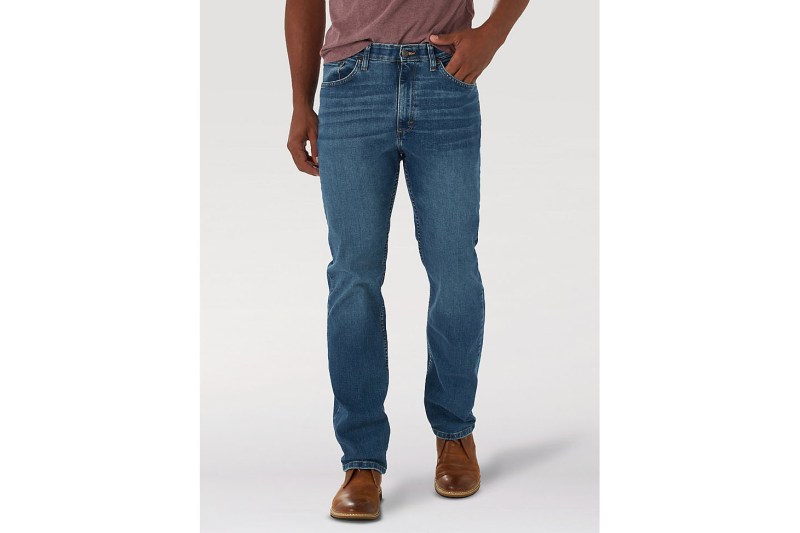 Wrangler has been making jeans since 1904 and has established itself as one of the most ubiquitous all-American denim makers. The brand makes styles that fit many of these categories and is a favorite amongst genuine all-American ranchers and cowpokes of all stripes. Leave it to them to create this pair of classically cut jeans that features up-to-date fiber technology that traps heat when you're cold and releases it when you're warm. Anyone who works in a "modern" office building with sketchy heat or air conditioning can appreciate that feature without having to worry about long days and nights on the range.
The Stretch Jean
Levi's 512 SLim Taper Flex Jeans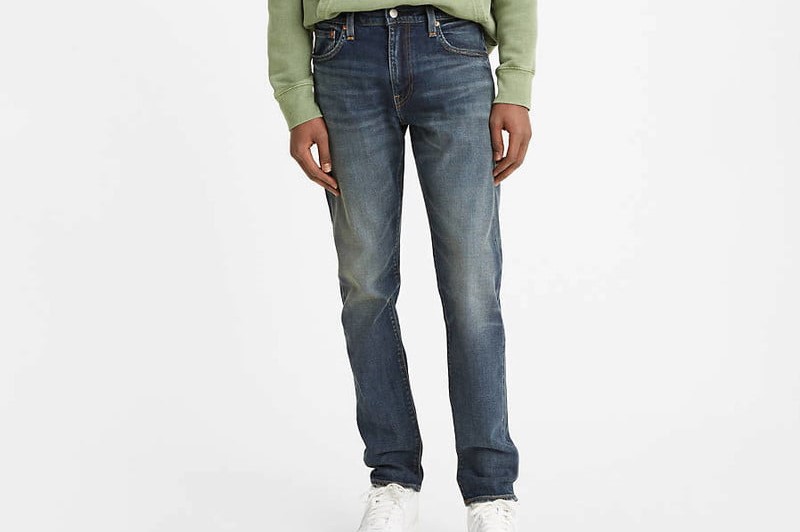 Levi's is synonymous with jeans and they don't rest on that laurel. The company remains progressive in both technology and environmental consciousness. That's why their patented Flex denim makes some of the most functional and comfortable stretch jeans you can find. Most jeans labeled stretch only add somewhere between five and ten percent elastic material to traditional cotton denim. Levi's Flex consists of 28% Tencell, a plant based fiber with high elasticity and strength, in addition to 70% cotton and 2% elastane. Try it in the slimmer 512 fit to get maximum use out of that stretch.
The Fit
Now, this may be where the hard-core jean genius is separated from the denim dilettante. Some of us just go to a pair of stores, find a pair of basic 5-pocket denim jeans, pull 'em on, and go. But to carefully construct a real denim wardrobe, it's important to pay attention, not only to the subtleties of how a pair actually fit your body but also how Fit — capital F — can vary within the category.
The Dad Jean
Urban Outfitter BDG Dad Fit Jeans
As you get older, your proportions rarely stay the same from head to toe.  A preference for super-skinny jeans might give way to aloose fit in your waist and a more tailored fit in your legs, or vice versa. That's why Urban Outfitters has the perfect solution in its BDG Dad Fit jean. They're cut in a relaxed fit with a slightly tapered leg to give you plenty of room without being so baggy it's ridiculous. Yet they still offers a slim fit that's forgiving for the waist and lower body. What's more, they come in a variety of colors and they're incredibly comfortable. While they might be something your Dad would actually wear, you don't have to be a Dad to get down with these jeans. So feel free to give them a try, kids in tow or not!
The Slim Fit Jean
J.Crew 484 Slim Fit Jeans
J.Crew is known for its contemporary take on classic preppy Americana and denim is a big part of that aesthetic. They offer a range of fits but their most popular is the 484 Slim Fit. It has a low rise and sits below the waist. The legs are narrow in the hip and thigh with a taper from the knee down. This fit provides a sleek silhouette and is ideal for showing off your shoes as the opening will stay at the ankle. Fun Fact: The numbers used in J.Crew's pant fits come from New York City street addresses. Their SoHo Men's Shop is located at 484 Broadway.
Athletic Fit Jean
Devil-Dog Dungarees Athletic Fit Jean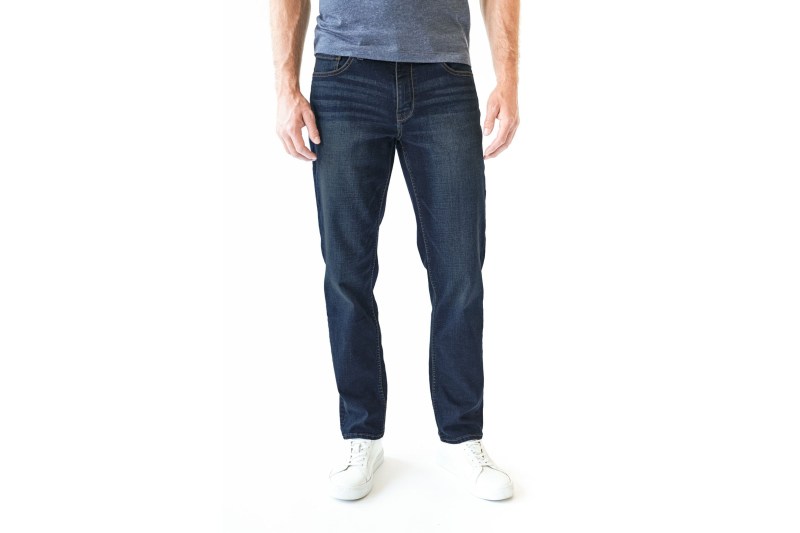 As the complete anthesis of the skinny jeans above, we present athletic-fit jeans. The style has become a staple for many modern denim brands. They've got a bit more room through the thighs, tapering to the ankle while still maintaining a "straight-leg" feel. They're comfortable. They're classic. Again, if you spend a lot of time at the gym, you may find you need a little extra room through the seat and upper leg. If you don't spend a lot of time at the gym, you may also find you need a little extra room through the seat and upper leg, if you know what I mean. These jeans are for you. These from Devil-Dog also offer performance, with moisture-wicking technology to keep you cool, dry, and comfortable, while the yarn also features fibers made from recycled materials including plastic bottles.
The 'Really Athletic' Fit Jean
DU/ER Performance Denim Slim Jean
OK, so now let's get real. Do you live in the gym? Are you that guy who regularly blows through regular jeans and workout shorts because they just can't handle the massive manliness of your glutes? Are your legs huge from time spent in competitive bike riding or mountain climbing? These are the jeans for you. Like the Stio jean, our very first pick, Duer includes a gusset for added movement, so you can do just about anything in them (like competitive bike riding or mountain climbing if you choose), but are also generously cut, and made from a super-stretchy, super-strong blend of cotton, Coolmax, and Spandex.
Editors' Recommendations