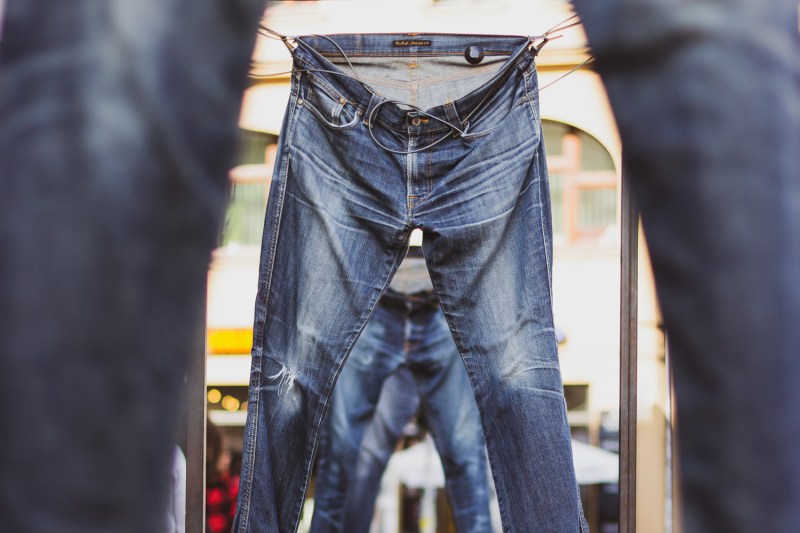 Shopping for the best jeans to wear can be a tricky situation and it's definitely something you should do in person since they vary from brand to brand. Once you do find the perfect fit, jeans can become your favorite go-to item in your wardrobe — easy to knock around in or wear to a casual occasion.
When deciding on the perfect pair for yourself there are a few things to consider; fit, style, length, and distress. The combination can be overwhelming for starters but once you settle on a style that best fits you (and your budget) the rest should be a breeze. Below, we've curated a guide to help you on how to wear jeans based on style and wash.
Style, Fit, Wash
The style or cut of your jeans relates to how the fabric fits on your legs down to your ankles. The most common styles are skinny, slim, straight, and bootcut. All of these can come in a regular or relaxed fit, which refers to the amount of room the leg hole allows for.
Beyond style, these variations come in all different washes. The wash refers to the color and texture of the jeans. Some examples of the different washes that exist include dark indigo, acid, or light. Many brands come up with their own style and wash names (there are hundreds). You'll also notice wash options that include fading, which is a slight color shift, that typically happens up around the knee for a "worn-in" look. In this space, you'll also see an abundance of distressed denim with intentionally placed tears for aesthetics.
So, what does this all mean? And how do you know which style is appropriate for you? Fear not, we're just getting started! Ahead, we break down the most popular denim styles and pair them with lifestyle examples for you. While you can take this information to any store, we also recommend some of our go-to denim brands.
The Best Skinny Jeans
Mavi James Black Brooklyn Jeans
These jeans feature a silhouette that is narrow and form-fitting down the entire leg, with a slim ankle opening at the bottom. Skinny jeans are typically the tightest-fitting jeans on the market. They usually have some sort of elastane woven into the cotton, which allows for a slight stretch in the denim. This design detail helps show off your thigh and calf muscles with full coverage and range of motion.
The Best Straight Jeans
Citizens of Humanity Gage Classic Straight Jeans
This is the most straightforward fit of all denim (no pun intended). These are exactly what they sound like. The silhouette stays straight all the way down the leg, allowing for a bit of a relaxed and casual fit. They have been safely consistent in style over the years but have suddenly made a comeback with the nostalgic 90s surge.
Madewell Relaxed Straight Authentic Flex Jeans
Straight jeans are perfect for an off-duty, activity-filled weekend starting with a boozy brunch with friends. This shape is versatile for all body types, leaving room to move and grow. This silhouette is more conservative and safer than slimmer cuts, yet becomes more stylish in a medium wash with a clean cuff and fresh pair of white kicks. To further step up your fashion game you can achieve that 90s, dad-sneaker, cool-kid look in a relaxed-straight, light wash, raw denim fit.
The Best Slim Jeans
Everlane Slim Fit Jean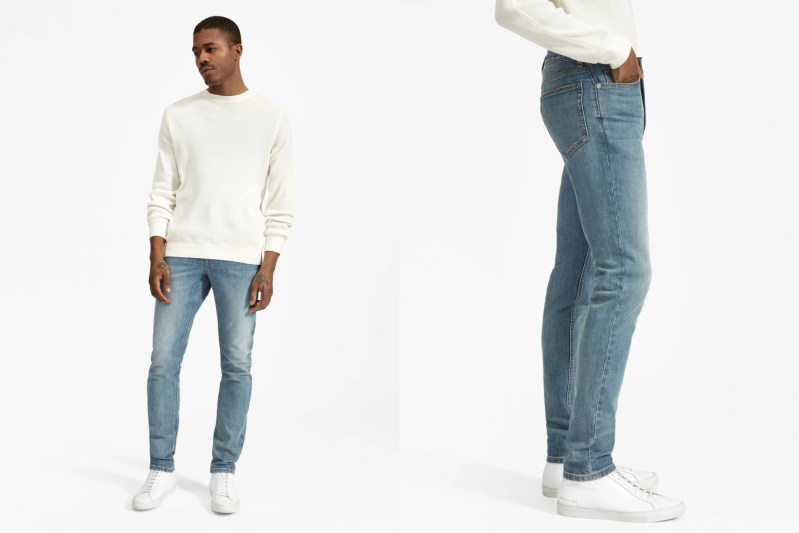 Slim jeans in darker washes are perfect for a casual office day or a date night look. These are for the guy that cares about style and tailoring but doesn't want to come off as trying too hard. Note, a lighter wash will make your outfit more casual, while a darker color dresses it up. If you purchase just one from this article, make it a pair of dark-wash slim-leg jeans. And don't forget to cuff the bottom here, too, for the perfect pants-to-shoe ratio (yes that's a thing).
The Best Bootcut Jeans
Levi's 527 Slim Bootcut Jeans
While bootcut jeans are typically thought to be a fashion past its time, they are worth mentioning because of the abundance that still exists on the market. These have a slim thigh down the leg but taper out around the bottom, allowing for a boot to comfortably fit underneath. Initially, they were created for functionality, but over the years they have been worn for style without boots, as their name implies. Proceed in bootcut denim with caution. In today's age, they can make a cool 1970s-inspired fashion moment, but the styling must follow suit. These are not an easy wear.
Acne Studios Relaxed Bootcut Jeans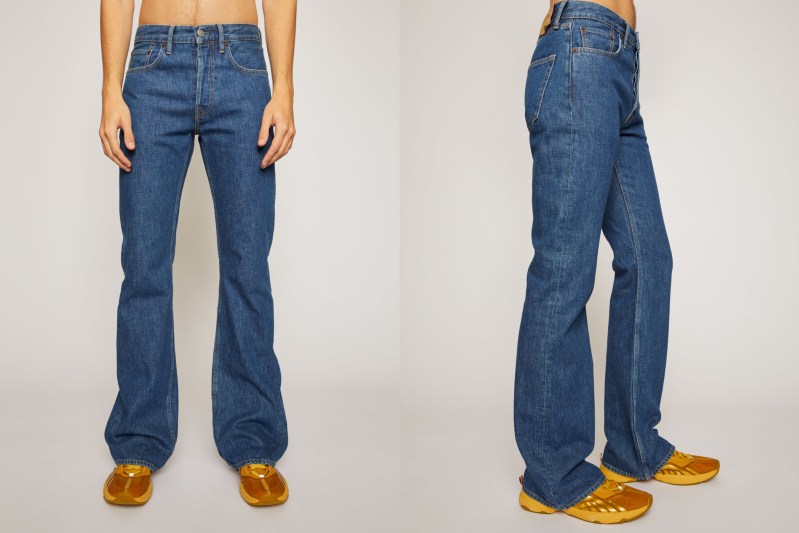 These jeans are perfect for two types of people: The fieldworker that seeks function over fashion or the style risk-taker (see Acne Studios) committed to vintage-inspired dressing. Feel free to re-watch Dazed and Confused to gain inspo.
Editors' Recommendations