Think your closet has enough sweaters? Heck, can you ever really have enough? And what's more, can you ever really have enough of the ultimate in luxury: The best cashmere sweaters for men? We certainly think not, and that's why we're here to tell you that a little bit more luxury in your life (of the accessible variety, of course) is never a bad thing.  The best cashmere sweaters could undoubtedly change the way you think about layering, and that's something we can nearly guarantee. A major bonus? Plenty of the best clothing brands for men are getting in on the action.
Cashmere clothing is both soft and warm, easy to layer and yet breathable, and of course, a perfect match with your favorite base layers when knit into a sweater. That's not to say that you don't need other varieties of the best sweaters for men, but cashmere is a step above. And if you've never tried a cashmere sweater, now's the time to take the plunge and feel the difference from the moment you try it on. So, go to one of the best online clothing stores for men to find out what one of the best cashmere sweaters for men can do for you.
Naadan Essential Cashmere Sweater
Matthew Scanlan and Diederik Rijsemus are two college friends who traveled to the Mongolian Gobi Desert and made friends with local sheep herders. They discovered that most clothing companies cut out those middlemen, killing their livelihood. Working directly with them, the two created Naadam to bring you high-quality and sustainable cashmere like this gorgeous basic.
Naadan Essential Cashmere Sweater
Everlane Grade A Cashmere
Everlane uses only the best fabrics from Inner Mongolia, with only the longest (35 millimeters) and finest (15 microns) fibers to create durable garments that are pill less and get softer with wear. This black crewneck will be the best base layer for your winter wardrobe.
Everlane Grade A Cashmere
Polo Ralph Lauren Cable-Knit Cashmere
The cable-knit sweater is inspired by fisherman's ropes and has been a mainstay in sweater style for as long as sweaters have been a thing. As a matter of fact, legend has it that the term sweater was first coined in the 1890s when athletes borrowed the cable-knits from fishermen and began wearing them as fashion instead of functional garments. Ralph Lauren took the timeless classic and gave it the soft and luxurious feel to complete its transformation nearly a century later, and its been thriving ever since.
Polo Ralph Lauren Cable-Knit Cashmere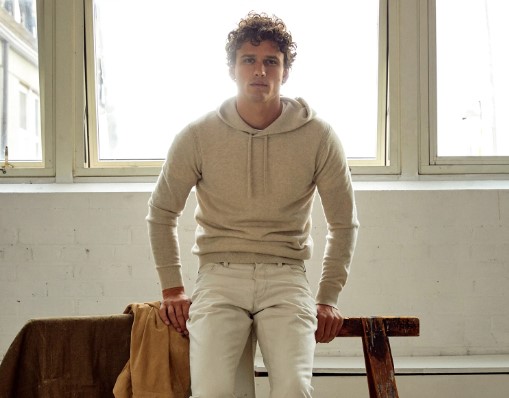 Todd Snyder Cashmere Hoodie
Todd Snyder loves New York. And New York loves fashion. Therefore, the last decade has seen the fashion mogul weave Big Apple streetwear into his lines. In this case, he takes the basic cashmere sweater and infuses streetwear by creating the cashmere hoodie. Of course, just because you are dressed down doesn't mean you have to sacrifice the luxury of being dressed up.
Todd Snyder Cashmere Hoodie
Brunello Cucinelli Cashmere Sweater
Italian creative Brunello Cucinelli came into the fashion industry by falling in love. First with his wife, then with her tiny little hamlet in Central Italy, and finally with creating menswear. Nothing is better than throwing a quarter-zip sweater over a collared shirt—the lap of luxury on a day-to-day basis.
Brunello Cucinelli Cashmere Sweater
While you build a wardrobe, you can't go wrong with cashmere. There is no better way to elevate your sweater wardrobe than with this luxurious fabric. Experiment with your styles and colors, and find the best fit for yourself.
Editors' Recommendations