When loungewear transitions to a part of everyday life, it's important you treat it like any other wardrobe essential in your daily routine. The right t-shirt or sweatshirt and cozy pants or shorts can make all the difference, especially through multiple seasons. That's why the gear you wear at home should be every bit as stylish as the rest of your outdoor ensembles, and there's an easy place to start: Stylish loungewear.
And here's why: If we're hanging out at home in the same shirt and pants we wore to work (even if work was at home that day), we're sending a subtle signal to our unconscious minds that the daily grind really isn't over. That may result in a lack of sleep, an inability to relax, and worse, not being fully present with our families. The simple solution? Have a few pieces that you can wear around the house that are comfortable, but maybe not quite the rumpled pajamas that you'd wear to bed (assuming, of course, that you even wear pajamas). Grab a lounge set that you would be okay with wearing if a neighbor showed up, you decided to do a last-minute pizza run, or if have to walk the dog. Here are some of our favorite pieces (from some of the best men's clothing brands) that are cozy, but still look great.
Related Guides
Outerknown Sur Snap Hoodie & Sweatshorts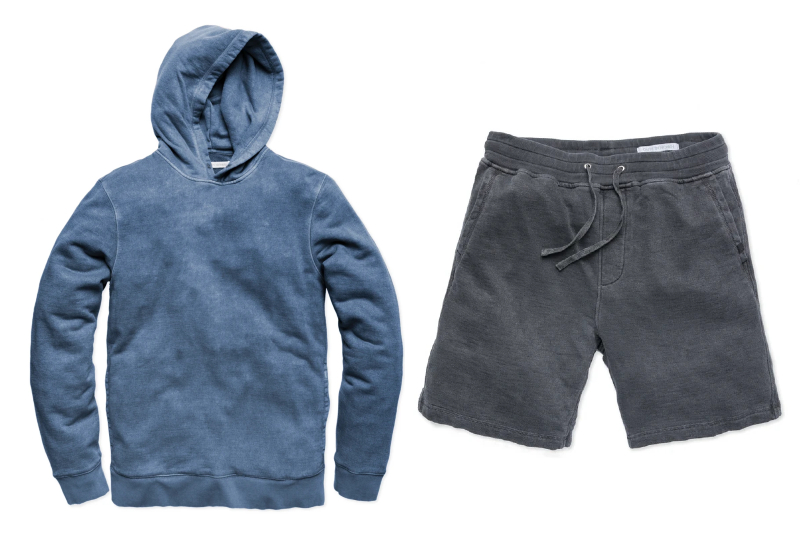 Mix and match two favorites from sustainable style brand Outerknown, founded by legendary surfer Kelly Slater. The Sur Snap Hoodie and Sweatshorts epitomize eco-friendly comfort and laidback looks, made from a blend of hemp and organic cotton that has also been garment-dyed for extra softness. These are loungewear staples that'll look like you've had them for years, right out of the box. We think that's a great thing if you want some style to go along with plenty of comfort.
Vuori Sunday Performance Joggers and Strato Tech Tee
Pair up two casual yet performance-minded pieces from Vuori to make a new and improved loungewear set that actually doesn't look all that bad when worn outside the house. We love the versatile color options and soft-as-can-be fabrics, too.
Everlane French Terry Uniform Collection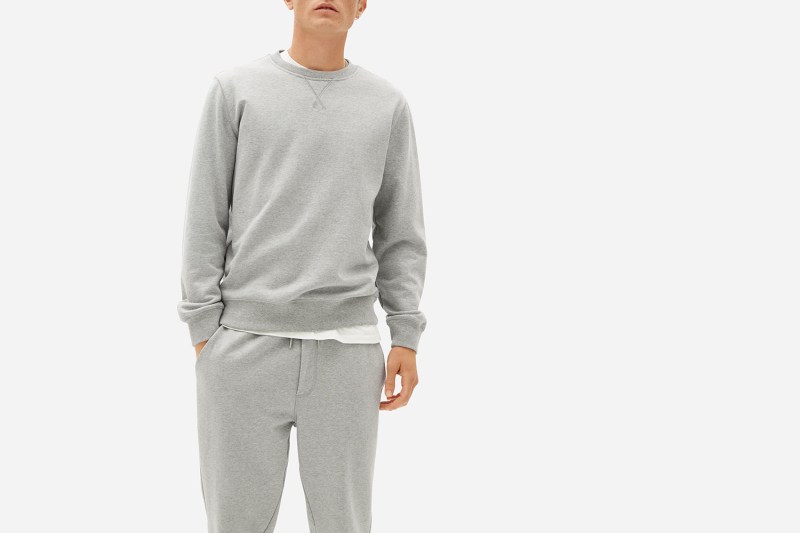 Mix and match with the ever-versatile Everlane Uniform Collection, designed to take you through your day in style and comfort. We appreciate these comfortable, ethically made sweatpants and the matching hoodie, plus six different color combos from which to choose.
Fruit of the Loom Jersey Knit Pajama Set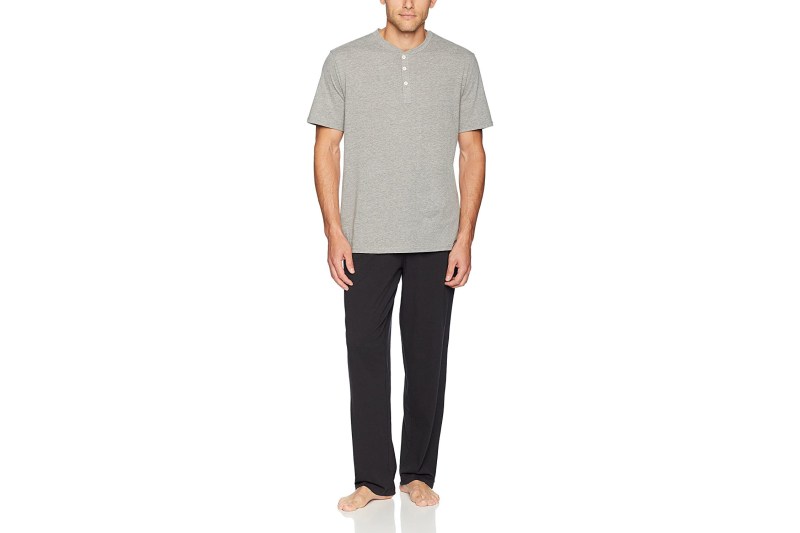 Pajama set?! We've seen sleek, minimalistic pieces like this sent down European runways for fancy evening clothes. Throw the right jacket over this elegant pairing and nobody will be the wiser. Best of all, its soft jersey knit will keep you cool and comfortable.
Richer Poorer Recycled Fleece Sweatpants and Pullover Hoodie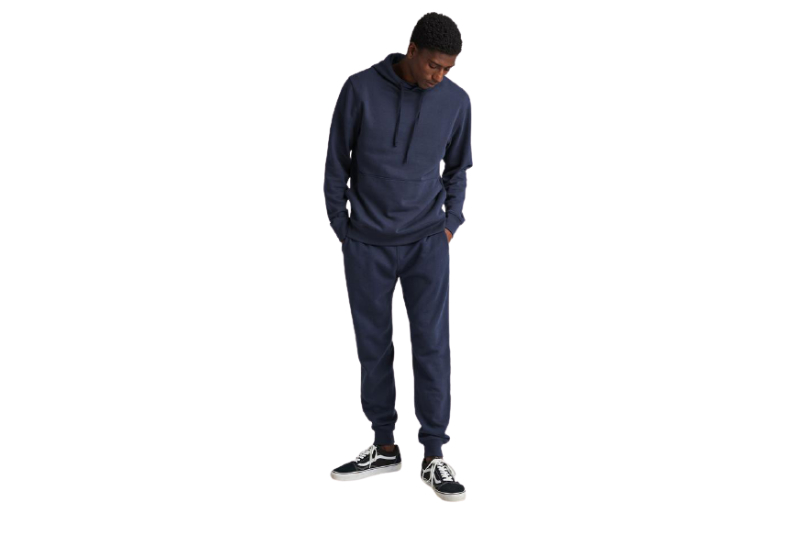 Go monochromatic with a cozy recycled fleece hoodie and matching sweatpants in a versatile, neutral color combo from Richer Poorer. These are so comfortable, you won't want to take them off.
Brooklinen Loungewear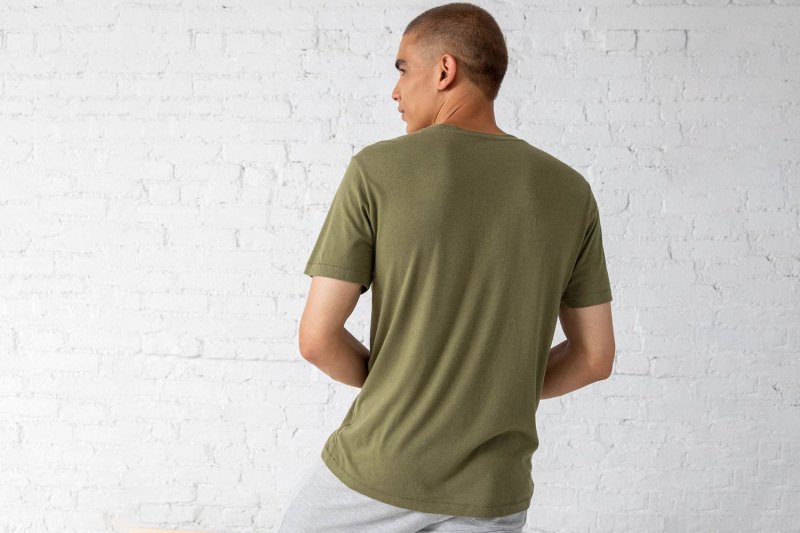 Popular bedding brand Brooklinen doesn't just sell fantastic pillows, mattresses, and sheets — it also happens to specialize in some pretty comfy loungewear, too. With tops made of jersey and bottoms made of luxuriously soft french terry, these sets are designed with serious relaxation in mind. Feel free to buy a few separates and swap them out for different lounge-y looks.
David Archy Raglan Sleeve Lounge Set
This pajama set from David Archy could be a great fit for folks who prefer an all-cotton feel, i.e. one that's soft, breathable, lightweight, and cozy (but with a touch of spandex for movement). There are a few different color options to choose from here, but they all make for a handsome set that'll help keep you from looking too disheveled while scrolling through Netflix.
UpWest Loungewear for Men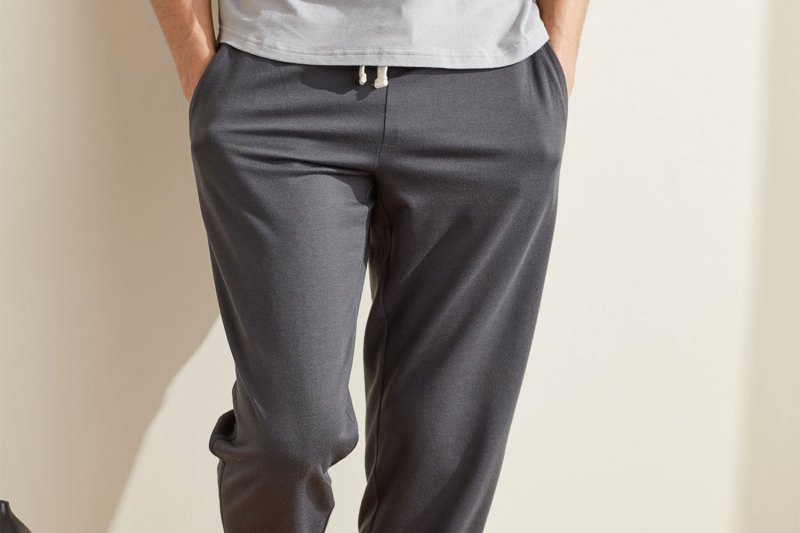 In need of lounge pants that are as stylish as they are practical? Well then, you may want to consider lightweight joggers and a tee from UpWest. You can mix and match these pieces to your heart's content. With a classic cuffed ankle and soft-brushed fabric design, these pants are indulgently comfortable and trendy.
Where Can I Buy Men's Loungewear?
Loungewear for men is easier to find than you might think, seeing as a plethora of companies are stocking and selling men's loungewear of all varieties. One of the most welcome additions to the market for men's loungewear, if you ask us, is that so many companies who make home goods and bedding are now getting into apparel. Take Brooklinen above, for example.
Stylish bedding now goes hand-in-hand with cool, cozy loungewear. Other companies, like Everlane, have made loungewear a part of new collections, even introducing new colors and fabrics over time. And there's yet another set of companies, like Richer Poorer, that focuses on the best men's basics around.
The laidback offerings from brands like Richer Poorer include everything from hoodies to loungewear pants, comfortable sweatpants, and soft T-shirts (some designed to be mixed and matched). This makes them a fine example of a proper pick as far as loungewear for men is concerned. These days, any place that sells any gear for guys or your home is liable to have at least a few loungewear offerings.
Do You Sleep in Loungewear?
If you're wondering if you can sleep in loungewear, the answer is that, yes, if the loungewear mimics pajamas, you certainly can. We're more apt to consider wearing a more traditional pajama set (PJ bottoms and a top), or perhaps sweat shorts, sans tee (if you sleep hot), but loungewear is still acceptable for sleeping.
However, if you want to differentiate between the gear you wear to relax on the couch after work, and what you wear to sleep, it's best to keep your loungewear separate. This is especially true if your loungewear set is a T-shirt and lounge pants of a different color, meaning you can wear them separately for different occasions.
However, a company like Brooklinen seems to have made its loungewear to be worn both around the house and to bed. The choice, ultimately, is up to you, but just as you wouldn't wear your jeans to sleep, we'd recommend you keep a different set of sleeping clothes handy.
What Is Considered Loungewear?
Men's loungewear can meet several different criteria. However, it's different than athleisure or athletic gear, to us. Men's loungewear typically includes a T-shirt or long-sleeve shirt in soft cotton or cotton-blend fabric, versus a technical fabric that you'd find in a workout T-shirt. This top portion can also take the form of a pajama shirt.
Loungewear pants aren't like tapered sweatpants, either. They often feature a more relaxed, fuller fit (think of how pajama bottoms tend to fit), and are also made of soft, breathable fabric (also in a cotton blend). Here's where it can get tricky.
Loungewear, in our opinion, includes both matching sets (a matching top and bottoms in the same color and fabric), or else mix-and-match pieces (for example, Tommy John's Second Skin set in different colors and styles). Loungewear, however, isn't gear that you'd wear to the gym, or perhaps even out of the house. It's laidback and made for, well, lounging. Men's loungewear sets can also include refined pajama sets, but boxers and a T-shirt all on their own doesn't quite fit.
Any way you want to look at it, the best loungewear for men is going to help you kick back with ease and find comfort in mind this year.
Editors' Recommendations