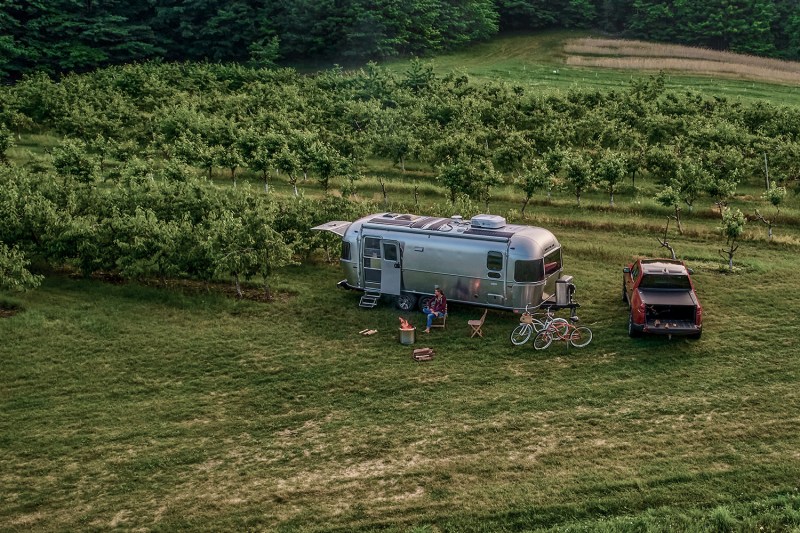 Today's best RVs and travel trailers are equipped with all the comforts of home. Some, including many of the most popular Airstream models, are practically studio apartments on wheels. But the most drool-worthy RVs are more than just vehicles to take all your creature comforts on the road. They're also designed to get you almost anywhere you want to go, thanks to rugged suspensions, beefy, all-terrain tires, and power systems built for days, even weeks, of disconnected living. That's where the Airstream Trade Wind travel trailer comes in.
Getting far, far off the beaten path requires serious self-sufficiency capabilities, and that's where Airstream's all-new Trade Wind delivers. With the largest battery bank, the highest solar capacity, and the most capable inverter/charger combination, it's the company's most off-road-ready travel trailer ever.
The specs are impressive: A 3,000-watt inverter, 600-watt rooftop solar panels, and an internally stored 810Ah heated lithium battery bank — all standard. Just how capable is all that tech? The power system can simultaneously run the trailer's microwave and air conditioner without a shore power connection. That's basically the holy grail of off-grid RV living.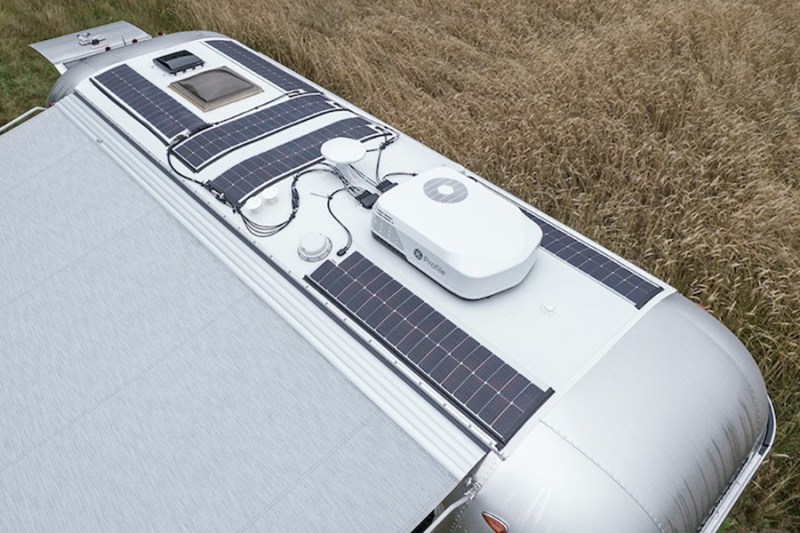 Of course, it's not just about creature comforts. The best off-grid-centric travel trailers need to be able to get you where you want to go, too. That's why the Trade Wind comes standard with rugged, all-terrain tires and a 3-inch lift kit that adds serious clearance for the gnarliest trails. Rock guards at the front corners and solar window shields help protect against flying road debris along the way. Plus, a rear-view camera helps you back up the entire rig perfectly with or without a spotter.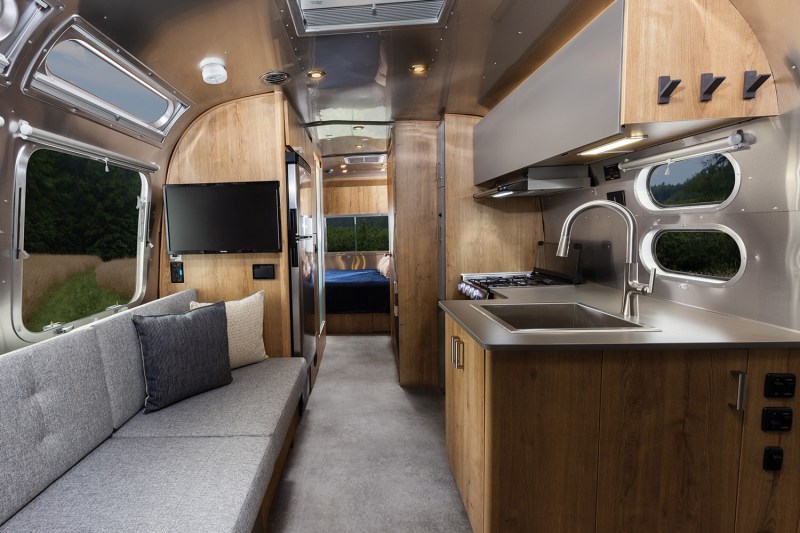 Inside, it's a classic Airstream. Oak wood finishes and textured fabrics create a warm, inviting aesthetic that feels like home. The premium look is bolstered with high-end, residential-style fixtures and appliances, from the faucets and sinks to the gas cooker and generously sized refrigerator.
The only available floor plan — Airstream's popular 25FB — is spacious and versatile for dining, sleeping, and relaxing however you want. With a dedicated queen bed (a twin bed option is in the works for early 2024) and a convertible dinette, the Trade Wind sleeps up to five adults comfortably. Plus, a built-in wet bath (combination shower/lavatory) keeps the layout of this travel trailer simple while maximizing floor space.
For storage, Airstream took a page from its own playbook. Inspired by the versatility of its own Basecamp travel trailer, the company offers an optional rear hatch. The large door opens wide enough to store even the largest outdoor gear — think mountain bikes, fishing poles, kayaks, extra large stand-up paddleboards, and more — right inside the trailer's cabin.
The Airstream Trade Wind travel trailer is now available with the 25FB floor plan with a base price of $129,400. Ticking all the option boxes, including the composting toilet, convection microwave oven, window awnings, and aluminum rear hatch, adds roughly $10,000 to the all-in price.
Editors' Recommendations