Living the van life seems like the ultimate way to RV, with everything you need for life on the road neatly packed into a single, driveable vehicle. But most off-the-rack and even custom vans aren't designed for serious off-road exploration. If you're more of an intrepid traveler who likes to venture far, far from civilization, you need a rig that's tough enough to go anywhere. Enter Optimized Overlanding's all-new pop-up camper, a purpose-built RV that's rugged, capable, and full-featured enough for hardcore off-grid trips.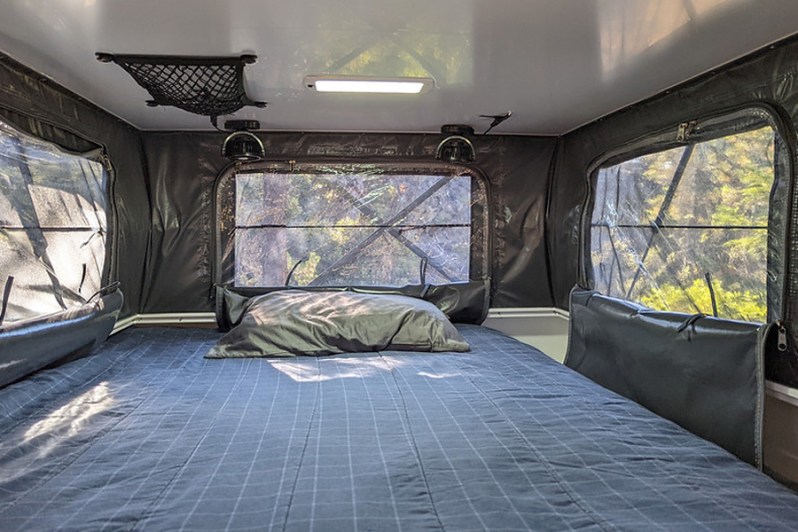 The interior gets plenty of natural light
The biggest selling point of this unique RV (beyond the surprisingly affordable price) is its configuration. Optimized chose to separate the kitchen and utilities on opposite sides behind gullwing doors. This helps to drastically cut down on setup and breakdown times. The company promises that this overland trailer goes from open to closed in just two minutes, as demonstrated in this video:
Closing both doors and the pop-top dramatically cuts down on wind resistance, while fully opening everything helps to ventilate and flood the living/sleeping quarters with natural light. With the top popped, six windows and dual fans help to promote airflow, so the interior never feels stuffy. Checking out the bedroom photo reveals a surprisingly open and airy interior.
There's plenty of storage
True to its name, Optimized Overlanding built this lightweight pop-up camper with off-grid camping and overlanding in mind. There are plenty of storage drawers throughout the cabin and even MOLLE panels on the interior walls for stowing tons of essentials and your best outdoor gear. There's enough space, in fact, to stash more than 10 days of food and water, plus a 50L fridge/freezer, a stove, and a fold-down kitchen with a sink to prep everything. The combination of 200 watts of solar and a 2,000-watt inverter/charger generates enough on-the-go electricity to run the shower and heater in any season. Just add your own (preferably lithium) battery. There's even a standard 30-amp connection for tapping into shore power, in case you want to camp with the "normies" at a traditional full-service campground.
It's all built on a durable platform that's designed to be mounted to a flatbed truck with a minimum 1,800-pound capacity. That means the final build is customizable to be exactly as rugged and capable as you need it to be. The overland trailer/camper itself weighs just 750 pounds dry (before you start adding your own personal belongings or accessories) but tops out at a maximum of 1,750 pounds when fully loaded. With the gullwing compartments buttoned up, the entire camper measures just 83 inches x 75 inches (roughly seven feet by six feet) — not much larger than most apartment bathrooms.
RVs, especially the best, most luxurious motorhomes and campers, can be pricey. That's why perhaps the best part about Optimized Overlanding's new pop-up camper is the price. Starting at just $25,000, it's one of the most affordable pop-up campers we've seen in a while. Just add your own truck, drop a battery into the install, and you're ready to roll.
Editors' Recommendations