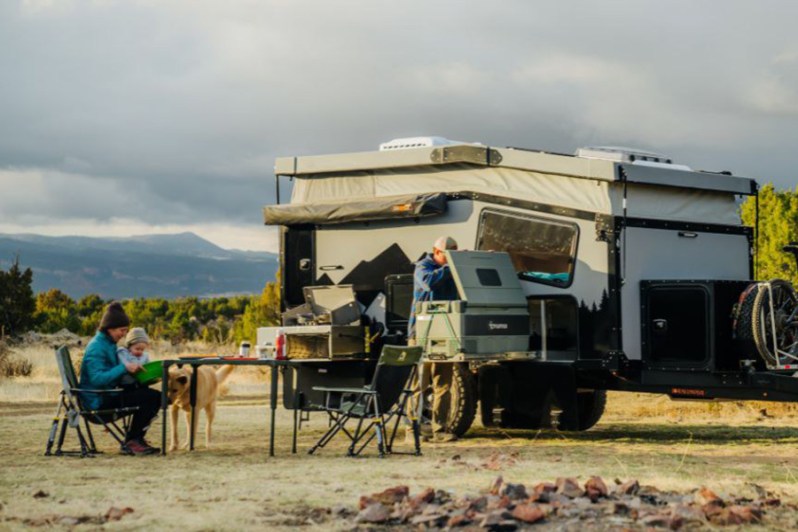 If you're looking for maximum go-anywhere camping versatility, almost nothing beats an off-road-ready teardrop trailer. They're like towable hard-sided tents with all the amenities you need — sleeping quarters, a basic cooking setup, some sort of power supply, and a little bit of storage for your clothes and essentials. But their extremely compact designs can feel cramped after a few weeks or even a few days. If you're looking for something more, but a rugged full-sized travel trailer is too much (or too expensive), Colorado's Boreas Campers just announced a Goldilocks solution that promises the best of both worlds.
The all-new 2023 EOS-12 is angling to be one off-grid camper to rule them all. This is no ordinary off-road teardrop trailer or even a lightweight travel trailer, but a deft combination of the two. The 20-foot length is closer in size to today's compact travel trailers, but the streamlined, pop-top design is reminiscent of a more traditional teardrop.
What sets it apart is Boreas' clever use of space. The surprisingly roomy interior — including the main sleeping quarters, the dinette (also a fold-down bed that sleeps two adults), and the stand-up wet bath, complete with a dry camping toilet — is usable without popping the canvas top. It's particularly useful in winter situations (when you want to do everything possible to keep the inside toasty warm) or at some of the best RV campgrounds that don't allow soft-sided campers (either for aesthetic reasons or because bears might be an issue). But, when you need a little extra room, the top extends to reveal a roomy 6'6" of headspace.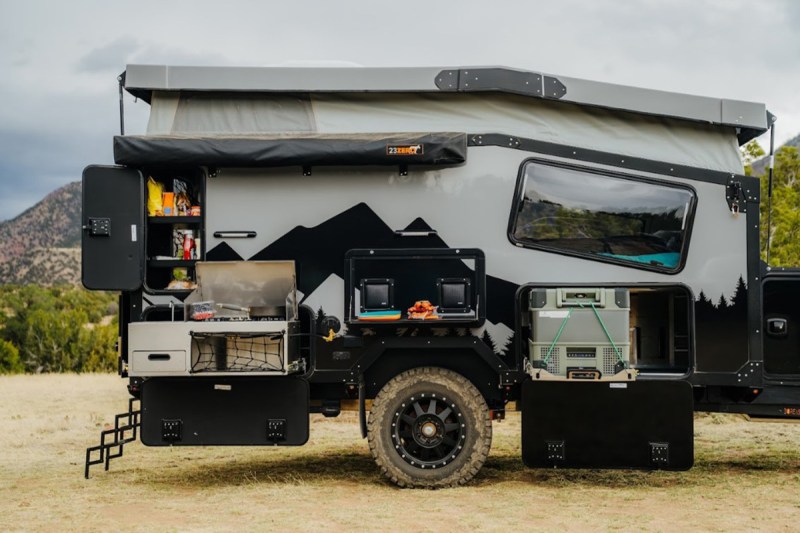 As with typical teardrop trailers, Boreas Campers pushes the kitchen to the exterior. That includes multiple pullouts to reveal a fully functional sink, a three-burner cooktop, and a sizable Truma 105 portable camping refrigerator (with the option to upgrade to a Truma 96 dual-zone fridge/freezer combo). Because counter space is always at a premium, there's even a fold-down exterior shelf to make the kitchen more usable. By deploying the built-in 270-degree awning and a few pieces of camp furniture, the entire outdoor space becomes an al fresco dining/living room to rival your backyard patio at home.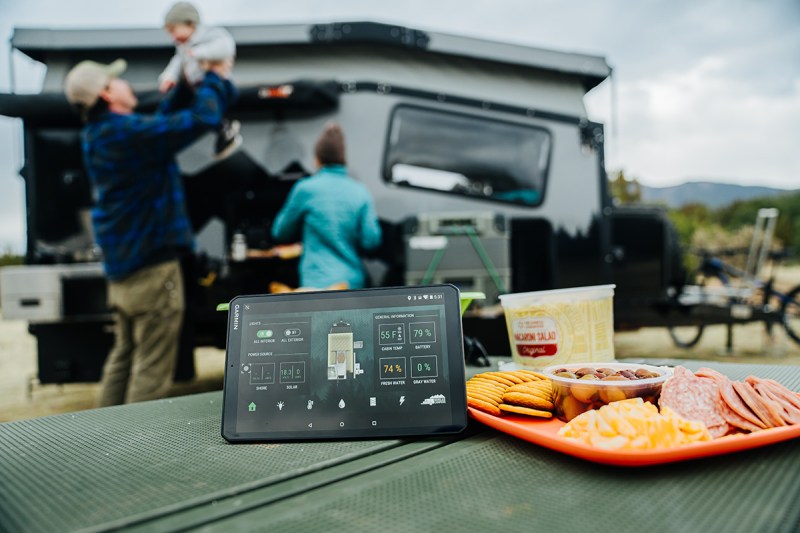 But it's what you don't see at first glance that proves this is a hardcore off-grid-capable camper trailer. The 50-gallon freshwater reservoir pairs with a 40-gallon gray water tank, allowing for weeks of off-grid camping for two. (Bonus: There's no black water tank to mess with!) The EOS-12 also comes standard with a 540Ah lithium-ion battery bank and 300W of rooftop-mounted solar, with the option to upgrade to 1,080Ah and 500W of solar. It's a seriously capable setup in either configuration. Plus, every aspect, from power and water to lights and speakers, is seamlessly integrated using Garmin's O.N.E. system, meaning everything can be monitored and controlled via a single mobile app.
This camper rides on a heavy-duty steel powder-coated chassis and beefy BFG K02 tires, so it's purpose-built for off-road exploration. The independent Cruisemater air suspension makes for a buttery smooth ride even on the gnarliest roads and can be tweaked or auto-leveled using that same Garmin O.N.E. system. It's all built using composite materials without an ounce of wood to be found. So the lightweight EOS-12 tips the scales at a scant 3,750-pound dry weight — about 1,000 pounds lighter than any similarly equipped camper trailer. Bottom line: It's light, rugged, and extremely well-equipped.
Editors' Recommendations