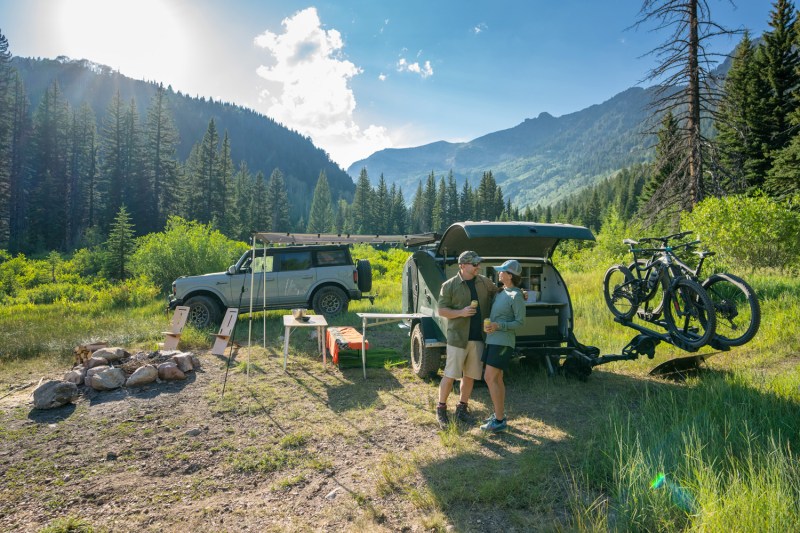 The modern van life movement and digital nomadism were already alive and well for years, then COVID gave them a serious shot in the arm. The idea of living on the road — or, at the very least, with no fixed address — has exploded since 2020. It seems more and more of us were seriously itching to get out of the house. In some cases, far, far out of the house.
So it's no surprise that tricked-out homes on wheels are all the rage these days. That includes vans, compact travel trailers, and even full-blown drivable RVs. But if you're looking to go simpler, it doesn't get any more minimal than an ultra-light teardrop trailer. We've covered many of the best models before, but new concepts and production models debut every month. The latest on our radar is the all-new 2023 Escapod TOPO2, and it promises all the comforts of home with almost no setup required.
The TOPO2 is everything we love in a teardrop trailer. The compact, single-axle design is like a hard-sided tent on wheels. It's designed to provide all the creature comforts of home with near-zero setup time. When you get to camp, just unhitch, level it out, and crawl inside.
The interior features a legit 6-foot, queen-sized memory foam mattress so you can sleep like a baby in the backcountry. There are built-in wireless charging pads in the nightstands, plus USB ports and residential power outlets (with the option to connect to 110-volt shore power) for keeping all your gadgets topped up on the go. It's all surrounded by a cabin designed for four-season use with an energy-efficient propane heater and smart thermostat for cold-weather camping.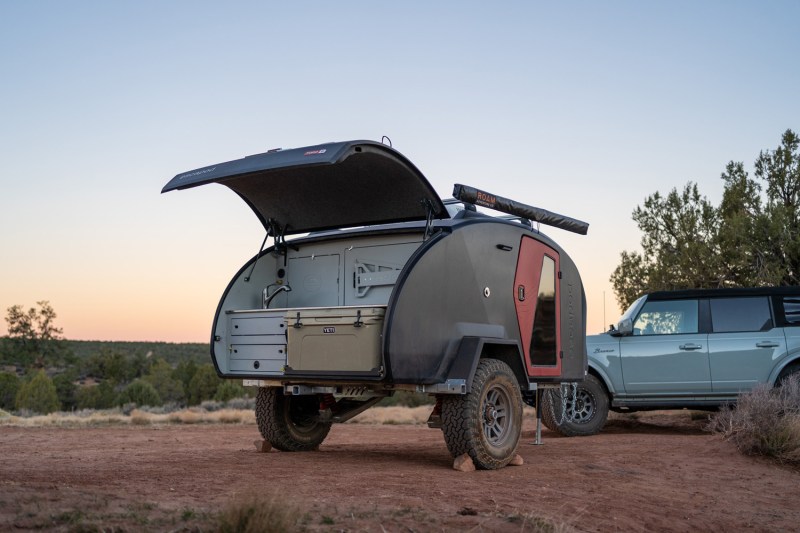 Around back, the TOPO2 is outfitted with a compact but full-featured mobile camp kitchen. This includes a premium 75-liter Yeti Tundra cooler standard, with the option to upgrade to a 12-volt fridge/freezer. A dual-burner gas stove and a decent-sized sink with a hot water tap make it easy to cook and clean up after your outdoor meals.
While many travel trailers and teardrop trailers are designed for the open road, Escapod designed the TOPO2 to explore far off the road, too. The single-piece composite body is built to take a beating and to venture far away from traditional camping sites. With a regenerative battery system that includes a 100-amp-hour lithium battery and a 140-watt solar setup, you can theoretically stay off-grid indefinitely.
One last thing we love is the weight — or lack of it. The TOPO2 is the first composite teardrop trailer to be manufactured using a unique vacuum infusion process. This means it's both durable and lightweight. It weighs just 2,000 pounds, making it easy to tow with most light trucks and midsize SUVs. Plus, it's even compact enough to stow inside a standard 7-foot garage bay.
The base price for the is $43,990, but the optional (we might call them required) features will push the all-in sticker price higher. If you'd like to kick the proverbial tires, you can also opt to for around $160 to $200 per night to make sure teardrop trailer living is right for you. But, trust us, it probably will be.
Editors' Recommendations