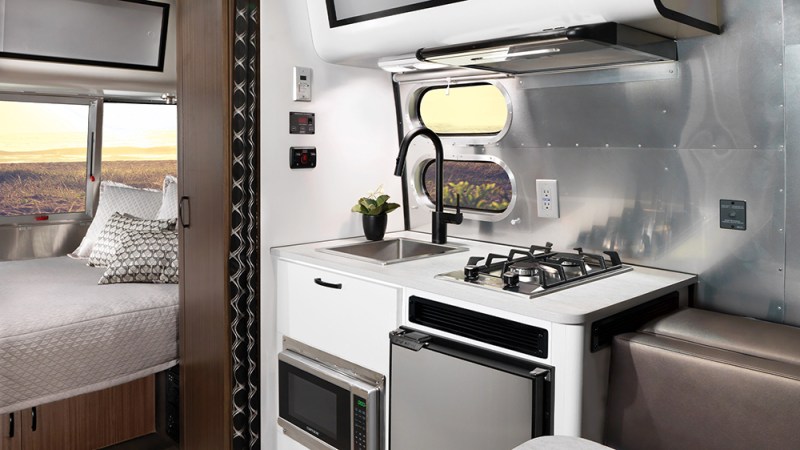 Few brands symbolize the Great American Road Trip like Airstream. On the outside, its iconic aluminum travel trailers have changed little since the last century, and for our money, that's a very good thing. Across the lineup, however, the interiors have evolved into something altogether different. They're more polished, more luxurious — even downright swanky — and we're not talking about just the flagship models that sell for well north of $150,000.
The new Airstream Caravel 16RB offers many of the same upscale features and specs of its pricier brethren in one of the company's most compact footprints ever. But don't let the diminutive size of this Airstream camper fool you. Airstream managed to pack all the amenities of a modern luxury apartment into just under 17 feet — how's that for van life?. That has us seriously reconsidering our current living situation.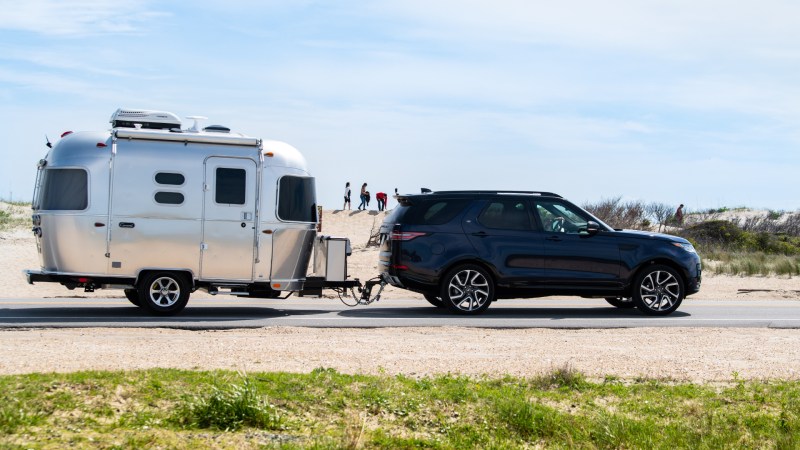 The Caravel name isn't new. In fact, it was released alongside the beloved Bambi way back in the 1960s when Airstream began toying with the idea of lighter, single-axle RVs. But Americans wanted much, much bigger campers back then, and so the models fizzled out. Fast forward a few decades, when most of us are planning our travels (and our lives) with the environment and minimalist living in mind, and Airstream re-released both of these compact RVs in 2019.
On an initial walk-around of the latest Caravel 16RB, it doesn't appear to have changed much since Kennedy was in office. It's true that Airstream kept the handsome and timeless look of its popular riveted aluminum design. It's all wrapped in 10 large windows that bathe the interior in sunlight. Plus, at around 3,500 pounds, it's light enough for most medium-sized SUVs to tow it.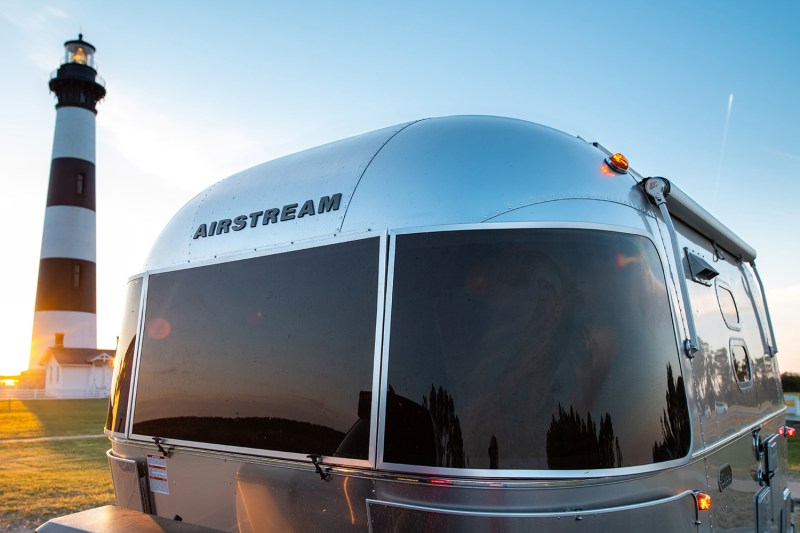 Inside, however, the tiniest Caravel feels like an ultra compact studio apartment on wheels. The raw aluminum cladding carries through, giving it a clean, modern industrial feel. Airstream makes clever use of space to delineate between the sleeping, dining, and cooking areas. There's a full-sized memory foam mattress with a hanging closet — the dinette converts into an additional sleeping area (for a total of four adults) and the kitchen boasts a sink and two-burner cooktop — all impressive considering its 16.5-foot length. There's even a separate bathroom with a standing shower.
What truly sets the Caravel (and most other Airstreams) apart is the attention to detail. There's a long list of tech convenience features baked into this latest model. That includes dimmable, energy-efficient LED lighting and a QuietStream climate control system. Plus, digital nomads will dig the integrated four-speaker JL audio system and TV with an omnidirectional antenna. There are plenty of places to plug in, too, via multiple USB ports and standard 110-volt power outlets throughout. You can keep it all topped up with an optional 100-watt solar package for going off-grid.
The entry-level Caravel 16RB starts at $74,000, making it one of the most affordable full-featured Airstream models on the market. Really, only the pared-down Airstream Basecamp is significantly cheaper, but it's a whole different animal, so it's impossible to compare the two. If you're looking for a little extra legroom and even more amenities, the Caravel model lineup also includes 19-, 20-, and 22-foot models. Whichever model you opt for, just promise to take us with you. We'll bring the snacks.
Editors' Recommendations