RV'ing, like scuba diving, playing paintball, and climbing Mount Everest, can be an expensive pastime. The largest and most luxurious motorhomes are often more expensive than a modest, two-bedroom house. But even midsize touring coaches and lightweight travel trailers can be pricey too. Winnebago is looking to change the game to provide more folks without a six-figure spending account "access" to their own recreational vehicle.
The aptly named Access is Winnebago's answer to the often over-priced RV market. It's an affordable, entry-level travel trailer that doesn't scrimp on features and amenities. Despite its sub-$30K price tag, it'll be roomy enough to sleep up to eight passengers. The exact layout is up to you, but the company has confirmed a good mix of floor plans, including a fully enclosed bedroom with a queen-sized bed at either the front or rear. Mixed-use sofa and dinette areas will provide additional sleeping space for children or guests.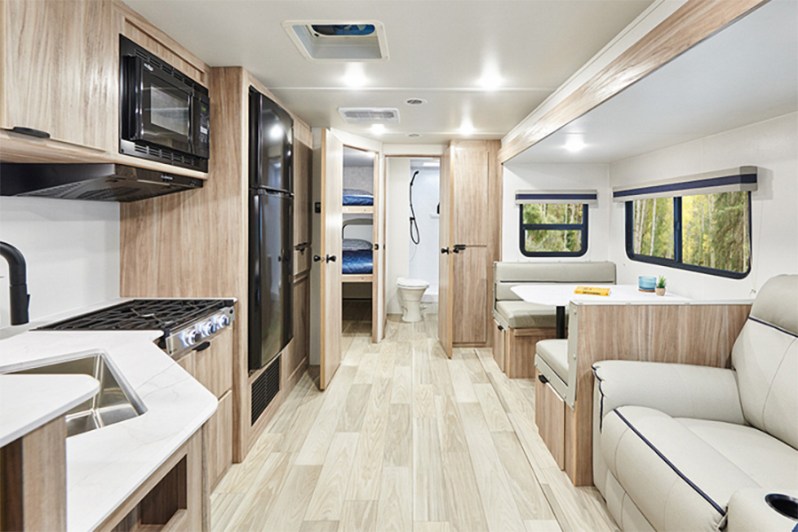 Unlike many barebones travel trailers in this price range, the Access is a legit full-featured rig. The surprisingly long list of tech features includes built-in WiFi, a factory-installed 200W solar panel, and energy-efficient LED lighting on the interior and exterior. It's a true four-season RV, too, with an enclosed underbelly that's heated with 12-volt pad heaters, so you never need to worry about frozen pipes or holding tanks in the dead of winter.
On the outside, an electric tongue jack simplifies the hitching-up process, while push-button-powered stabilization jacks make leveling the trailer a snap. Around back, the Access will feature a two-inch accessory receiver hitch capable of hauling up to 350 pounds of gear. It's a serious selling point for outdoor adventure lovers looking to tote extra cargo, mountain bikes, kayaks, or even stand-up paddleboards along on their next expedition. The entire shell is designed to be more aerodynamic than most other travel trailers in this class to decrease wind resistance and improve fuel economy.
Exact details on the full list of standard and optional features are yet to be announced. But Winnebago has confirmed the availability of large (22-inch-by-14-inch) skylights that bathe the interior in natural light, thick, UV-blocking metal sidewalls, and sturdy under-bed storage. The Access will even be available with residential-style, porcelain toilets — a surprising option in such an affordable travel trailer. The company is also touting the Access as "durable, easy to tow, and bolstered by Winnebago's superior dealer service and support network." So it should be a breeze to tote from A to B and be able to fix anything that might break along the way.
The good news is that Winnebago's Access travel trailer is scheduled to drop next month (November 2023). The even better news is that it'll be surprisingly affordable, with a starting price tag of just $29,600. While full pricing and options have yet to be confirmed, that base price still puts the Access at more than $16,000 less than the brand's already affordable Hike off-road-centric travel trailer. That sounds pretty "accessible" indeed.
Editors' Recommendations