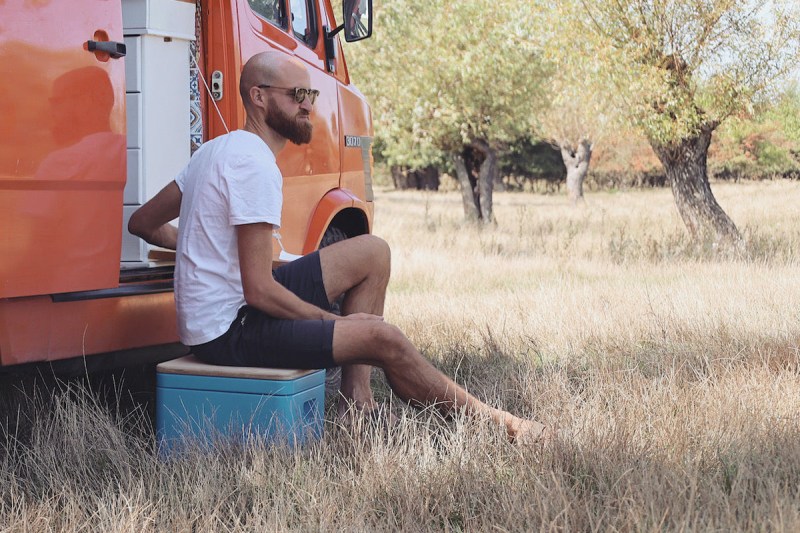 From car camping to overlanding to living the van life, few things embody a sense of freedom and adventure more than hitting the open road. If you love exploration and the great outdoors, it just doesn't get any better. But spend any time living out of your vehicle, and you soon realize that it's not all roses. There's a never-ending list of things that need figuring out, from finding the best campsite for the night to making sure you don't run out of gas to researching YouTube at three o'clock in the morning to determine why your 4Runner is making that weird tchtkktchk rattling noise. The hardest problem of all? Figuring out how and where to go to the bathroom.
If you live in the States, where there's a fast food restaurant or a Walmart on every corner, you're never far from a public restroom. But what if you're just tired of shared toilets or you want to explore farther — sometimes much farther — afield? What if you're looking to escape civilization and rely only on the tools, food, and appliances you're carrying with you? Among other things, you need a portable waterless toilet — more specifically, a composting toilet.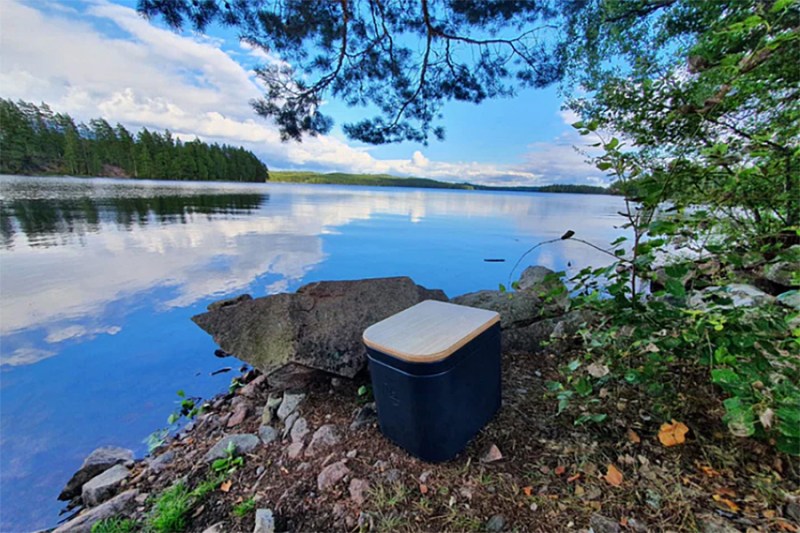 What is a composting toilet?
If you've ever visited a U.S. national park, state park, or beach, you've probably used a composting toilet (a.k.a. compost toilet) and not even realized it. They've been around Stateside since the 1970s and have been used in Europe for even longer. According to the National Park Service's very specific and most unsexy definition, a composting toilet is "a well-ventilated container that provides the optimum environment for unsaturated, but moist, human excrement for biological and physical decomposition under sanitary, controlled aerobic conditions." Yummo.
While today's compost toilets vary in size, the architecture (if you can call it that) of all such toilets is the same. They're deceptively simple, consisting only of:
A collection chamber(s) to hold human waste
Proper ventilation to encourage airflow and "off-gas" odors
A moisture removal system
A way to remove the compost
How do composting toilets work?
The process behind how composting toilets work is simple science. Take a container of human waste and add a carbon source, which can be anything from wood chips to sawdust to organic peat moss. The key is to remove moisture, add bulk, and maximize aeration. This combination starts the composting process. Over time, all of these ingredients turn into a potting-soil-like matter called humus (yes, really) that can be scooped away and added to plant beds or discarded. Ideally, the final compost should be approximately 35%–65% moisture.
For large, commercial composting toilets (like those at our national parks), bathroom-goers simply "go" in a traditional toilet that's installed over a basic hole in the ground, wash their hands, and leave. The composting is handled behind the scenes, and the holding tanks are emptied every one to two years. However, if you're looking to add a smaller RV composting toilet to your vanlifing or car camping setup, you'll need to think about a few more steps.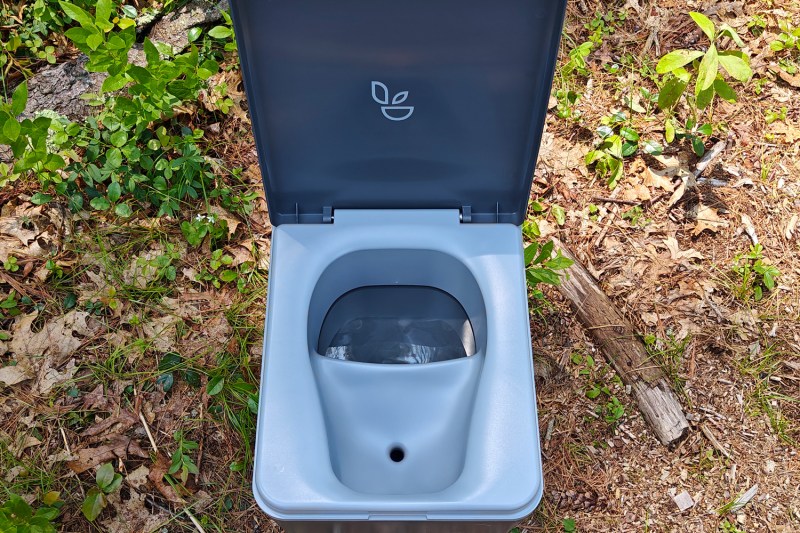 How do I use a composting toilet?
To understand the ins and outs (pun intended) of today's best portable toilets, I tested out the for science and because my tenure here at The Manual affords me only the most exclusive assignments. At roughly 13 inches by 15 inches by 12 inches, it's about the size of a standard milk crate and weighs less than nine pounds. It's one of the lightest and most compact portable toilets on the market, perfect for anyone looking to outfit their car, truck, or SUV with a way to "go" on the go. In my case, it works perfectly while car camping in my Toyota 4Runner. In a pinch, I can even use it inside the truck with the doors closed for the ultimate in camp privacy. (I'll let you imagine the logistics of how I make that work.)
In addition to the toilet itself, you'll need small biodegradable trash bags and a "cover material." Wood-based solutions, like , work best. This was my choice, as it's inexpensive and available at any pet store.
Remove the composting toilet lid/seat
Removing the lid and/or seat (these are often connected) reveals one or, in the case of Trelino's cleverly designed toilets, two collection chambers. The front blue chamber is for urine collection, while the small, gray chamber at the rear holds the solids. According to Trelino, keeping the solids and liquids separated is key to eliminating odor. In my research, this is so important, in fact, that I would not recommend buying a portable toilet that doesn't include two separate chambers. It's almost guaranteed to smell over time.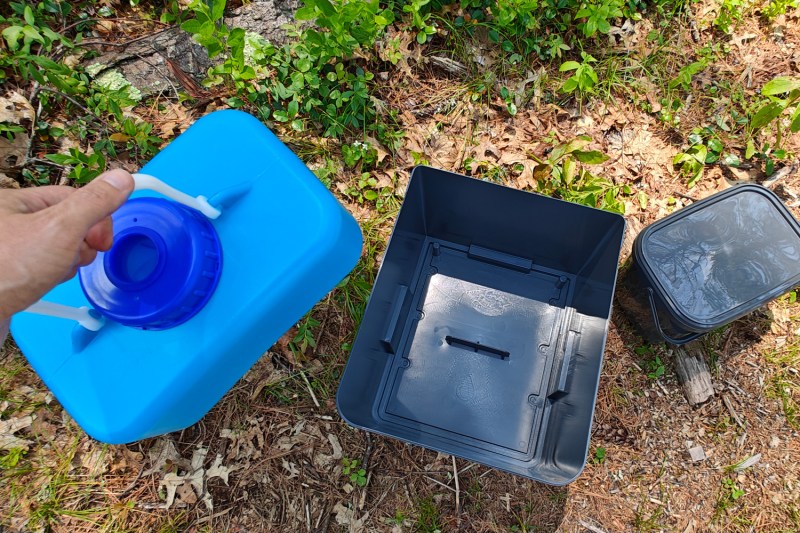 Prep the liquids chamber
If your new composting toilet has a separate liquids chamber, be sure that the correct lid is attached. Some models contain a completely sealed lid for when you're transporting the chamber for emptying. You want to be sure that the other "open" lid is attached to make the toilet ready to use.
Prep the solids chamber
Line the solids chamber with a small waste bag. Add a cup or two of cover material, then replace the lid/seat. That's it! Your compost toilet is ready to roll.
Do your duty
After every "event" (that's what we call them in my house, where successful bathroom trips are celebrated and applauded), add an extra handful or two of cover material to the solids container. No flushing and no weird chemicals to deal with. Just finish up and be on your way.
Empty as necessary
The good news is that you don't have to empty a portable composting toilet after every use. Even the smallest models like the Evo S are designed to hold up to a dozen number twos before you need to take out the waste. The urine container can be emptied separately, directly into a standard toilet. For the solids container, simply gather the waste bag, tie it up tightly, and dispose as you would dirty diapers or dog poo bags. That's usually with your standard trash, although you should check your local regulations to confirm this.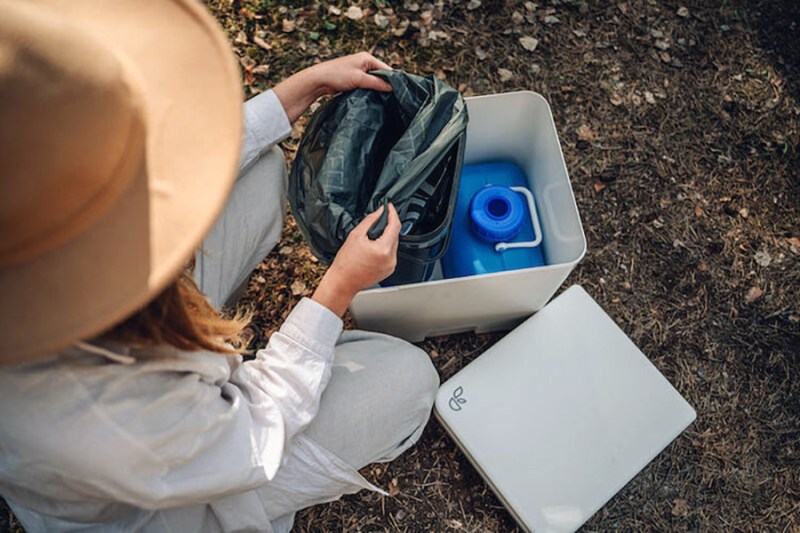 FAQ about composting toilets
Do composting toilets smell?
This is the most commonly asked question, and the one stopping most people from adding a dry portable toilet to their mobile living setup. The short answer is: No! If you follow all of the above steps — including keeping your solids and liquids separated, adding enough cover litter from the start and after every use, and emptying the toilet on a regular basis — your toilet will not smell.
That may be hard to believe. I mean, you're leaving a bucket of human waste just sitting in your car for days on end. But trust me and, more importantly, science. Adding carbon-rich cover materials like those mentioned above activates a pretty magical biological process that doesn't just minimize odor — it eliminates it.
Do composting toilets leak?
The base of the best composting toilets, like the Trelino Evo series, is almost always made from a solid piece of durable plastic that will not leak.
Do composting toilets use toilet paper?
Toilet paper can be added directly to the solids chamber of any composting toilet. It simply becomes part of the composting process. In my experience, though, this fills up the chamber very quickly, forcing you to empty it daily or almost daily. I recommend disposing of used toilet paper in a separate receptacle.
So there you have it. If you're living a mobile lifestyle, you're probably tired of the regular scramble to find a place to go to the bathroom. If traditional toilets aren't an option in your rig, you're not into digging catholes, and public restrooms aren't your thing, a portable composting toilet is the answer.
Editors' Recommendations