Considering there are more than 6,500 breweries in the United States, it makes sense that some have taken up residence in spaces you might not have previously considered "brewery-ready."
The reason for this often comes down to money and availability. It takes a lot of space and upfront capital to get a brewhouse in operation, and owners often look for some cheap real estate. That leads many to industrial areas and odd buildings. While it's more common now to find a brewery in a strip mall, it's not unusual to find one in a noteworthy setting: cruise ships, banks, former truck depots, former Navy mess halls, casinos, car dealerships, and more.
Below you'll find some of the most bizarre locations for breweries — there's so many, it was an unenviable task to narrow down this list.
Engine House No. 9
To think there's a brewery in one historic American firehouse is cool. To know there are two breweries in historic Engine House No. 9s is a whole different kind of awesome. E9 Brewery is located in Tacoma, Washington's Engine House No. 9, a building built in 1907 and now listed on the National Register of Historic Places.
A few thousand miles away in Grand Rapids, Michigan, the Mitten Brewing Company also calls an Engine House No. 9 home. (We're not kidding.) The Mitten's firehouse was built in 1890 and is supposedly home to a well-documented ghost, making it slightly weirder.
There are plenty more breweries located in old firehouses across the country, including Tenacity Brewing in Flint, Michigan; Firehouse Brewing in Rapid City, South Dakota; and Lost Kingdom Brewery & Firehouse Tap Room in Ovid, New York.
Funeral Home
Not far from the Mitten in Grand Rapids is Brewery Vivant, a Belgian- and French-inspired brewery located in an old funeral home. Luckily for patrons, the brewery now looks more like a monastery than a morgue, but if you catch yourself thinking about it too long, it can still give you the creeps as you sip your farmhouse ale.
Church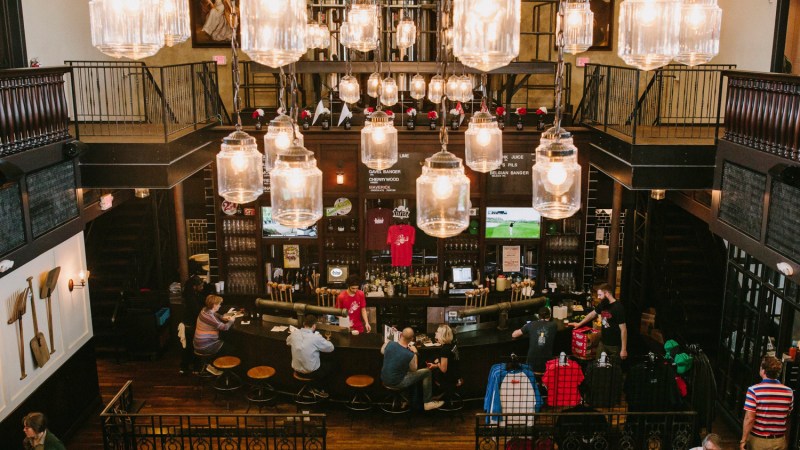 Atwater Brewing in Detroit opened its second taproom — and small brewing system — in an old church in Grosse Pointe Park, Michigan. The mostly German-inspired brewery went great lengths to ensure many of the architectural nuances of the church remained intact. Atwater's other locations aren't traditional retail either: a former warehouse for its original Detroit location, the first floor of a historic hotel in Grand Rapids, and the soon-to-be Detroit Metropolitan Airport.
Church Brew Works in Pittsburgh made similar efforts and now boast swanky digs in a former Roman Catholic church. Other church breweries include Urban Artifact and Taft's Ale House, both in Cincinnati; Salt Springs Brewery in Saline, Michigan; McMenamin's Old Church Brewery in Wilsonville, Oregon; St. Joseph Brewery & Public House in Indianapolis; and Back Pew near Houston.
Baseball Stadium
One just has to take a look at The Sandlot in Denver's Coors Field, home of the Colorado Rockies, to see the quintessential baseball stadium brewery — it's actually in an old warehouse, which is part of the stadium. The Sandlot, of course, is home to Blue Moon, a beer many craft fans owe their love to, despite its Miller ownership. The Sandlot has also concocted many other amazing award-winning beers, all right there near a Major League field.
In Louisville, Kentucky, Against the Grain goes, well, against the grain of the bourbon-loving hometown in an old train station attached to Louisville Slugger Field, headquarters for Louisville Bats (the Triple-A affiliate of the Cincinnati Reds). The brewery's name might have something to do with the Louisville Slugger factory down the road, but who knows.
Train Station
Against the Grain isn't the only brewery in an old train station. The Depot Craft Brewery Distillery is in an old restored train depot in Reno, Nevada. Built in 1910, the depot sat empty for much of the time following its closure in 1937. By the time The Depot owners took over, the building was dilapidated, full of graffiti, and had been on the verge of being torn down. Today, it's a beacon of a district full of breweries.
In Chicago, Flossmoor Station turned a train station, built in 1906, into a pretty sweet brewery too.
Editors' Recommendations