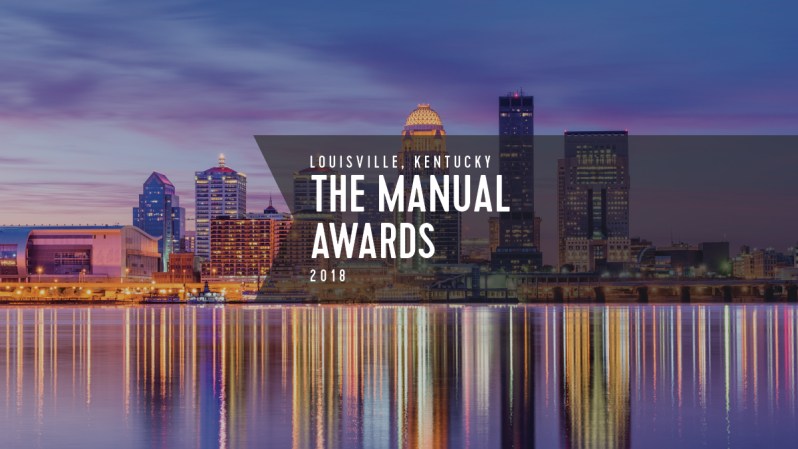 This piece is part of The Manual Awards 2018, an annual series of awards given to the best restaurants, bars, local brands, shops, outdoor experiences, barbershops, and coffee shops across the United States. From Milwaukee to Minneapolis, from Houston to Boston, The Manual Awards are an opportunity to shine a spotlight on all of America's up-and-coming establishments, wherever (and whatever) they may be.
Louisville is Kentucky's largest and most famous city. (It's also probably Kentucky's only known city.) But, that fame didn't just fall into the Derby City's lap. It doesn't matter if you're into literature (Hunter S. Thompson), music (Will Oldham), or sports (Louisville Sluggers, Muhammad Ali, et al), there's something for you in this metropolis astride the Ohio river. And there's a familiarity here, too; chances are, someone you know is probably from Louisville and you can feel that in its streets. Oh yeah, and then there's the bourbon and, lest we forget, the horse races.
With the Kentucky Derby holding court yearly at Louisville's Churchill Downs in May and beloved bourbon available, well, all year round (and practically everywhere in town), there are no more excuses for ignoring this mid-sized Southern city.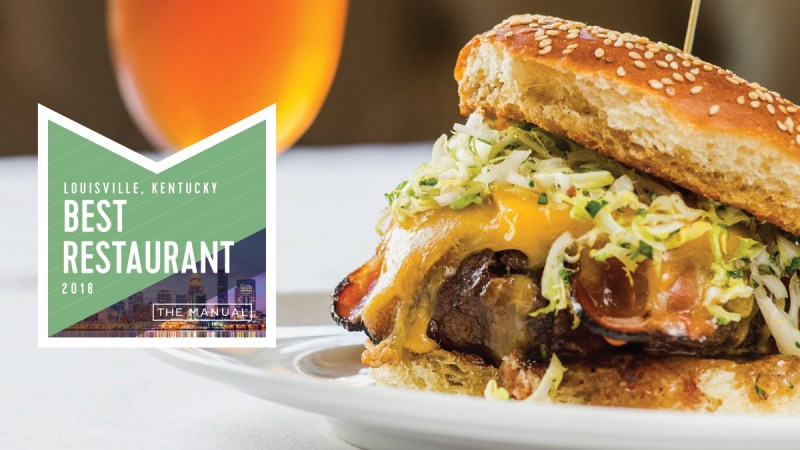 Located in the 21C Hotel in downtown Louisville, Proof is both an aesthetically-pleasing stop (the 21C is a contemporary art museum, after all), and a true delight for the palate. Using locally sourced ingredients and flavors, you'll be treated to dishes such as the Cranberry Pop Tart appetizer (made with chicken liver and cracklings) and the Freedom Run Lamb (which comes with eggplant, fideo, quail egg, and harissa). To add to the epicurean pleasures, the bar at Proof features over 120 bourbons (many of which find their way into cocktails, such as the On Raglan Road, which is made with Woodford Reserve, espresso, Genepy des Alpes, Amaro Sibona, maple syrup, and Angostura bitters.)
This may not be the fanciest bar in Louisville, but it's the best one. Why? Bourbon. Lots of it (the whiskey list goes on for around ten pages) and for a good price. The Silver Dollar was created to pay homage to 1950s Bakersfield, California honky tonks and the musical stylings of Okies like Merle Haggard and others that moved there and created "The Bakersfield Sound." The food menu is made up of traditional working class dishes, but updated — can we get an amen for beer can hen? — and you can get a pint of Coors Banquet Beer for three bucks. Know what else is three bucks? The shot of the day. 'Nuff said.
In its fortieth year this year, Carmichael's Bookstore is a Louisville mainstay. Neighborhood institutions through and through (there are two Carmichael's locations and one Carmichael's Kids), you can find a wide array of books (real books packed onto real shelves!) curated to match the neighborhoods in which you find the stores. Though the shops are small, it's easy to forget that when you take a look at how many books each store actually contains. The icing on the biblio-cake? The stores offer signed books, a book club, and have visiting writers in for readings on a consistent basis.
If you're going to be drinking a lot of bourbon while you're in Louisville (and you will, trust us), you're going to need a way to prepare for that. Outside of chowing down on a Hot Brown (one of the best sandwiches in the world, in our opinion), caffeine will be your friend, especially when it's from Heine Coffee. Opened in 1994, the company has since expanded to thirteen shops (and an Airstream espresso bar). They serve all the usual suspects — daily coffee blends, lattés, frozen drinks — as well as seasonal and signature drinks, such as the Vint Julep, which is made using bourbon smoked sugars from another winner on this list, Bourbon Barrel Foods. For those who want to do it their way, you can also take a bag or three of coffee home.
This company had it right from the beginning. Bring two of the greatest things in the world — bourbon and food — together. Whether you're looking for bitters (they've collaborated with both Woodford Reserve and just this year released a collaboration with Old Forester), bourbon-smoked sugar, or other bourbon-smoked spices (try the Paprika!), Bourbon Barrel Foods has got you covered. Our favorite products, though, are the sauces. Bourbon barrel-aged soy sauce (made with soy from Kentucky, to boot)? Yes please. Or what about when you're wanting to infuse even more of the South in your Asian cuisine. That's where Kentuckyaki (and the spicy iteration) come in. Not only is it fun to say, but it's so tasty, you could drink it as a chaser.
Just because Kentucky isn't really known for their beer — other than having an entire style, Kentucky Common, named after them — doesn't mean they're not making great beer (to wit, you do have to make beer before you can make bourbon). Apocalypse Brew Works opened in 2012 and has the best brewery tagline out there: "Drink beer 'til the end." The brewery works toward sustainability where possible, utilizing solar-heated water, grain reuse, and material recycling (they also used found objects to construct the brewery). You'll find a variety of beers on their fourteen taps, including a red ale (Irish Red Rapture), an amber ale (Atomic Amber), and many more.
Are you not immediately drawn in by the name? We were. That, and the great hop beard logo that they've got. A classic barbershop with a modern sensibility, Beards and Beers was designed to give people a space to socialize, get their hair trimmed, and drink a craft beer all at the same time (like a bar, but no one will look at you funny if someone else starts taking an inch off). Beards & Beers offers a service for everyone, no matter how much or how little hair you have on your face or head. Need a quick touch-up? Done. Straight razor shave? Obviously. Thinning hair? They've got a treatment for that too.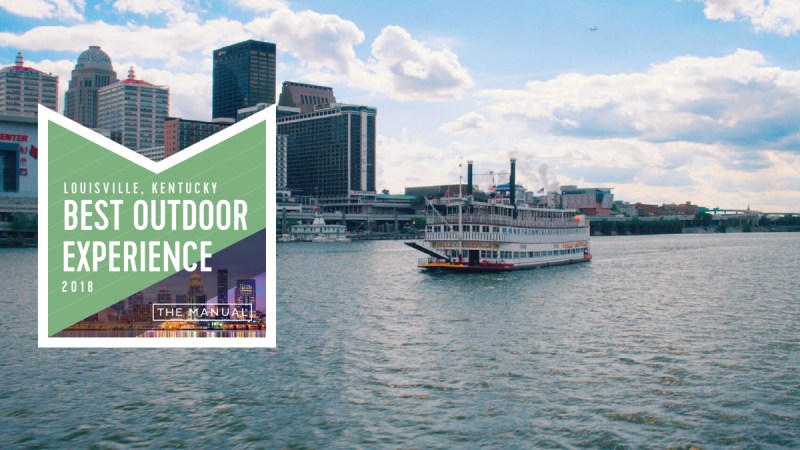 If you need a break from bourbon, one of the best options in Louisville is to take a cruise on the Ohio River. If you're looking for a particularly special cruise, you'll want to consider the Belle of Louisville, a steamer originally built in 1914. If sightseeing is more what you're into, look into taking a cruise on the Mary Miller (named after the first woman ever granted a steamboat pilot's license). In addition to sightseeing, the company also hosts a variety of brunch, lunch, and dinner cruises. If you were worried about having to go two hours without booze, don't worry — even boats in Kentucky have cash bars.
Editors' Recommendations