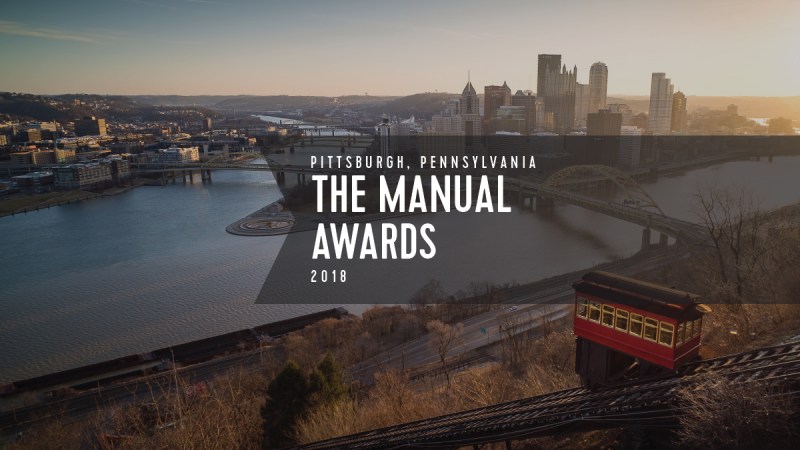 This piece is part of The Manual Awards 2018, an annual series of awards given to the best restaurants, bars, local brands, shops, outdoor experiences, barbershops, and coffee shops across the United States. From Milwaukee to Minneapolis, from Houston to Boston, The Manual Awards are an opportunity to shine a spotlight on all of America's up-and-coming establishments, wherever (and whatever) they may be.
People from Pittsburgh love their city, and they'll make it known to you every chance they get. There's enormous pride in Heinz and the local sports teams—it's difficult to walk around any neighborhood without getting lost in a sea of black and yellow gear. While Pittsburgh fell on some hard times with the collapse of its century-long steel industry, the city has adapted and is booming with local businesses that are investing in their community. It's home to the Andy Warhol Museum and stunning Phipps Conservatory and Botanical Gardens. Ace Hotel brought its boutique-style accommodations to the East Liberty neighborhood inside a former YMCA building. The people are incredibly friendly and willing to give you their best recommendations for places to eat, drink and everything in-between. With their help, we bring you our favorite places to explore in Pittsburgh.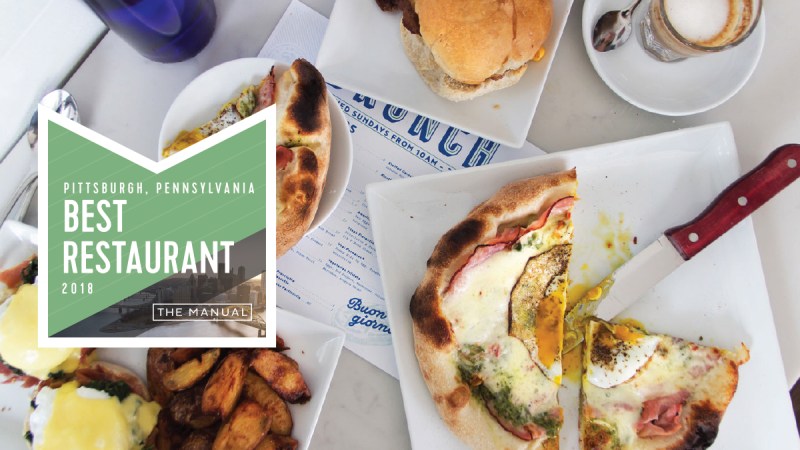 Opened by chef and owner Dave Anoia in 2016, DiAnoia's Eatery is an all-day Italian restaurant serving breakfast, lunch, and dinner. By day, you order at the counter for sandwiches, salads, and some of the best Italian pastries we've ever had. By night, the dining room turns into a vibrant scene as people feast on Italian classics with Anoia's own twist—think duck tagliatelle with bone marrow, parsnips, and mint and braised veal with Parmigiano polenta and pesto. We arrived for lunch on a weekday and the room was abuzz with people sharing pizzas and indulging in a midday cocktail. We ordered the meatball sandwich and the Mortadella & Njuda panini, which was piled sky-high with nduja mayo, grilled mortadella (the biggest slab we've ever seen), burrata, provolone, fried egg, giardiniera, and heirloom tomatoes. After the meal, bar manager Heather Perkins turned our attention to DiAnoia's amaro cart, which is stocked with more than 25 varieties of the Italian digestif. Morning, noon, or night, DiAnoia's Eatery is the place to go for a friendly, laid-back environment and the best food in Pittsburgh.
Runner Up — Chengdu Gourmet
Though it looks unassuming from the outside, that hasn't stopped the critics from giving Chengdu Gourmet multiple nods; the Squirrel Hill Sichuan restaurant has been nominated by the James Beard Foundation and is beloved by the Pittsburgh Post Gazette. We stopped in for a late lunch and were blown away by the flavor-packed dishes. We're still thinking about the tongue-numbing beef tongue and tripe in chile oil and cooling crispy pickled cucumbers. The Dan Dan noodles with minced pork are also not to be missed. We suggest ordering from the traditional Chinese menu in lieu of the Americanized version (though we assume those dishes are delicious, too).
Hidden Harbor is a modern tiki oasis that's difficult to leave once you've stepped inside. The space instantly transports you to a warm, tropical destination, no matter how cold the wind chill is outside. Brothers Peter and Matt Kurzweg, along with Adam Henry who heads up the cocktail program, opened HH because they care about preserving and sharing the tiki tradition with their neighbors and friends and their dedication shows in the expertly-made cocktails. Think tall, boozy libations like the Cat Eye Cobbler (Jamaican rum, lemon, Cocchi Rosa, pineapple falernum, pink peppercorn, Peychaud's bitters) along with large format drinks for two or four like the Jaguar Shark (gin, lemon, fassionola, Pimm's, maraschino, elderflower, peach, ginger, pineapple, bitters). We were lucky enough to visit Hidden Harbor on a Tuesday during their weekly Tiki Time Machine event. A menu of tiki classic rotates every few months, and you get a stamp every time you try a new drink, claiming a reward once you've sampled them all. The delicious drinks are only matched by the gorgeous interior, which will transport you to a tropical paradise no matter what the weather is like outside.
Located on lively Butler Street in the Lawrenceville neighborhood, which is lined with young burgeoning businesses, Kinsman Shop is the type of well-curated clothing and lifestyle store that everyone wants in their neighborhood. Kinsman takes its name from the Old English word meaning "brother," as the business was founded to support the community of makers instrumental in Pittsburgh's resurgence. Inside, you'll find tees from Richer Poorer, oxfords from Taylor Stitch, and boots by Red Wing and The Hill-Side. Dopp kits and weekenders from Bradley Mountain will keep you handsome on the go, as will grooming goods from Hudson Made. If we lived in Pittsburgh, you'd find us browsing this bright, welcoming shop all the time.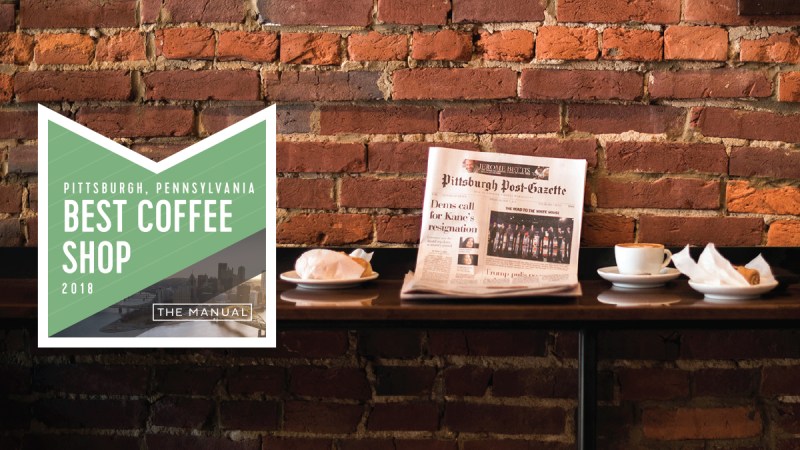 This friendly coffee shop has been caffeinating the Lawrenceville neighborhood since 2009 and they just opened their second location on Pittsburgh's Southside. The kind, cordial staff is always ready to help with the menu. They source only the best sustainable coffees from the likes of Counter Culture, Coava, and Commonplace and partner with local bakeries and purveyors of pastries and other light bites. Stop in for lunch and grab a quiche or quinoa salad, or indulge in a doughnut from Relish or Belgian waffles topped with bacon and pear chutney. Espresso A Mano is the kind of place where you can relax with a cortado and a newspaper or catch up with a friend while sipping Gryphon tea blends and listening to the shop's local music playlist.
Best Local Brand — Knotzland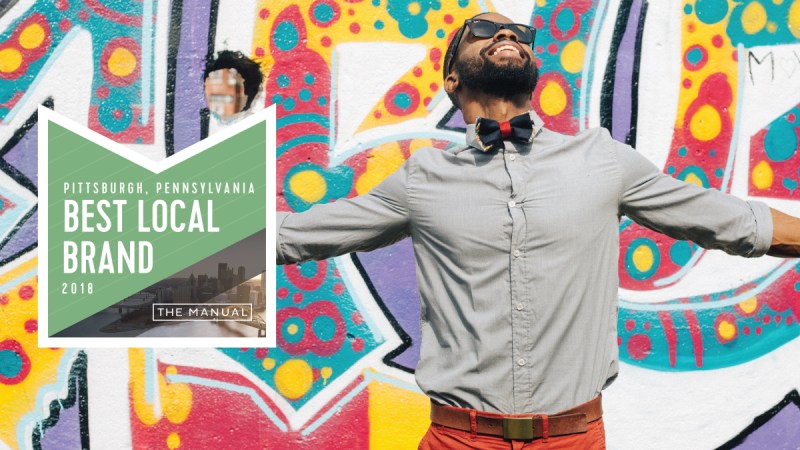 There is a lot of waste in the fashion industry. In fact, 10.5 million tons of textile waste ends up in landfills every year, much of which isn't biodegradable. These numbers can be disheartening, but Nisha Blackwell decided to turn something negative into a positive. She founded Knotzland bowties in 2014, which are made from high-quality rescued materials (some partners include T's Upholstery and the Pittsburgh Opera) to create handmade, one-of-a-kind accessories that'll make you both look and feel good at the same time. Blackwell works with women in her community to teach them how to sew along with showing them some ins and outs of the business, which in turn can spark creativity and encourage entrepreneurship. Whether you want to buy one of her unique designs or create a custom piece for a wedding or special occasion, Knotzland is the type of business we love to support time and again.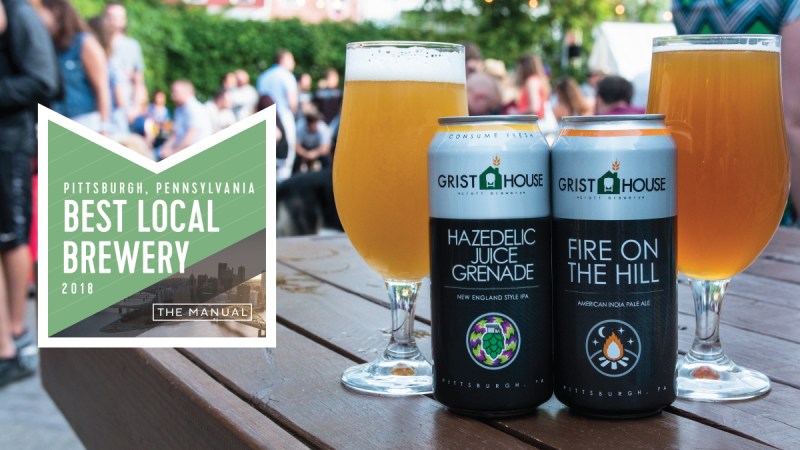 Started by childhood best friends (and now brothers-in-law) Kyle Mientkiewicz and Brian Eaton, Grist House turns out the best craft beers in the Pittsburgh area. The brewery opened its doors in 2014 after they remodeled a former slaughterhouse, using relics from the old space and 100-year-old barn wood to build the bar. The welcoming brewery is designed with a taproom overlooking the brew system, an all-season deck, and a sizeable outdoor biergarten for extra nice days. Grist House's tap list rotates often and includes brews like Funky Street, a sour ale dosed with cherries, cranberries and raspberries; Double Vice, a coffee porter with flavors of dark malt and chocolate; and Undead Unicorn, a pale wheat ale with a nice balance of citrus, berries and bitterness.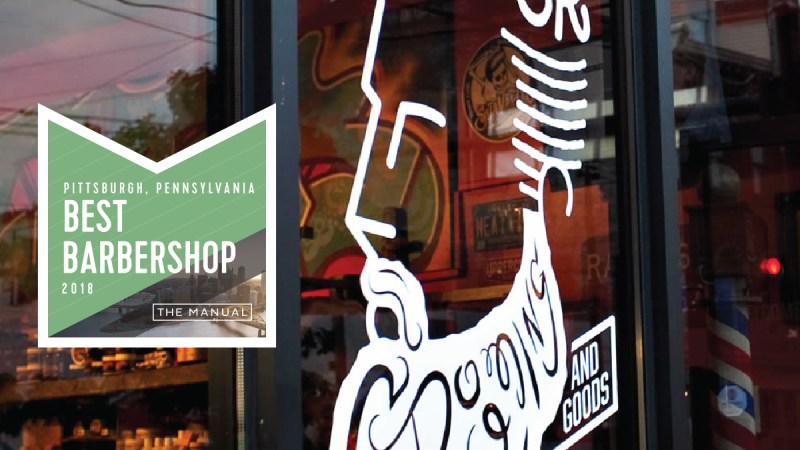 Opened by husband and wife team Michael and Heather Shurina, Mister Grooming & Goods offers classic barbershop amenities in a cool, modern setting. They believe that a real man takes pride in his appearance and encourage customers to take time out of their busy days for a little pampering. Whether you're going in for a classic cut, straight razor shave, or a beard trim, they have you covered with a friendly expert staff. Mister Grooming & Goods also offers services like manicures, facials and even the Hangover Cure—hot mint towels with a head, neck and hand massage to bring you back to life after a late night. Sit back, relax with a complimentary PBR or espresso, and let them do the rest.
Not only is standup paddle boarding a great way to get out in nature and take in your surroundings, it's also an excellent full-body workout. If you're in Pittsburgh and want to hit the waterways, SurfSUP Adventures is the place to turn, whether you're a beginner looking to learn or have years of experience. They sell and rent boards, paddles, and equipment, offer lessons, and organize team-building events. There's a variety of trip options for every need, from serene eco tours to invigorating on-board yoga classes and whitewater surfing. SurfSUP gives back to the community via their First Waves program—which offers mentorship, therapy, education and conservation for underserved youth and special needs groups—so you can feel good about getting your outdoor adventures in with them.