Of the cities that know how to make and enjoy a good cocktail, New Orleans is up there right the best of them. It's not the reckless, drink-for-the-sake-of drinking you tend to see in Las Vegas, nor is it the beach bar scene of a Florida spring break town. NOLA is something else entirely.
With an amazing history and incredible culinary culture, New Orleans has always been about the joy of good food and drink. Some of the most famous cocktails took off here, like the Sazerac and the hurricane. Right now, it's Mardi Gras season, meaning the fun-loving city is celebrating even harder than usual. There's never a bad time for New Orleans travel, but February is easily one of the most festive months to hit up the bayou.
There's an etiquette to all of this, of course. New Orleans screams communal bliss, but excess can turn things upside down. In a search to see how they do things in NOLA, we reached out to a couple top bartenders there.
Anna Giordano is the owner and operator of Anna's, a self-described destination dive bar. Tristan Ferchl is a managing partner at The Will & The Way. Together, they offered some wisdom on sipping in the city, pairing up with cajun food, and bringing a taste of New Orleans to your home bar (not to mention some of the best New Orleans bars to frequent).
Why New Orleans is special
"I think the pre- and post-Prohibition cocktail bars all across the country had some general commonalities, but when you think about all the speakeasies and brothels running here during Prohibition, it's maybe the most unbroken chain of imbibement in the States," says Ferchl.
"It's also historically intertwined with a lot of the music culture of the city, which only makes it more deeply embedded in our day-to-day. Combined with Carnival, it's a perfect place for revelry. Also, the joy of it here is in the imbibing, rather than [getting] wasted, contrary to popular belief, which lends a little innocence to the debauchery."
Party on, by all means, but do so gracefully. Low and slow keeps things both buzzing and in check. After all, you're going to want to remember each and every moment spent in this special city.
"New Orleans is a marathon, not a sprint," Giordano says.
Cocktails to order
What are some quintessential New Orleans cocktails? That's a tough question. "In my opinion, there are too many to list, since so many cocktails were rediscovered and given a second life here in New Orleans," says Ferchl. "The most well known are, of course, the Sazerac, Vieux Carré, and Ramos Gin Fizz. The La Louisiane would be my top pick. It's a little off the beaten trail but seeing a major resurgence — lots of bars have amazing recreations of it currently."
The drink is essentially NOLA's version of the Manhattan. There are many versions these days, but it's usually made up of whiskey, sweet vermouth, Bénédictine, absinthe, and bitters. Elsewhere in town, a new generation of NOLA drinks is settling in to the city's rich recipe book. The Will & The Way's Hurritang is a good example of being playful while paying homage to a classic. It's a mix of rum, house-made Tang, orange citrate, and burlesque bitters.
"Get yourself a Pimm's Cup from Bar Tonique," says Giordano. "They're the freshest in town, and on Mondays, they're six dollars all day." Her bar, Anna's, is turning out some outstanding cocktails that honor both the city's past and future. The Brandy Sour is a must, made with St. Louise brandy, chamomile grappa, pink peppercorn honey, and lemon.
Etiquette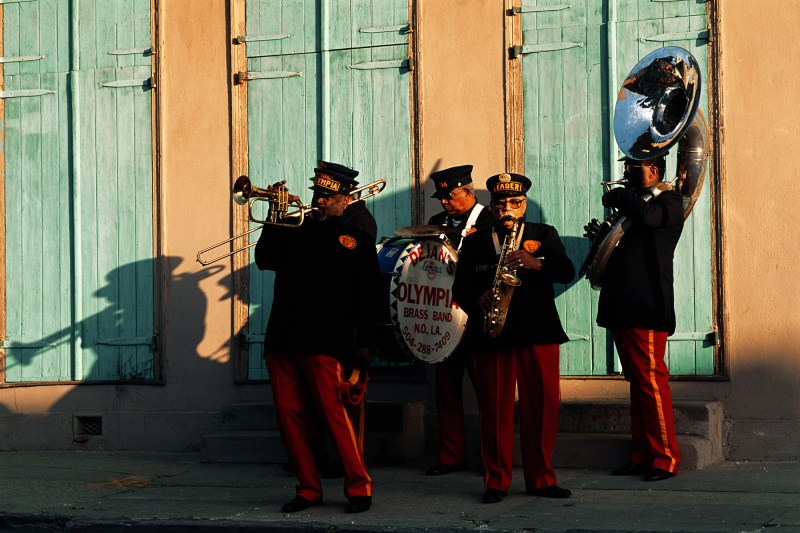 "Go straight to Frenchmen Street for music. That's what your bartender is going to tell you anyway," Ferchl says.
In short, it's all about paying respect to the sound of the city and going at a pace that's sustainable. If you're out and about all day, pair those drinks with plenty of water and food.
"Don't ask for drinks to be stronger, and take your time with them," he adds. "Eat as much as you drink, if not more. Tip in cash whenever you can, and never, ever ask your server or bartender where to find drugs — they'll appreciate you for it."
This is sage advice, especially for those throwing back Mardi Gras drinks. You may be on vacation and feeling festive, but you're also a guest, either generally speaking or as an actual patron in a respectable bar. Remember: It's a marathon, not a race.
How to pair
Both bartenders agree on a staple food item: Crawfish. "Nothing better than boiled crawfish and Brut," says Giordano. Same goes for Ferchl, although he suggests ice-cold beer to serve with the freshwater crustacean.
As the land of great Cajun food, there are lots of other lively dishes that can be enhanced with the right refreshing drink. Other great pairings include jambalaya and pinot blanc, shrimp creole and riesling (or malbec if you want red), red beans and rice and a crisp lager (like Abita pilsner), and beignets with champagne.
Think about offsetting the many spices in Cajun food and working with the earthy qualities from the holy trinity (onions, bell peppers, celery) with bigger white wines and even those with a touch of residual sugar to balance out the kick of the food.
Bringing NOLA home
"Stock up with rye, bourbon, and cognac," Ferchl suggests. "You'll never stop running into those with classic New Orleans recipes. Grab a bottle of Peychaud's Bitters and work on perfecting your own favorite Sazerac. For such a simple cocktail, it has a lot of range."
A nice addition to the home bar is Sazerac de Forge from France. Sazerac recipes abound with candied citrus, vanilla, and cinnamon flavors. Sazerac does wonders when sipped in harmony with something like a fish po'boy made with catfish, crawfish, or fried shrimp. Bénédictine is also good, especially if you want to pull off a classic like a Vieux Carré. Also, consider a good coffee liqueur or some chicory coffee for mixing up a Café Brulot.
Giordano opts for a nearly century-old liqueur out of New Orleans based around anise, something that's a bit like absinthe. It's a lesser-known liqueur you should definitely have on hand. "I suggest getting a bottle of Herbsaint for your home bar," she says "It will last you your entire life."
With the above options, you'll be able to pull off at least a few of the best New Orleans drinks. Still, anybody in their right mind would recommend you get out to the Big Easy to experience it firsthand. There's nothing like it.
Editors' Recommendations