If you're a craft beer aficionado or ardent wine lover, chances are that, at some point, you'll find yourself in a predicament when packing for a flight. You've gone a little overboard at the breweries and wineries and couldn't resist splurging on several of those delicious bottles. Don't worry; we've all been there. From a souvenir perspective, locally produced beer and wine make for refreshing mementos from any journey, as well as great gifts to bring back from your travels.
Here's the big question though. Can you bring alcohol on a plane? The short answer is yes. Like with anything else in life, there are rules and it's important to know them before you head to the airport including how much and what you can bring. It's also essential to know how to pack the alcohol for the flight. There's nothing worse than a bottle of red wine breaking in your suitcase and staining everything or a broken beer bottle making your luggage smell like yeast right before a long-haul flight. With a few smart packing decisions, your beer or wine will be safely waiting for you at the baggage carousel, wherever your final destination may be.
The first step to flying with alcohol is to remember to leave the open bottles behind. Alcohol going on a plane must be unopened and in its original packaging. Whether you check your bags or prefer carry-on luggage, you need to make sure those bottles are safe and secure for the trip. Here are our suggestions for packing your own beer and wine for travel and the important Transportation Security Administration (TSA) and Federal Aviation Administration (FAA) rules to keep in mind.
Related Guides:

To check or not to check your luggage with alcohol
The next step to traveling with beer and wine is knowing whether or not you can bring it through security as a carry-on or if it will need to be checked and travel in the cargo hold. As anyone who has traveled on a plane in the last few years knows, the TSA has strict rules about flying with liquids. That pertains to alcoholic liquids as well. For carry-on, you can only bring bottles that are less than 3.4 ounces or 100 milliliters and are secured in a single quart-sized plastic bag. But in checked bags, you can bring up to 1.3 gallons or 5 liters per passenger. So, if you want to buy more than a mini bottle, you'll also have to pay those checked baggage fees.
Another thing to keep in mind is the alcohol content when flying with alcohol. According to the Federal Aviation Administration, alcoholic beverages that contain "more than 24% but not more than 70% alcohol by volume (up to 140 proof)" and are still in their unopened retail packaging can be taken as carry-ons if they are at or under 3.4 ounces. Otherwise, for up to 1.3 gallons, they'll need to be checked. For beer and wine under 24% ABV, there aren't any limitations on how much can travel in checked bags as long as it fits in your luggage. Anything over 70% ABV won't be permitted, but this would only apply to distillates and extremely hard liquor, not beer or wine.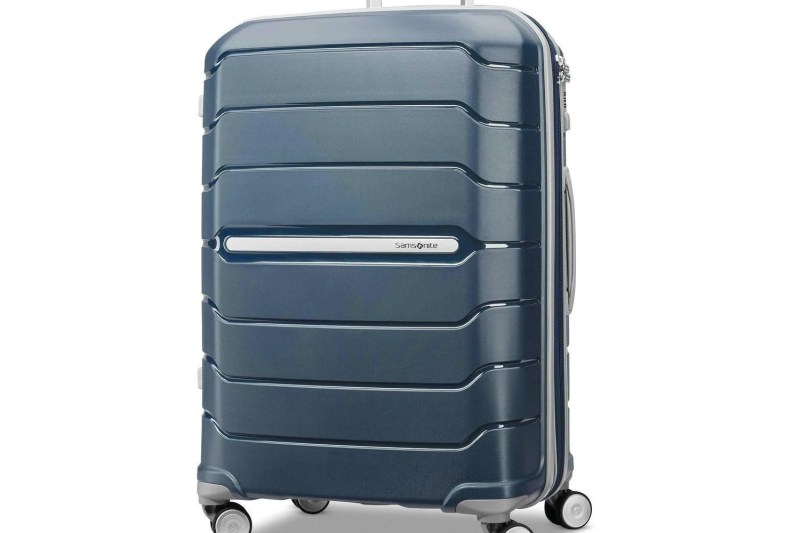 What type of suitcase to use
If you regularly bring beer or wine home from a trip involving air travel, you'll want to invest in a sturdy, durable hard-shell suitcase. The ideal piece of luggage for transporting alcohol should have a rigid, hard-sided structure. Bags with collapsible walls, such as duffels, are not suited for transporting such delicate cargo.
The hard outer shell of the suitcase will ensure that, whether the bag gets thrown around a lot by baggage handlers or ends up at the bottom of the cargo hold with tens of other suitcases piled on top of it, the weight won't press down on your suitcase contents and potentially break anything fragile inside. It's true that some soft or fabric suitcases are still durable enough to provide protection, especially if you make sure the fragile bottles are well-padded. Unfortunately, you have no control of what happens to your suitcase once it gets put on that conveyor belt behind the front desk to go to the great cargo hold in the literal sky, so it's better to be safe than sorry.
Aside from a heavy-duty suitcase, you also want to make sure the bottle or cans are safely wrapped up for the flight.
How to pack beer and wine in your luggage
First off, let us assure you of one thing: Your beer and wine, even if they are carbonated and contain bubbles like sparkling wines, will not explode during your flight. Both the cargo hold, and the cabin are pressurized, so that great new IPA you just had to buy a few bottles of or the fancy bubbly you're going to save for a special occasion won't blow their top on the way home.
With that said, accidents can still happen. Your bag could be jostled around too much, a baggage handler could throw it too hard, or, if you travel with soft or fabric suitcases, heavier luggage could land on top of it and break the fragile bottles inside. All in all, there are plenty of ways beer cans or bottles can be broken over the course of a flight. So, you want to make sure it's thoroughly padded and protected to survive the trip.
Wrap each bottle or can in its own individual plastic bag.

If one can or bottle breaks during transit, the mess will be contained by the bag, protecting your clothes and other belongings from being soaked in wine and beer. Ziploc bags come in handy for this purpose, but you can also use just about any plastic bag as long as it can be tied closed or secured. If you're worried about plastic waste, you can always reuse plastic bags again and again or invest in reusable silicone bags that can easily be washed out and reused in the future. Never pack bottles or cans together.

Make sure each bottle or can is well-padded.

After making sure each can or bottle has been wrapped up plastic, make sure that each is individually surrounded by enough padding that they won't knock against each other or roll around. That means adding padding on the sides, top, and bottom. Often, just wrapping your clothes, towels, or other soft items around the bottles is sufficient, especially if you use heavier clothes like jackets or sweaters. If you're still afraid of any liquids leaking onto your clothes if there's breakage, you can also pad them with bubble wrap before placing the bottle or can into the plastic bag. Make sure to pad each bottle or can separately.

Double-check that they are well-secured.

For a final check, jostle or rattle your suitcase a bit to see if the bottles or cans roll around or knock against each other. If they do, rearrange them to make sure they as well secured and padded as possible.
Cans and glass bottles both travel differently. So, next, we'll talk about the pros and cons of each, as well as specific packing instructions.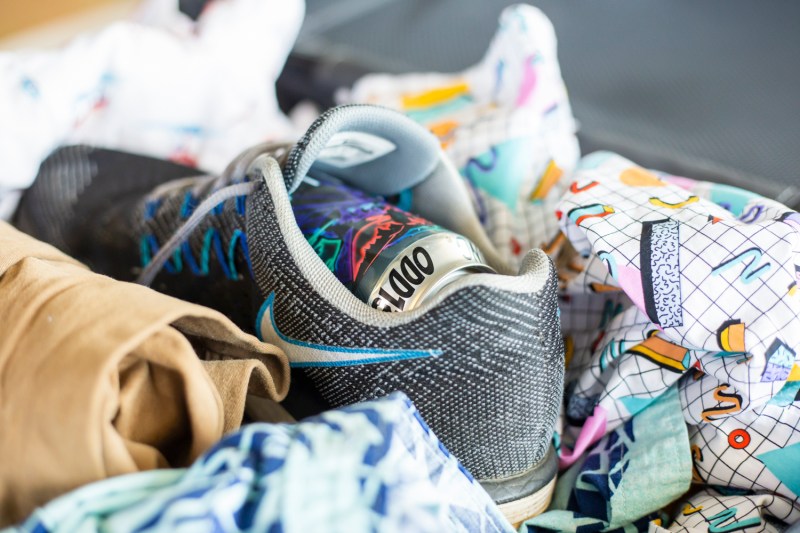 How to pack cans
If you have a choice between cans and bottles, choose cans. There's no longer any stigma around canned beers, or even wines. Some of the best options in the world are released exclusively in these portable, sturdy containers. The real travel benefit is that cans are lighter and more resilient than glass. Even though cans aren't especially fragile, you should still take some precautions when packing.
To be on the safe side, we suggest using this method for keeping your packed cans safe during travel.
Place your cans inside a plastic bag.
Seal the opening of the bag with packing tape.
Surround the cans in the middle of the suitcase with clothes, towels, or other soft goods to create a nest and reduce movement.
How to pack bottles
Glass bottles require far more attention and finesse when packing. You need to make sure the bottles do not touch each other, ensure the glass is close to the middle of the bag, and pack tightly so that the bottles shift as little as possible.
This is where creativity comes into play. Whenever possible, look for ways to safely integrate your glass into protective items you're already packing. Twelve-ounce bottles fit nice and snug inside running shoes, for example. Your waterproof dopp kit may provide extra space to safely wrap a smaller bottle. Those elastic compartments in the divider of your suitcase? They make another built-in spot to hide away your precious cargo.
If you're planning to bring more than a couple of beer bottles or larger-format bottles, your travel essentials need to include bubble wrap, packing tape, and plastic bags. Use these guidelines for safe do-it-yourself packing:
Tape down the caps tightly onto the bottle.
Place each bottle inside of a sock or wrap individually with bubble wrap.
Bundle all of your bottles together and enclose the group in a halo of bubble wrap.
Seal the collection in a plastic bag in the center of your suitcase and pad out the sides with clothes.

What is the cost of flying with beer or wine?
Apart from the cost of a checked bag (which, as we all know, can be no small fee), the only time you need to pay for flying your beer and wine is if you're flying to or from another country. In that case, you need to pay import or duty fees on the booze, depending on how much you're bringing or where you're flying to.
If you're a U.S. citizen returning from abroad with some souvenir bottles of alcohol, you're allowed to bring 1 liter of alcohol for personal use back duty-free per state and federal regulations. However, for larger amounts, you will likely have to pay customs fees. This varies depending on the state and amount, so make sure to do your research and always declare anything you are bringing into the U.S. from out of the country.
For taking beer or wine to other countries, that will depend on your destination's import and customs laws. Similarly, you'll want to research any requirements or fees in advance of your travels to avoid any surprises at the airport.
Best products for packing alcohol
If you're a frequent traveler and often bring back your favorite wines and craft beers, you might want to think about investing in products specifically designed for packing alcohol. Here are some of the top products to consider.
WineSkin
The WineSkin is a self-sealing, bubble-wrap sleeve designed for wine. They also fit most beer bottles nicely, including 750-milliliter sizes and 22-ounce bombers.
VinniBags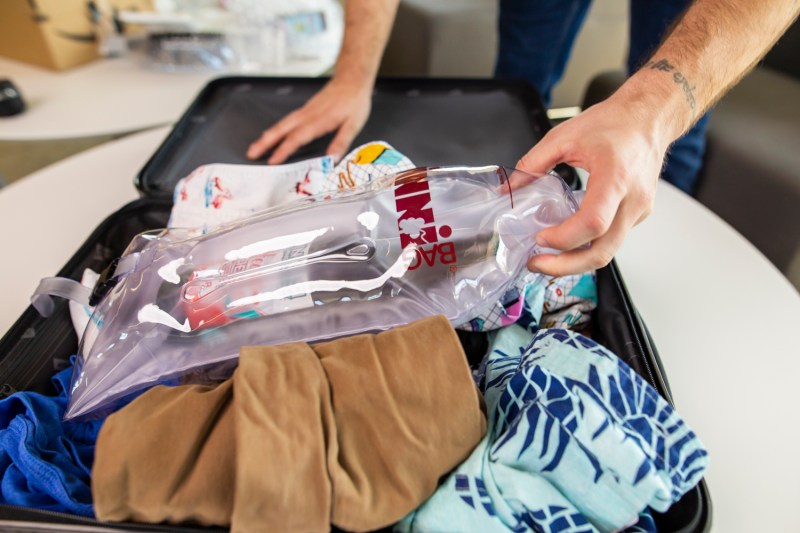 VinniBags are novel inventions that suspend bottles (or anything fragile) in an air cushion with a two-way valve. The bag stands up to the changing pressures of the cargo hold and has a dry seal that holds any liquid in should a leak occur.
Jet Bags
Jet Bags are another option for traveling with potent potables. These bags have zipper seals and can absorb up to 750 milliliters of liquid — just in case the worst happens and you return home minus a bottle.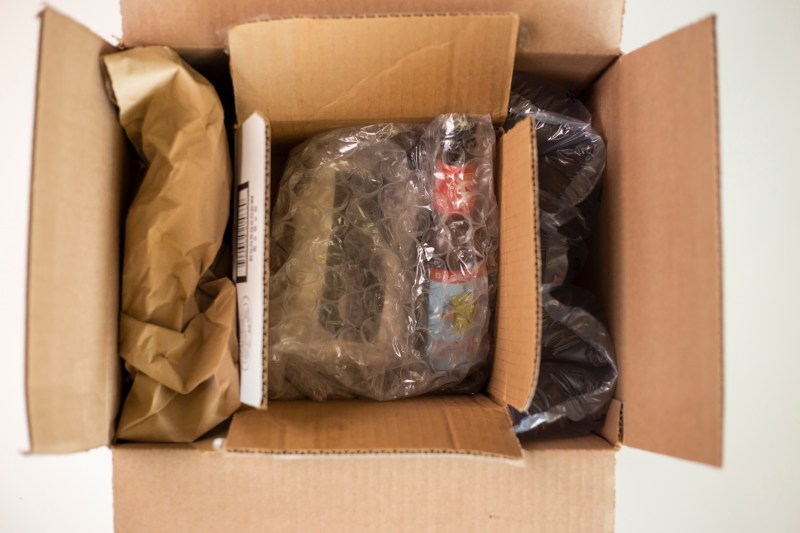 How to ship your bottles
If all of this sounds like too much to deal with when preparing to fly home, you could just ship your items. When shipping, wrap cans and bottles in plastic wrap. Then place in a fitted cardboard box. Put that box inside a larger box with scrap paper, air bags, or packing peanuts as a cushion. All of those packing materials are available at the shipping office. It can become an expensive endeavor though. With insurance, shipping can provide the safest route home for your new boozy souvenirs. Remember, there are restrictions when it comes to shipping alcohol too. So, it's a good idea to decide what you're going to do before your trip.

Never fear flying with beer or wine again
Can you fly with alcohol on a plane? Now, you know the long and short of it. Next time you hop on a plane to take a trip or are coming home from a vacation, you'll know exactly how to make sure that the wonderful bottle of wine you tried at that scenic vineyard or those couldn't-leave-without lagers from that hip brewery will make it to their final destination safe and sound.
Editors' Recommendations