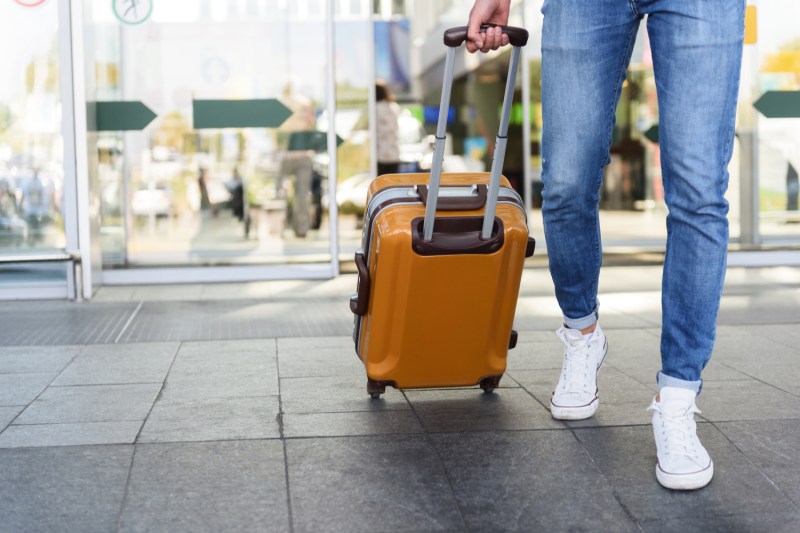 Taking precautions while traveling is as essential as investing in reliable carry-on luggage. It's not cool when you shove your clothes in a backpack or duffel bag, only to have the straps get torn before your plane takes off. Or you realize that your bag does not offer much protection against thieves. No traveler wants that to happen.
With millions of luggage pieces from the best luggage brands, hunting for the "perfect" luggage for all your travel needs can be an arduous task— especially if you're a newbie. To aid you in your search, we gathered the best carry-on luggage for your cross-country journey or future overseas travel, including some tips about choosing the best luggage to replace your tired rollaboard or travel backpack.
Best Overall: Monos Carry-On Luggage
We love luggage that can withstand the stress of air travel, but did you know that we must not take its handle for granted (or neglect it)? Let's take this sleek carry-on luggage from Monos as an example. Manufactured from high-strength aluminum, its telescopic handle is engineered for comfort, making you feel as if the luggage is a ghostly extension of your hand. Aside from its ergonomic handle, this 39.9-liter carry-on luggage features a space-efficient interior thanks to its zipped panel and compression pad, offering ample space for two to five days' worth of OOTDs. Available in different colors, this carry-on luggage embodies beauty in simplicity and function.
Most Stylish: Paravel Carry-On Plus

Personal style can manifest in one way or another — from your clothing to your choice of luggage. Fortunately, the Paragon Carry-on Plus is the right blend of elegance and function. The luggage comes in different colors, including black. If you want to blend in with the sea of black luggage, go ahead and choose black. If you want something flashier (and easier to find in the baggage carousel), you'll probably want the stylish Scout Tan variant. Either way, the luggage piece's hardy exterior is crafted from recycled polycarbonate, which is a plus for eco-conscious travelers.
It is also built with space in mind. With a volume of 52.1 L, the Carry-on Plus offers ample room for storing two to four of your best men's shoes and four to seven days' worth of travel outfits without making it too bulky for the overhead compartment. And that's good news if you're an overpacker. All in all, Paravel's carry-on is a must-have for travelers wanting to combine eco-friendliness with elevating their personal brand and easing the hassles of travel.
Best Hard Shell Luggage: Away The Bigger Carry On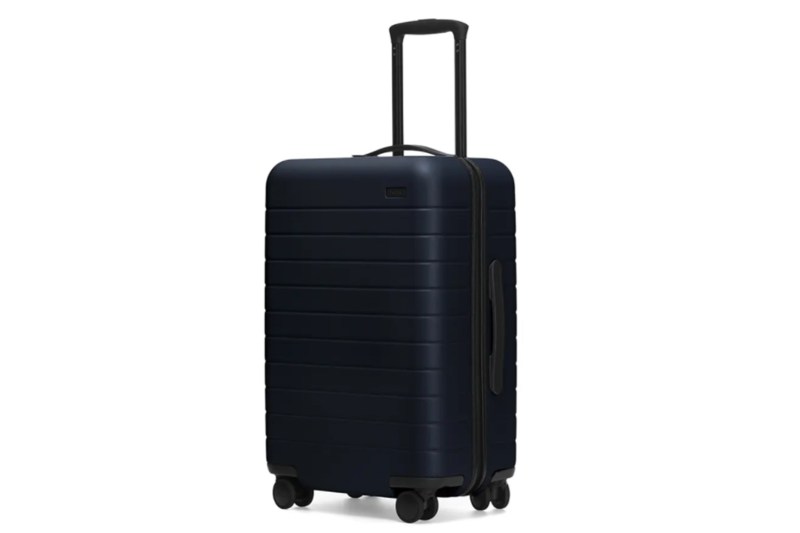 Every Away suitcases offer multiple features that, in addition to the sleek design and appearance, have made Away a favorite of most of The Manual's staff. Some of the features we love are the unbreakable polycarbonate shell (because we know baggage handlers aren't the most gentle of airline professionals), the ejectable battery pack that has saved us more times than we can count, a TSA-approved combination lock that makes us feel a little more secure, 360-degree Hinomoto wheels for super streamlined and smooth airport maneuvering, an interior compression system (to fit those last few souvenirs in), and a hidden laundry bag to keep the foul-scented away from the fresh.
Best Soft-Sided Luggage: Baseline Domestic Carry-On Expandable Upright by Briggs and Riley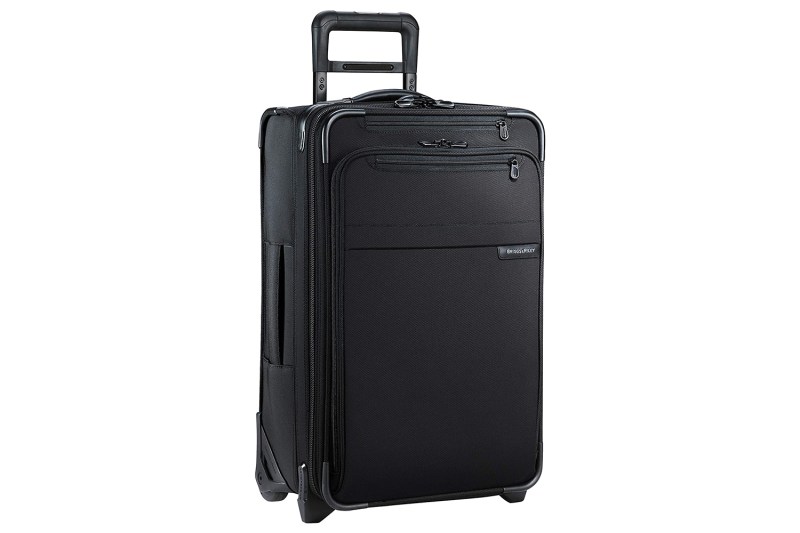 We've previously lauded Briggs and Riley for having not just some of the most durable luggage on the market, but for boasting a phenomenal lifetime warranty to boot. Its Baseline Domestic Carry-On Expandable Upright is a classic carry-on bag with traditional looks and a tank-like design. It's pricey and heavy, but it also packs a ton of essential features for road warriors and frequent travelers. The "Outsider" handle is designed into the exterior of the bag, ensuring a flat interior for easier packing. The clever CX Compression-Expansion system also balloons by 25 percent should you wind up with more souvenirs than you planned on bringing home. Plus, the integrated garment bag is a must for business travelers looking to maintain a wrinkle-free look fresh off the plane.
Best Storage Capacity: Gear Warrior Wheeled Duffel Carry-On by Eagle Creek
Eagle Creek has long been known for crafting ultra-durable, go-anywhere gear designed for serious adventure-seekers. Packing days' worth of outdoor gear into a carry-on can seem like an impossible task. The brand's aptly named Gear Warrior Carry-On is built to do just that. Its dimensions (13.75 inches by 21.75 inches by 7.75 inches) are maxed out for both domestic and most international travel, and it boasts a 37-liter capacity that expands to 40L with a single zipper. It weighs less than five pounds, but the rip-stop nylon and laminated exoskeleton are far more durable than its weight should allow. Thoughtful touches — an impact-resistant handle system, lockable zippers with a Central Lock Point and Secure-Zip toggles, and multiple handles for easy get-up-and-go — are all welcome additions.
Best Spinner Luggage: Samsonite Tru-Frame Carry-On Spinner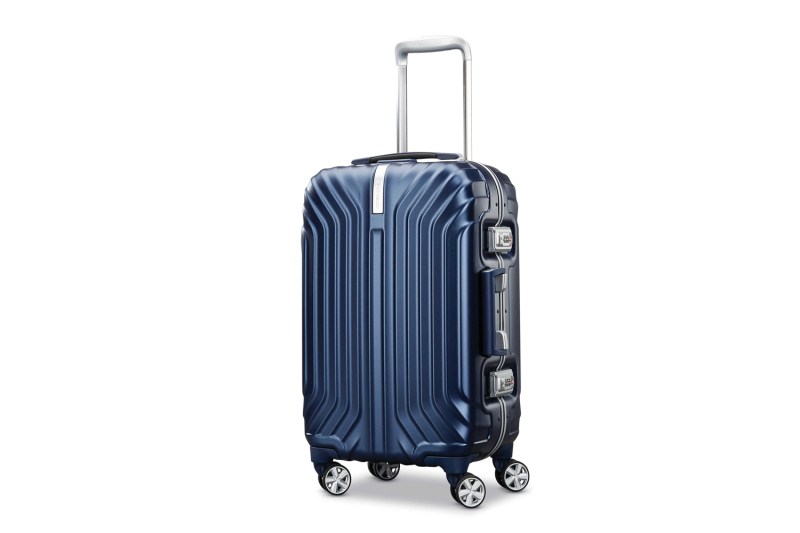 Want to bring luggage that boasts the perfect combination of aesthetics and functionality? Enter Samsonite's Tru-Frame Carry-on Spinner— a lightweight spinner constructed from polycarbonate, a material known for its impact and temperature resistance, making it a go-to luggage for travelers who want a sleek, but hardy travel companion. This carry-on spinner also features a TSA combination lock and a sealed gasket closure to safeguard your precious belongings from nasty airport thieves (or smugglers, yikes!), allowing you to achieve your #travelgoals in peace.
Mobility is not a problem either since the luggage comes with dual spinner wheels for easy maneuvering, which come in handy when you need to run to the boarding gates in time for your flight. Or when you want to sashay your way to the airport to show off your new carry-on luggage.
How to Choose Carry-on Luggage
Travel gear has changed more in the last 10 years than in the previous 100. Suitcases, in particular, are getting lighter, better, stronger, even smarter (what we're saying is they've clearly been listening to Daft Punk). You can get a bag that is zippered, rolling, soft-sided, or hard-shelled — the decision to pick just one has never been more difficult.
Travel type: The kind of traveling you do will obviously affect the type of bag you choose. Think about how often you'll be moving around, what kind of terrain you'll be traversing and what you'll be packing. When you're traveling carry-on, having the right bag that can fit everything you need (plus a few eventual souvenirs) is crucial.
Budget: Price, too, is an important factor, and one that should never be taken lightly. If you travel often, you don't want a cheap bag falling apart on you when you only have 15 minutes to get from Terminal A to Terminal E.
Advantages: Choosing a piece of carry-on luggage versus a carry-on backpack comes with several perks. First, the standard and structured shape mean you'll never have to worry about it fitting into overhead bins. A rectangular carry-on is always relatively easy to keep organized and is designed so that you can make use of every bit of space inside of it. No pockets are going empty here. Perhaps the most significant advantage is comfort, however. These bags can be wheeled around, meaning you won't get fatigued having to lug a heavy bag around during your trip.
Disadvantages: For travelers moving largely from airports to hotels and back again, the carry-on luggage is perfect. However, if you find yourself often carrying your bag upstairs or dragging it over uneven cobblestones, you're going to have trouble. The bag's wheels can get stuck in loose terrain, you'll soon be over the idea of huffing a heavy bag up several flights using only the top handle for purchase. Plus, this isn't a hands-free option: You'll always need to dedicate one hand to pulling it, leaving your other hand to manage maps, doors, apps, and so forth.
What to look for: If the carry-on luggage life is the life for you, keep the following considerations in mind when choosing your bag. First, ensure the handle is comfortable and easy to grip, and that the bag can be easily picked up and carried for short distances. Second, consider the size of the bag. You'll want to make sure it fits in most airlines' overhead compartments. United's maximum dimensions for a carry-on are 9 inches x 14 inches x 22 inches, including handles and wheels, which is standard for most other companies, too. And finally, consider the quality of the wheels. These should be built to last, so look for metal fixtures over plastic. Nothing is worse than adventuring through Europe with a squeaky wheel at your back.
Best Carry-on Backpack: Farpoint 40 Travel Backpack by Osprey Packs
The Farpoint 40L Travel Backpack's biggest selling point is its even weight distribution — something Osprey is known for. The LightWire frame suspension keeps the majority of the weight on your hips, not your shoulders, letting you travel for extended periods of time without fatigue. Mesh material on the back panel and straps also improves ventilation and reduces chafing, which is something travelers will be grateful for in hour 12, 13, 14 of their trek.
This bag is designed to meet most airline carry-on requirements, so you can confidently add it to your best travel backpack collection. It comes in three chic colors that fit in just as well on the Himalayan Alps as they do in a busy downtown core. If you're looking for a minimalist aesthetic with plenty of storage options, Osprey has you covered.
Best Carry-on Backpack With Wheels: Expanse International Carry-on Luggage by Eagle Creek
This is the second bag on our list from Eagle Creek, a company dedicated to making exceptional bags for travelers and commuters. What we like about the Expanse International Carry-on is that it's lightweight and small, making it perfect for overnight trips and weekend getaways. However, the bag's expansion zipper and external lash points let you increase the carrying capacity at the pull of a cord for longer sojourns and adventures.
The appeal of a carry-on backpack is that it can do double duty, but often you find these bags compromising on quality to provide additional functionality. Not so with the Expanse. The bag has treaded wheels, perfect for maneuvering over cobblestones, as well as durable scuff-resistant fabric to keep the bag looking its best for years to come.
Best 2-in-1 Backpack: Kathmandu Hybrid 32L Trolley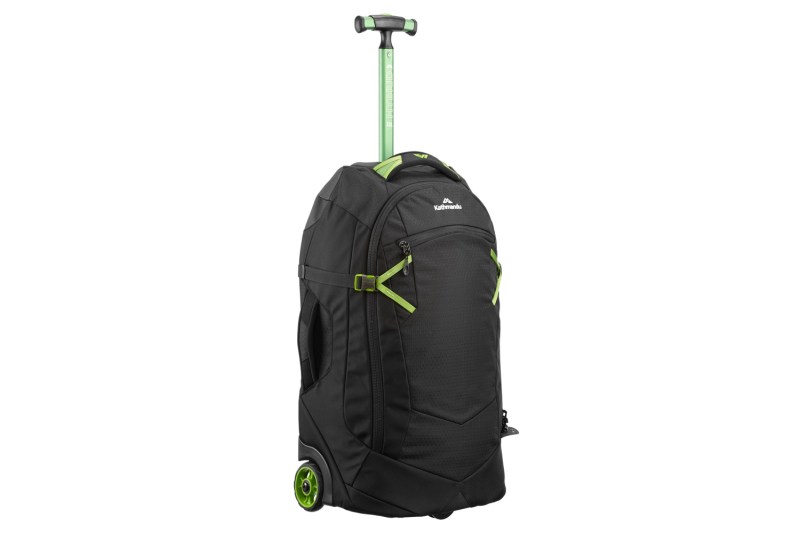 At first glance, Kathmandu's Hybrid 32L Carry-On Trolley may look like your typical school backpack or laptop backpack, but don't let its appearance fool you. Durable and lightweight, this carry-on backpack can be quickly converted into a trolley and vice versa using its fold-out straps and handle, offering flexibility and comfort during your travels, especially when you need to give your back and shoulders a break from all that heavy load.
At 32L, Kathmandu's Carry-On Trolley offers sufficient room for your belongings thanks to its front and mesh pockets, saving you the hassle of rummaging through your bag in times of emergencies.  If you want to prepare for the unexpected, we recommend the Hybrid Carry-on Trolley to help you overcome whatever challenges that may come your way.
How to Choose the Best Carry-on Backpack
Advantages: Perhaps obviously, the benefits of a carry-on backpack are in complete opposition to the carry-on luggage. While carry-on luggage is often hard, backpacks are soft, making them easy to store away in tight spots. They also expand to allow more space for new treasures (or just a rushed packing day). Most importantly, carry-on backpacks keep your hands free and your bag off the ground — perfect for big hikes or extended backpacking trips.
Disadvantages: The real disadvantage of carry-on backpacks is that they can become uncomfortable over time. Especially if your backpack doesn't fit you or provide proper support, you can tire quickly, turning your dream vacation into a nightmarish slog. Backpacks also tend to be smaller than carry-on luggage, so how much gear you want to bring could influence which type of luggage you invest in.
How to choose: The most important thing to consider when investing in a carry-on backpack is the fit. You can ask in-store experts to size you for a bag, then go online to shop for the best deals in that category. The right size of bag will fit comfortably on your hips, taking the weight off your shoulders and back and distributing it across your body. When looking for the best backpack, consider those with comfortable shoulder straps, a waist strap, and some kind of ventilation system (be it an internal, external frame or a padded strap that allows for airflow). Usual sizes include 40-liter, 50-liter and, 60-liter capacity backpacks, though you're probably safest with a 40L bag if you want to make sure you can take it into the passenger compartment.
Editors' Recommendations