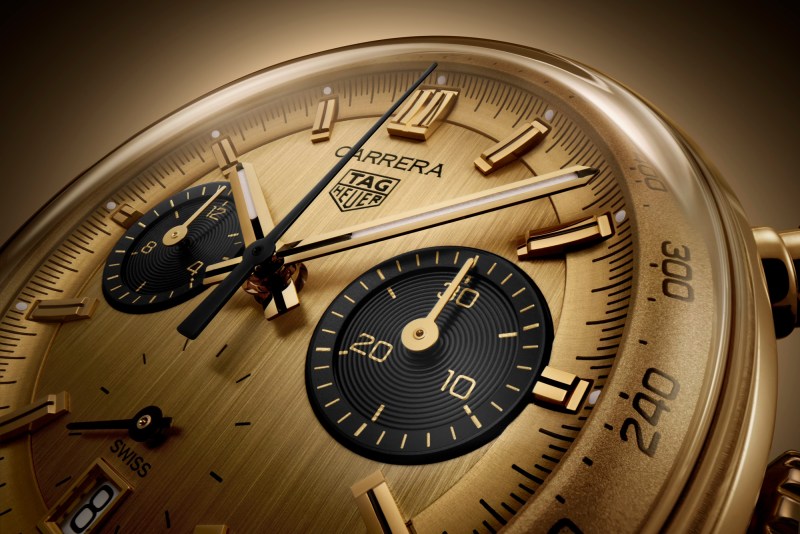 With the launch of the TAG Heuer Carrera Glassbox Chronograph in 18k 3N yellow gold, the renowned Swiss luxury watchmaker said goodbye to its 60th anniversary celebration in style. This magnificent timepiece symbolizes a long history of motorsports and an unwavering commitment to perfection.
The history of the TAG Heuer Carrera Chronograph may be traced back to Jack Heuer, a true innovator. He changed the game by gifting gold timepieces to racing drivers. These TAG Heuer watches became more than just rewards; they became dependable allies in the struggle for triumph. These watches for men were proudly worn by drivers like Ronnie Peterson and Niki Lauda, which challenged them to push their boundaries. With this bold approach, Jack Heuer changed the way luxury watch marketing was done and solidified his relationship with motorsports.
Every detail matters
Let's dive into the intricate details of the TAG Heuer Carrera Glassbox Chronograph. The movement of this watch is powered by the Calibre TH20-00 Automatic, a precision engine ensuring accuracy and reliability, essential for a luxury watch. The watch's dial is a masterpiece in itself. The 18k 3N yellow gold-plated vertical brushed dial offers a luxurious backdrop for timekeeping.
What truly sets this watch apart are the three counters. At 3 o'clock and 9 o'clock, you'll find the black "azuré" minute and hour chronograph counter with an 18k 3N yellow gold-plated hand. At 6 o'clock, there's the 18k 3N yellow gold-plated permanent second indicator, complemented by a black lacquered hand. These counters not only serve practical purposes but also enhance the watch's aesthetics.
The hour and minute hands feature white Super-LumiNova for improved visibility in various lighting conditions while the black lacquered central hand, reminiscent of racetrack markings, adds a sporty touch to this elegant timepiece, lest you forget about its past.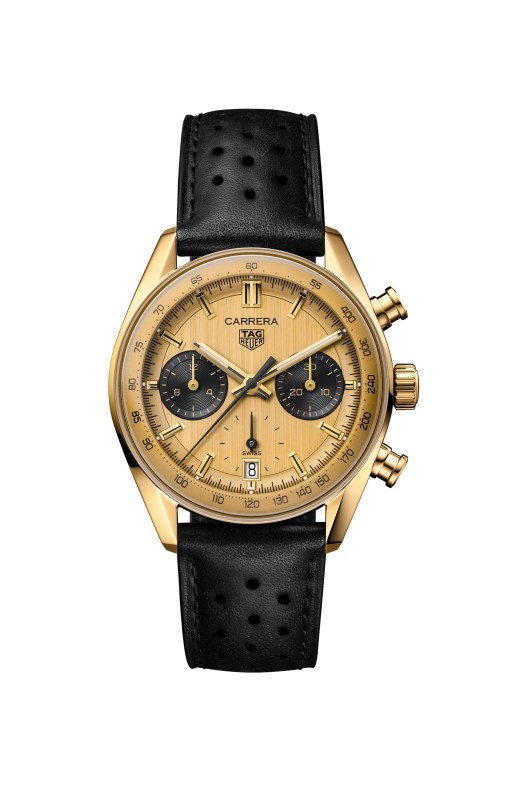 A case of luxury and durability
The 39 mm diameter case is crafted from 18k 3N solid yellow gold, providing a fine-brushed and polished surface. The case design seamlessly blends vintage charm with modern sophistication, making it a versatile accessory to match a high-end suit on a Monday morning or blue jeans for a lazy Sunday brunch.
The Glassbox domed sapphire crystal is a standout feature, not only to protect the watch but to offer a mesmerizing view of the intricate dial and movement. The standard crown, crafted from 18k 3N solid yellow gold, is positioned at 3 o'clock, allowing for easy time adjustments. At 2 o'clock and 4 o'clock, you'll find the fine brushed and polished 18k 3N solid yellow gold round push buttons. These buttons not only add to the watch's aesthetics but also enable the functionality of the chronograph.
The watch features a screw-down sapphire case back in 18k 3N yellow gold, adding to its durability and water resistance. With a water resistance rating of 100 meters, this watch is not just a showpiece; it's a companion for various activities, from walking to work in the rain to light water adventures on vacation. And, well, essentially everything is 18k 3N solid yellow gold, in case you hadn't read that enough.
TAG Heuer Carrera Glassbox Chronograph
Completing this masterpiece is the bracelet. The TAG Heuer Carrera Glassbox Chronograph comes with a perforated black calfskin leather strap. This strap not only adds a sporty and racing-inspired touch but also enhances comfort during extended wear. In terms of dimensions, the watch boasts a lug-to-lug measurement of 46 mm, ensuring a comfortable fit on the wrist. The thickness of 13.9 mm strikes the perfect balance between elegance and wearability without being too clunky.
While the updated high-polish lugs may not perfectly mirror the original design, the notion of breathing new life into a classic is much appreciated. The lugs may have evolved in shape with modern facets, but what remains consistent is the captivating brushed texture on the sides, a nod to the past that maintains the watch's vintage charm and heritage.
Availability
For those eager to own this extraordinary timepiece, the TAG Heuer Carrera Glassbox Chronograph in 18k 3N yellow gold will be available from November 2023.
Editors' Recommendations