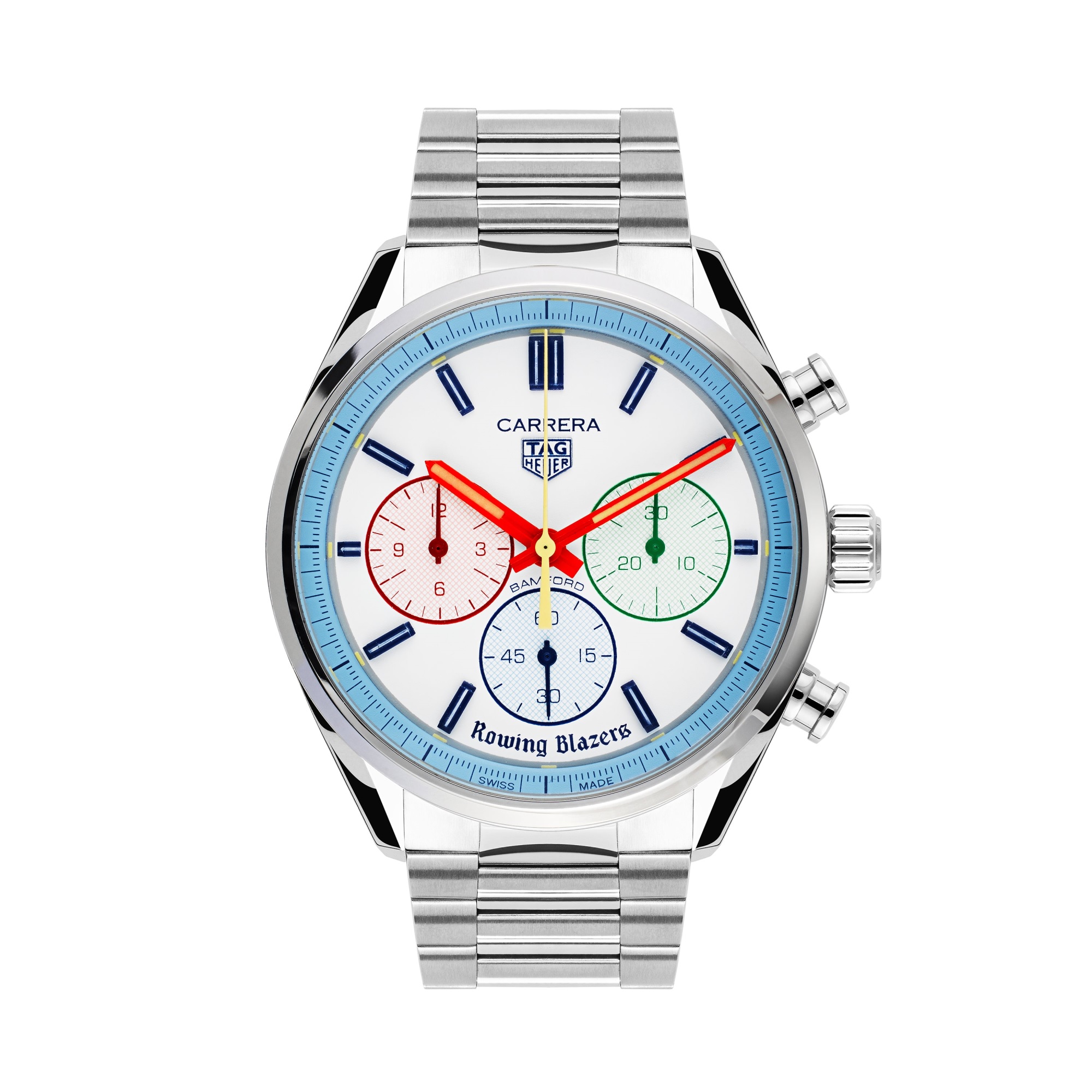 The Tag Heuer Carrera, a classic timepiece from the Tag Heuer line that has endured for 60 years, comes back with a daring and spectacular update. The Carrera was created by Jack Heuer, the great-grandson of Edouard Heuer, who founded the company. Since 1963, it has been a mainstay in the watch industry and is renowned for its legibility, dependability, and racing heritage.
But this Carrera isn't just any Carrera; it's an eye-catching collaboration that's causing a stir. This modern Carrera pays homage to the colorful displays that were formerly used to time regatta starts in the 1960s and 1970s. It was inspired by a vintage Heuer Yacht-Timer stopwatch that was once in the possession of renowned watch dealer Eric Wind.
So, how did this vibrant artwork get its start? Eric Wind proudly displayed his Yacht-Timer to his friend Jack Carlson, the creator of the edgy clothing business Rowing Blazers. Carlson, who is no stranger to flair and craftsmanship, recognized the opportunity to transform this vintage treasure into a contemporary masterpiece right away. At that point, the wheels began to spin.
The two recruited the assistance of well-known watch aficionado and expert George Bamford. They contacted Tag Heuer as a group, and the outcome is spectacular. The Rowing Blazers x Bamford whimsical, slightly wacky, and utterly evocative Tag Heuer Carrera is reminiscent of the Yacht-Timer stopwatch. With a vibrant orange-red and yellow face, a light blue outer 1/5th-seconds track, and a pristine white dial, this timepiece is a symphony of hues.
Rowing Blazers x Bamford TAG Heuer Carrera: A collaborative piece of art
But this watch is more complex than it seems at first. The red, blue, and green totalizers are cross-hatched in a manner evocative of Roy Lichtenstein's pop-art paintings and the "Ben-Day dots" used in comic books if you look closely. This partnership stands out thanks to the triple signature. Its namesakes Tag Heuer, Bamford, and Rowing Blazers are openly displayed, evoking the classic double-signed dials of venerable companies like Cartier and Tiffany & Co. This limited-edition masterpiece is a monument to the tradition and skill that went into making it.
The Carrera DNA is still intact
This Carrera may not be a yacht timer in the traditional sense, but it is more than capable of coping with life's trials thanks to its 100-meter water resistance. The case of the Carrera has increased in size from the original 36mm to 42mm. But don't worry, the redesigned version still has the simplicity and charm of the original; with a new layer of paint, the Carrera's DNA is still intact.
Under the hood, the watch is powered by the Heuer 02 automatic chronograph movement, offering precise timekeeping and an impressive 80-hour power reserve. It's robust, reliable, and, most importantly, precise. The slightly thick case is balanced by the downward-angled lugs, making it a comfortable fit for any wrist.
A collaboration that isn't overcrowded
Now, let's talk about these collaborators. Tag Heuer, Bamford, and Rowing Blazers all left their marks on this watch, making it a tag team of abilities. This partnership may appear to be crowded, with too many brands vying for too few places in the lifeboat, but it clearly honors its historic inspiration and is systematic and sensible.
This Tag Heuer watch is most definitely one of the more colorful watches for men on the market. Yet, it provides versatility with both a stainless steel bracelet for a more subdued appearance and a NATO-style strap in red, white, and blue for those who prefer a conversation starter. At $8,900, this watch surely doesn't come cheap, but you would be investing in a piece of history, as this limited edition timepiece only has 99 available.
Editors' Recommendations