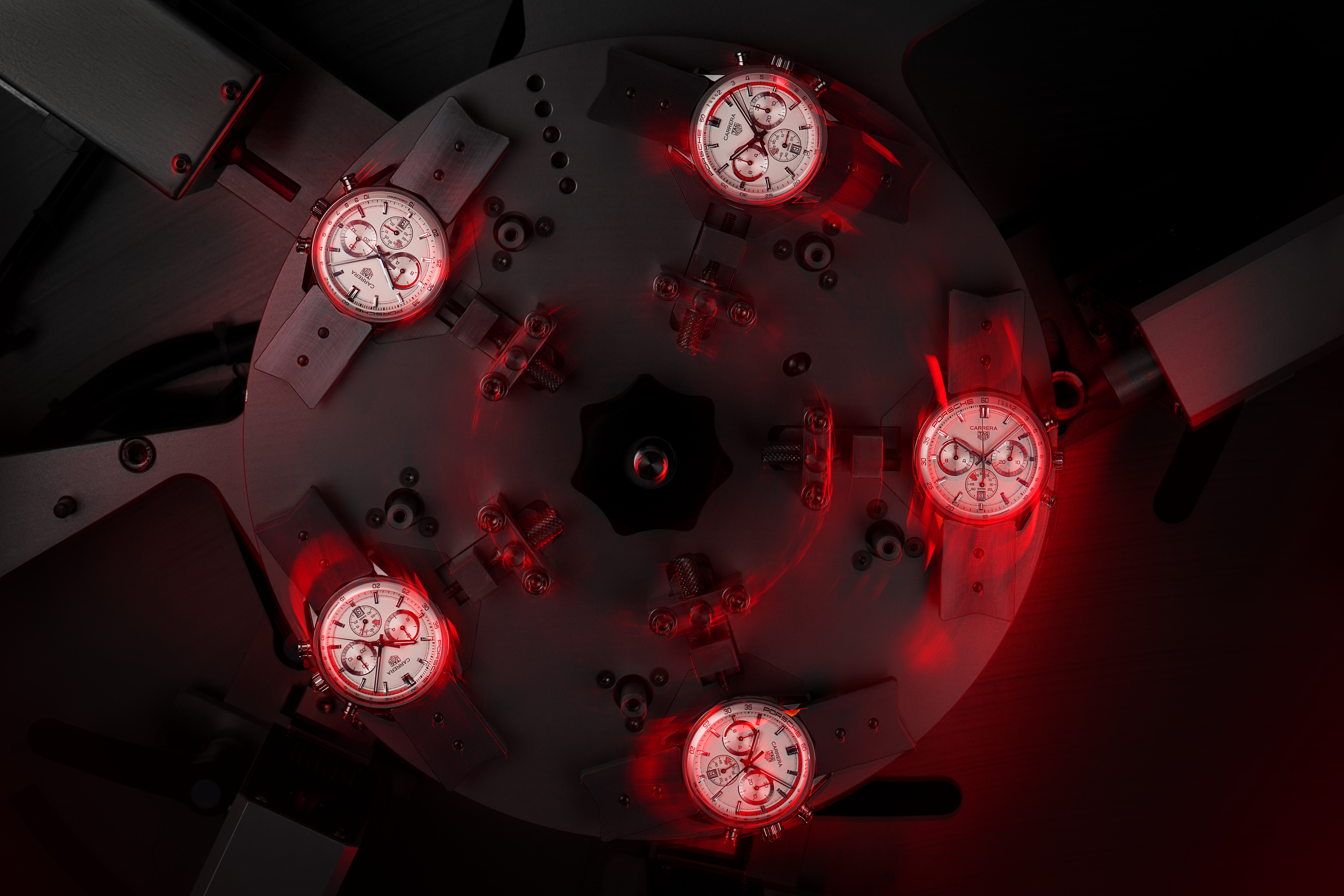 There are fewer sports cars as iconic and persistent as the Porsche 911. Performance has improved, and some features like natural aspiration and air cooling have gone the way of the dinosaurs — but at its core (and in its styling), the 911 is pretty much the same rear engine beauty that Porsche unveiled back in September 1963. It is currently celebrating its 60th anniversary, as is a much-loved piece of chronography — the TAG Heuer Carrera.
So it's only fitting that TAG Heuer, an equally iconic Swiss watchmaker with strong racing links, has partnered up with Porsche to commemorate the German company's flagship motor. The "Carrera Chronosprint x Porsche" is a beautiful chronograph and a fantastic bit of engineering. Its styling manages to cram in more references to the 911's 60-year history than we can count without looking garish or overstated.
The "double glassbox" crystal blends seamlessly into the watch's case, giving it a sleek appearance. The case back pays homage to Porsche's three-spoke steering wheel, and the chronograph itself features a tachymeter, stopwatch, and all of the other tools that make it fit in on a track or drag strip.
As you may expect, the watch has a precision-engineered automatic movement, the TH20-08, to be exact. It's a variation of TAG's in-house TH20 movement and gives the watch its party piece. Just like the original 911 managed to go from 0-60 in 9.1 seconds, the watch's second hand also rapidly accelerates before slowing down and restarting.
Speaking of acceleration, if you've ever put your foot down in a Porsche, you'll be aware of the red line, which lets you know the engine is being revved beyond its safe limits. This is reflected in the watch's 9 o'clock sub-dial, where it goes from 6.8 hours onwards. This isn't an accident; it's a reference to the 6,800 RPM a classic Porsche 911 could comfortably handle.
Porsche styling at an exclusive price point
The 911 is an exclusive car; it's there to make a statement. With a six-figure starting price, it's something few can afford. A new Porsche in the driveway demonstrates that its owner desires performance, appreciates legacy, and is either doing very well financially or one of the most fiscally irresponsible humans on earth.
TAG's two new men's watches are arguably even more exclusive. The 42mm Steel variant retails at $9,200 — firmly placing it in luxury watch territory. The 18K rose gold variant will set you back $23,550. Most people will see it on your wrist and likely think, "Nice watch." But those in the know, watch collectors and the most rabid of Porsche enthusiasts, will know exactly what you have and exactly what you mean by it.
The steel version of the special edition watch is currently available on Tag Heuer's website, and comes with a free travel pouch — which may just nudge you over the line if you're on the fence about this one. The 18k gold-clad edition is unavailable for purchase online at the time of writing, though you can use the website to search local stores for the watch. You can also ask to be notified when the timepiece is "in stock." Currently, there is no word on the exact number of each special edition watch TAG will produce and how long the watch will be available for.
Editors' Recommendations